Palo Alto is a combination of spontaneous growth and rigid planning. In the post-war years, it was one of America's most rapidly-blossoming suburbs, but it never grew too big, thanks to an active zoning board. It's how the city has retained its charm. Part of that charm is a certain consistent style of architecture, a low-slung one-story home that is prominent in neighborhoods like Los Arboles. That's why neighborhood groups have successfully petitioned the zoning board to limit homes to one story, so-called "Eichler-style" homes (after the architect), in the neighborhood. These are likely to be joined by Greer Park and Royal Manor in the Midtown area.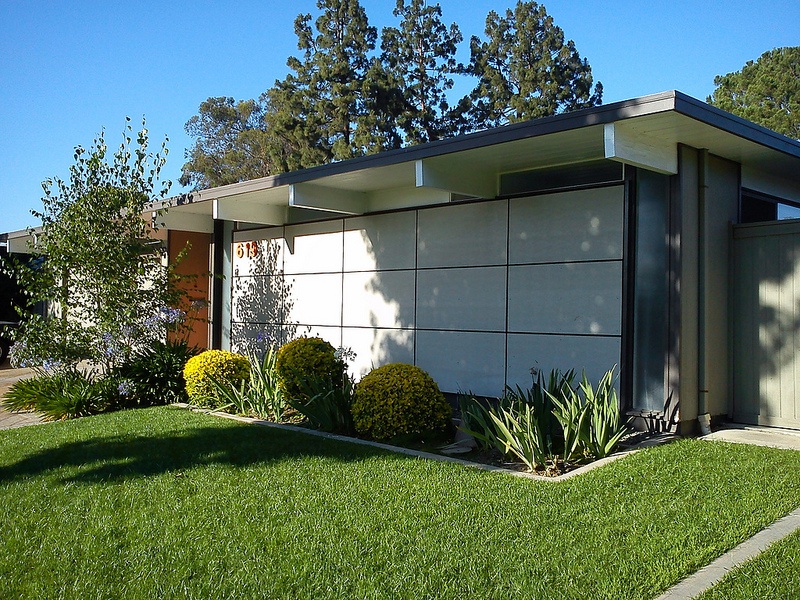 An Eichler home.
Image source: Flickr CC user aaronmjr
What this means in practice is no additions, and any new construction has to follow the one-story rule (whether or not the home is strictly Eichler-ian). If you have a growing family, and want to move in, you can quickly bump up against some serious size limitations. There are great ways to organize a small space in the Bay Area, but you can also expand your space by building a garage apartment, or turning part or all of your home's garage into another bedroom. This gives you more living space, but you also have to make sure you follow codes, and that you're choosing the right furniture and design to maximize the space.
Making Your Palo Alto Garage a High-Quality Living Area
Maybe more than any other city in America, Palo Alto is famous for a garage: the garage where Hewlett-Packard was created. It's a part of history. But you don't have to focus on making history; you just want to make a comfortable spare bedroom for guests, older children, and parents or in-laws.
There are a couple of regulations you still need to be concerned about. Zoning laws indicate a garage can have one to two plumbing fixtures (many have sinks, or hoses) but if there are more than two you will need approval. This means that if you put a bathroom in the garage with a toilet and a sink, you will have to get permission from the zoning board.
That brings us to the question of size. An average two-car garage ranges anywhere from 400-576 square feet, which is pretty good for a bedroom. A 1-car is generally about 308 feet, which is also a nice-sized room. But chances are, you aren't going to be using the whole room. Some people build a room above the rafters on the roof, and others cut the garage in half (especially the two-car garages). So you will be working with less space, and needing a way to maximize it. That starts with the most important part: the bed.
The Best Garage Bedroom Solution: A Murphy Bed
A wall bed surrounded by custom cabinetry is space saving and provides extra storage.
This concept, used for bedrooms, can also be used for your garage.
Image from Valet Custom Cabinets & Closets
A custom murphy bed (or wall bed) brings both elegance and practicality to any garage apartment. It doesn't have to just blend in; it can be a part of the look that you want. In the picture above, the bed folds down, revealing art and integrated lighting. This design makes a person feel like they are in a home, and not a garage. That's because just as the right neighborhood turns a house into a home, a custom-designed murphy bed can do the same for a garage.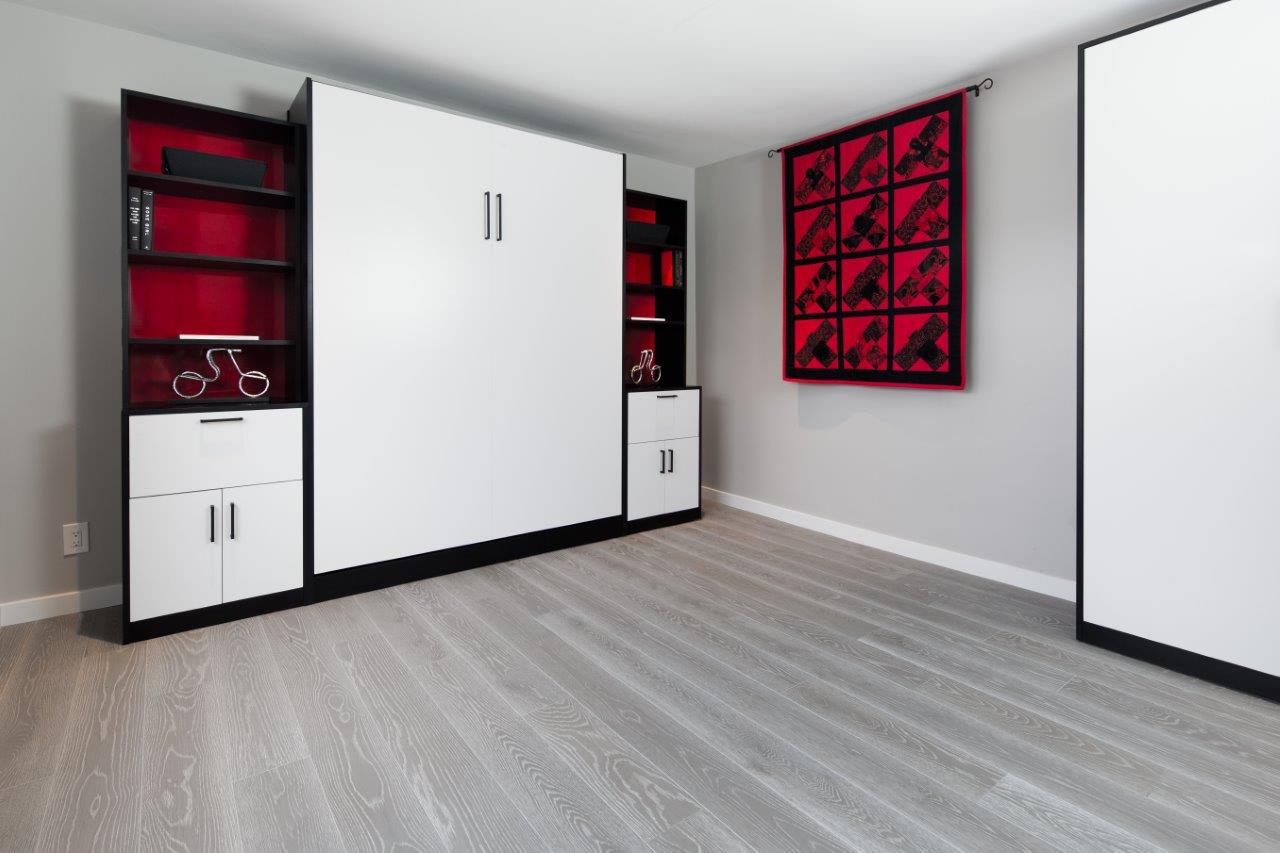 Applying the same clever cabinetry solutions you would use inside the house makes a converted garage feel like a welcoming retreat.
Image from Valet Custom Cabinets & Closets
The shelves and the cabinets on either side of the bed are perfect for storing books, electronics, and clothes. While a dresser is probably still needed, there is a lot you can fit in the space immediately surrounding the bed, which normally is wasted space. In this case, the bed takes up very little room during the day, and lets you store what you need, pulling double-duty. When the bed is folded up, its integration with the cabinetry reinforces the style of the room.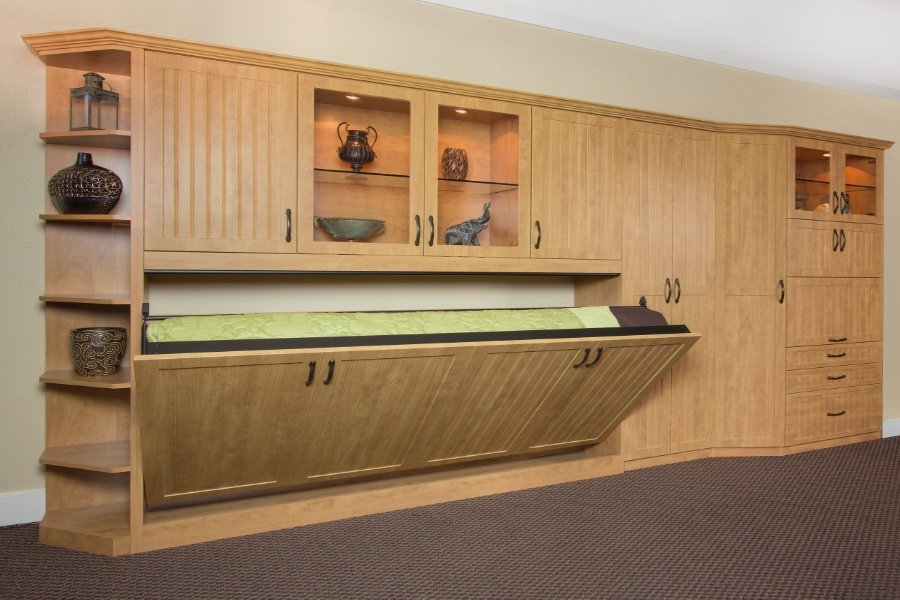 Honey Apple thermally fused laminate cabinetry with beaded shaker foil fronts conveniently hides a small wall bed,
and is a self-contained living unit
.
Image from Valet Custom Cabinets & Closets
Other murphy beds and the wall cabinetry surrounding them can consolidate your storage in one place. In the above example, the bed is basically contained inside an entire wardrobe, with room for hanging clothes, drawers, and decorative or functional shelves. For some people--such as older children--this might be the only piece of bedroom furniture they really need.
Design Your Garage Bedroom with the Occupant in Mind
When you have a garage apartment, it is important to think about who will use it. If it is a married couple-- your in-laws maybe--then you'll likely want a vertically folding bed that allows people to get off from either side. But for a kid, a horizontally folding bed might be perfect, since it will be easier to reach and pull down at night.
Not only does a murphy bed save space, but it also is beautiful enough that the garage apartment can be quickly repurposed. When the kids move out, you may let someone else use it: a relative, a friend, or even an Airbnb-er. An apartment that has excellent storage, a high-quality, comfortable bed, and is well-designed, with a place for everything, beats an anonymous hotel any day.
You love your neighborhood, and we do too. I love the post-War style that gives so much of Northern California its flavor. At Valet Custom Cabinets & Closets, we're proud to make beautiful, custom-designed furniture that helps keep these houses the way they are. We create solutions to space issues so you won't have to build an addition. You won't need to. Our space-maximizing luxury designs open up any home. When you want to make a small garage space into a bedroom for kids, in-laws, or guests, come to us first. Our murphy beds help make a usually ignored room into a beautiful space where you'll want to spend your time.
---
Valet Custom Cabinets & Closets designs, manufactures and installs custom organizational solutions that enhance the functionality of your living space while complementing the décor of your home.
Our talented design team creates unique solutions tailored to your specific needs, style, and budget. We are independently owned and a direct manufacturer.
Our areas of specialty include Home Offices, Wall Beds, Media Centers, Closets, Pantries, Garage Cabinetry, and much more.
Your Space - Exceptionally Designed - Uniquely Styled - Expertly Crafted
---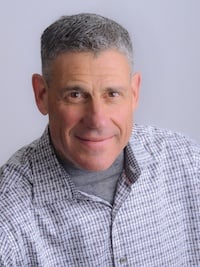 About Larry Fox, President
Larry is a graduate of the University of Southern California School Of Business. After receiving his degree he returned to the Bay Area and spent 18 years working in his family's 100+ year old metals recycling business. Upon the sale of that business in 2000, Larry and his wife Audrey purchased Valet. Larry has become a leader in the industry and is a past president of the National Closet Group. Larry loves turning people's dreams into reality, and remains as enthusiastic about the business today as he was when he first acquired it. View Larry's Houzz Page.