A wall bed can make a small accessory dwelling unit into a chic and versatile place to retire.
Image from Valet Custom Cabinets & Closets.
We've been working in and around Berkeley for a long time, and we know it's a place people want to live. But because so many people want to live here, the city has been forced to tighten up its zoning laws. As a result, we're seeing more and more accessory dwelling units, or ADUs, that are able to serve many functions. These small spaces can transition over the years, changing from a home office, to a guest room, to a storage area and more. Here at Valet Custom Cabinets & Closets, we often see ADUs being used for aging relatives who are looking to stay close to family.
It's not always easy to make the best possible use of the space in an ADU. It takes some creativity with storage, bed placement, the way the closet is designed, where a desk can go, and everything else. That's why the kind of custom storage we specialize in is so popular for ADUs. A well-designed space feels tidy and much roomier than it is. One way we do this is by taking inspiration from Japanese designs, such as stow-away beds and multi-purpose furniture. This helps us turn your ADU into the room your family needs.
Getting Creative Within the Constraints of the ADU
Tight zoning constraints for ADUs force Berkeley homeowners to find clever uses for the small space. Zoning constraints for Berkeley ADUs include:
The ADU can be no more than 25% of the main house, in terms of gross floor area.

It can't be fewer than 300 sq ft if the main house is under 1200 sq ft.

It can't exceed 640 sq ft.
When collaborating with older adults in Berkeley to design their ADU's, local architect Patricia Motzkin finds inspiration from Japanese tradition for dealing with these constraints. In Japan, most rooms don't have just one use. Instead, they are flexible spaces—one space that can be interchangeably used as a living room, dining room, study, or bedroom. Furniture is portable so that the room can be easily repurposed from day to night. The oshiire is the large closet where all the furniture is stored when you don't need it.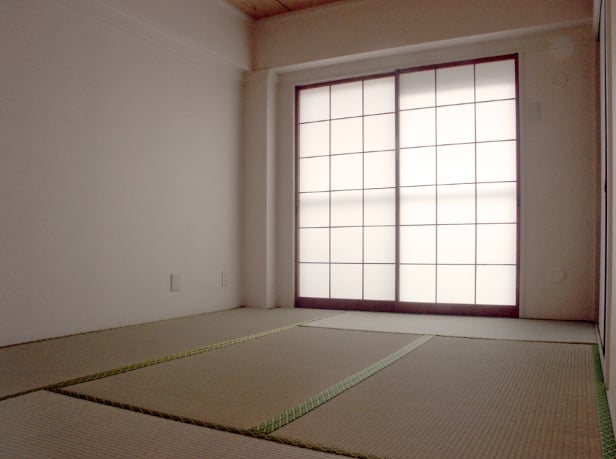 This tatami room makes use of movable partitions, an oshiiri for storing portable furniture, and a hideaway bed. The result? Sunlight and loads of room to live in.
Image Source: Public Domain via Wikipedia
The entire concept is very similar to the custom furniture and storage solutions that we create for our clients. We've used murphy beds with integrated storage, fold-out tables, custom cabinet units, and other types of storage designs to make the most of the limited space in Berkeley ADUs, and to turn them into an efficient, tidy place to live.
Four Design Elements from the Oshiire to Inspire Your Custom Storage Solutions
These four design elements that are exemplified by the oshiire can be used in your ADU to create an airy, open living area that is both versatile and elegant:
Flexible use of space for different times of day: Oshi-ire comes from two verbs: osu or oshimasu which means "push," and ireru or iremasu which means "to put in." You "push in" your futon to store it during the day, much like a murphy bed. A murphy bed with a fold-out desk is ideal to allow your space to shape-shift from living room and office space during the day to bedroom each night. This makes it perfect for older adults whose needs change over time; if you're phasing into retirement, a fold-out desk can function as a small home office. Wall beds are also easy for aging family members to pull out and stow away. Well-designed wall beds are precisely counterbalanced so that, unlike a futon, they can be opened and closed with just one finger. Look for wall beds that are similar in height to normal beds (rather than much lower); this will make it easy for seniors to get in and out of bed.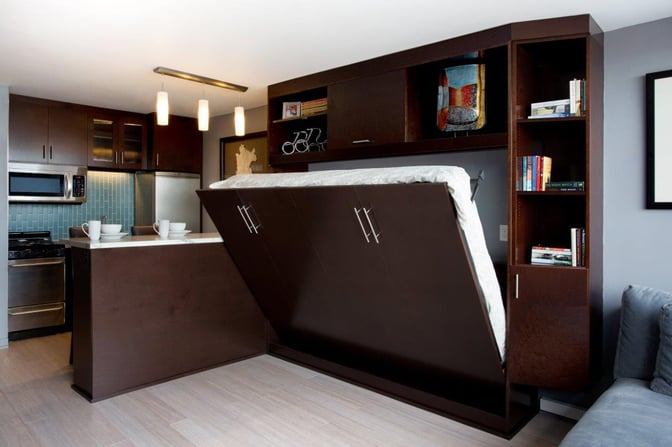 Valet Custom wall beds, like this one in Mt. Hood maple, are almost effortless to open.
Image from Valet Custom Cabinets & Closets.
Storage incorporated into architecture: Pull-out drawers for things like your hamper and nightstand reduce visual clutter. Instead of keeping necessities like your laundry hamper in the room or in the closet, conceal them with a pull-out hamper drawer. A pull-out nightstand eliminates a usually bulky item for less visual clutter, which makes it possible to live in a small space that still feels elegant—not like you're in a dorm room.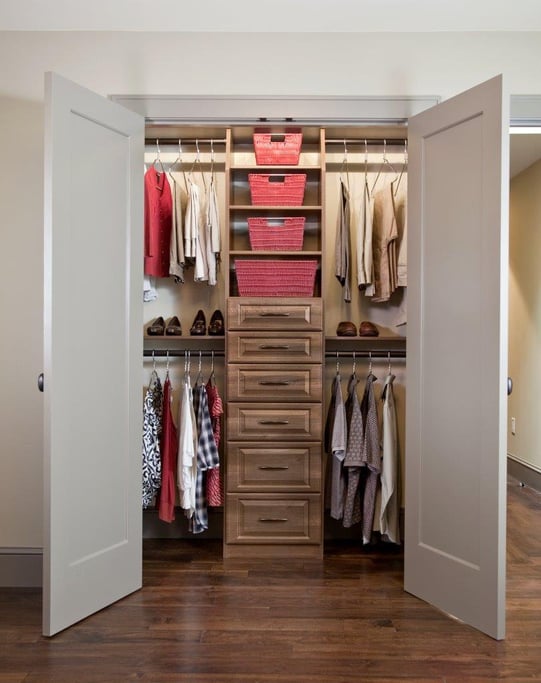 A well-designed reach-in closet can save a ton of space in ADUs.
Image from Valet Custom Cabinets & Closets.
Luxurious details: There's a Japanese term for the studio apartment: it's a "one-room mansion." Make your ADU a tiny mansion—luxury is in the details. Choose high-quality materials like low-VOC woods and thermally fused laminates. Pay attention to things like lighting. In your closet, lit clothes racks give a luxurious feel and also help those with diminishing eyesight locate items easily. Energy-efficient LED reading lights installed in a wall bed unit are an added practical perk.
Changes over time but style remains constant: The beauty of minimalism is that it's easy to interpret—it sets the stage for each new generation to love and doesn't impose its purpose or its style on anyone. The smooth finish of our thermally fused laminate cabinetry is subtle and classic. Classic styling also brings in daylight; the open, airy aesthetic exemplified in Japanese houses is echoed in California modernism. Clean architectural lines and a tradition of minimal decoration let the West Coast sun fill the room.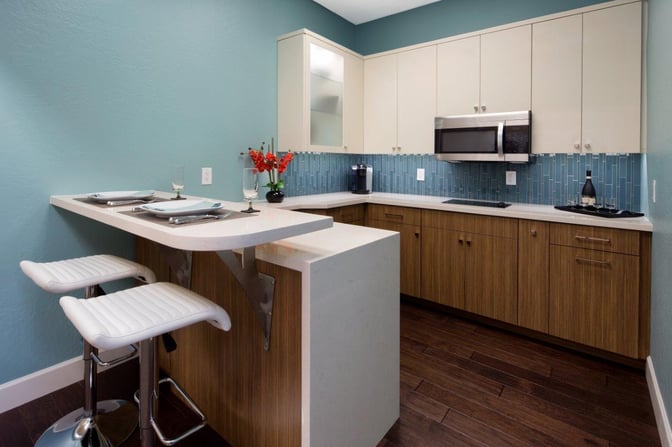 By making efficient use of space in your kitchen, you can create a sleek, timeless in-law suite or rental unit.
Image from Valet Custom Cabinets & Closets.
Space for All Life's Seasons
A lot of changes happen in life. It's our job to make sure that your ADU can transition along with those changes. Whatever you need--an in-law suite, a living space for a grown child, a home office, quarters for a caretaker, a hobby spot--we can make it happen. We work with you to come up with a beautiful custom design so that your ADU is just as nice to look at as it is efficient.
We may be separated from Japan by an ocean, but we both have major space issues. At Valet Custom Cabinets & Closets, we can make space a non-issue. Our customized storage and multi-functional furniture inspired by Japanese homes can make a small space multi-purpose, beautiful, and easy for people of any age to live in.
At Valet Custom Cabinets & Closets, we know that luxury is in the details and a small space has the potential to become the area on your property that you love the most. Contact us for a consultation to learn more about our custom storage solutions, or visit our nearest showroom in Danville.
---
Valet Custom Cabinets & Closets designs, manufactures and installs custom organizational solutions that enhance the functionality of your living space while complementing the décor of your home.
Our talented design team creates unique solutions tailored to your specific needs, style, and budget. We are independently owned and a direct manufacturer.
Our areas of specialty include Home Offices, Wall Beds, Media Centers, Closets, Pantries, Garage Cabinetry, and much more.
Your Space - Exceptionally Designed - Uniquely Styled - Expertly Crafted
---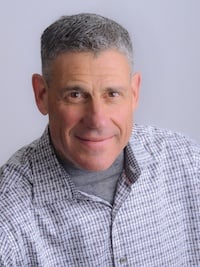 About Larry Fox, President
Larry is a graduate of the University of Southern California School Of Business. After receiving his degree he returned to the Bay Area and spent 18 years working in his family's 100+ year old metals recycling business. Upon the sale of that business in 2000, Larry and his wife Audrey purchased Valet. Larry has become a leader in the industry and is a past president of the National Closet Group. Larry loves turning people's dreams into reality, and remains as enthusiastic about the business today as he was when he first acquired it. View Larry's Houzz Page.