"Well, now that you've got a house, we can just have Thanksgiving at your place!"
These are the words every first-time homeowner loves—and dreads—to hear. On the one hand, congratulations: you're an adult! On the other hand, it means all the preparation, planning, shopping, cooking, and cleaning is up to you.
I see this all the time in the Bay Area, where as many as 42% of homeowners are first-time buyers. Becoming a homeowner is really exciting, but it also means learning how to host. The holidays, in particular, tend to bring with them a lot of overnight guests. You'll need a place to put everyone where they'll be comfortable without creating too much clutter.
That's where our horizontal wall beds come in. These are beds designed to fold up neatly into a beautiful and functional piece of furniture, often in one of the main rooms. They disappear easily, keeping your rooms open, and offer the storage space guests need in order to relax and enjoy themselves without worrying about where to stuff all their—well, stuff.
Space Whenever You Need It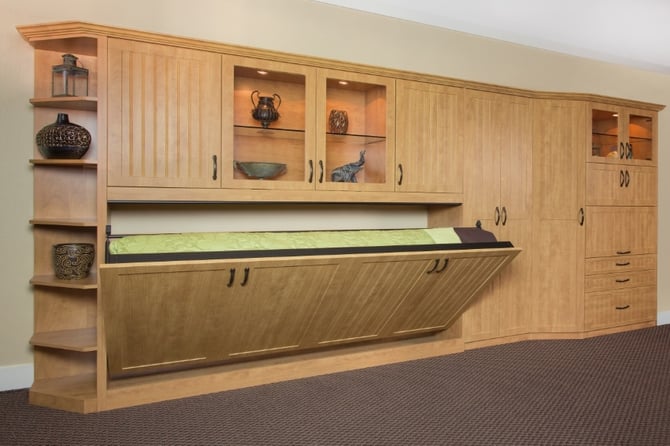 Our wall beds blend seamlessly into the cabinetry when not in use.
Image source: Valet Custom Cabinets & Closets.
One of the trickiest parts of having company over is when you run out of guest rooms. I've talked to a lot of clients who got frustrated with either doubling people up or having to drag out mattresses and airbeds into the family room when everyone was ready for bed. It was a hassle, and it became a problem when, for instance, some guests wanted to stay up late while others yearned for a good night's rest.
That's the elegance of a custom-designed horizontal wall bed. Our designs don't just blend in with the furniture; they are already part of a beautiful piece, hidden in plain sight.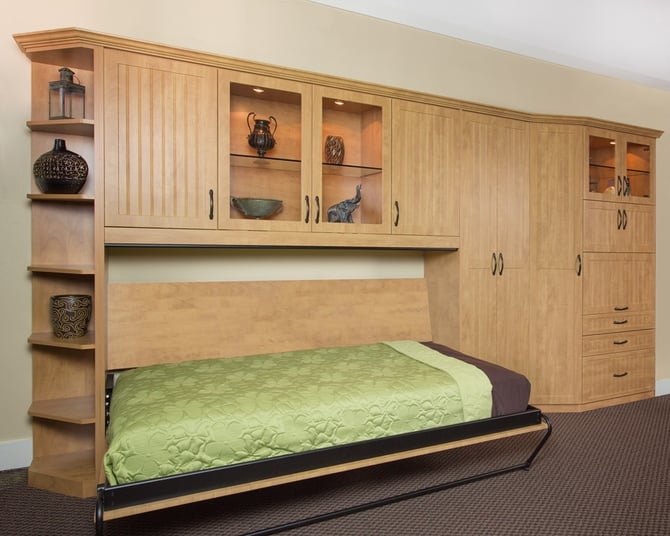 Our wall beds range from singles to queens to accommodate overnight guests of all shapes and sizes.
Image from Valet Custom Cabinets & Closets.
Even better, our beds are both comfortable and easy to use. Pulling one out is as simple as a quick tug, no elbow grease required. Mattress sizes range from twin to queen and are as sturdy as they are spacious and can support up to 1,200 pounds. While most wall beds are set at an awkward 18 inches above the ground, we keep ours around a much more comfortable 21 inches—which comes in particularly handy for seniors who may have trouble getting into and out of a lower bed.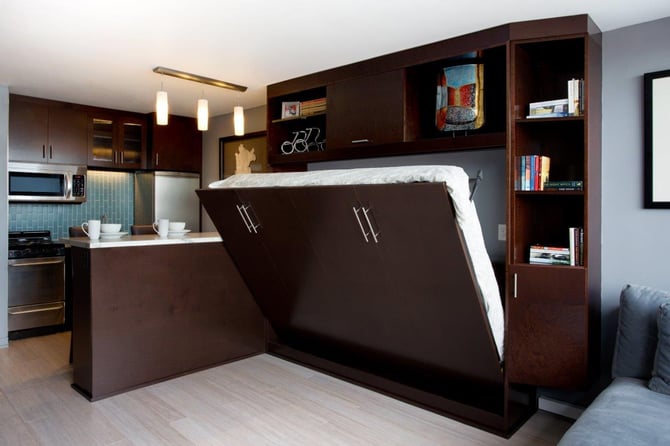 A wall bed can fold up to create more room for family activities during the day.
Image from Valet Custom Cabinets & Closets.
We can design wall beds for any room, even right off the kitchen. They can also be made to fit around furniture. We take exact measurements of every room so that we know exactly how to fit what, where. After all, you don't want a bed so big it bumps against the other wall and takes up the whole room—if that's the case, you might as well just flop a California king in the middle of the dining room. We want your wall bed to maintain the integrity of the room, and fit so that guests can still gather together comfortably, night or day.
Beyond the Guest Room
When you're on an air mattress, you wind up putting things like your phone or your keys on the floor next to you for lack of another option. It's an unwelcome and annoying reminder that you aren't actually sleeping in a "real" bed. That's why we offer options such as flip-down or fold-out nightstands to accompany our wall beds—we know a good night's rest and a sense of homeyness is key to a happy holiday visit.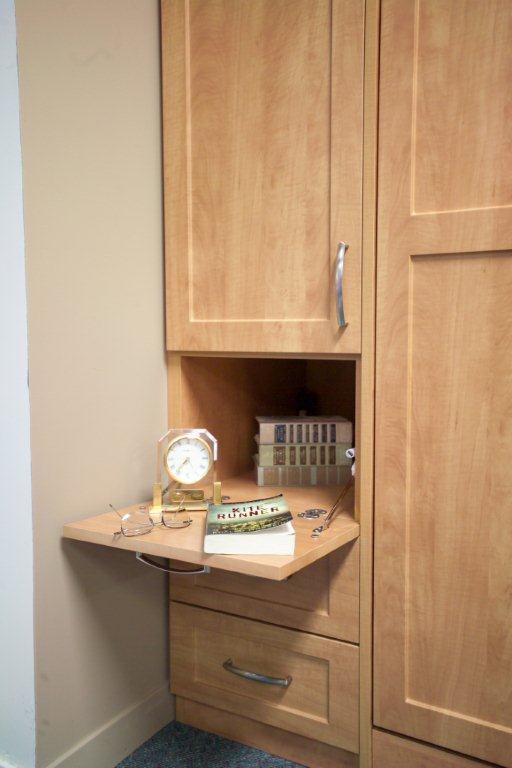 Flip-down nightstands provide a place for bedside miscellany, like a glass of water, an alarm clock, or a good book.
Image source: Valet Custom Cabinets & Closets.
What about bigger storage issues, like the endless suitcases full of shoes and dresses that one aunt of yours can never seem to leave behind? Good news: because our wall beds come as part a beautiful set of custom cabinetry, they come equipped with built-in closet solutions.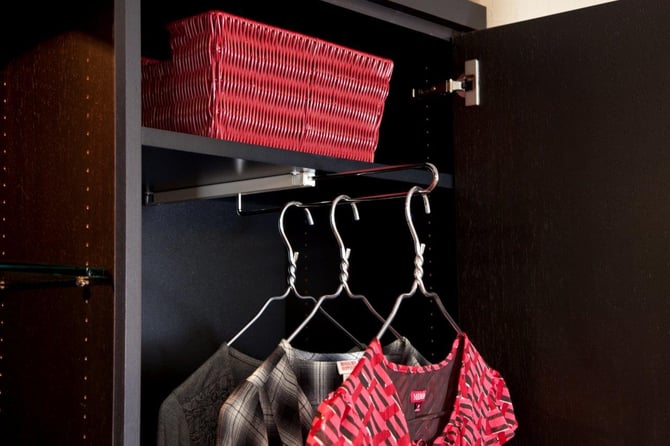 Cabinets with pull-out hanging rods keep clothing storage nice and compact.
Image source: Valet Custom Cabinets & Closets.
Pull-out or pull-down hanging rods make the most of limited cabinet space, while roll-out shoe shelves, corner wardrobes, and double jewelry drawers offer organized storage for even your fashionable aunt's massive stockpile of designer pumps and pearl earrings. For longer visits, sneak in some hidden hampers to make laundry day a breeze. When it comes to good old-fashioned hospitality, the little touches often make the biggest difference.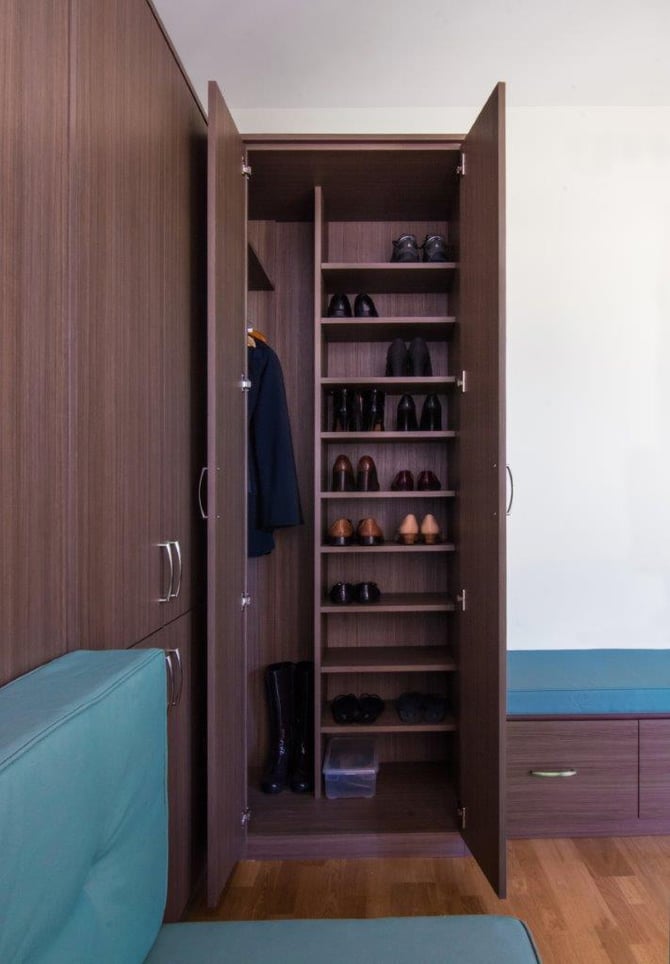 A corner wardrobe is a perfect place to stash your guests' many, many shoes.
Image source: Valet Custom Cabinets & Closets.
And that's the point of hosting—making your guests, whether they be family, friends, or plus-ones, feel at home. For first-time homeowners in the Bay Area, the right wall bed can be the key to creating a happy holiday experience for all. To learn more about how our custom solutions can help you keep your guests comfy this season, connect with us today!
---
Valet Custom Cabinets & Closets designs, manufactures and installs custom organizational solutions that enhance the functionality of your living space while complementing the décor of your home.
Our talented design team creates unique solutions tailored to your specific needs, style, and budget. We are independently owned and a direct manufacturer.
Our areas of specialty include Home Offices, Wall Beds, Media Centers, Closets, Pantries, Garage Cabinetry, and much more.
Exceptionally Designed & Styled * Expertly Crafted with 5-Star Execution
---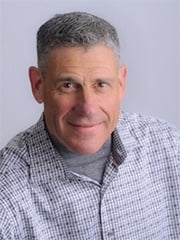 About Larry Fox, President
Larry is a graduate of the University of Southern California School Of Business. After receiving his degree he returned to the Bay Area and spent 18 years working in his family's 100+ year old metals recycling business. Upon the sale of that business in 2000, Larry and his wife Audrey purchased Valet. Larry has become a leader in the industry and is a past president of the National Closet Group. Larry loves turning people's dreams into reality, and remains as enthusiastic about the business today as he was when he first acquired it. View Larry's Houzz Page.