Willow Glen is a bustling whirlwind this time of year. Between decorations, ski gear, and holiday ephemera, "San Jose's Local Treasure" ends up full of clutter and mess in the back rooms, closets, and garage spaces across the neighborhood. Old town charm takes a lot of "stuff" to pull off—especially when the holidays hit.
Every new year, we seem to get a barrage of clients coming to us saying that it's their New Year's resolution to finally clean out their garages. They've allowed their garages to be taken up with clutter until they're practically useless even for car parking. These desperate organizers come in droves, seeking creative and efficient ways to get their storage under control.
Fortunately, we can do far more than just tame the clutter monster living in your garage. The best garage remodels, in my opinion, are functional, aesthetically pleasing, and multi-purpose to boot. With the right garage setup, you'll be able to find whatever you need, whenever you need it—and park your car.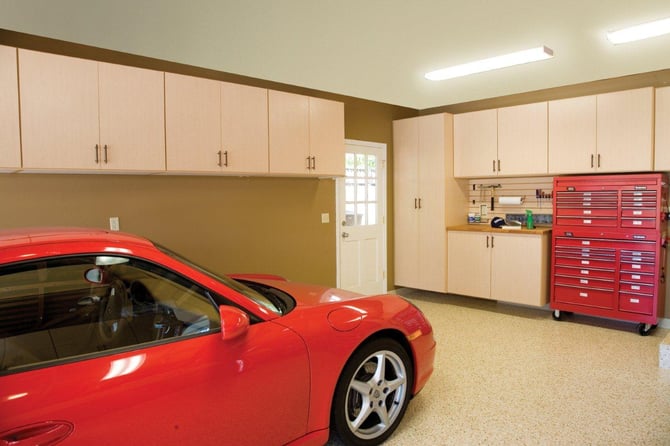 A well-designed garage can function as much more than just a parking space.
Image Source: Valet Custom Cabinets & Closets
Let Custom Cabinetry Take Care of the Clutter
Most often, the garage serves as a dumping ground. The holidays can take a toll on an already disorganized clutter situation. This time of year, I often find myself wading through wrapping supplies and decor that we didn't feel like stuffing away into our hard-to-reach storage spots. Custom cabinetry can help bring your clutter under control by taking advantage of underutilized wall space and giving each item a specific home.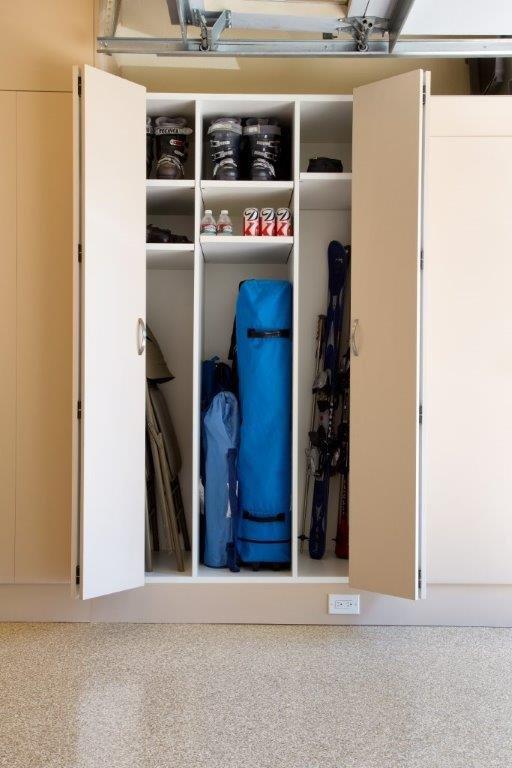 Custom cabinets with bi-fold doors designate space for winter adventure gear.
Image source: Valet Custom Cabinets & Closets
I personally believe in storing items closest to where they will be used—so that means all of your outdoor gear can live in the garage right next to the car for loading. Taller cabinets can easily accommodate winter gear like skis, snowboards, and sleds for the kids. Smaller spaces are ideal for storing cleats, gloves, and kneepads. Heavier items like boots have their own storage spots with adjustable 1-inch shelves—which are sturdy enough to support your heaviest gear, and can be customized specifically to the size you need so as to not waste valuable storage space.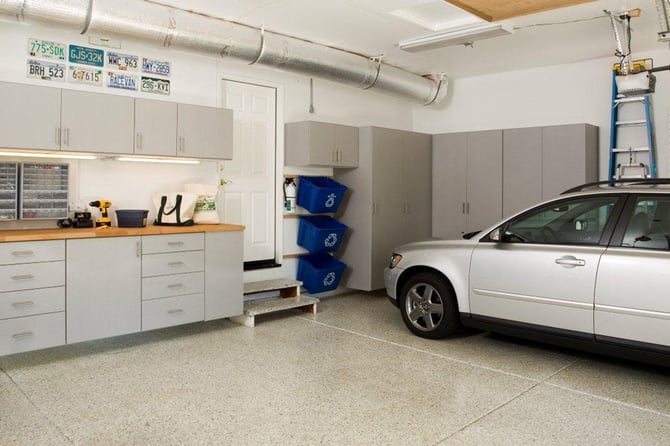 With custom cabinetry, everything is off the floor and out of the way of your car.
Image source: Valet Custom Cabinets & Closets
Many of my clients mention that the "finish line" for their garage cleaning resolution is being able to fit the car in the garage. Custom cabinets that utilize vertical space can add storage value to bare walls that were previously unused. With everything off the floor, you've actually got room for your car (or maybe even two!).
Utilize Your Wall Space
Willow Glen is a fantastic place to live if you enjoy being in the outdoors on your bicycle. You've got really easy access to bike trails, and the mountains are just a brief jaunt away for more extreme cycling adventures. However, one major eater of garage floor space is—you guessed it—bicycles. They just don't store well on the floor. Those of you with a fixed gear, street bike, and three mountain bikes will understand exactly why that becomes a problem. Instead, consider storing your prized rides on your walls using industrial-grade hooks positioned perfectly to maximize wall space.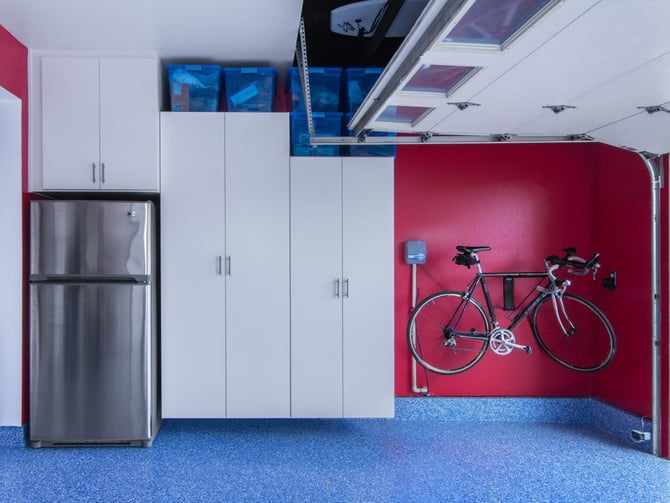 Wall-mounted bike racks keep your wheels out of the way when you want to park.
Image source: Valet Custom Cabinets & Closets
If you're also interested in taking advantage of the Omni Track customizable wall system, you can store all of your mismatched items that need a place (like power strips, electrical cords, and hand saws). This system functions like a next-gen pegboard, with wall tracks and removable hooks of all kinds that let you customize your storage however you please. With the addition of an Omni Track bike hook, you can hang your bike there too!
An Omni Track system is also perfect for storing miscellaneous sports equipment like tennis rackets or your removable outdoor volleyball net. You might also want to utilize some wall space with broom clamps that can double as bat and stick holders.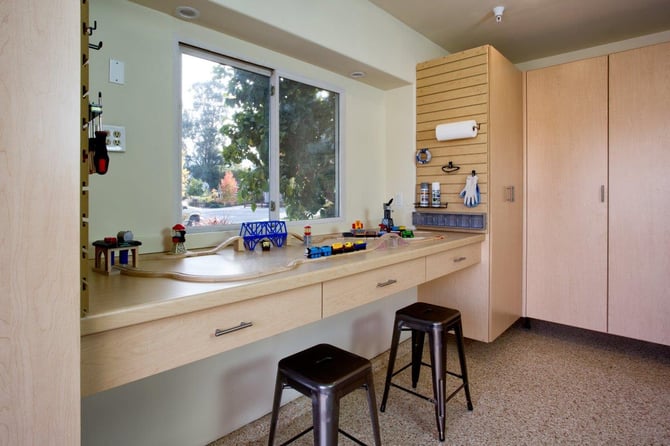 Custom wall storage, like slat walls, works well for storing odds and ends.
Image source: Valet Custom Cabinets & Closets
Relish Your Newfound Space
With custom cabinetry, wall storage, and a fantastic bike storage strategy, you're well on your way to clearing the clutter and getting your Willow Glen garage to be liveable again. With everything in its proper place, you'll find that you have a huge area of space in the middle of the garage completely bare—as garages are intended to be.
Hopefully, these ideas have provided you with enough inspiration to finally get started on that big garage clean-out. Whether you want to keep the "old town" feel of Willow Glen in your design or go for a more modern take, we're dedicated to creating a custom garage that suits your vision. Connect with us today to learn more about how we can work together to transform your garage into a functional room again.
---
Valet Custom Cabinets & Closets designs, manufactures and installs custom organizational solutions that enhance the functionality of your living space while complementing the décor of your home.
Our talented design team creates unique solutions tailored to your specific needs, style, and budget. We are independently owned and a direct manufacturer.
Our areas of specialty include Home Offices, Wall Beds, Media Centers, Closets, Pantries, Garage Cabinetry, and much more.
Exceptionally Designed & Styled * Expertly Crafted with 5-Star Execution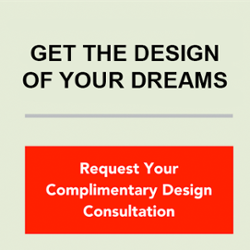 ---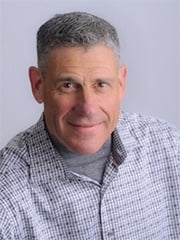 About Larry Fox, President
Larry is a graduate of the University of Southern California School Of Business. After receiving his degree he returned to the Bay Area and spent 18 years working in his family's 100+ year old metals recycling business. Upon the sale of that business in 2000, Larry and his wife Audrey purchased Valet. Larry has become a leader in the industry and is a past president of the National Closet Group. Larry loves turning people's dreams into reality, and remains as enthusiastic about the business today as he was when he first acquired it. View Larry's Houzz Page.