San Ramon: a beautiful, diverse, and safe place to raise your family away from the bustle of Cupertino or San Francisco. Surprisingly, I've seen a growing number of San Ramon clients who travel for business outside of the Bay Area. It's hard to imagine anyone wanting to leave the area—especially as the city's about to get a brand new downtown. On the other hand, business travel contributes to San Ramon's rank as one of the richest cities in America. They're definitely doing something right, even if some residents have to leave the utopia biweekly.
In any case, the question of business travel comes up frequently in my line of work. Clients often want a home office space, but don't want to create an entire room that might only be used 10% of the week. Thankfully, there's more than one innovative way to turn a home office into a multifunctional room that can be used all year long.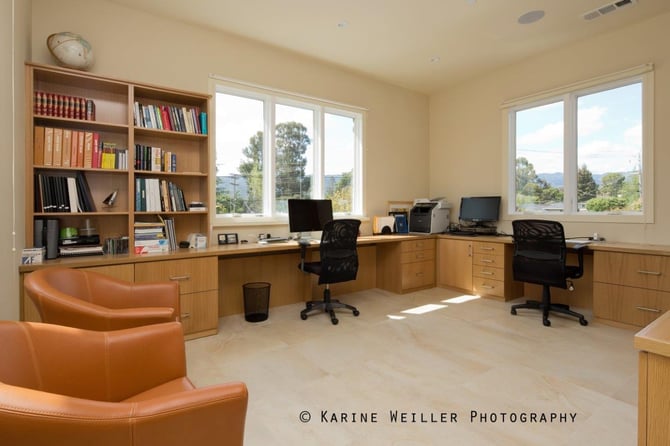 An entire room dedicated to your home office might not be ideal for San Ramon business travelers.
Image source: Valet Custom Cabinets and Closets
Create a Home Office That Doubles As a Guest Room
One simple way to ensure your new office space is multifunctional is to include extra sleeping space to accommodate visiting guests. While it might not be practical to have a full-size bed constantly taking up floor space in your office (and a day bed won't take care of visiting couples), creating a home office and guest room in one with a wall bed gives guests a place to sleep when necessary, then folds up and out of the way when it's time to get back to work.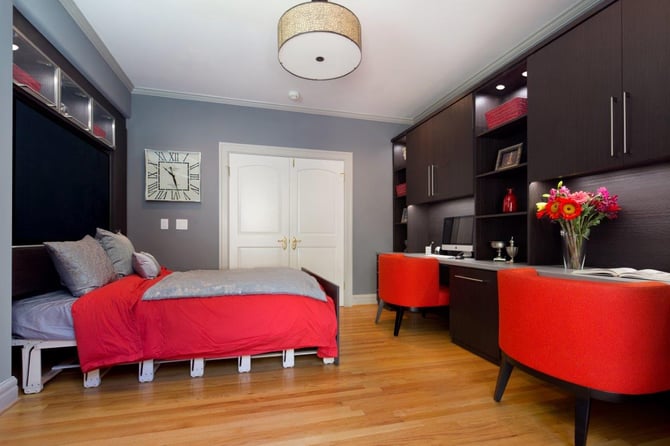 When you don't need a bed in your office 24/7, consider installing a vertical-tilt Murphy bed.
Image source: Valet Custom Cabinets and Closets
A vertical tilt wall bed (as seen above) is perfect for a guest room that will accommodate elderly family members, because there is ample walking space on both sides of the bed when it's in use. A side tilt wall bed, on the other hand, saves more floor space by appearing like a full-size bed pushed against your office wall, instead of protruding lengthwise into the middle of the room.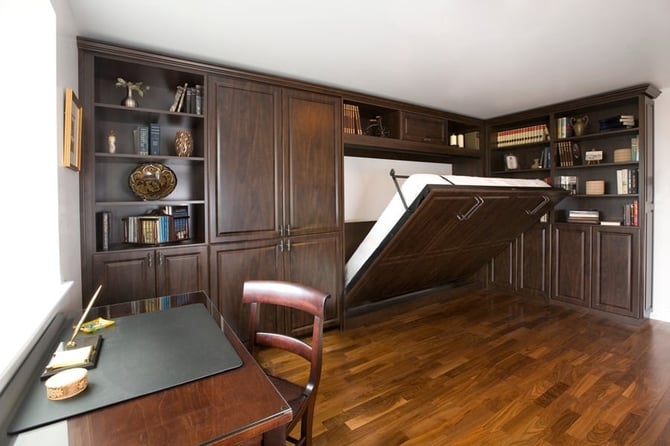 Our wall beds blend in seamlessly with your home office custom cabinetry when not in use.
Image source: Valet Custom Cabinets and Closets
Both vertical and horizontal tilt Murphy beds are integrated beautifully with a custom office design in order to maximize space utilization and create an aesthetically pleasing look whether you're entertaining Aunt Marge for the weekend or not.
Even better, thanks to our unique wall bed design, there's no need to worry about heavy lifting or clunky hardware. Our wall beds are impeccably designed with a fluid mechanism that's secure and moveable with little more effort than the pressure of your fingertips. Your new guest room will be ready for use in seconds without breaking a sweat or pulling out the WD-40.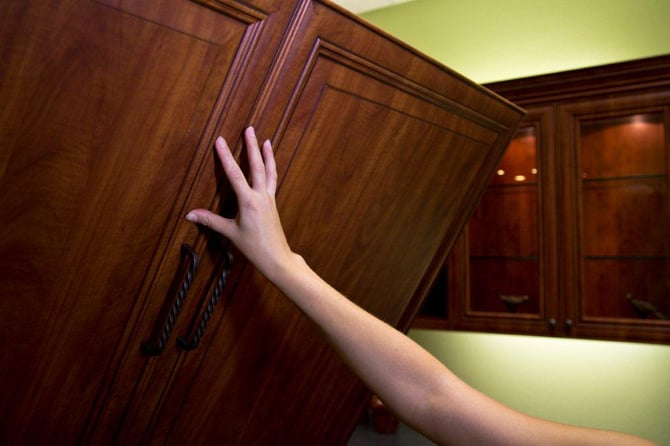 Our wall beds tilt effortlessly with finger-lift technology.
Image source: Valet Custom Cabinets and Closets
Add a Home Office Space to an Existing Room
If a guest room isn't high on your priority list and your condo on Alcosta is short on extra bedrooms, you might want to consider using custom cabinetry to add a home office space to an existing living area. This is a great solution for business travelers who are rarely home—the office components all slide and fold seamlessly into the cabinetry and out of sight when you're not using them.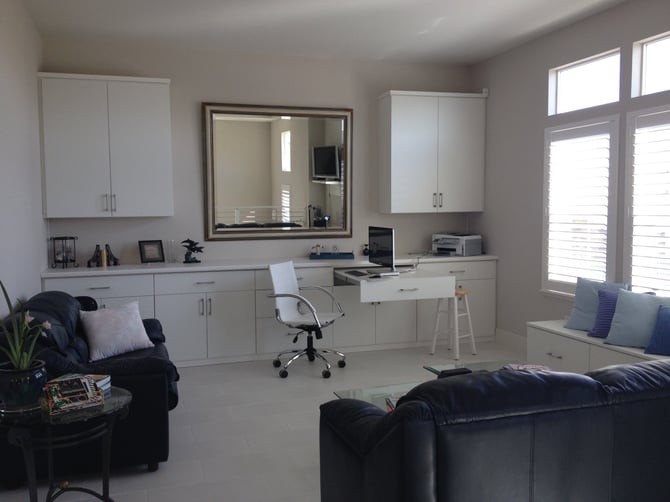 Adding an office space to your living area is simple with custom cabinetry.
Image source: Valet Custom Cabinets and Closets
One of my personal favorite innovations is the pull-out desk. If you only need a working surface every now and then and are tired of commandeering the dining table for your purposes, this is the solution for you.
These temporary surfaces can be disguised as drawers with the custom hardware of your choice. They're unbelievably stable, and can be easily slid out of sight to reduce clutter and save floor space when you're away from San Ramon.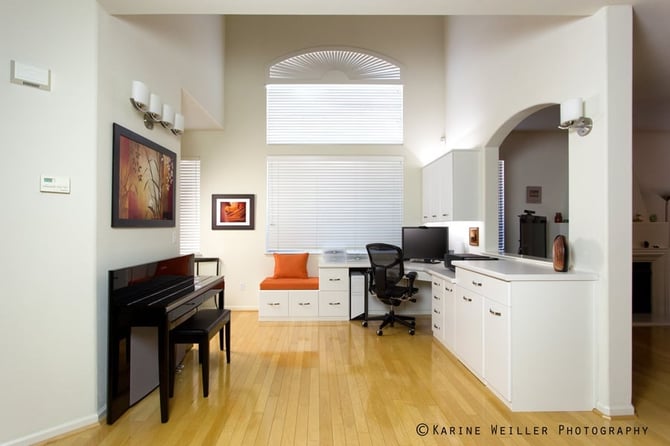 Adding an office space to a living area can be beautiful with corresponding finishes and hardware.
Image source: Valet Custom Cabinets and Closets
If you're looking for a more permanent desk surface, consider using custom cabinetry to create a corner office in a living area. With finishes that complement your existing aesthetic, your new office will look like it came built into your Canyon Lakes home. Plus, this gives your kids additional space to build their kites for the Art and Wind Festival without leaving their projects in the kitchen.
Hidden Extras That Make Your New Office Ultra-Functional
Just because you create a home office that's multifunctional doesn't mean you have to skimp on custom office perks. Working with our designers, you can create a seamless and beautiful office design that incorporates all the little extras without any of the extra clutter. When you're away on business, your office space will remain organized—simply by design.
Still using file cabinets? Upgrade to a hidden double-file drawer instead to house all of your important documents.
Image source: Valet Custom Cabinets and Closets
Within your design, you can incorporate customized storage that fits your specific needs. Store documents within file-cabinet style drawers that blend in with the rest of the cabinetry. House your printer and other components on slide-out shelves and behind fold-down door panels.
Our clients always want to incorporate a solution for cord storage in their custom office designs, and our most popular option is a detachable back to your cabinets. Simply tilt down the cabinet panel to reveal your cables when necessary, and replace it when you're finished. Cord clutter, begone.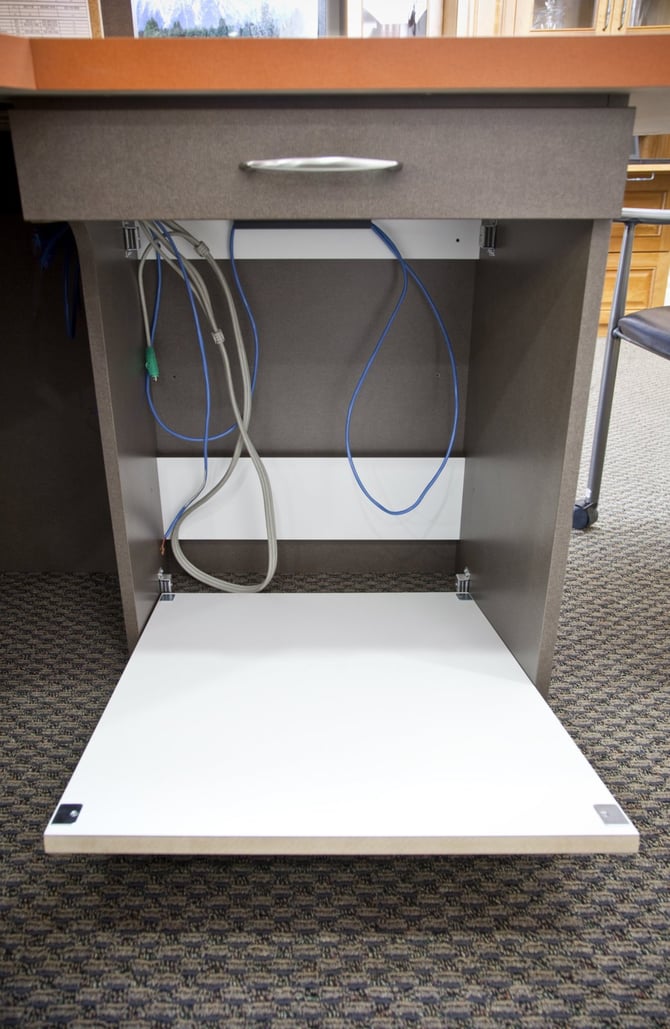 Make sure your custom office has detachable backs that provide easy access to necessary cables.
Image source: Valet Custom Cabinets and Closets
Whether you're at home in San Ramon year-round or traveling 75% of the week on business, a custom home office provides the work space you need with the multifunctionality your family requires. With wall beds, custom cabinetry, and innovative extras, you don't have to sacrifice to get a multipurpose office space in your home. Our design team is ready to take your ideas to the next level—contact us today to start creating the home office of your dreams.
---
Valet Custom Cabinets & Closets designs, manufactures and installs custom organizational solutions that enhance the functionality of your living space while complementing the décor of your home.
Our talented design team creates unique solutions tailored to your specific needs, style, and budget. We are independently owned and a direct manufacturer.
Our areas of specialty include Home Offices, Wall Beds, Media Centers, Closets, Pantries, Garage Cabinetry, and much more.
Exceptionally Designed & Styled * Expertly Crafted with 5-Star Execution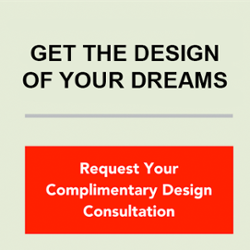 ---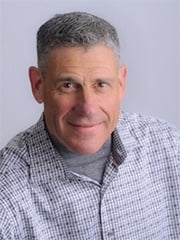 About Larry Fox, President
Larry is a graduate of the University of Southern California School Of Business. After receiving his degree he returned to the Bay Area and spent 18 years working in his family's 100+ year old metals recycling business. Upon the sale of that business in 2000, Larry and his wife Audrey purchased Valet. Larry has become a leader in the industry and is a past president of the National Closet Group. Larry loves turning people's dreams into reality, and remains as enthusiastic about the business today as he was when he first acquired it. View Larry's Houzz Page.