While plenty of Silicon Valley cities aim to be as high-tech as possible, I've always considered downtown Los Gatos the perfect mix of old and new. It was one of the first areas to offer free outdoor WiFi hotspots but still has remnants of brick architecture from the late 1800s—in addition to upscale shopping and dining. Given the number of lofts and condos that have sprung up within walking distance of downtown, plenty of folks seem to enjoy this balance.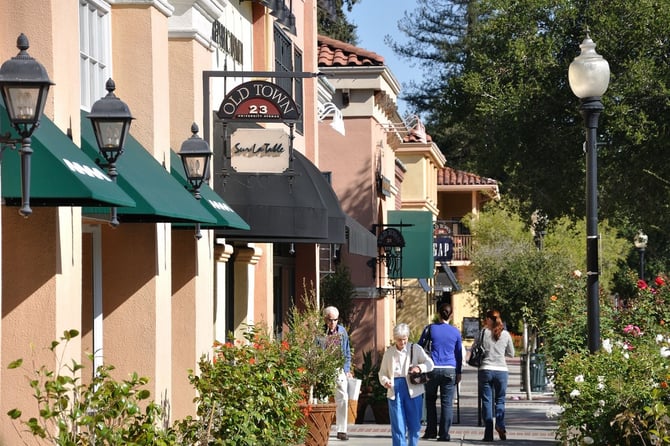 Old Town Los Gatos is utterly charming.
Image Credit: Flickr CC user Don DeBold
If you enjoy going out to see and be seen, of course, you might also enjoy dressing the part, choosing outfits that match the Old Town vibe. And if your wardrobe has grown to the point that finding the right pair of shoes is a major struggle, adding a custom-designed accessory storage system to your walk-in can help you put yourself together a little more efficiently.
Purse Hooks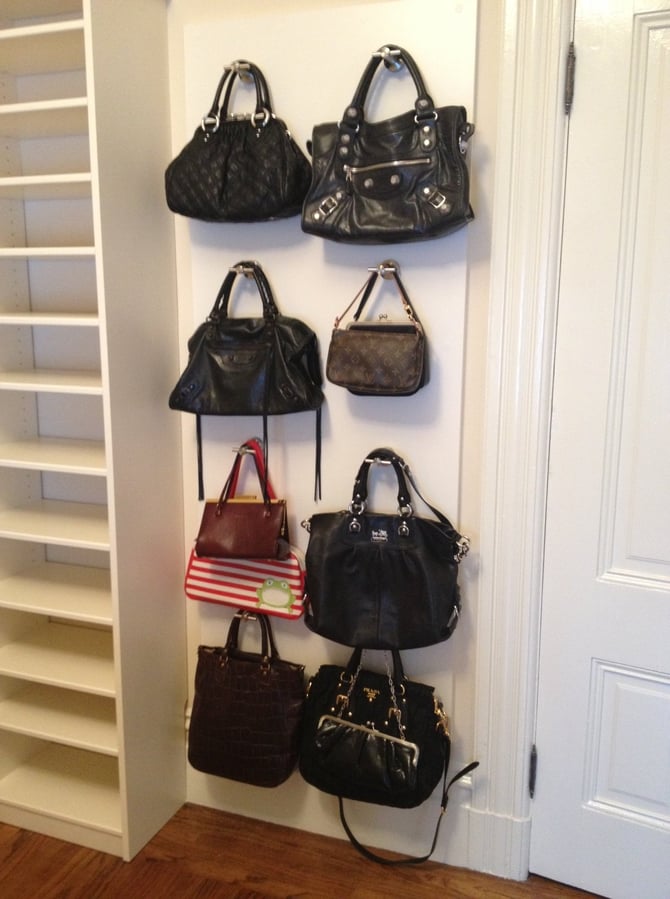 Never forget about any of your purses again.
Image from Valet Custom Cabinets & Closets.
I've heard time and again that the secret to using more of your handbags is to display them (although I confess to lacking first-hand experience). Many of my clients have so many colors, sizes, and textures I'm amazed they can keep track of everything—and the challenge, they tell me, is that they often can't.
One solution? Purse hooks.These turn one section of your walk-in into a showcase so that you can get more wear out of bags you forgot you had. We can fit hooks just about anywhere you want them. I've had clients cluster hooks along one wall so that everything's in one spot and easily grabbable or split their hooks across several sections of their closet so that purses can be arranged by designer or season.
Roll-Out Shoe Shelving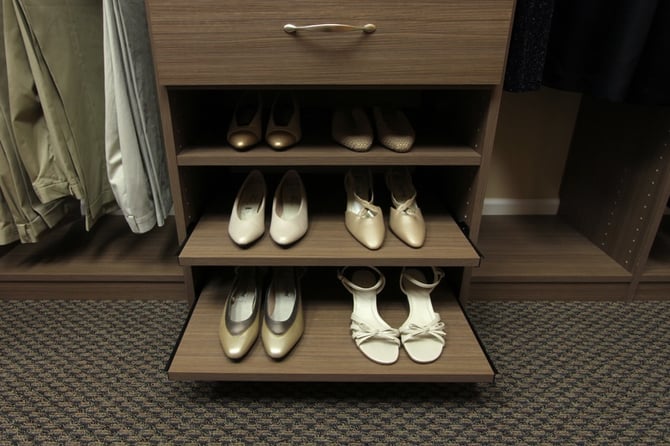 Storage for heels and flats.
Image from Valet Custom Cabinets & Closets.
When I recommend adding shoe shelves at the bottom of a walk-in, I often get "the look" from clients. It's the "I can't believe you want me to get on the floor to dig out my heels" look. And that look usually transforms into delight when I mention that we can install roll-out shoe shelves so you can grab the shoes you need with no rummaging. These shelves are a great way to get some extra storage space while keeping a clutter-free appearance. We have fully enclosed shoe drawers, too, for folks who really want to keep everything out of sight.
If you're looking for more options, you might also go for slanted shelving with shoe fences—this setup's great for displaying all your footwear at once, and I often recommend it to people who have trouble keeping track of everything. Or—one last suggestion—consider boot hangers to keep winter wear in mint condition for the month or two when it's finally cold enough to be worn.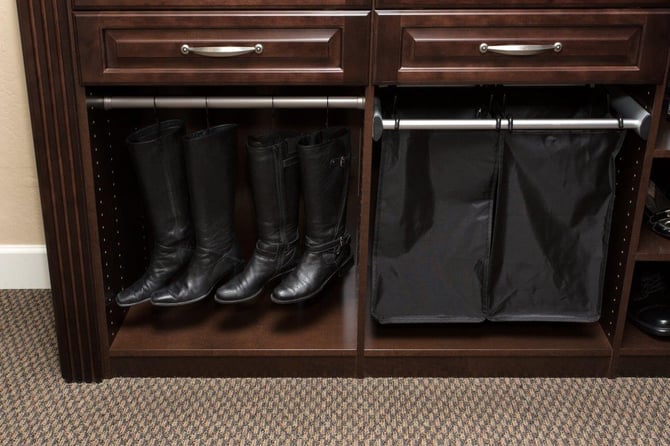 You can stow your boots
and
your laundry out of sight with this setup.
Image from Valet Custom Cabinets & Closets.
Scarf and Belt Racks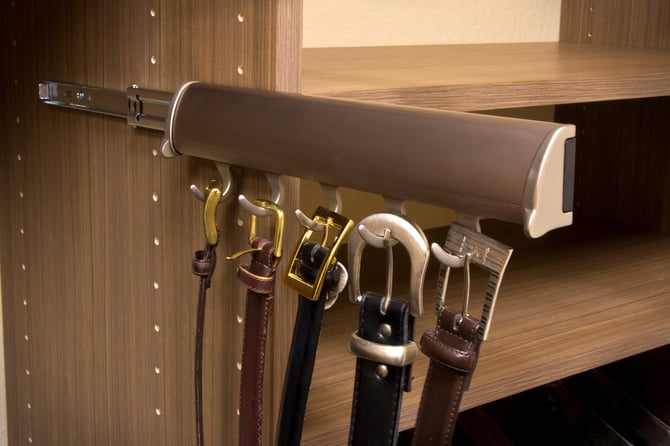 Now you see it, now you don't.
Image from Valet Custom Cabinets & Closets.
Of all accessories, belts are probably hardest to maintain. Most people try to store belts by coiling them in drawers—and then run into issues when the belts spread out on their own. That's why I love our belt racks. They're slim and can be added to the interior of almost any cabinetry. You loop your belt buckles onto each hook and slide the entire rack out of sight.
While we're on the topic, scarves can also be pretty problematic—if you're investing in a belt rack, you might want to spring for a sliding scarf rack, too. These racks have seamless storage loops so that you don't have to worry about snagging delicate materials like silk or chiffon.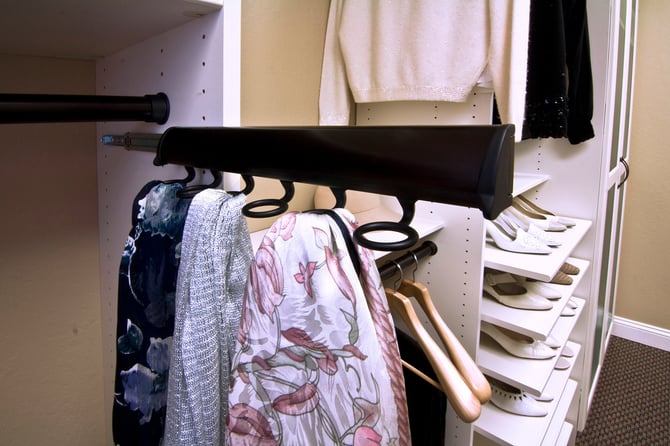 A slide-out scarf rack keeps your neckwear from ending up on the floor.
Image from Valet Custom Cabinets & Closets.
Custom Jewelry Cabinetry
For the true jewelry lover, necklace hooks usually aren't enough. If you've got an extensive collection, I recommend adding a custom jewelry cabinet to your walk-in. From shelves to locking, velvet-lined accessory trays and necklace hanging stations, this is the mecca of jewelry storage. If you make a habit of stopping by Teel's, you'll no longer have to worry about running out of space at home. Of course, if you don't have the room (or the collection) to warrant an entire cabinet, consider a single or double-level jewelry drawer instead. These still have separate compartments for all your jewelry, making it easy to see your pieces while preventing tangles.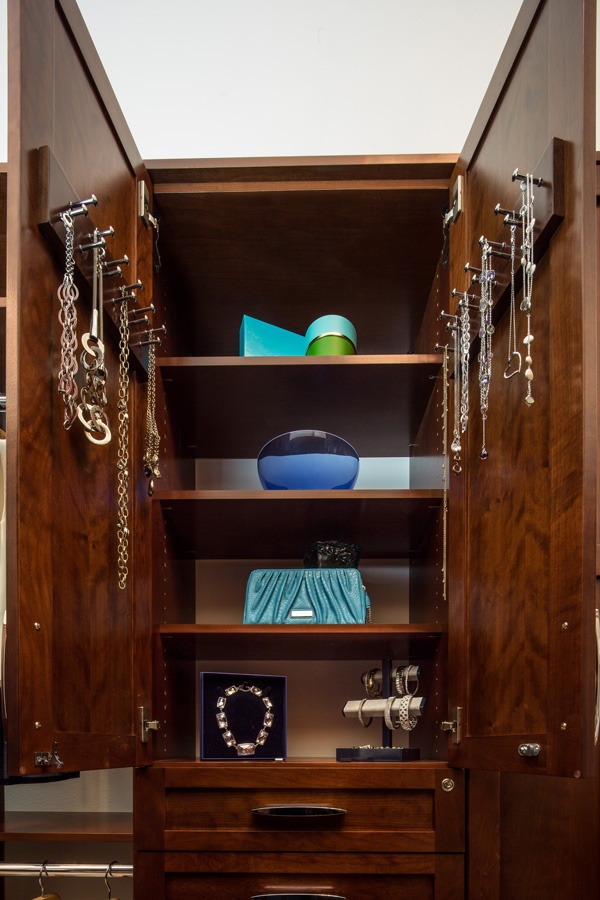 Just think about all the necklaces that would fit here.
Image from Valet Custom Cabinets & Closets.
The really great thing about a custom design is that you've always got more options. Stop by one of our showrooms in Danville or Campbell, or get in touch with us, and we'd be happy to chat about additional storage suggestions for your accessories. Los Gatos offers plenty of stylish condos, and your closet should look and feel as good as the rest of your home.
---
Valet Custom Cabinets & Closets designs, manufactures and installs custom organizational solutions that enhance the functionality of your living space while complementing the décor of your home.
Our talented design team creates unique solutions tailored to your specific needs, style, and budget. We are independently owned and a direct manufacturer.
Our areas of specialty include Home Offices, Wall Beds, Media Centers, Closets, Pantries, Garage Cabinetry, and much more.
Exceptionally Designed & Styled * Expertly Crafted with 5-Star Execution
---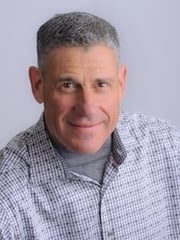 About Larry Fox, President
Larry is a graduate of the University of Southern California School Of Business. After receiving his degree he returned to the Bay Area and spent 18 years working in his family's 100+ year old metals recycling business. Upon the sale of that business in 2000, Larry and his wife Audrey purchased Valet. Larry has become a leader in the industry and is a past president of the National Closet Group. Larry loves turning people's dreams into reality, and remains as enthusiastic about the business today as he was when he first acquired it. View Larry's Houzz Page.