Larry Fox, Owner and President of Valet Custom Cabinets & Closets, spent the 18 years after he graduated from college working at his family's metal recycling business. The family business was sold in 2000 and Larry chose to make a career change rather than stay in the industry. When making that decision, a number of factors came into play.
"My goals were simple," Larry said. They were:
Prove it on my own: I represented the 5th generation in our recycling business that was founded in San Jose in 1886. While I had certainly established myself in this business, when the time came for us to sell I had a strong desire to do something completely different and prove that I could succeed on my own.

Stay local: Both my wife and myself have strong family ties here and did not want to leave the Bay Area.

Appeal to my strengths: I knew production and how to manage people, but was not a techie.

Make a value added product: Coming from a commodity based business it was sometimes difficult to differentiate ourselves through our product. I wanted to produce a product in which customers would recognize and appreciate the added value my company delivered in both quality and service. With Valet Custom Cabinets & Closets we are able to do just this with exceptional design and styling, precision equipment and expert craftsman, and 5-Star execution.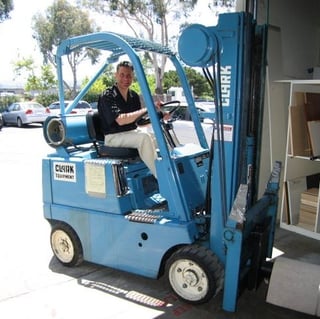 Larry has definitely met his goals! Over the years of working at Valet, Larry has seen his fair share of customers who come in with a frustration with their home, often a disorganized space that isn't working for them, and the team is able to create and deliver a solution that positively impacts their lives. "There is nothing more rewarding for me," says Larry, "than to visit with someone in our showroom who has nothing more than a problem without a clear concept of a solution and then to go out to their home 6 weeks later and see what we have been able to accomplish for them."
One project in particular stands out to Larry. He helped a retired couple who were moving from Menlo Park to a San Francisco high rise near the ballpark. They wanted to do something contemporary and hip, yet also classy. Their interior designer was included in the process and "we all worked seamlessly together to have the cabinetry blend perfectly with the rest of each rooms appointments."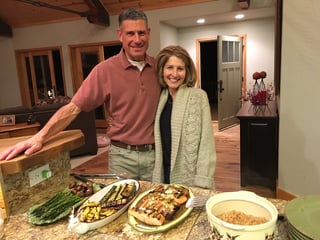 Larry enjoys spending time with his family, exploring the greater Bay Area, and traveling the world. He lives with his wife, Audrey, their two children, and their dog in Los Altos.
Want to work with Larry Fox on your home organization project? Sign up for a complimentary consultation here!
---
Valet Custom Cabinets & Closets designs, manufactures and installs custom organizational solutions that enhance the functionality of your living space while complementing the décor of your home.
Our talented design team creates unique solutions tailored to your specific needs, style, and budget. We are independently owned and a direct manufacturer.
Our areas of specialty include Home Offices, Wall Beds, Media Centers, Closets, Pantries, Garage Cabinetry, and much more.
YOUR SPACE
- Exceptionally Designed & Styled - Expertly Crafted with 5-Star Execution
---
About Tracey Lee Davis and ZingPop Social Media
ZingPop Social Media, located in San Jose and founded in 2014, loves helping small businesses grow and succeed through their online marketing efforts. From coaching to total management for social media or email campaigns to blogging and more, ZingPop Social Media gives their clients a relevant voice in the social media conversation. To get your small business engaging with your target audience, please visit www.zingpopsocial.com.