Laminate and wood veneer both have their benefits, and both offer a myriad of beautiful options – so many options, in fact, that it's easy to feel a little overwhelmed.
Laminate finishes (often referred to as melamine, or TFL for "thermally fused laminate") offer durability, easy cleaning, resistance to fading, and an attractive price point. Wood veneer offers the beauty and depth of real wood and is available in a range of pre-finished stains – plus, it can be custom-stained.
But which option is right for you? And what is veneer, anyway? While our designers have plenty of experience and will help you find the right material and color for your custom cabinetry or closet, it's always nice to have some basic information as you head into the design process.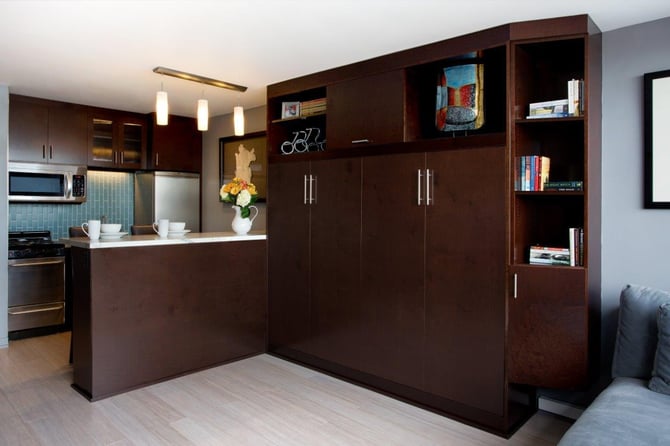 San Francisco studio wall bed and kitchenette in Mt. Hood Maple wood veneer.
Image from Valet Custom Cabinets & Closets
.
Laminate vs. Veneer FAQ
What is wood veneer?
While "veneer" sounds fake, it actually isn't. A wood veneer is a thin, outside layer of real wood that is adhered to a thicker substrate material – typically plywood. Veneers are used for projects that require wide panels, like cabinetry and closets.
This is because hardwood trees, like Maple and Cherry, mature at only 1' to 2' in diameter. Splicing together several pieces of solid hardwood into a larger panel creates an unnatural grain pattern, and the panel itself will be prone to warping. By instead peeling a thin layer of wood from the tree panel, processors can produce a large sheet of consistent grain that they can adhere to a stable, non-warping substrate like plywood.
So what's the benefit of wood veneer?
The beauty of real woods such as Cherry, Maple, Walnut, White Oak, plus a stable surface that doesn't curl or warp, and the availability of large sheets that can be cut for cabinet cases and closet panels.
What kind of wood veneers do you offer?
We offer a large selection of pre-finished veneers in several species and tones. You can also choose a custom finish if you're trying to create a particular look.
Valet's Pre-Finished Wood Veneers:
Clear Coat Maple

Mt. Jefferson Maple

Mt. Hood Maple

Tumalo Mountain Cherry

Hart Mountain Cherry

Clear Coat Walnut

Clear Coat Rift Sawn White Oak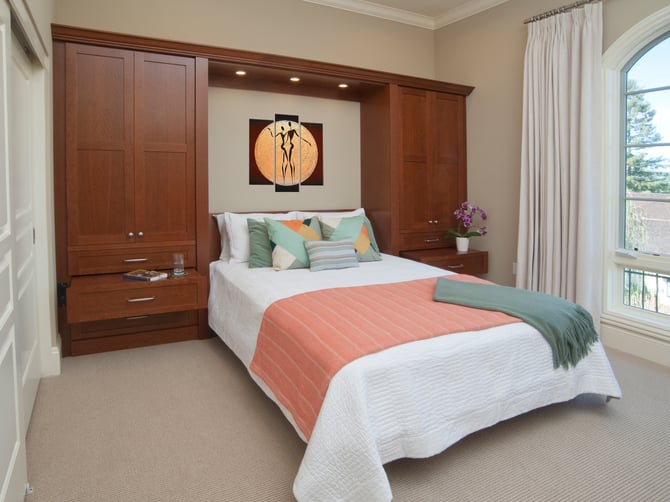 Downtown Los Altos Tumalo Mountain Cherry veneer wall bed unit.
Image from Valet Custom Cabinets & Closets
.
Are there any cons to wood veneer?
Wood veneer is not as durable or strong as a laminate finish and might not be the best option for heavy-use surfaces like office countertops. Wood counter edges are prone to dents and will eventually show signs of finish wear in areas where they've been heavily touched. If you do decide on a wood veneer for a counter surface, we usually recommend protecting it with a secondary glass surface or a desk blotter.
It's also worth noting that any real wood finish will darken as it ages – and could show visible fading in areas exposed to sunlight.
What is laminate?
Laminate is a thin but extremely durable sheet of material made from kraft paper impregnated with resin, which is thermally fused together then adhered to a substrate. You'll often hear it referred to as TFL – Thermally Fused Laminate. TFL requires an extremely flat substrate surface such as particleboard.
The quality of TFL can vary widely. It's dependent upon the quality of the paper itself, the laminating process, and the caliber of particleboard used as a substrate. Valet uses an industrial-grade particleboard core that is the densest board available and has the best screw holding capability. Most other companies use a lesser, commercial-grade board.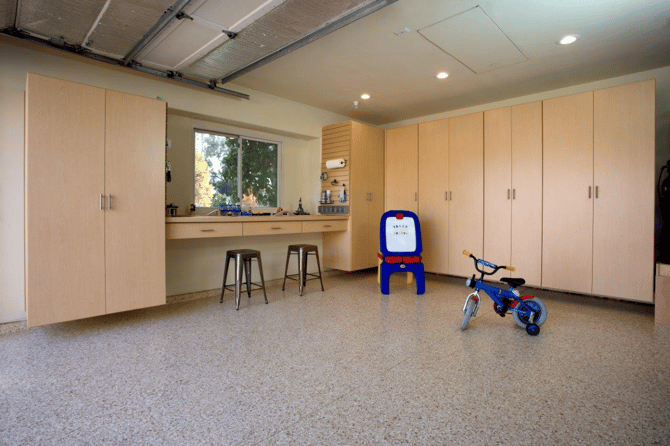 San Jose garage and hobby center in Vermont Maple TFL.
Image from Valet Custom Cabinets & Closets
.
Do laminates really look authentic?
Absolutely. TFL laminates have come a long way and are widely used today in both residential and commercial applications. Wood grain TFLs such as Italian Walnut or Vermont Maple closely mimic their real wood counterparts. New textured TFLs appeal to the trend toward contemporary design and are available in many patterns and finishes. And Valet has just recently introduced a series of Synchronized Textured TFLs, which offer a synchronized pattern that perfectly matches the wood grain of their counterparts to create an extremely authentic look.
In other words, we're pretty proud of our laminates – and you've got a range of options to choose from.
I've heard that particleboard has formaldehyde and can be dangerous. Is this true?
Wood byproducts such as particle board and plywood have in the past been associated with high levels of formaldehyde. All woods contain trace elements of formaldehyde as a natural byproduct. It was the addition of urea-formaldehyde in the resins that bind the wood that initially raised health concerns.
The enactment of strict government standards has succeeded in dramatically reducing urea-formaldehyde levels to the point where they can now not exceed 0.18 ppm (parts per million) and no longer pose a threat. For those with extreme allergies or other respiratory concerns, there are products available with no added urea-formaldehyde and emissions less than 0.01 ppm. We're happy to talk with you if you want to learn more.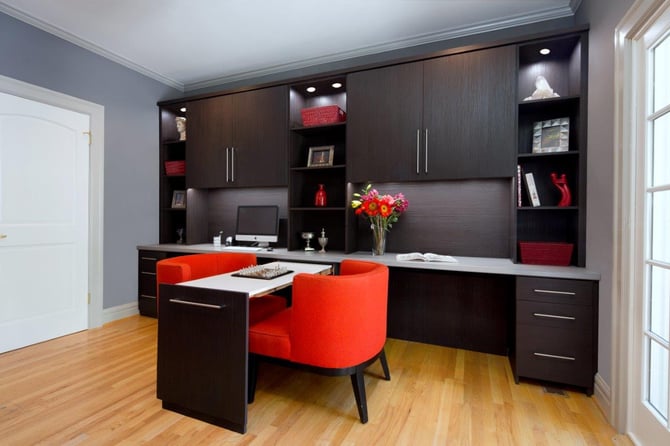 Los Gatos Textured TFL home office.
Image from Valet Custom Cabinets & Closets
.
So what are the main benefits of Thermally Fused Laminate?
TFLs offer affordability, durability, and endless style options. Their extreme durability means they're very scratch-resistant. They're also easily cleanable – you can wipe them down with any non-abrasive household cleaner like 409. We also pride ourselves on staying ahead of trends and frequently being one of the first companies in the market to offer new finish and material options.
Portola Valley White TFL children's desk offers style and durability.
Image from Valet Custom Cabinets & Closets
.
Great! So which should I choose?
Well, that depends on a lot of things, but the central factor is what you want. Custom cabinetry and closets are designed to meet your unique needs: The layout of your room, how you want to use the space, and the look you're going for. Our designers will work with you to create the room you want in terms of function, style, and material.
Is there a good way to get a consultation?
I'd start by connecting with us today – or stopping by one of our showrooms in Campbell or Danville if you want to see what all these materials look like in person.
---
Valet Custom Cabinets & Closets designs, manufactures and installs custom organizational solutions that enhance the functionality of your living space while complementing the décor of your home.
Our talented design team creates unique solutions tailored to your specific needs, style, and budget. We are independently owned and a direct manufacturer.
Our areas of specialty include Home Offices, Wall Beds, Media Centers, Closets, Pantries, Garage Cabinetry, and much more.
Exceptionally Designed & Styled * Expertly Crafted with 5-Star Execution
---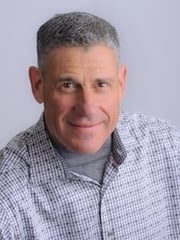 About Larry Fox, President
Larry is a graduate of the University of Southern California School Of Business. After receiving his degree he returned to the Bay Area and spent 18 years working in his family's 100+ year old metals recycling business. Upon the sale of that business in 2000, Larry and his wife Audrey purchased Valet. Larry has become a leader in the industry and is a past president of the National Closet Group. Larry loves turning people's dreams into reality, and remains as enthusiastic about the business today as he was when he first acquired it. View Larry's Houzz Page.