There's nothing like having family home for the holidays to make you really notice all the home improvement projects you never quite got around to this year. Between crazy road work on Tassajara (which is finally ending) and the massive fire scare the area endured this year, it may have been difficult to find the motivation to get larger projects started. However, the holidays are the perfect time to step back and take a look at how your family uses your space, and dream up ways it can be improved.
Clients always come to us this time of year with requests for improved entertainment center options for their Camino Tassajara homes. Whether it's watching Christmas movies around the fire, counting down the ball drop, or prepping for the Superbowl, we're in the middle of "huddle on the couch and watch TV together" season.
I always enjoy designing entertainment centers that maximize living space while providing a modern and sophisticated new look to the most heavily-used room in the home. A custom entertainment center is sure to wow your guests at your next TV get-together.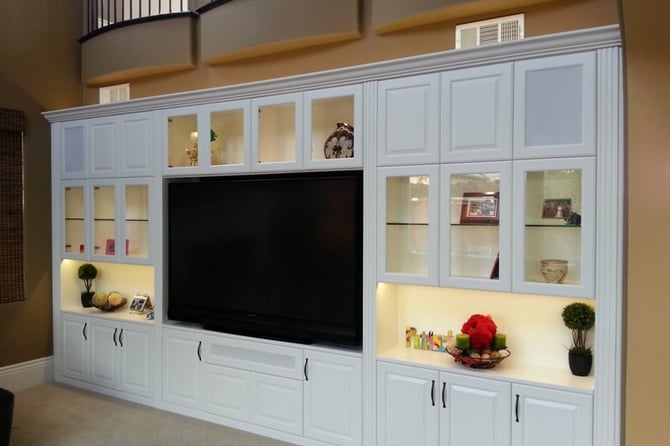 With custom media centers, you can display what you like to see—and hide what you don't.
Image Source: Valet Custom Cabinets & Closets
Elegant Storage and Easy Access
Part of deciding what you need in a custom entertainment center is knowing what items you need to have but want to keep out of sight. Component boxes are typically the first things to be hidden behind closed doors, in addition to stereos and game systems. Those things may all be useful and necessary, but they also often clash with the aesthetic of your living space. If you need easy access to your components but don't like the look of them, you may want to work in some disguising features in your custom entertainment center design.
One way to hide these somewhat-unsightly items is to enclose them in classy cabinetry below your television. While most Camino Tassajara homes are relatively new (built since 2000), many do not incorporate built-in entertainment center cabinetry. This is one surefire way to make your living room aesthetic more sophisticated and modern.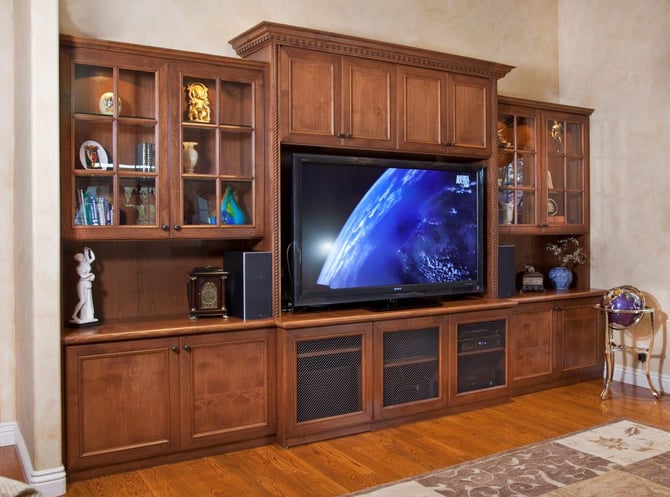 Custom entertainment centers elegantly hide your component boxes out of sight.
Image Source: Valet Custom Cabinets & Closets
Whether you disguise this space with decorative grill or solid cabinet doors, custom cabinetry makes it easy to keep your electronics and cords blissfully out of sight when not in use. Doors that utilize a decorative grid might be preferable if you'd like to never view your stash of electronics, because most infrared remotes will still function while these doors remain closed. Plus, these doors provide additional ventilation for your most heat-prone electronics.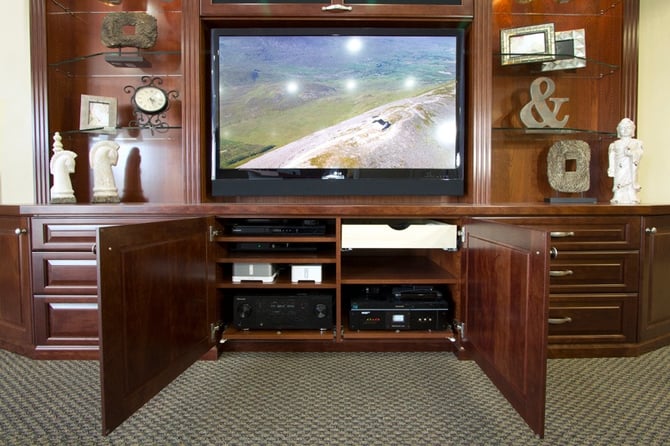 Solid doors can also be an aesthetically-pleasing way to disguise your electronics.
Image Source: Valet Custom Cabinets & Closets
Solid cabinet doors are a great way to disguise component boxes completely, but still keep them handy. This is also a fantastic place to stash things like video game consoles or board games, which may only make infrequent appearances on the weekends or special occasions. Hiding them behind solid doors keeps them out of sight when they're not in use, but easily accessible when company comes to visit.
Speakers typically require prominent placement in a custom entertainment center. However, they don't usually perform well behind solid doors. (Audiophiles will probably be completely unwilling to "hide" a subwoofer in a cabinet.) With a custom center, you can create perfectly-sized cabinets for your audio equipment and incorporate speaker mesh into the doors.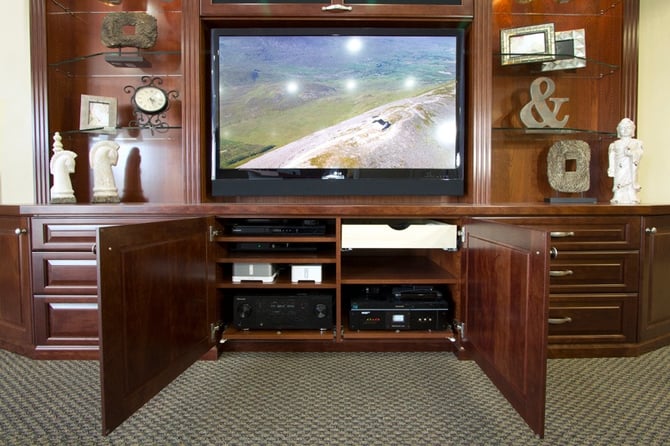 Decorative grill and speaker mesh are two alternate coverings for cabinets with electronic functionality.
Image Source: Valet Custom Cabinets & Closets
Speaker mesh allows you to easily hide large or small speakers within your entertainment center while maintaining a sophisticated aesthetic. The mesh used here is the same typically used to create cloth speaker grilles, and allows a full range of frequencies to transmit undisturbed.
Add Visual Interest to Your Custom Entertainment Center
Most Camino Tassajara clients I've worked with in the past loved incorporating personal touches in their custom entertainment centers. I've always admired this neighborhood for its diversity—with more than the national average residents of Asian and Iranian descent—and the entertainment center is a perfect focal point for displaying art and decor that express your cultural heritage. Whether that means adding open shelving, display cabinets, or decorative flat surfaces, it's easy to customize your custom cabinetry to suit your personal tastes.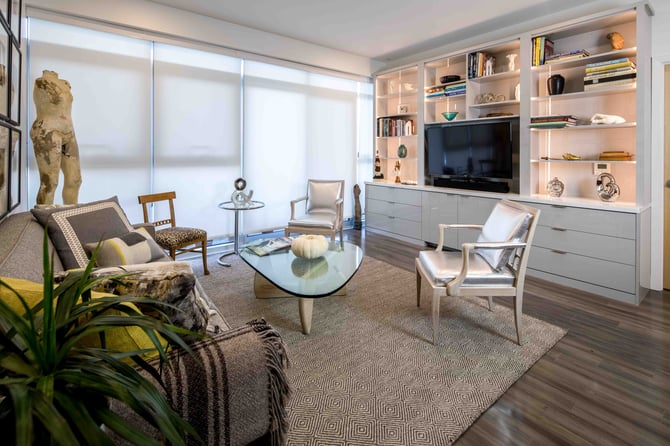 Incorporating a full-wall entertainment center means lots of designated space for decor.
Image Source: Valet Custom Cabinets & Closets
Open shelving can work wonders for adding interest to your entertainment center. Moveable glass shelves work particularly well for displaying art, sculpture, or family photos in a sophisticated way. Lit glass-front cabinets allow you to showcase more delicate items out of reach of the young ones in your family.
You don't need a full wall to have a commanding entertainment center presence.
Image Source: Valet Custom Cabinets & Closets
You may also be interested in incorporating drawers into your entertainment center to hold decor, various media, or other items that you use rarely but still want easy access to. Drawers add a lot of visual interest to a cabinet design thanks to the various finishes and hardware you can incorporate. Even adding a different type of metal hardware can give a whole new look to your living space.
Whether you're looking to revamp your communal entertainment spaces for next holiday season, display more of your favorite decor, or just see less of your electronics hoard, a custom entertainment center is a surefire way to transform the aesthetic of your living room and bring new life to your Camino Tassajara home. Connect with us to start realizing your plans for a new centerpiece in your living space today!
---
Valet Custom Cabinets & Closets designs, manufactures and installs custom organizational solutions that enhance the functionality of your living space while complementing the décor of your home.
Our talented design team creates unique solutions tailored to your specific needs, style, and budget. We are independently owned and a direct manufacturer.
Our areas of specialty include Home Offices, Wall Beds, Media Centers, Closets, Pantries, Garage Cabinetry, and much more.
Exceptionally Designed & Styled * Expertly Crafted with 5-Star Execution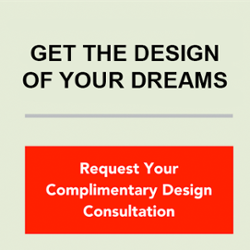 ---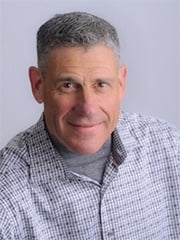 About Larry Fox, President
Larry is a graduate of the University of Southern California School Of Business. After receiving his degree he returned to the Bay Area and spent 18 years working in his family's 100+ year old metals recycling business. Upon the sale of that business in 2000, Larry and his wife Audrey purchased Valet. Larry has become a leader in the industry and is a past president of the National Closet Group. Larry loves turning people's dreams into reality, and remains as enthusiastic about the business today as he was when he first acquired it. View Larry's Houzz Page.