As the weather cools and fall sports get into full swing, organizing your hiking, biking, walking, playing and riding gear becomes paramount. Valet Custom Cabinets & Closets can help your mudroom become the perfect blend of serviceable and stylish for all your fall activity needs. With so much recreation so easily accessible to Danville, the only real question is figuring out what to do! So grab your gear, and let's get going…. Wait.… Can't find what you need in the chaos of the entryway? Valet Custom can help.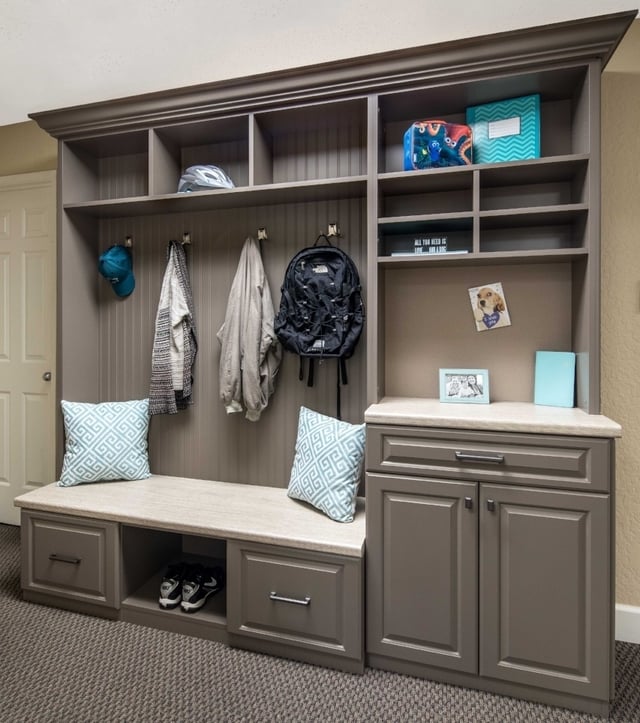 Some considerations as you take your entryway from cluttered and haphazard to organized and orderly are which activities you engage in, and who is doing the engaging. If you have young children who will be trooping through the mudroom, discarding running shoes and backpacks and soccer cleats and football helmets and ballet shoes and water bottles and instruments and all the other paraphernalia that goes with kids and sports and school, you will need some easy and accessible bins and shelves. A bench to sit while you put on or take off shoes is a great idea, but it must be melded with shelves and cupboards or it will just become another flat place to drop things and you'll end up sitting on the bottom step to put your shoes on anyway.
So under-the-bench-cubbies for shoes is a must. How you organize them will depend on how many people or activities you have in your household. Either each family member gets a cubby, or every activity does – football cleats in the first one, hiking shoes in the next – so that each is easily found. More importantly, each is easily put away!
Above your bench are the hooks for items that need to be grabbed on the run: backpacks or coats or dog leashes, for instance. Make sure not to clutter these with items that can more conveniently be housed in bins on the shelf or behind a closet door. A weekly run-through to stay on top of tidying this area will make every day more pleasant by keeping accessible what needs to be accessible, and retiring to other areas those things that do not need to be hung up.
Up above the bench, you can have top cabinets for those items that must to be out of reach of little fingers, like bug spray, or are not needed quite so often. These can be tucked behind closed doors while remaining accessible when needed. Off season items – like swim goggles from summertime frolicking – can go here as well.
As fall turns into winter, and the sports or outdoor activities we engage in change, your mudroom will stay current due to its versatility. Adjustable shelving allows you to change the height of your storage space to accommodate a golfing visor instead of football helmet, or ski goggles instead of a soccer ball.
But while you need a serviceable space, don't forget that this vital area of your home should be lovely as well. With Valet Custom's attention to detail, and our use of the highest quality in materials and workmanship, your mudroom will last – beautifully – through the coming and going of many football or soccer seasons. Crown molding, details in the finishes, and synchronized wood grain surfaces are some of the ways that you can take a ho-hum mudroom and make it beautiful space that you can enjoy looking at as well as using. As the years pass and the kids grow, their activities and interests will change, but your custom designed and installed mudroom will flex and grow with them, giving you easy access to family fun, activities, and adventures. Call Valet Custom Cabinets & Closets today. Let the adventure begin.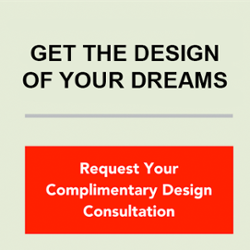 ---
Valet Custom Cabinets & Closets designs, manufactures and installs custom organizational solutions that enhance the functionality of your living space while complementing the décor of your home.
Our talented design team creates unique solutions tailored to your specific needs, style, and budget. We are independently owned and a direct manufacturer.
Our areas of specialty include Home Offices, Wall Beds, Media Centers, Closets, Pantries, Garage Cabinetry, and much more.
Exceptionally Designed & Styled * Expertly Crafted with 5-Star Execution
---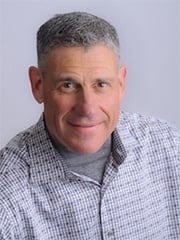 About Larry Fox, President
Larry is a graduate of the University of Southern California School Of Business. After receiving his degree he returned to the Bay Area and spent 18 years working in his family's 100+ year old metals recycling business. Upon the sale of that business in 2000, Larry and his wife Audrey purchased Valet. Larry has become a leader in the industry and is a past president of the National Closet Group. Larry loves turning people's dreams into reality, and remains as enthusiastic about the business today as he was when he first acquired it. View Larry's Houzz Page.