A lot of the country sees Bay Area residents as tech-savvy nerds. And that's often true. But we're also huge sports fans. I can't go into any client's house without getting into a conversation about whether the Giants will continue their even-year streak, the Sharks will get into the Finals, the A's will rebuild, the 49ers will get back to the playoffs, or, of course, whether the Warriors will even lose a game next year.
And as football season approaches and baseball playoffs loom, it's a good time to get the media center and accouterments that will let you watch in comfort. Media centers can be an intimidating purchase, since they take up a lot of space and off-the-shelf designs don't always mesh well with the layout of your home. That's why I'm always happy to recommend a custom design. You can have a piece that perfectly fits your space and your taste. We can't promise a World Series championship, but we can make sure that, if it happens, you're watching it in style—no matter how large or small your house might be.
Transforming a Family Room
Sports entertainment centers are often in a separate area of the house, maybe the basement or garage. But there are benefits to watching from your family room or living room. You can have the windows open (taking care to avoid glare), with the breeze and fresh air streaming in, and you can watch all your games while still feeling like part of the household. This setup tends to be particularly popular for clients with kids who might be budding fans themselves.
An adjustable TV mount allows you to swivel your screen so that if you've rearranged the chairs or you're in the kitchen getting food ready, you can still have a great view. Custom design ensures your media center doesn't dominate the room, and additional features make it a multi-use piece of furniture: You can add bookshelf space, storage for fancy dinnerware, and adjustable shelving for pictures and decorative knick-knacks. Just don't start rearranging the shelves during the game.
A Dedicated Basement or Sports Room
Of course, many people want a dedicated space for watching the game, especially if you're the type to entertain. If you want your home to be the go-to spot to watch Steph and Klay or Madison and Buster, you're going to want to have an entertainment center that contains everything. I'd suggest a custom-designed unit that features:
Space for a big-screen TV

Wine racks

Room for a beer fridge

Shelving space for bottles and cans

Elegant glassware holders

Counter space for mixing and serving
When most sports fans see a setup like this, they think, "I have arrived." Your only problem might be getting guests to leave.
Entertainment Center Options for Small Spaces
We understand that in the Bay Area (especially in places like Palo Alto or Mountain View), not everyone has the space for a dedicated sports room. You might not even have space in your living room for a full-sized entertainment center. But you don't need to feel left out. Our custom designs can fit beautiful, eye-catching media centers into any corner, alcove, or niche. No matter whether you need tall cabinets for storage, space for cable boxes, or room for video game systems, our design team will work with the space you've got.
Other Options for Extra Entertainment
Of course, no sports center is complete without some additional equipment. Luckily, custom cabinetry has you covered.
Speaker Enclosures
We all like to make fun of announcers and their obvious "insight" ("The key to this game is going to be putting more points on the board, Jim"). But you can't do that if you can't hear. More to the point, you won't be able to hear the bone-rattling hits of an angry defense or the majestic crack of a bat that lets you know someone is tracing a home run into the night sky even before your brain registers it. The right speaker niches help you get the sound you want as an integral part of your furniture. These can be closed off when not in use, but still connected and ready to hear the game.
Video Game Compartments
Modern fans don't just watch: they play. Putting a video game on at halftime or after the game ends is part of the ritual, and some folks will spend hours recreating what they just watched (hoping, maybe, to change the outcome). Housing your gaming system behind a flip-down cabinet door lets you avoid a tangle of wires on the floor every time you want to play, and we can add vents to your cabinetry to prevent overheating. This is also a great option for keeping your DVD player, TiVo, or other electronic gadgetry out of sight but close at hand.
We're definitely ready for the games, and we want you to be too. I've helped plenty of Bay Area fans get the right custom-designed furniture and cabinetry to watch the games in style and comfort. Connect with us today to learn more about how we can work with you to design the sports entertainment room that's right for your space.
---
Valet Custom Cabinets & Closets designs, manufactures and installs custom organizational solutions that enhance the functionality of your living space while complementing the décor of your home.
Our talented design team creates unique solutions tailored to your specific needs, style, and budget. We are independently owned and a direct manufacturer.
Our areas of specialty include Home Offices, Wall Beds, Media Centers, Closets, Pantries, Garage Cabinetry, and much more.
Exceptionally Designed & Styled * Expertly Crafted with 5-Star Execution
---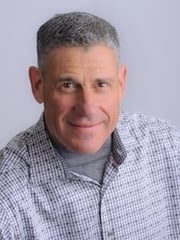 About Larry Fox, President
Larry is a graduate of the University of Southern California School Of Business. After receiving his degree he returned to the Bay Area and spent 18 years working in his family's 100+ year old metals recycling business. Upon the sale of that business in 2000, Larry and his wife Audrey purchased Valet. Larry has become a leader in the industry and is a past president of the National Closet Group. Larry loves turning people's dreams into reality, and remains as enthusiastic about the business today as he was when he first acquired it. View Larry's Houzz Page.