Do you remember the song, "Do You Know The Way To San Jose"? I hum it nearly every time I'm in town. It needs a follow-up, though. Namely, what do you do once you reach San Jose? Where do you go? Where do you live? Because the housing market here is pretty tight. Homes have reached a record high of over $800,000 on average (which is actually lower than Santa Clara County, which has topped $1 million). Knowing the way to San Jose is only half the ballgame.
A lot of the city's residents find that, even after they've settled into a house or condo, they don't quite have the space they were hoping for. Tight living quarters often translate into a lack of closet space, in particular. But that's okay. A custom-designed, standalone wardrobe can be built right into your bedroom, giving you the storage you need without adding clutter or clashing with your room's aesthetics. That's the way to live in San Jose.
The Luxury Wardrobe for Your Bedroom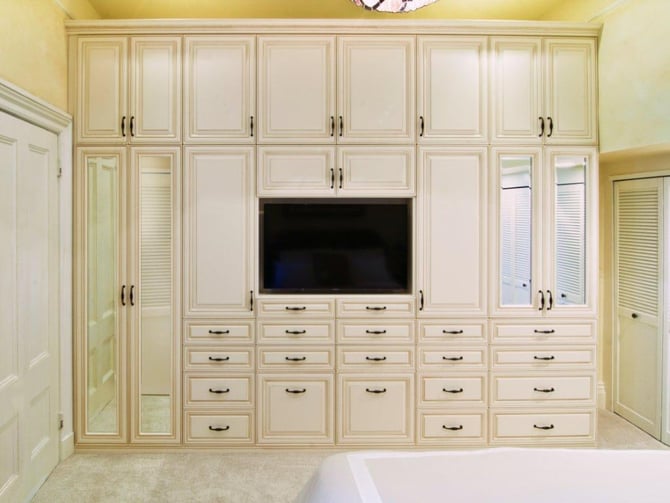 An antique white, thermally fused laminate wardrobe with glazed foil fronts is an elegant addition to any room.
Image from Valet Custom Cabinets & Closets
.
What should you look for in a wardrobe? I've found my clients tend to value a few things:
A wardrobe that matches the style of their room

A wardrobe that physically fits in the room without impairing foot traffic

One that still has enough space to store all their clothing

And one that has the versatility to accommodate a variety of accessories
These features can seem mutually contradictory—unless, of course, you opt for a custom-designed unit. We can craft a wardrobe based on the quirks of your particular space and needs, whether you just want a place to hang clothes or need a range of cabinets, drawers, and shelves.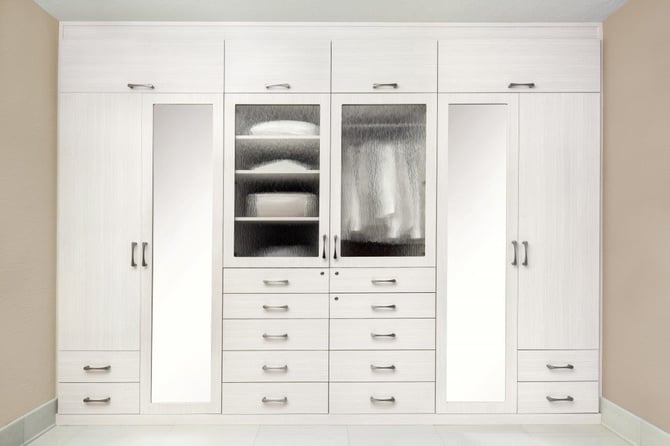 Frosted glass and a smooth white finish make for a sleek and modern wardrobe.
Image from Valet Custom Cabinets & Closets
.
For instance, we recently installed a beautiful wardrobe for one of our Bay Area clients, designed to let her hang shirts and blouses while also offering plenty of drawers and shelving for clothes that needed to be folded.
Since the room we put it in was very modern, with a minimalist look, she wanted a similar feel for her wardrobe. A classic cherry finish with, say, raised cabinet fronts, would have been out of place. Instead, she opted for flat cabinet panels inset with frosted glass and a textured laminate finish, which complimented the room beautifully. That's the beauty of having a variety of hardware, color, and finish options. Your wardrobe can become a statement piece that ties the rest of your bedroom together.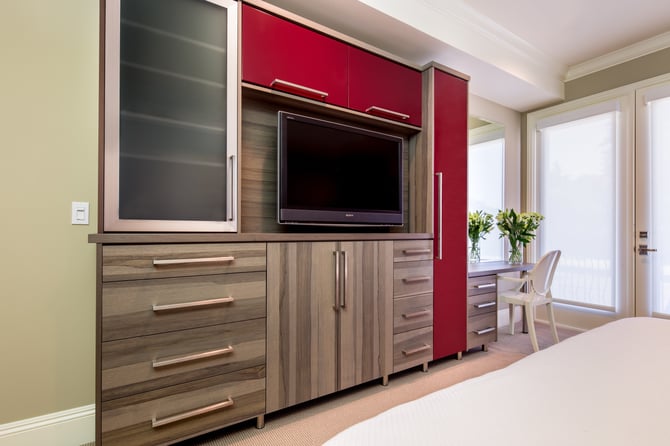 A wardrobe that also serves as a media center makes a bedroom complete.
Image from Valet Custom Cabinets & Closets
.
These wardrobes can also fit other things modern folks might want. I know a lot of people like to flick on the news in the morning or watch Netflix at night. A custom wardrobe can include space for a flat screen TV so that you can lie in bed and check out what's new without sacrificing storage space.
We've even designed units that have desks attached. This makes your bedroom a true multi-use space—whether you want to do some work at night, surf the web during the day, or just pay your bills in comfort.
Additional Wardrobe Options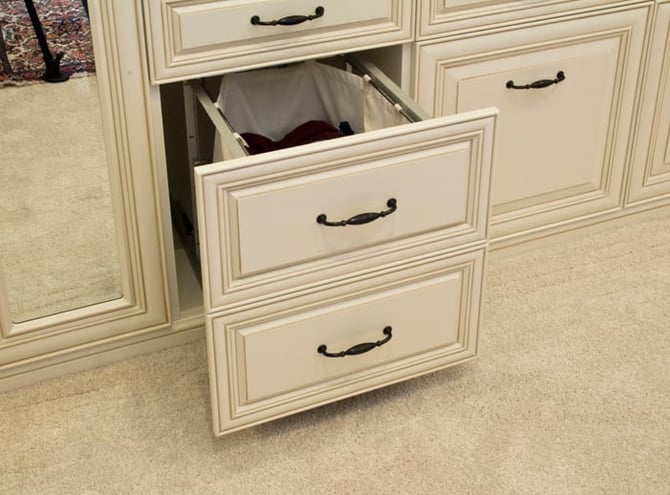 A pull-out hamper keeps the room tidy.
Image from Valet Custom Cabinets & Closets
.
Of course, there are all sorts of additional accessories you can add to make your wardrobe truly custom. One neat feature that people tend to like is a pull-out laundry hamper. This offers a place to store dirty clothes without taking up additional floor space. Your laundry stays out of sight, but a removable liner makes it a cinch to gather up and throw in the wash.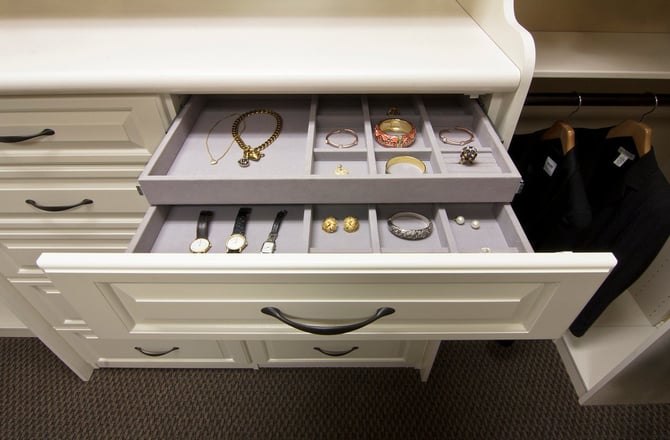 The perfect spot for your favorite jewelry.
Image from Valet Custom Cabinets & Closets
.
Another popular option is a designated jewelry drawer. You can keep watches, earrings and necklaces neat and organized (and easy to find) with divided, velvet-lined trays. If you have a particularly extensive collection, you can even opt for a double tray or add a second drawer to your wardrobe. Again, that's the beauty of a custom design: It's all about what you need. People with a lot of jewelry appreciate a feature like this, but if your taste runs more toward shoes or hats, there are plenty of storage options for those as well.
San Jose offers an elegant lifestyle, with world-class dining and shopping for those who enjoy the finer things in life. But with housing prices at a premium, space is tight—especially if you regularly take advantage of all that shopping. We can work with you to create the space you need for storage without compromising the aesthetics of the rest of your home. Connect with us today to explore your options.
---
Valet Custom Cabinets & Closets designs, manufactures and installs custom organizational solutions that enhance the functionality of your living space while complementing the décor of your home.
Our talented design team creates unique solutions tailored to your specific needs, style, and budget. We are independently owned and a direct manufacturer.
Our areas of specialty include Home Offices, Wall Beds, Media Centers, Closets, Pantries, Garage Cabinetry, and much more.
Exceptionally Designed & Styled * Expertly Crafted with 5-Star Execution
---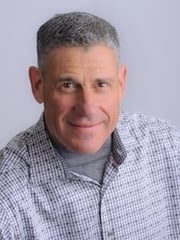 About Larry Fox, President

Larry is a graduate of the University of Southern California School Of Business. After receiving his degree he returned to the Bay Area and spent 18 years working in his family's 100+ year old metals recycling business. Upon the sale of that business in 2000, Larry and his wife Audrey purchased Valet. Larry has become a leader in the industry and is a past president of the National Closet Group. Larry loves turning people's dreams into reality, and remains as enthusiastic about the business today as he was when he first acquired it. View Larry's Houzz Page.