San Ramon is beautiful during the summer. It's on the so-called "Sunny Side of the Bay," and it is "so-called" because that is 100% accurate. That's why a lot of San Ramon residents have family and friends come visit in the summer. There's a lot to do, from hiking the Las Trampas Regional Wilderness to exploring the Eugene O'Neill National Historic Site (for the more literary types), or just sitting under the stars and listening to one of the city's free concerts. Of course, if you have summer guests, the question becomes: what do you do with the guest room when people aren't visiting?
After all, having long-term visitors means making them comfortable. You can't just ask them to sleep on the futon for a month. Many of my clients in San Ramon have homes with spacious, semi-permanent guest rooms, often referred to as "in-law quarters." But these can be transformed into multi-use spaces easily. With custom-designed furnishings, the summertime in-law suite can be a year round multi-use room for everyone in the family.
Space Starts with a Murphy Bed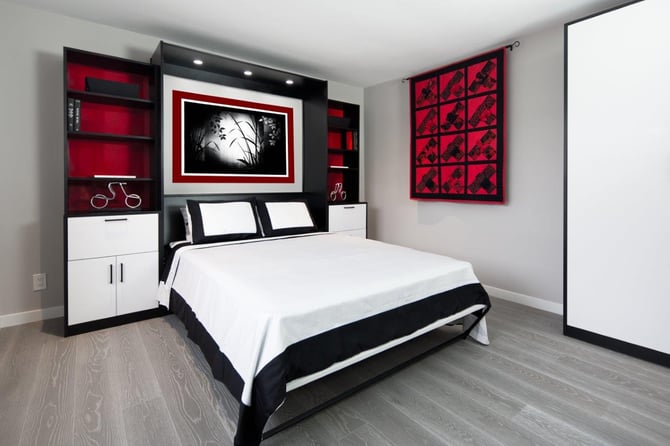 Now you see it…
Image from Valet Custom Cabinets & Closets
.
A multi-use guest room often begins with a Murphy or wall bed. These can be quite a luxurious and comfortable way to host visitors. We can build in additional features, from pull-out nightstands and laundry hampers to LED lights for bedtime reading, all of which will help make your guest room feel like a permanent part of the house rather than an afterthought. Plus, a custom design can match your aesthetic so that your wall bed is stylistically cohesive with the rest of your home.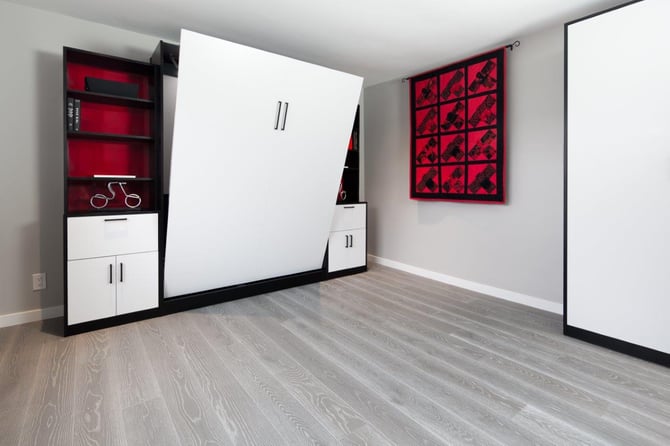 Now you (almost) don't…
Image from Valet Custom Cabinets & Closets
.
The best part about a wall bed, of course, is that it folds up when you don't need it, looking like nothing more than a beautifully designed custom cabinet. This frees up space, giving you the ability to move more furniture in and use the room for other things when your guests are gone—and I've got some suggestions.
A Custom Home Office
Over three million people telecommute full-time now, and many more have the flexibility to do so one or two days a week. Even if you don't, a home office is a great spot for paying bills, writing your blog, or surfing the web. But while homes in San Ramon tend to be fairly spacious by Bay Area standards, you still might not have space for multiple spare rooms.
That's why a lot of my clients opt for guest rooms that do double-duty as home offices. We've designed some really gorgeous wall bed units with built-in desks plus space for your computer, files, books, and papers.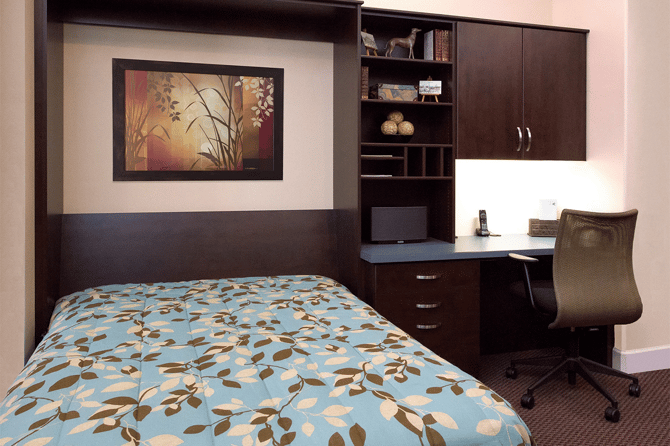 This Belgian Chocolate home office/wall bed combo makes any room instantly multi-use.
Image from Valet Custom Cabinets & Closets
.
But you're not limited to an all-in-one office and bed combo. I've seen plenty of clients opt for a separate desk unit opposite the bed, where it might allow for more elbow room. Our design team can create the right-sized office unit for just about any wall or nook.
Either way, all our office cabinetry has as much shelving and drawer space as you need and is designed specifically for your room. We'll even cut cord holes specifically for the nearest outlets so that you aren't running a rat's nest of tangled cords around your guests' luggage.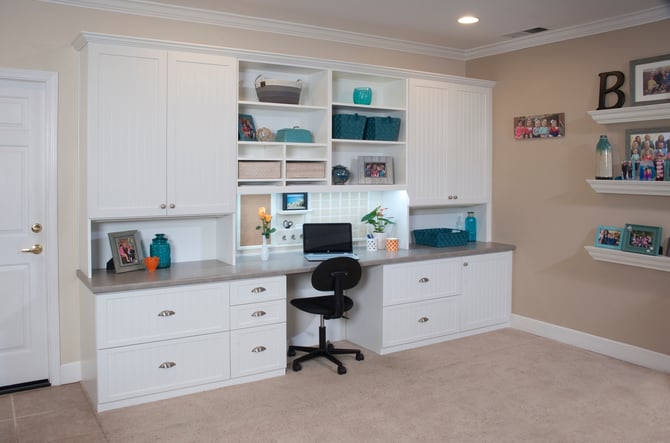 All the space for all your home office needs.
Image from Valet Custom Cabinets & Closets
.
A Kids' Workroom
One of the nice things about summer guests is that, by definition, they're only here during the summer—and away during the school year (or, as your kids might know them, "the homework months"). I've had several clients tell me the guest bedroom is actually an ideal kids' workroom during the fall, winter, and spring.
It makes sense. A lot of parents prefer having a homework area that isn't in their child's bedroom because let's be honest: that's filled with distractions. How can your kid concentrate on homework when their toys or video games are right there? Using the guest room instead can help your child stay focused. And a custom design means that the workstation will perfectly fit the kid: a desk at the right height, shelves within reach, and plenty of room for textbooks and notes. You can even get your child involved in the design process by letting them pick the finish and hardware for their new workspace.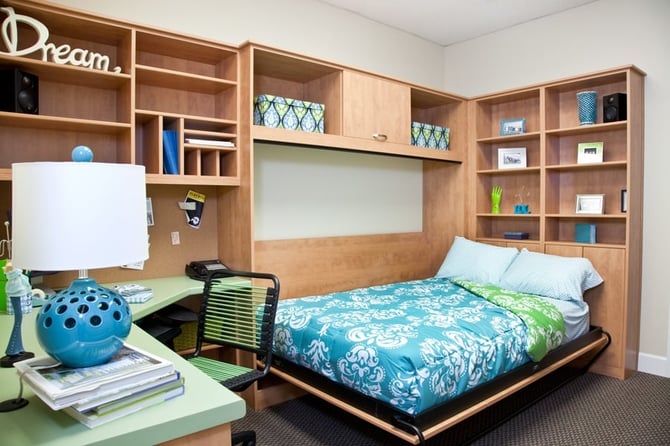 Your high schooler might prefer that this area remains a guest room forever, but it works great for homework, too.
Image from Valet Custom Cabinets & Closets
.
Other Ideas for a Multi-Use Room
It can't all be homework, of course. When the bed is away, you can also transform your in-law quarters into a craft area or playroom. We can add drawers and cabinet space for toys, crayons, paper, or other art supplies—plus roomy counters to spread out—turning the area into a designated spot for creativity and design that keeps clutter out of the rest of the house.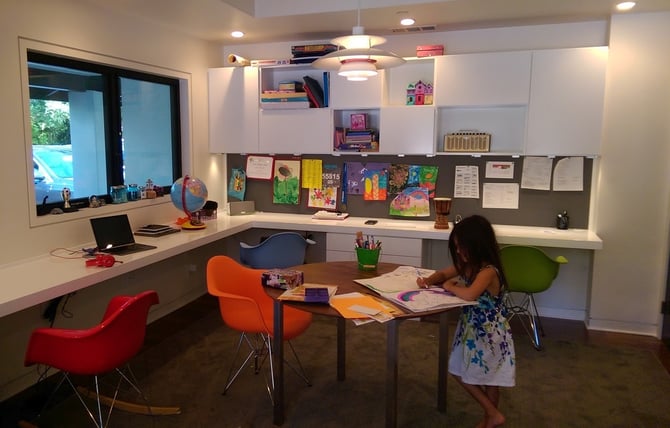 An art and play center for the children.
Image from Valet Custom Cabinets & Closets
.
And creativity doesn't have to be limited to your kids. We have a number of craft room ideas for adults. I've had one or two clients particularly interested in sewing, and we've worked with them to create beautiful workspaces where they can indulge their creative side. The design below has custom sewing machine storage beneath a work area, plus cabinet space for fabrics and other materials. The workstation can even be rolled out of the way when you need to open the space back up for guests.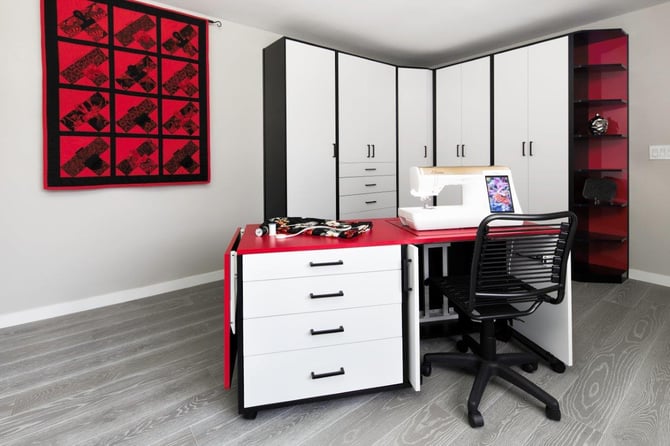 This is a genuine year-round use of any guest room.
Image from Valet Custom Cabinets & Closets
.
When you have limited space in your house, you have to make the most of it. Having roomy in-law quarters for visitors is great, but you can't let that be the only use of the area. We can custom design furniture based on your needs so that you can turn a sometimes-used guest room into a true year-round, multi-use space. Really, the only limit is your imagination. Connect with us today to see what we can do for you.
---
Valet Custom Cabinets & Closets designs, manufactures and installs custom organizational solutions that enhance the functionality of your living space while complementing the décor of your home.
Our talented design team creates unique solutions tailored to your specific needs, style, and budget. We are independently owned and a direct manufacturer.
Our areas of specialty include Home Offices, Wall Beds, Media Centers, Closets, Pantries, Garage Cabinetry, and much more.
Exceptionally Designed & Styled * Expertly Crafted with 5-Star Execution
---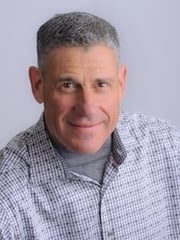 About Larry Fox, President
Larry is a graduate of the University of Southern California School Of Business. After receiving his degree he returned to the Bay Area and spent 18 years working in his family's 100+ year old metals recycling business. Upon the sale of that business in 2000, Larry and his wife Audrey purchased Valet. Larry has become a leader in the industry and is a past president of the National Closet Group. Larry loves turning people's dreams into reality, and remains as enthusiastic about the business today as he was when he first acquired it. View Larry's Houzz Page.