We all love guarantees! Valet and its employees are no different. We offer a lifetime warranty on all hardware and craftsmanship, and this promise can only be confidently made when you use the best hardware and quality control procedures money can buy.
Have you ever taken on a project or task and found yourself lacking the right tool for the job? Most of us have, individually – but not Valet. We've taken great steps to ensure we have the right tools for every job, every time.
Valet continues to use the best hardware on the market because we believe our customers deserve nothing less. Do you have a drawer that just doesn't cooperate? Do you have to jiggle that handle to the left and twist it two times to get it to open? At Valet, predicting and preventing common hardware issues such as these are of paramount importance. Our product quality matters, so we carefully select our hardware offerings to ensure that your custom solution looks stunning AND will last for many lifetimes to come.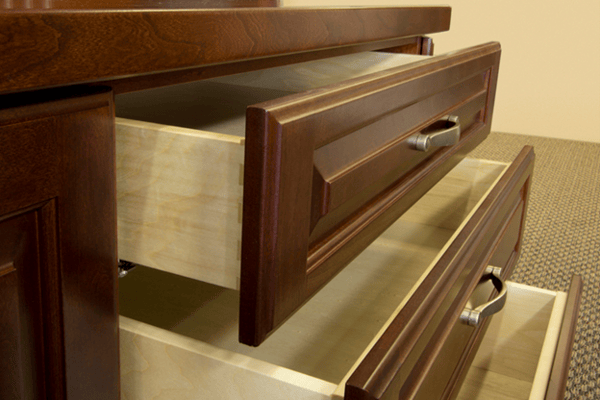 Not only do we personally guarantee our work with a lifetime warranty, but we have dedicated ourselves to excellent service should anything go wrong. If a drawer stops sliding smoothly, give us a call or drop us an email and Valet will send one of our experienced technicians out to fix it quickly and at no charge.
Valet is proud to use the following manufacturers that share the same values regarding quality and function -- they too offer a lifetime guarantee. Click any of the links below to learn more about each piece of hardware Valet uses:
At Valet, function and form come together in a truly unique and custom organizer that you will love for many years to come.
---
Valet Custom Cabinets & Closets designs, manufactures and installs custom organizational solutions that enhance the functionality of your living space while complementing the décor of your home.
Our talented design team creates unique solutions tailored to your specific needs, style, and budget. We are independently owned and a direct manufacturer.
Our areas of specialty include Home Offices, Wall Beds, Media Centers, Closets, Pantries, Garage Cabinetry, and much more.
Exceptional Design * 5-Star Execution and Service * Expert Craftsmanship
---

Scott Heeb
Scott has been a member of the Valet Team since January 2014. He is a graduate of the University of Redlands with a Bachelor's of Science in Business Administration and an emphasis in Finance. Scott's strong analytic skills coupled with his background in computer science and mathematics make him a perfect fit for handling the pre-production engineering of job packets and cabinet drawings that turn Valet designs into reality. Scott is an avid baseball fan and still plays quite often. He is a real team player at Valet and says that he enjoys the people that he works closely with day in and day out.