Did you finally buy that maxi dress you've had your eye on, but look into your closet wondering how in the world to hang it without creases? Or get the perfect fall coat for Christmas and have nowhere tall enough to hang it? At Valet, we make it easy with adjustable hanging rods so you can customize the height of your closet to exactly what you need. But how? Simple! You follow these 5 steps:
Remove clothes from the rod. To make the rod easier to move, remove all of your hanging clothes for now.
Push up on the rod to remove. Push the rod up to move it off of the clips holding it in place and pull the rod out of your closet.
Reposition the clips. Here is where you get to make sure that special dress doesn't touch the floor or have any creases while hanging. You can adjust the height to whatever you need.
Ensure the rod opening at the bottom. To make sure the rod drops into place securely, there is an opening that needs to be pointed toward the floor when you put the rod back into the closet.
Reattach the rod to the clips. Just set the rod back into place and drop down onto the clips.
And now you're good to go! You can hang those clothes back up and add your new, longer pieces without worry.
VIDEO TRANSCRIPT:
Okay. I'm going to show you how to adjust the rod first. Take the clothes off the rod, push it up a little attachments, take the little attachments, move them down to wherever you want them to go. You have a bunch of holes to choose from. Put them in their place. Make sure that the open end of the rod is at the bottom right up here and there you go.
---
Valet Custom Cabinets & Closets designs, manufactures and installs custom organizational solutions that enhance the functionality of your living space while complementing the décor of your home.
Our talented design team creates unique solutions tailored to your specific needs, style, and budget. We are independently owned and a direct manufacturer.
Our areas of specialty include Home Offices, Wall Beds, Media Centers, Closets, Pantries, Garage Cabinetry, and much more.
Exceptional Design * 5-Star Execution and Service *
Expert Craftsmanship
---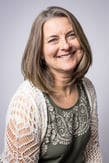 Karin Parodi
Karin joined Valet in 2010 and brings a unique combination of marketing and design experience to our team. Karin graduated from UCLA and enjoyed a successful career as a sales and marketing executive. She later earned an interior design degree to pursue her creative inclinations and passion for space planning. Karin excels at listening to customers and understanding their needs. She grew up on the peninsula, loves to travel, ski and spend time with her husband and two teenagers.