The holidays have officially descended upon Silicon Valley, and we are in full decorating swing. Now would be the perfect time to have a custom Christmas room like the one a recent client wished for. She wanted space for tree storage, gift wrapping, and year-round functionality to boot—which provided a fun challenge for our design team. If you're green with holiday envy right now, don't worry. There's still more than enough time to get a custom room ready for you before the new year, and definitely before the holiday rush of 2017.
The new Sorellas housing development in Los Gatos is beautifully under construction this holiday season near Summerhill, and I've seen a slew of customization-minded home buyers jump at the opportunity. Retirees with plenty of time for crafting throughout the year can really benefit from including a crafting space in the floorplan. All you need is a functional way to make the best use of your new space, and custom cabinetry can make that happen.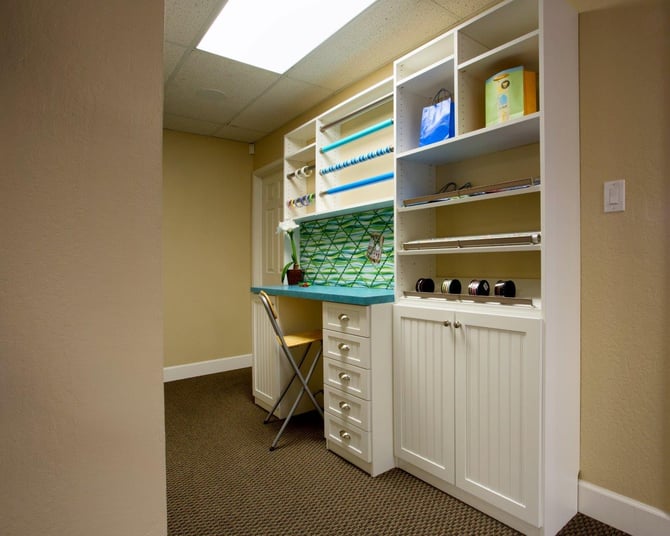 Custom cabinetry can give you a fully-functional holiday craft room in your new dream home.
Image source: Valet Custom Cabinets & Closets
Extraordinary Holiday Storage Solutions
Christmas tree storage can be a huge holiday hassle. Wrestling heavy cardboard boxes onto out-of-the-way attic spaces can be difficult and dangerous later on in life. It can also be terribly annoying to remove and re-string your lights every year. Consider instead using a custom tree-sized closet in your new dream home. With sliding doors that accommodate custom measurements, our client placed two trees on rollers and simply slid them in fully decorated to await the next year. No more messing with huge boxes, strands of lights, or ornament honeycombs.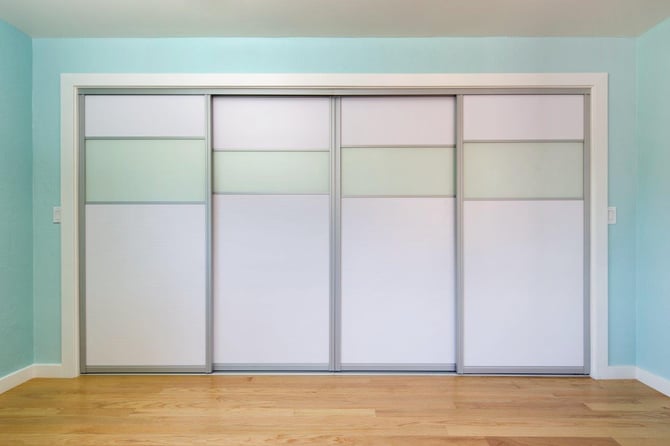 Utilize sliding doors to create custom Christmas tree storage.
Image source: Valet Custom Cabinets & Closets
Families who host for the holidays need storage space for decor of all shapes and sizes. Utilize the rest of this reach-in closet space for custom shelving, or consider external cabinetry against a spare wall. With drawers and cabinets of all sizes, there's a space for every ribbon and knick-knack you could own—and the shelving is easily adjustable to accommodate changes in your collection.
You may also want to utilize out-of-the-way wall space in your new closet to hang additional strands of lights, garlands, or door decorations on heavy-duty hooks. Closet storage is exceptionally more convenient for older residents who are tired of climbing ladders in the garage every December.
Holiday rooms can also provide space for gift storage before the wrapping process begins. Opaque doors and optional cabinet and drawer locks are the perfect solutions to keep hidden gifts away from prying eyes.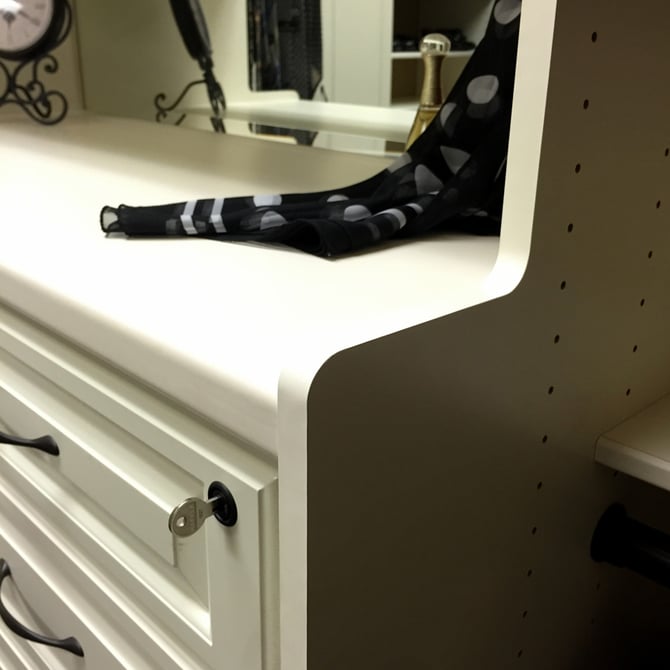 Drawer locks keep prying fingers away from your hidden holiday surprises.
Image source: Valet Custom Cabinets & Closets
Actually Use Your Functional Holiday Craft Room
Our festive client didn't just want an extra-large holiday closet—she was more interested in having a room that she could actually utilize during the holiday season and beyond.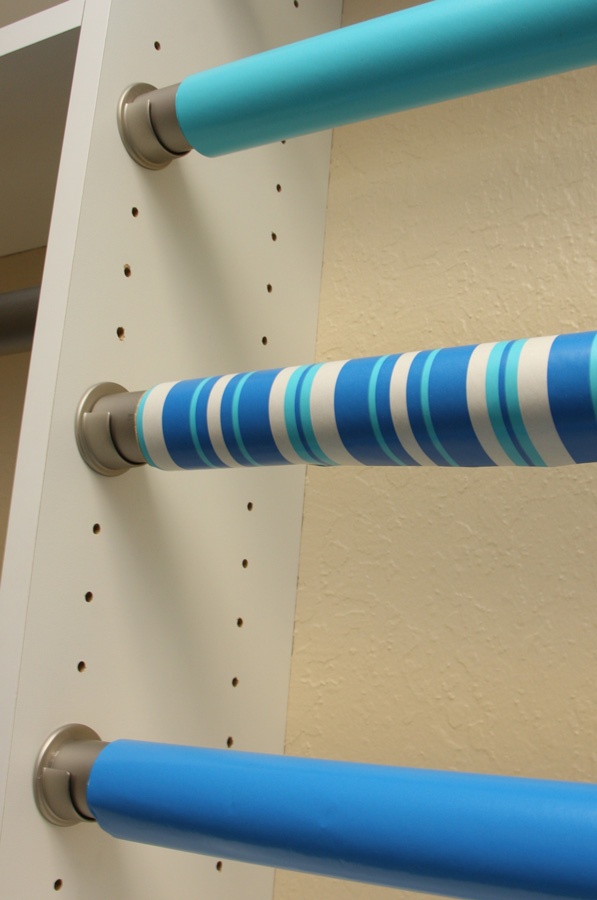 Custom wrapping paper storage keeps your supplies easily at hand.
Image source: Valet Custom Cabinets & Closets
To make wrapping season much more functional, we designed a custom wrapping station with custom-length hanging rods and cubbies for wrapping paper, slide-out bag organizers, and nooks and crannies for ribbon, bows, and decorative boxes.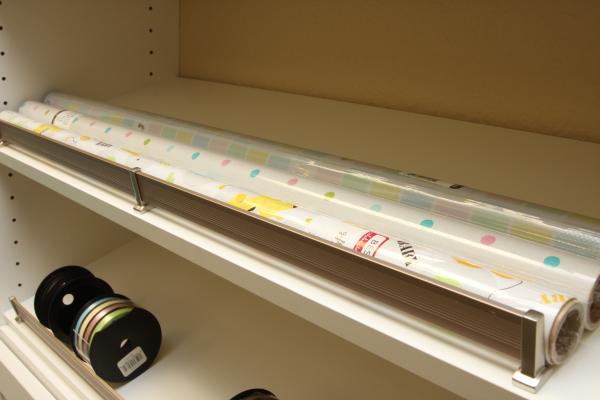 Easily-moveable shelves organize tissue paper, gift bags, wrapping paper, and ribbon.
Image source: Valet Custom Cabinets & Closets
We also made sure to include plenty of work surfaces where wrapping could take place. Don't worry about your garage, dining table, or office being commandeered by wrapping supplies any longer. Countertops serve well as wrapping surfaces while being decidedly multi-functional during the rest of the year. Use this space for laying out fabrics, drying mixed media projects, displaying your prized supplies, or spring for hardwood countertops to use the space for more rough metalworking.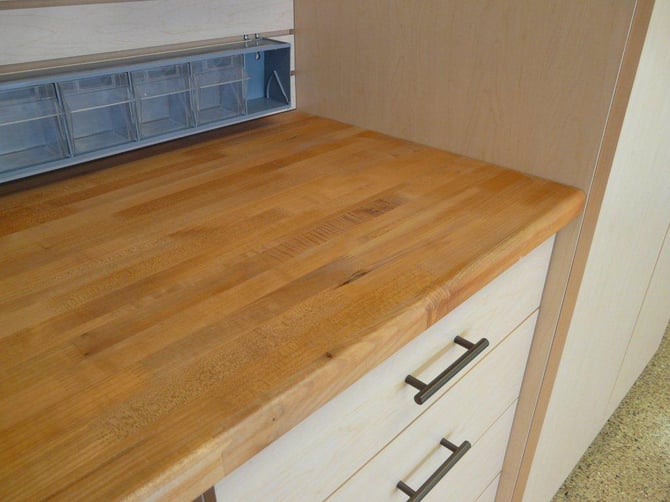 Long and wide countertops make fantastic wrapping surfaces.
Image source: Valet Custom Cabinets & Closets
If your new space doesn't allow for long open countertops, consider adding a slide-out or fold-down desk to make wrapping that much easier. A slide-out trash hamper is also most appreciated during the wrapping season, as I'm sure you can imagine.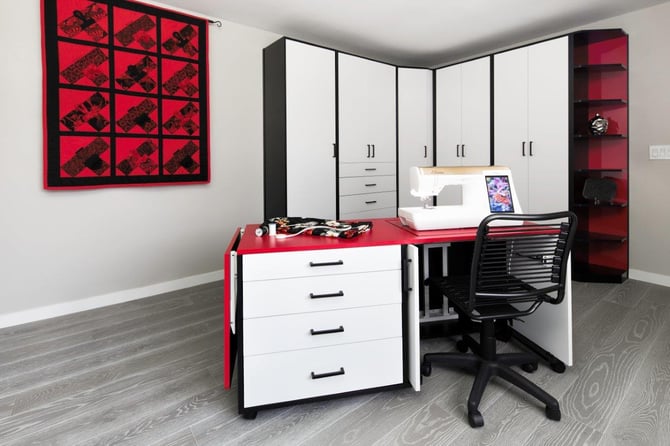 Use your multifunctional gift-wrapping station for other favorite crafts throughout the year.
Image source: Valet Custom Cabinets & Closets
Preparing for the holiday season doesn't have to be an ordeal that takes over your entire home. Confining everything to one designated holiday craft room means that there's a place for everything and everything can easily go into place as soon as January (or April) first. Stow away all of your decor and supplies and enjoy an incredibly functional crafting room during the rest of the year. Retirees, get ready to be living the dream in your newly customized home in Los Gatos.
If you're interested in designing your own Christmas room or holiday crafting space, our designers are ready to work with you. Connect with us today to get started building out the home of your dreams.
---
Valet Custom Cabinets & Closets designs, manufactures and installs custom organizational solutions that enhance the functionality of your living space while complementing the décor of your home.
Our talented design team creates unique solutions tailored to your specific needs, style, and budget. We are independently owned and a direct manufacturer.
Our areas of specialty include Home Offices, Wall Beds, Media Centers, Closets, Pantries, Garage Cabinetry, and much more.
Exceptionally Designed & Styled * Expertly Crafted with 5-Star Execution
---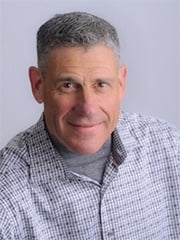 About Larry Fox, President
Larry is a graduate of the University of Southern California School Of Business. After receiving his degree he returned to the Bay Area and spent 18 years working in his family's 100+ year old metals recycling business. Upon the sale of that business in 2000, Larry and his wife Audrey purchased Valet. Larry has become a leader in the industry and is a past president of the National Closet Group. Larry loves turning people's dreams into reality, and remains as enthusiastic about the business today as he was when he first acquired it. View Larry's Houzz Page.