Rainy season has officially come to the Bay Area. Powerful storms passing through the area have downed trees, caused power outages, whipped up strong winds, and pelted us with rain—and lots of it. Menlo Park alone has already received significant precipitation this year, which makes roads hazardous and can create nightmare-worthy driving.
Though you may have high hopes of getting yourself organized before the new year hits, it might be a good idea to hold off on any big projects that require the outdoors (unless you're looking to fight our unpredictable weather). King tides are coming, and even though Menlo Park is protected by the Bay, we're still in for quite a bit of flooding potential. Tackle your attic first, for instance, before you start moving your life's collection of file folders and golf clubs out of the garage and into the path of the storm.
You can start planning ahead for what you'd like to see in your garage with the help of custom cabinetry and surfaces. Now's the time for big dreams—and, luckily, your big dreams for a garage remodel can live comfortably within a budget that won't break the bank. A garage decked out with the bells and whistles your Menlo Park home is begging for costs between $10,000-15,000. Learn what features come at that price, and you can spend more time daydreaming and less time fighting the storm.
Your Garage Storage, Multiplied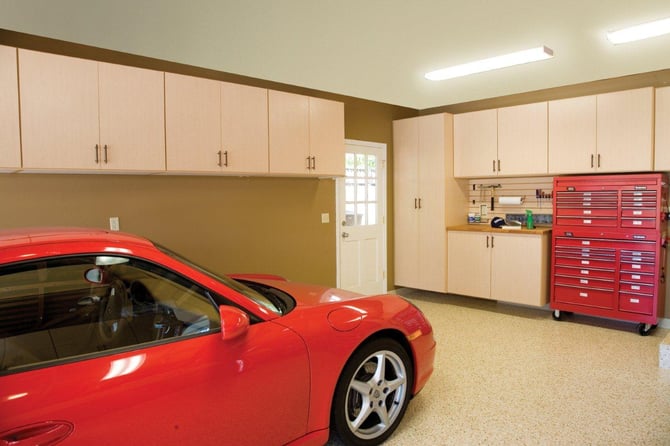 A well-designed garage makes full use of storage and leaves room for your car to escape the weather.
Image source: Valet Custom Cabinets & Closets.
Picture this: your garage so decked out with storage opportunity that you can house a car inside and still have room to work. Custom cabinetry makes this possible.
I've seen one too many clients lament having to leave their cars out in the elements during this time of year due to an overwhelming amount of clutter and an underwhelming amount of specialized storage space. Don't be that Menlo Park guy whose engine flooded. Custom cabinets with moveable shelving efficiently store seasonal items and infrequently-used gear out of the way and off the floor.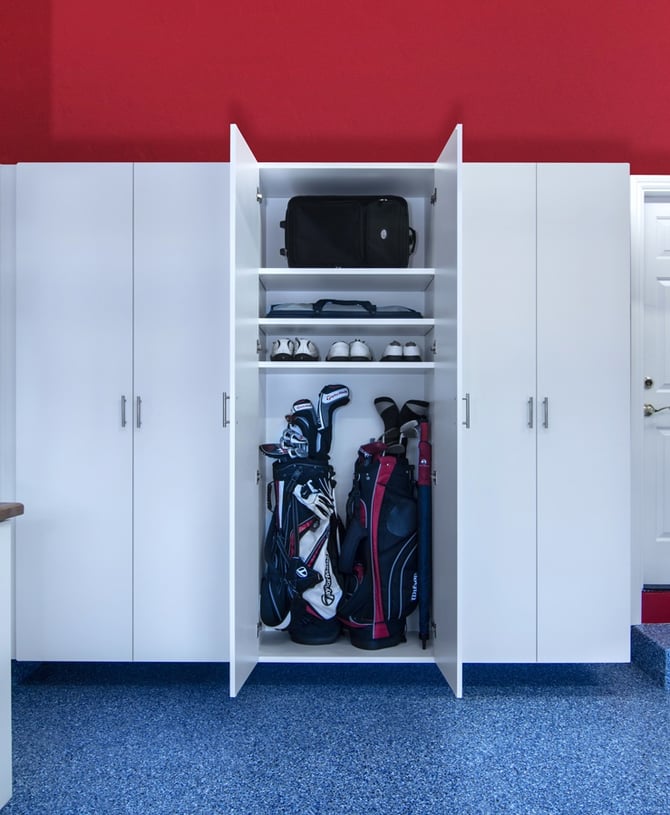 Forget leaning your clubs in the corner. Custom cabinets house all your golfing needs all in one place.
Image source: Valet Custom Cabinets & Closets.
Custom cabinetry not only makes a functional addition to any garage remodel, but also provides an aesthetically pleasing result. Thermally-fused laminate cabinets in solid colors, wood grains, and textured finishes look polished and sleek even under fluorescent lighting, and stand up well to heavy use. A full installation of two walls of cabinetry often costs between $6,000 and $8,000. Add a work or hobby bench and epoxy flooring, and you have now transformed your garage into another multi-purpose room for as little as $10,000—a great investment in your home.
Your Dream Tool Storage Solution
While you're avoiding the floods on Highway 101, you might reward yourself by dreaming big about your ideal tool storage options. Keeping carpentry supplies, power tools, and electrical cords at hand but not in a tangled mess is the ultimate goal.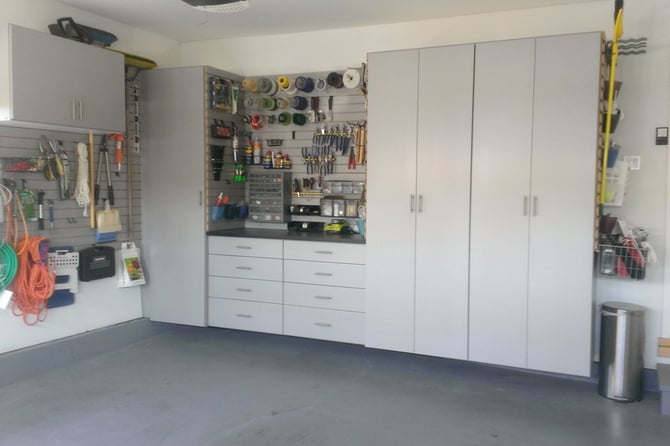 Have a lot of smaller garage goodies that need a home? Try an Omni Track wall system.
Image source: Valet Custom Cabinets & Closets.
Omni Track wall storage systems are one way to get your equipment safely off the floor and organized in an easy-to-access manner. This wall storage solution involves sturdy back boards paired with industrial hooks of various sizes and weights to hold everything from your needle-nose pliers to a 60-ft extension cord.
Make your dream garage also a dream workspace by adding a workbench.
Image source: Valet Custom Cabinets & Closets.
Better yet—while you're dreaming big, why not incorporate a space for a workbench? Butcher's block countertops and wall organization combine to make a space fit for DIY warriors and small tinkerers alike.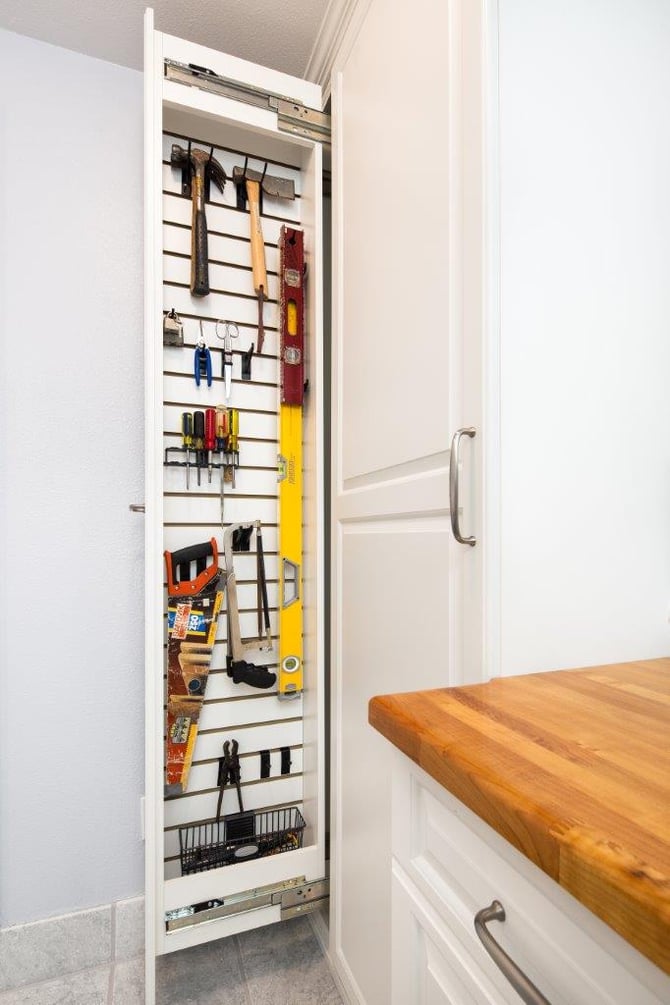 If you're short on space, consider tool caddies in smaller spaces.
Image source: Valet Custom Cabinets & Closets.
If space is really a struggle in Menlo Park—especially if your family has a lot of bulky outdoor or mountain gear—you may want to consider an even more space-saving solution. Omni Track wall storage can also be used with a pull-out tool caddy, which can then be slid into even the narrowest of garage spaces where a full cabinet might not be practical.
Getting your tools in order is no problem if you've got the right setup! I've seen many clients fall in love with the Omni Track system and never want to go back to their pegboards again. Adding wall storage and a workbench space will run you close to an additional $4,000, but that's preferable to never being able to find your metric wrench set and buying five of them—right?
See Your Garage Floor In a Whole New Way
Now that you've got a place for everything and everything in its place, there's a good chance you'll actually be able to see your garage floor—maybe for the first time. Instead of oil-stained concrete chic, you could go for a more appealing (and easy to clean) epoxy floor.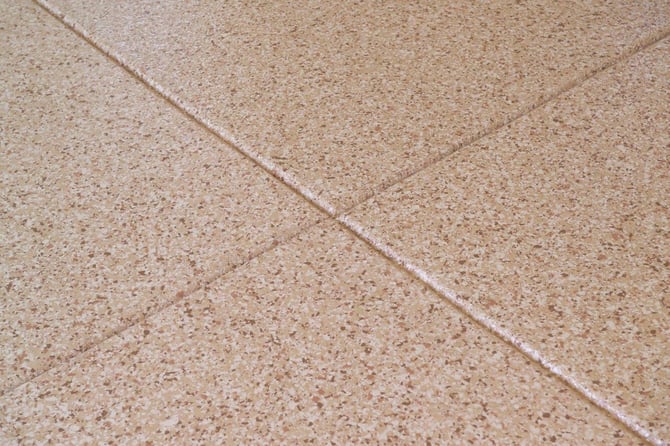 Finish out your remodel budget with brand new epoxy flooring for a more stylish look.
Image source: Valet Custom Cabinets & Closets.
If you spring for epoxy flooring in your Menlo Park garage, you can expect to spend between $2,700 and $4,500, depending on the size of your garage and any preparation work needed. In exchange for a brand new aesthetic in the most heavily-trafficked space of your home, that hardly seems like a huge price to pay. Epoxy flooring transitions beautifully into the concrete beyond your garage door, and significantly improves the appearance of even the smallest garage spaces.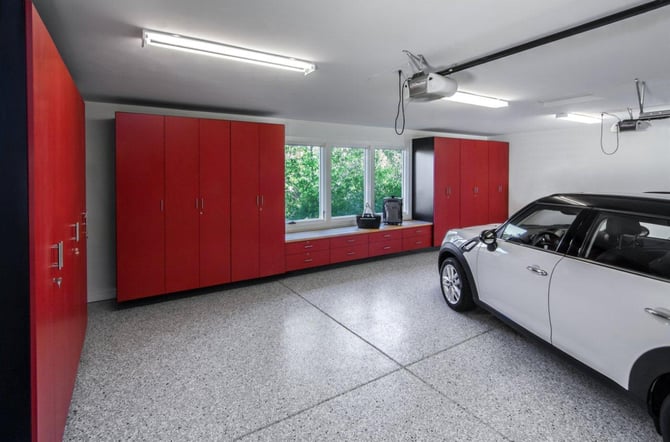 A garage remodel can provide you with a whole new functional room to use in your home.
Image Source: Valet Custom Cabinets & Closets.
With a full remodel including 2 walls of custom cabinetry, Omni Track wall storage systems, a workbench space, and a brand new epoxy floor, you'll think you walked into a brand new Menlo Park residence. Just imagine what next year's rainy season will look like—with one (or two!) cars safe and dry inside your beautiful and functional garage.
With a reasonable budget of $10,000-15,000, you'll wind up with a brand new garage space. Compared with the cost of a 400 sqft addition to your home—which can cost up to $150,000—we'd assume that reclaiming your garage space is the best bet. Connect with us today to get started on a more concrete plan for your dream garage.
---
Valet Custom Cabinets & Closets designs, manufactures and installs custom organizational solutions that enhance the functionality of your living space while complementing the décor of your home.
Our talented design team creates unique solutions tailored to your specific needs, style, and budget. We are independently owned and a direct manufacturer.
Our areas of specialty include Home Offices, Wall Beds, Media Centers, Closets, Pantries, Garage Cabinetry, and much more.
Exceptionally Designed & Styled * Expertly Crafted with 5-Star Execution
---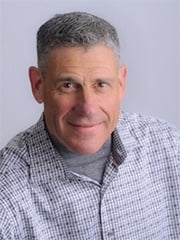 About Larry Fox, President
Larry is a graduate of the University of Southern California School Of Business. After receiving his degree he returned to the Bay Area and spent 18 years working in his family's 100+ year old metals recycling business. Upon the sale of that business in 2000, Larry and his wife Audrey purchased Valet. Larry has become a leader in the industry and is a past president of the National Closet Group. Larry loves turning people's dreams into reality, and remains as enthusiastic about the business today as he was when he first acquired it. View Larry's Houzz Page.