With so many of us continuing to work from home, and with our children out of school for the summer, it might be the perfect time considering the benefits of a home office. Schedule a virtual consultation with one of our talented designers who will meet with you to discuss your project. They will blend your functional needs with your aesthetic style to create 3D CAD designs for you to review, so that you can see the benefits of a home office and make your home office dreams become a reality!

1. A Custom Workspace Just For You
Increase your productivity with a space designed to optimize and promote focus. Our team can create a sophisticated, stylish, and ergonomically friendly work environment for your all-day comfort.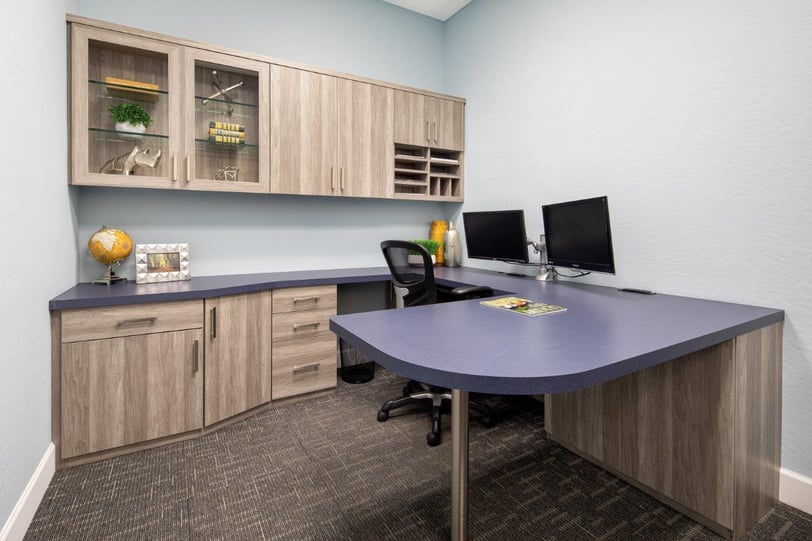 2. Function Solutions Designed To You Specific Needs
An efficient workspace provides both functionality and accessibility. Printers, paper shredders, file storage, and important papers, off your desktop, yet still easily accessible from your chair. Concealed wire management, task lighting, and even popular electronic sit-stand desks can be incorporated in your design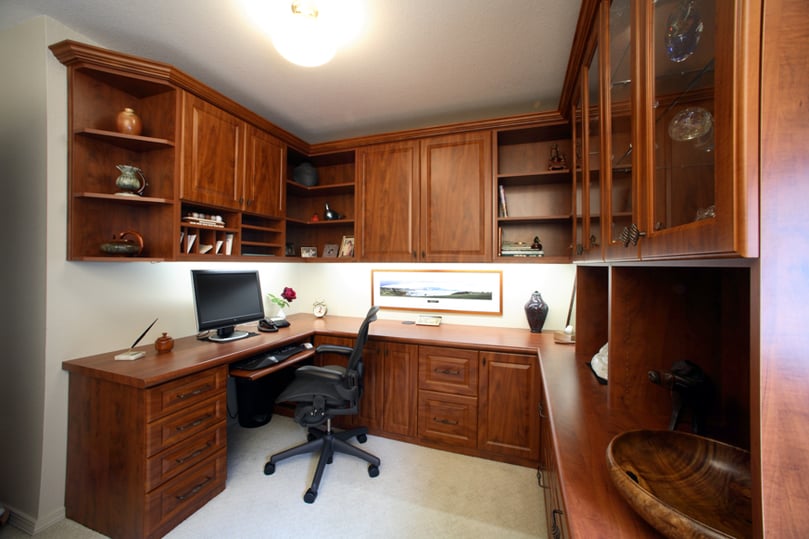 3. Maximize Any Space In Your Home
Struggling with where to create your home office? Your extra bedroom can play double duty with a seamlessly integrated office and wall bed solution that maximizes your utilization with a comfortable workspace and a room for guests when you need it. Or, consider finally making functional use of your upstairs landing area.
4. WorkSpace For Two
Sharing an office with your spouse? Do your children need desk space for an environment more conducive to studying? Working with a blank slate, our talented designers can create a solution with multiple workspaces to facilitate all your unique requirements.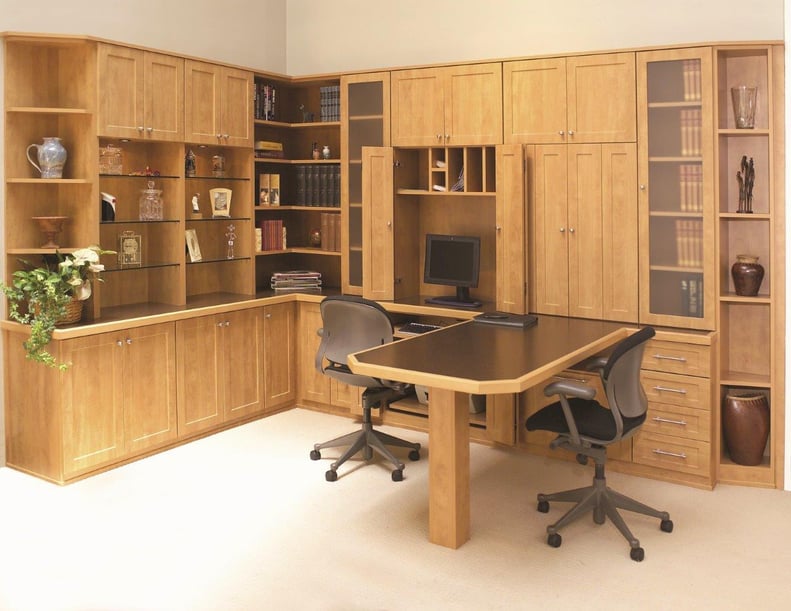 5. Style
Contemporary, Transitional, Traditional. We can blend all your functional requirements into a design that compliments the style of your home and accentuates your personal tastes.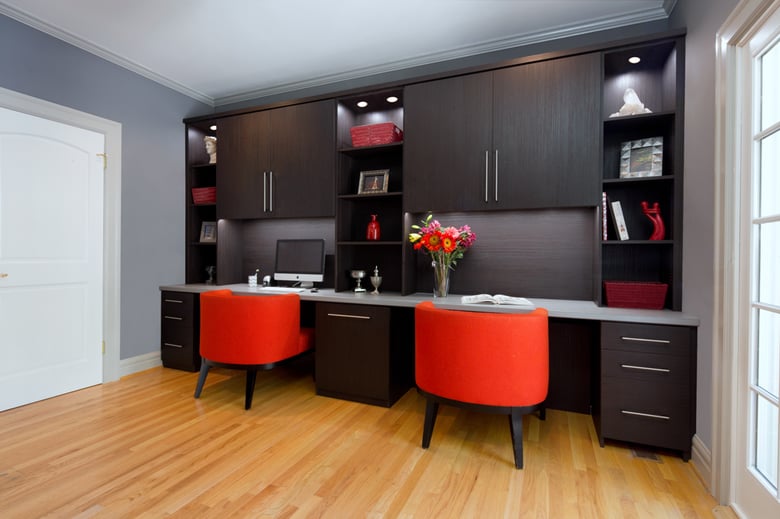 6. Aesthetics
Choose from more than 40 elegant finish options, consider mixing finishes or adding decorative fronts, select stylish handles and knobs, and even incorporate artwork or other curio items for display under accent lighting. Spend your work day in a room you love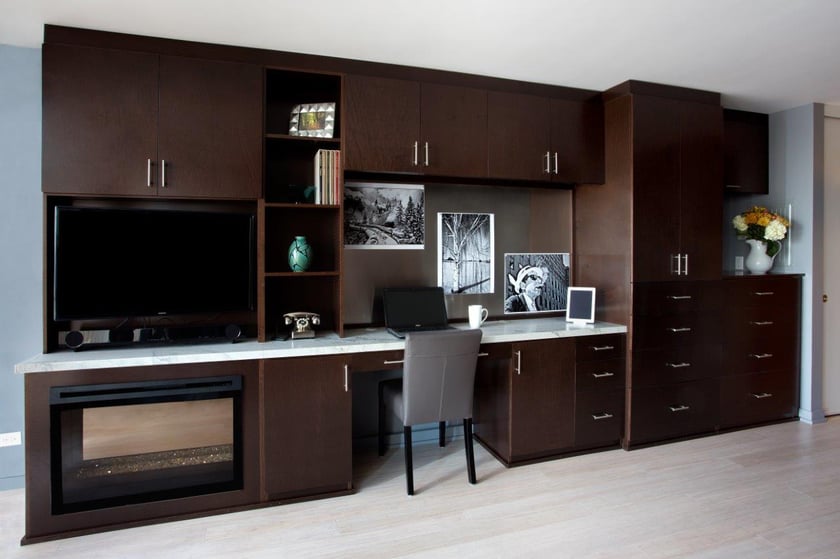 Transcript
Increase your productivity with a space designed to optimize and promote focus. An efficient workspace provides both functionality and accessibility. Maximize any space in your home even an extra bedroom. Let our amazing designers create a solution for multiple workspaces. Whether contemporary, transitional, or traditional Valet has the style and the aesthetic for you.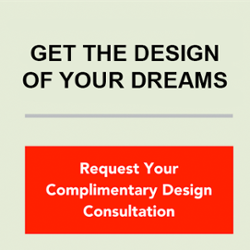 ---
Valet Custom Cabinets & Closets designs, manufactures and installs custom organizational solutions that enhance the functionality of your living space while complementing the décor of your home.
Our talented design team creates unique solutions tailored to your specific needs, style, and budget. We are independently owned and a direct manufacturer.
Our areas of specialty include Home Offices, Wall Beds, Media Centers, Closets, Pantries, Garage Cabinetry, and much more.
Exceptional Design * 5-Star Execution and Service * Expert Craftsmanship
---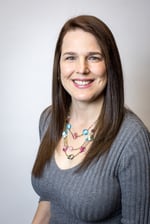 Michelle Larsen
Michelle joined the Valet Team in the summer of 2016. She holds a Bachelor's of Science in Business Management from Western Governor's University. She specializes in accounting, human resources, and general administration and comes to us with over 20 years experience in those fields. She has been a general ledger accountant at a CPA firm and a business manager at a family law firm. As to be expected from someone in her position, she has a passion for people and numbers and loves "making order out of chaos." Michelle and her husband, Brian, live in San Jose. They have a big, happy blended family with eight children and three grandchildren. She enjoys cooking, reading, and spending time in the outdoors. She is also a big San Francisco Giants fan!