Los Altos got its start with farms and apricot orchards, and while the community's changed a lot since then, plenty of people still like working in the dirt. When I'm in the area, I'm always blown away by the number of lush gardens. One of my clients tells me that the Garden Club of Los Altos is one of the oldest in the state (nearly 90). Not only does the club share ideas for tending their own gardens, they help beautify the city—and they do a pretty fine job of it.
One idea they might approve of (a great one for anyone with a budding green thumb) is to transform part of your garage into a gardening center. It's an excellent way to make sure your supplies are organized and easy to find, it serves as staging ground for your yard work, and it can even be a mini-garden of its own. Building a gardening shed requires a permit, but as we like to tell our clients, a custom-designed garage organization system means you don't need a shed. Your cluttered garage can bloom into something beautiful.
Turn Your Garage into a Hobby Center
People who don't garden sometimes fail to realize how much stuff you accumulate. It's frustrating to have to root through it all as you try to unhook your cultivator from your rake. That's where a custom garage storage system comes in. We'd suggest starting your redesign with hooks, clips and clamps. We can install a range of wall-mounted hardware sturdy enough to hold all your long-handled items, from shovels to rakes. If you have a lot of power equipment (Electric hedge clippers? Leaf blower?) that you'd also like easy access to, we'd suggest going with an Omni Track wall storage system, which offers extremely heavy-duty utility hooks in several sizes.
Another useful feature for a home garden center is a pull-out slatwall caddy. These are ideal for hanging smaller equipment:
Hand rakes

Water breakers (or other irrigation tools)

Gardener's knives

Shears

Spades

Pruners
...and whatever else you need. The adjustable hooks let you group tools by category or frequency of use, and the pull-out design allows you to stow everything tidily out of sight when you're done working.
Cabinets for Storing Everything Else
Of course, there is a limit to what hooks can hold. But our sturdy custom cabinets can handle just about everything else. Several of our clients use these for storing soil and fertilizer, keeping heavy bags off the floor and preventing them from spilling across the garage. The cabinets' adjustable shelves can accommodate pots and planters of all sizes and offer a cool, dry environment for your winter bulb storage.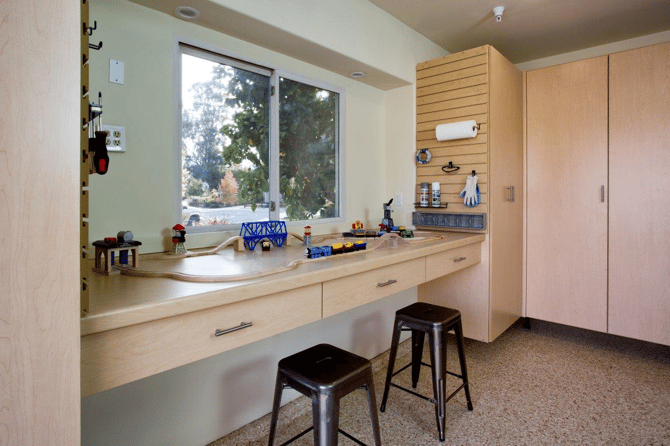 A custo
m workbench underneath an existing window is a great place for growing seedlings.
Image from Valet Custom Cabinets & Closets
The great thing about a custom-designed system is that we can work with your space. If your garage has a window, we can install workbenches and seating below it to create a convenient area for starting seedlings and hardening them off. These workbenches also make great repotting stations (especially since they are conveniently close to the potting soil in your cabinets). If you don't get a lot of natural light or want multiple work areas, we'd also suggest adding a grow light system.
Many garages are already hooked up for plumbing, so it's also easy to incorporate a utility sink into your custom design. This provides a perfect spot for washing up before you go back into the house, and it's also convenient for rinsing tools or filling watering pots. If your garage isn't ready for plumbing, the sink can be a simple one connected to a hose. We can incorporate whatever plumbing system you have (or don't have) so that every aspect works together.
You may never have thought of your garage as being an integral part of your garden. They tend to be dingy and cluttered, probably the opposite of your vibrant flower beds. But that can change. Solid, well-crafted, and personally-designed wall storage and cabinetry bring an organized charm into the space. Whether you have a green thumb or are a greenhorn at gardening, we can help get your garage just right. Connect with us today to see how we can transform your space.
---
Valet Custom Cabinets & Closets designs, manufactures and installs custom organizational solutions that enhance the functionality of your living space while complementing the décor of your home.
Our talented design team creates unique solutions tailored to your specific needs, style, and budget. We are independently owned and a direct manufacturer.
Our areas of specialty include Home Offices, Wall Beds, Media Centers, Closets, Pantries, Garage Cabinetry, and much more.
Exceptionally Designed & Styled * Expertly Crafted with 5-Star Execution
---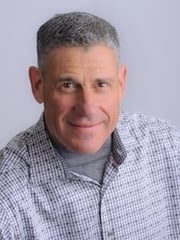 About Larry Fox, President
Larry is a graduate of the University of Southern California School Of Business. After receiving his degree he returned to the Bay Area and spent 18 years working in his family's 100+ year old metals recycling business. Upon the sale of that business in 2000, Larry and his wife Audrey purchased Valet. Larry has become a leader in the industry and is a past president of the National Closet Group. Larry loves turning people's dreams into reality, and remains as enthusiastic about the business today as he was when he first acquired it. View Larry's Houzz Page.