It's summer in Willow Glen right now, and when I drive through the area, I see plenty of people outside. And why not? It's sunny (I haven't seen a cloud all week) and in the 80s. If I didn't have to work, I'd be outside too. Willow Glen has a great downtown, but its heart lies in its neighborhoods, where people regularly get together to enjoy the weather and each other. All that neighborliness makes it an amazing spot for block parties.
The only problem with block parties is storing everything. Dragging out tables and chairs takes a lot of effort, and sometimes you just want to hang out and chill in someone's driveway, or maybe even set up a projector to watch a movie, without having to spend an entire afternoon setting up. That's why several of our Willow Glen clients have fitted their garages with custom cabinets. With space for storing equipment and serving food (and with the extra room created by an organized system), custom cabinetry in your garage makes a perfect summer even better.
The Garage as a Family Cave
I don't want to date myself, but I remember when every garage had a refrigerator, perfect for grabbing a cold one after mowing the lawn. It was a great setup, but the fridge tended to stick out and take up a lot of space. Still, whether you're doing yardwork or having guests over for a barbecue, an easily accessible fridge is a huge benefit.
We can design custom cabinets that incorporate that second refrigerator seamlessly into your garage's floor plan without taking up too much space. We'll work with you to decide exactly where it should go, taking into account factors like electrical outlets and shelving.
In some garages, we've even added space for a second microwave or sink. The first option is great for reheating sides during a block party and the second lets you quickly wash up before eating. Both help you cut down on trips back into the house –and if you're outside, you'll encourage guests to stay outside, too (perfect if you'd rather they not see the mess in the kitchen). Now, let's get to the work of eating!
When it comes time to serve, counter space helps. Adding counters to your garage may not seem intuitive, but they're perfect for outdoor get-togethers. No matter how many neighbors bring food over, there will be room for everyone to lay out their contributions – and you won't need to lug tables anywhere. Your garage can become the focal point of the festivities, with people enjoying the shade or just grabbing their burgers and heading back into the sun.
The Cabinet Space for Your Life
Of course, there's no point in having custom cabinetry without considering what you'll store in it. If your garage is an outdoor gathering place, these cabinets are great for bulky items that you may use frequently but which tend to eat up floor space. Lawn chairs, spare bags of charcoal, and equipment for games like croquet or bocce ball can all be conveniently stowed away. Since these items can get heavy, we offer extremely sturdy garage cabinet construction. Many of our designs also offer adjustable shelving, so that as your storage needs change, your cabinets can as well.
Garage cabinets are also a great place to store dry goods, especially food you buy in bulk, like chips and soft drinks for your next cookout, or juice boxes and crackers for the kids. Many of our clients opt for wide, roll-out shelves to make storing and accessing their groceries easy.
Of course, you can also use your storage for things apart from hosting. Many families who have garage laundry units use their custom cabinetry to store detergents and softeners. Some people also want to keep off-season clothes in the garage (as well as the basement), so wardrobe cabinets are another great option. Add a beautiful and durable Epoxy floor to complement your new cabinets, and you'll have fully transformed your garage into a multi-purpose room.
Of course, we recognize that your garage is a place where you might actually store your car. It isn't just for fun. But that's the beauty of these custom cabinets. They create space by maximizing your storage possibilities and keeping everything organized.
Maybe you never thought of your garage as a focal point for outdoor activities (other than a place to duck into during a brief Willow Glen rain). But maybe it's time to rethink it. With beautiful, eye-catching custom cabinets, your garage can be at the center of it all, a place to hang out with your neighbors or with your family. With the right setup, a garage isn't just tacked onto your house. It's part of the house. It can be part of the neighborhood, too. Connect with us today to see how we can transform your space.
---
Valet Custom Cabinets & Closets designs, manufactures and installs custom organizational solutions that enhance the functionality of your living space while complementing the décor of your home.
Our talented design team creates unique solutions tailored to your specific needs, style, and budget. We are independently owned and a direct manufacturer.
Our areas of specialty include Home Offices, Wall Beds, Media Centers, Closets, Pantries, Garage Cabinetry, and much more.
Exceptionally Designed & Styled * Expertly Crafted with 5-Star Execution
---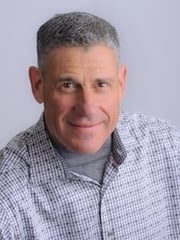 About Larry Fox, President
Larry is a graduate of the University of Southern California School Of Business. After receiving his degree he returned to the Bay Area and spent 18 years working in his family's 100+ year old metals recycling business. Upon the sale of that business in 2000, Larry and his wife Audrey purchased Valet. Larry has become a leader in the industry and is a past president of the National Closet Group. Larry loves turning people's dreams into reality, and remains as enthusiastic about the business today as he was when he first acquired it. View Larry's Houzz Page.