I like to start my mornings with a nice breakfast while I flip through the newspaper (call me old-fashioned). San Jose residents may find it a strange routine. If you're part of the growing tech scene, your morning might go more like this: You wake up already panicking about how much you need to get done, down a pot of coffee as you scan emails, and by the time you look up from your laptop, it's 10 or 11 PM. Whether you're trying to get a start-up off the ground, or working through the ranks of a more established company like eBay or TiVo, there's no denying San Jose folks are stressed.
Of course, working from home is becoming more common. This spares you the hassle of a commute but won't lessen the pain of your work schedule. Still, there are ways to set up your workspace to minimize stress and maximize tranquil productivity. If you're considering a home office redesign, I suggest borrowing from the design principles of Japanese Zen. I'm not talking about a tabletop sand garden with a tiny rake. The seven principles of Zen aesthetics have been used for centuries to create stunning spaces that are beautiful, functional, and peaceful. Here's a look at how we can incorporate the first four principles into your home office design.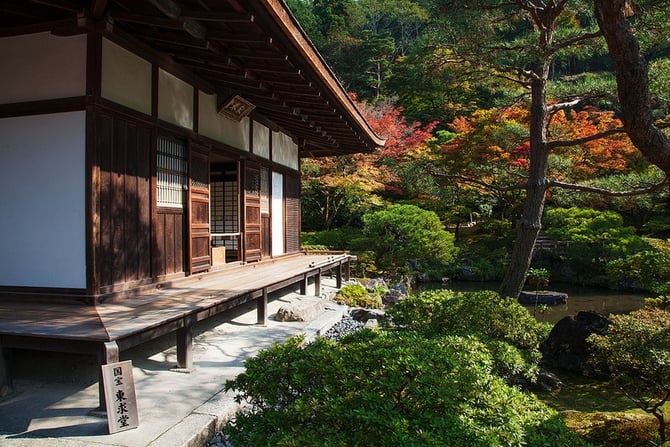 Zen design principles can create functional, tranquil spaces.
Image credit:
Jean-Marie Hullot
(CC BY 2.0)
Simplicity
Kanso is the principle of simplicity, where form is expressed in a plain fashion and clutter is minimized. Your goal is to free yourself from the distractions found in most offices—the piles of papers, sticky notes, and random knick knacks that steal your attention and prevent focused work.
We suggest designing a custom workspace with clean, straight lines to minimize the visual clutter. Forgo molding and excessive trim on your cabinets and shelving units and opt instead for flat panel doors. We can also design an office unit that offers plenty of storage space through features like under-desk file cabinets, pull-out keyboard trays, and roll-out storage so that you (and your partner) still have access to typical office features while preserving the appearance of open, uncluttered space.
Asymmetry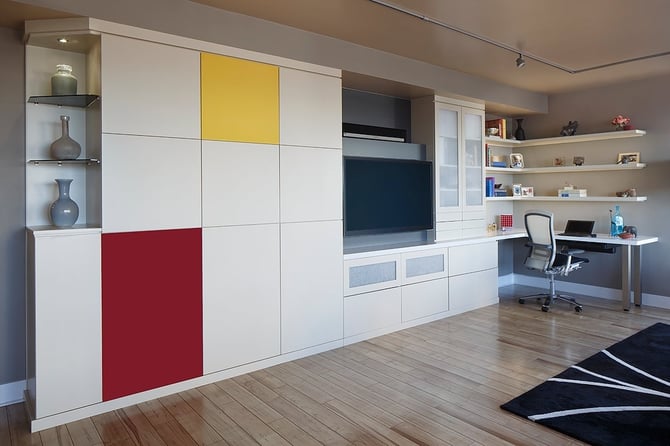 Accent colors and offset display cases provide welcome asymmetry.
Image from Valet Custom Cabinets & Closets.
Perfect symmetry is boring. The principle of fukinsei promotes asymmetry as a way to create a dynamic, intriguing space that can breed creativity and help you get the most out of your day. We suggest adding an accent color on a cabinet door, or incorporating an offset display unit into your cabinetry where one or two select pieces of art can draw the eye and contribute to your room's aesthetic allure. You can also consider an asymmetrical layout for your furniture itself. For example, you might opt for a design that sets your desk at one end of your cabinetry rather than being centered in the middle. Our designers would be happy to walk you through your options.
Naturalness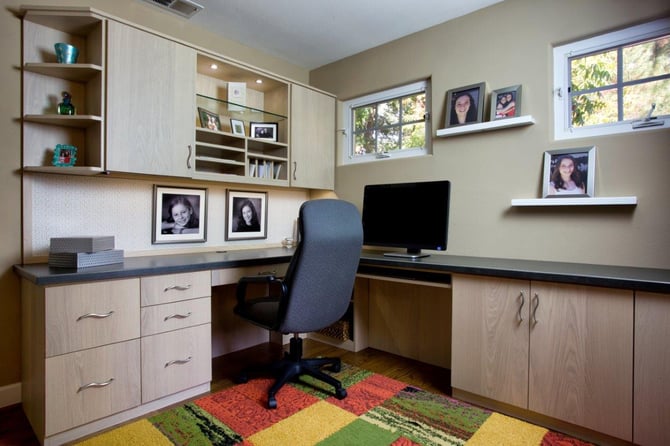 Wood grains and earth tones give a warm, natural feel.
Image from Valet Custom Cabinets & Closets.
Shizen encourages you to avoid artificiality and embrace nature. This doesn't mean you have to work outside under a tree (although maybe that's a good idea)—the principle is about using natural elements to create simple, soothing beauty that lacks pretentiousness.
One way to do this is through the use of earth tones and natural looking finishes. We can help you select a color palette that incorporates greens and browns, and we can design your custom cabinetry with a variety of wood veneers, like pine and maple for a light, bright feel, or a darker cherry or walnut for a more formal (but still natural-looking) appearance.
Some of our clients also like to keep pots of ivy or succulents on their desks to play up the natural feel, and our durable laminate countertops let you do this without worrying too much about water damage.
Subtlety
Yugen is the idea that you can say more through suggestion than full disclosure. In other words, subtlety is a virtue. Subtle design elements remind you of the importance of detail and might even encourage you to put those extra little touches into your own work.
The hardware on your drawers and cabinets is the perfect place to make a quiet statement. We offer a large range of hardware options to match your style, and we can custom order additional options from our partners, Top Knobs and Atlas Homewares. Choose a style that represents your tastes, but remember understatement is key. Hardware doesn't have to be flashy to look great.
Superb craftsmanship tends to have an equally subtle effect. At Valet, we don't use exposed fasteners or nailers on our adjustable shelving, and we favor continuous tops and soft edge shelves. The machines in our workshop are calibrated to within 0.005 inches, and each piece of cabinetry we cut is hand inspected before it leaves our warehouse. We honestly believe these details are important for creating a quality look.
Less Stress, More San Jose Zen
Life can be a complicated mess, but your home office doesn't have to be. A custom design that incorporates Zen principles helps your space become a soothing, productive haven.
We'll fill you in next week on the final three principles of Zen design and how to incorporate them into your home office. In the meantime, if you're struggling with the stressful business of day-to-day life in San Jose, give us a call or send us a message. We've got plenty of ideas for how to bring more Zen tranquility into your home office—and your life.
---
Valet Custom Cabinets & Closets designs, manufactures and installs custom organizational solutions that enhance the functionality of your living space while complementing the décor of your home.
Our talented design team creates unique solutions tailored to your specific needs, style, and budget. We are independently owned and a direct manufacturer.
Our areas of specialty include Home Offices, Wall Beds, Media Centers, Closets, Pantries, Garage Cabinetry, and much more.
Exceptionally Designed & Styled * Expertly Crafted with 5-Star Execution
---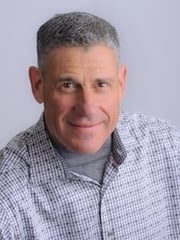 About Larry Fox, President
Larry is a graduate of the University of Southern California School Of Business. After receiving his degree he returned to the Bay Area and spent 18 years working in his family's 100+ year old metals recycling business. Upon the sale of that business in 2000, Larry and his wife Audrey purchased Valet. Larry has become a leader in the industry and is a past president of the National Closet Group. Larry loves turning people's dreams into reality, and remains as enthusiastic about the business today as he was when he first acquired it. View Larry's Houzz Page.