It's that time of year again, and the nights are getting colder in the Bay Area. It dips into to the low 40s in San Francisco, and even if you're not cold, you know that some people out there are. All around us, there are people who don't have enough blankets to snuggle up under or the right clothes to ward off the chills, who aren't as fortunate as you or I may be. The holiday season makes us cinch up imaginary collars, and reflect on what we can do to help.
I see this all the time around the Bay Area, especially when I'm talking to people who want to redesign their reach-in closet. Their lives are full of clutter, and so many say, "What am I going to do with all this stuff once I get my closet organized?" A lot of the time—especially around the holidays—they decide to donate their extra clothes to those who need it most.
There are a lot of ways to do this in the Bay Area. One Warm Coat is a great nationwide depository for coats and jackets, especially for children. More locally, the Bay Area Rescue Drive has a year-round Warm Coat collection. If you want to research the best places to donate clothes, Wovin has a great chart of Bay Area donation facilities and groups, so that you can donate to those with whom you feel most comfortable.
We all want to do what we can. That's one of the great things about our custom-designed reach-in closets. You can get the peace of mind that comes with decluttering and that warm, fuzzy feeling that comes from helping people who need it the most.
A Custom Redesign Helps You Simplify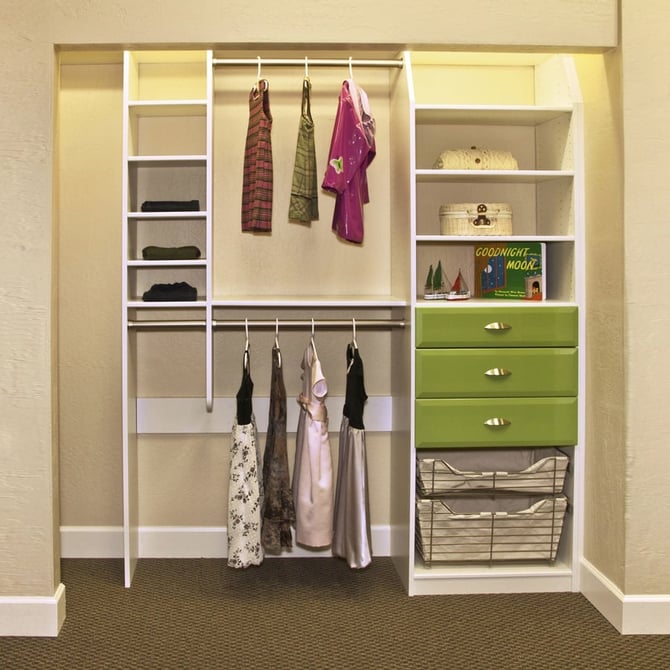 An organized closet helps you get a sense of what you own.
Image source: Valet Custom Cabinets & Closets.
One of the main problems with a cluttered and disorganized closet is that you don't really know what you have, which makes it nearly impossible to tell what you don't need. And if you haven't the faintest idea where to start, chances are good you might not start at all. Having a closet where clothes are jammed into to ill-fitting and poorly designed spaces makes organization overwhelming.
In many closets, things just sort of go wherever there happens to be room at any given moment. That's because the organizational systems aren't designed with the actual closet in mind. They're either bought off-the-shelf or installed with minimal concern for how people actually live. A few hanging rods, maybe a shelf behind the rods (which makes no sense), and that's it.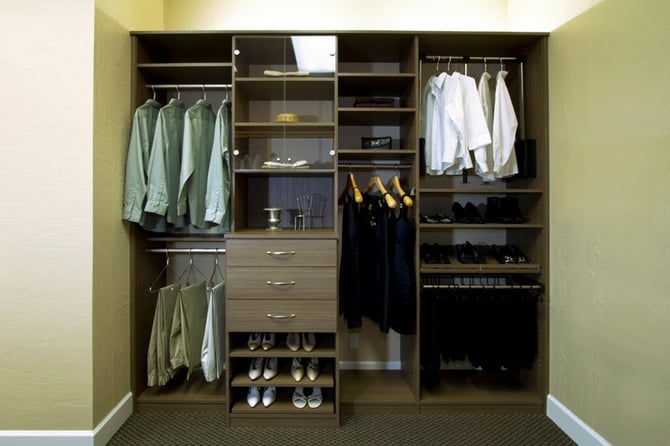 Having a custom design helps you be better organized and reduce clutter.
Image source: Valet Custom Cabinets & Closets.
A reach-in closet, which already might be short on space, needs to have a logical flow and room for everything. That's why when we do a design, we actually measure and analyze the existing space and consult with our client to figure out their exact needs, and then design the closet around that.
It's really the only way to make something work right: some closets need more space for shoes (especially hall closets for families, with people going in and out); some need more space for jackets to keep on hand for those cold Bay Area winter nights; others require a logical flow between shirts, pants, ties, belts, jewelry, and other items required to get ready for work.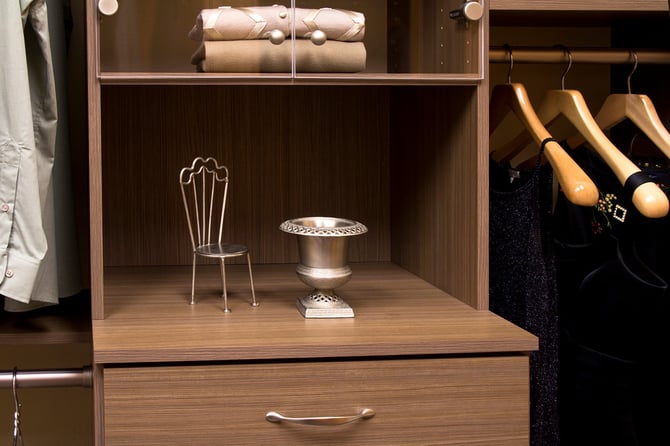 Having space means being able to decorate for peace of mind.
Image from Valet Custom Cabinets & Closets.
Peace of mind comes from having the right spots for everything. All of our closets can come with features that help to make sure that you don't have items stored in mismatched areas. We can find room in any closet for a full suite of:
Drawers

, which come in various sizes suited to fit all the usual closet necessities, including folded clothes that can't be hung up, jewelry, and a myriad of miscellaneous accessories (like tie clips, belt buckles, or hair supplies).

Pull-out hampers

that stay well-hidden when not in use.

Sliding tie and belt racks

that maximize space but minimize aesthetic interference.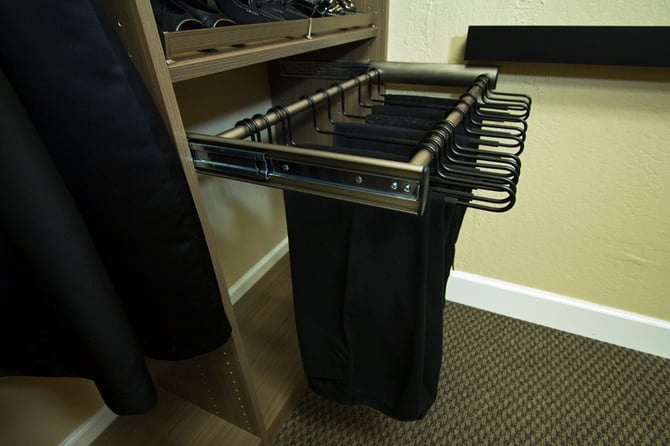 A slide-out slack rack keeps dressier pants wrinkle-free and easily accessible.
Image source: Valet Custom Cabinets & Closets.
Adjustable shelves that can support even the heaviest winter shoes to get them off the floor and sorted into proper pairs.
Hanging and valet rods

for hanging everything from cocktail dresses for Christmas parties to warm and cozy windbreakers.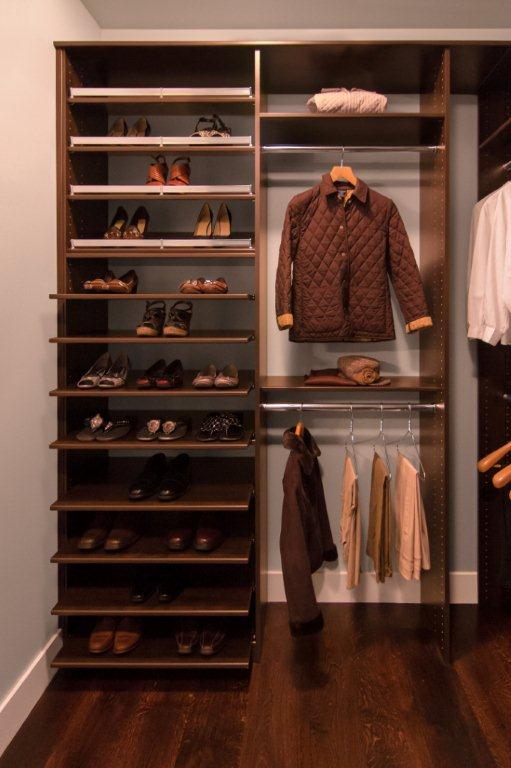 Get your shoes in line with adjustable shoe shelves.
Image source: Valet Custom Cabinets & Closets.
A majority of our designs are slide-out or flip-down so that you can pull them out when needed, and store them away when not—everything fits, and nothing is in the way. It's like an organic ecosystem for your closet, where everything works together, in harmony.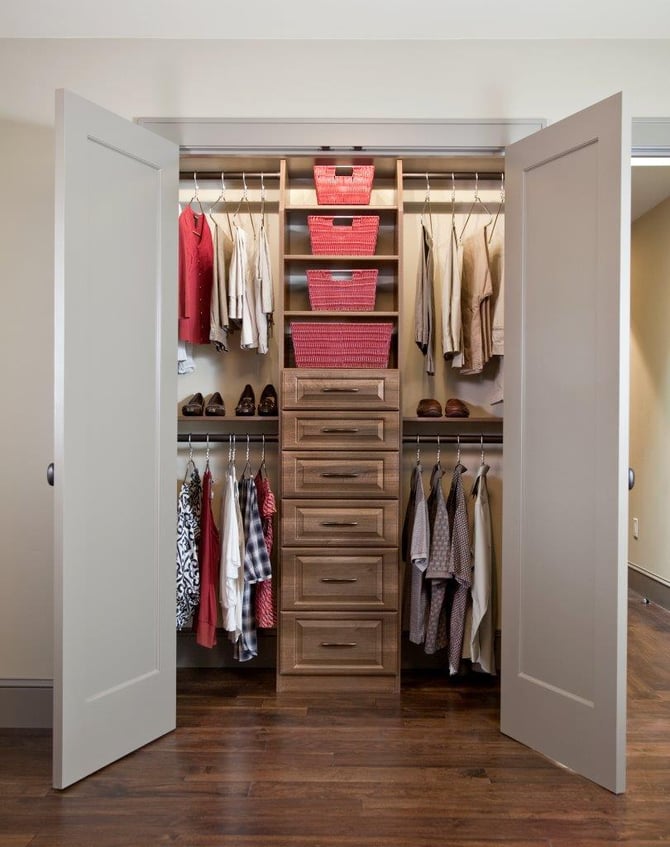 Custom design helps create an organized and cohesive closet that feels cozy and functions smoothly.
Image source: Valet Custom Cabinets & Closets.
And that's the way it should be. We should all be willing to help each other out, especially during this time of the year. That's why we encourage you to take advantage of your new reach-in closet redesign to get organized, and use that organization not just to declutter your life, but to make some else's better.
Donating the clothes you don't need is like giving a present that gives back. You are getting the gift of organization, and giving the gift of warmth. Connect with us today to get started on your custom-designed reach-in closet, and help make this world a little warmer.
---
Valet Custom Cabinets & Closets designs, manufactures and installs custom organizational solutions that enhance the functionality of your living space while complementing the décor of your home.
Our talented design team creates unique solutions tailored to your specific needs, style, and budget. We are independently owned and a direct manufacturer.
Our areas of specialty include Home Offices, Wall Beds, Media Centers, Closets, Pantries, Garage Cabinetry, and much more.
Exceptionally Designed & Styled * Expertly Crafted with 5-Star Execution
---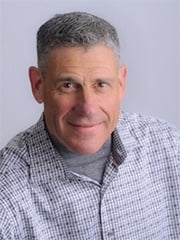 About Larry Fox, President
Larry is a graduate of the University of Southern California School Of Business. After receiving his degree he returned to the Bay Area and spent 18 years working in his family's 100+ year old metals recycling business. Upon the sale of that business in 2000, Larry and his wife Audrey purchased Valet. Larry has become a leader in the industry and is a past president of the National Closet Group. Larry loves turning people's dreams into reality, and remains as enthusiastic about the business today as he was when he first acquired it. View Larry's Houzz Page.