The pace of Silicon Valley's innovative industries' growth is not slowing down, and neither are your work days. Now that global businesses are commonplace—running on diverse time zones—and instant communication options are boundless, what's stopping you from working the hours that are most convenient for you and your company's needs?
Work-life balance is a universal goal, regardless of your occupation, but it can be difficult to mentally separate from one or the other when your work and life compete for your time and—if you ever work from home—when they compete for the same physical space. Some Silicon Valley startups are making a point of paving the way for work-life balance out of the gate. But it's not too late for you to create a context for balance even if work demands are in full effect and your hours are atypical.
Advances in custom home office environments have accelerated to meet the prerequisites of the Valley's business advances. Don't feel the need to moderate your expectations for what could manifest in your current home office space or otherwise unsuspecting room. By designing and organizing it your way, the office has the potential to become a natural extension of your style and your version of productivity. If your office truly inspires your professional edge, then you'll be better able to step in and out of that role right alongside your personal home life.
You can integrate work space without compromising your home's existing style or function.
Image source: Valet Custom Cabinets & Closets.
If you can't get around working from home and working unconventional hours that are inconvenient for your personal and family life, then bring every advantage and convenience into the next room. Don't waste any time traveling to and from the office or finagling with an inadequate workspace. Regardless of your priorities, all needs and details can be satisfied with a customized approach.
Productivity and Organization
Workspace and storage layouts can be designed—from scratch or within an existing setup—based on your work habits. With convertible desk environments, it is possible to have computers and open table space both easily accessible.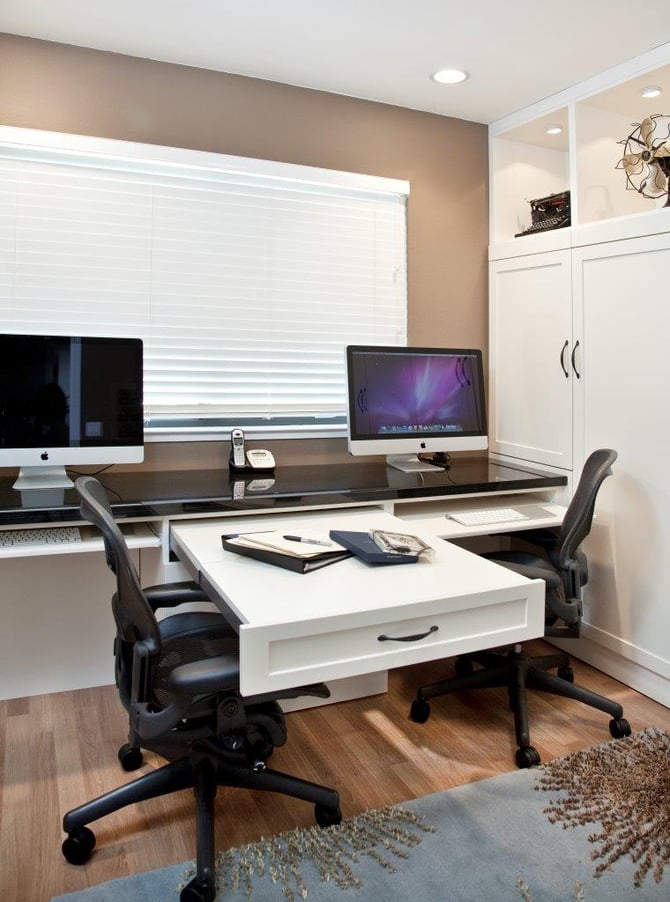 Make the most of a small space with convertible desk options.
Image source: Valet Custom Cabinets & Closets.
Storage will make use of horizontal and vertical space depending on how often and how quickly you need things within reach. Lower storage spaces can keep cords organized and hardware safe and out of the way while still fully accessible on roll-out shelves. Higher storage spaces suited to your height are best for supplies you'll more often reach for.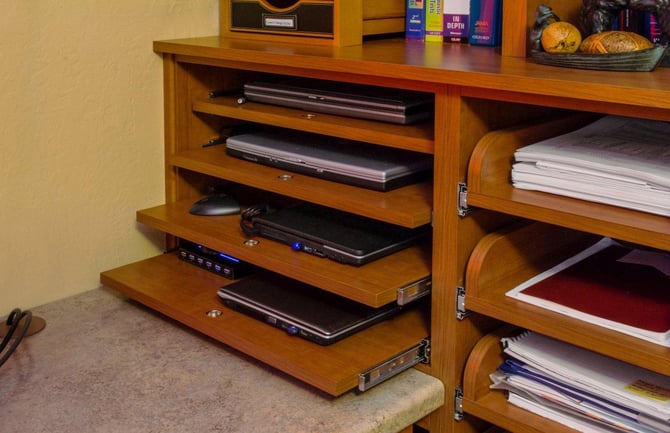 Slide-out shelves take your available space to a new level.
Image source: Valet Custom Cabinets & Closets.
Ergonomic Considerations
With as much time as you spend on the job, your health and productivity alike depend on a system that takes into account your physical needs and limitations. A monitor that sits too high or too low can cause back or neck strain over time—and the same is true if the reach to your keyboard is not measured and addressed. Simple modifications to desk or monitor height are easily accomplished and can make an enormous difference to your physical comfort—on and off the job.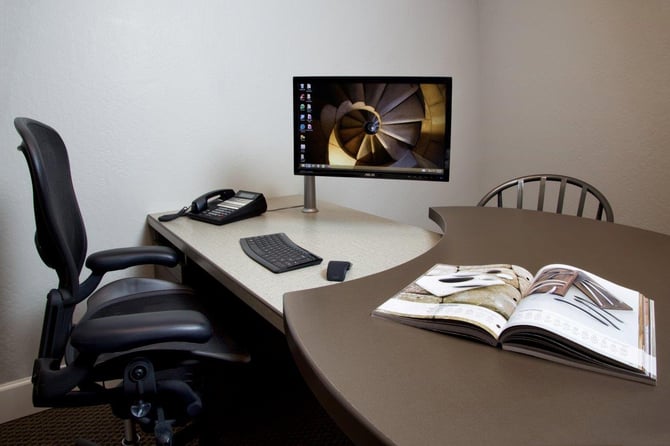 Your desk should be designed for you: your height, your reach, your habits.
Image source: Valet Custom Cabinets & Closets.
In fact, you many find that you prefer the surface housing your keyboard and mouse to be at one level and the surface on which you read and write to be at a higher level. Slide-out ergonomic keyboard trays are a common choice to suit this preference, but it is also possible to install a split-level desk to separate your space for different activities and maximize your productivity.
Organize Work and Life in the Same Place
The uses for your at-home office can easily go beyond your work needs. Double file drawers can organize work documents as well as personal documents that you need within reach. And your safe can be tucked away in a cabinet that conforms to the style of your space.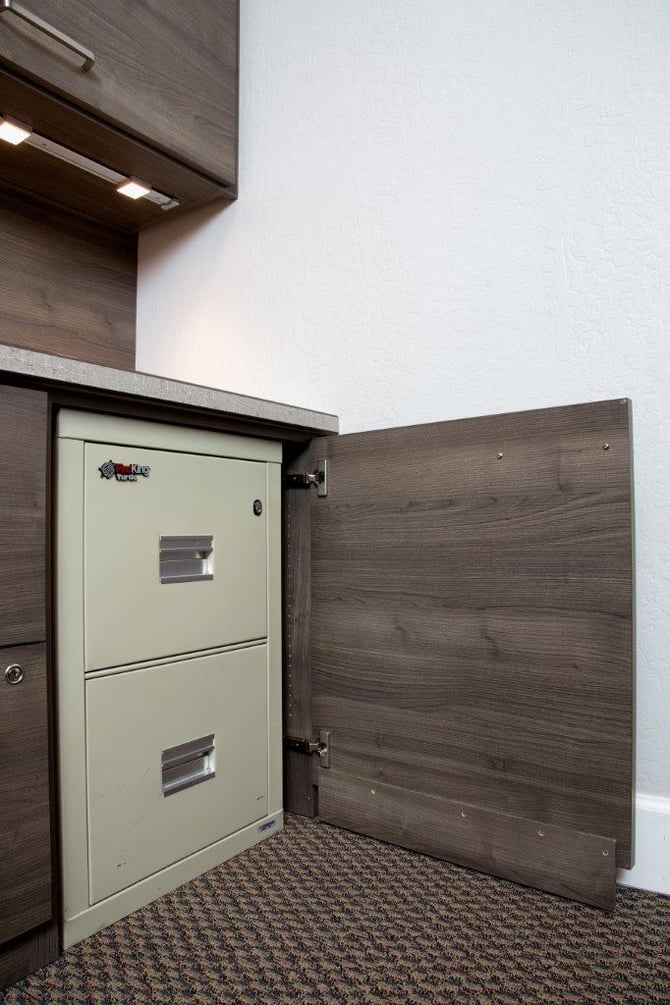 Your office can support your professional and personal needs seamlessly.
Image source: Valet Custom Cabinets & Closets.
Even if you don't have an extra room to install your state-of-the-art home office, it is entirely possible to merge uses for the space without sacrificing functionality or accessibility. If that extra room is otherwise dedicated to host out-of-town guests, a wall bed is the perfect solution to an entirely multi-functional space.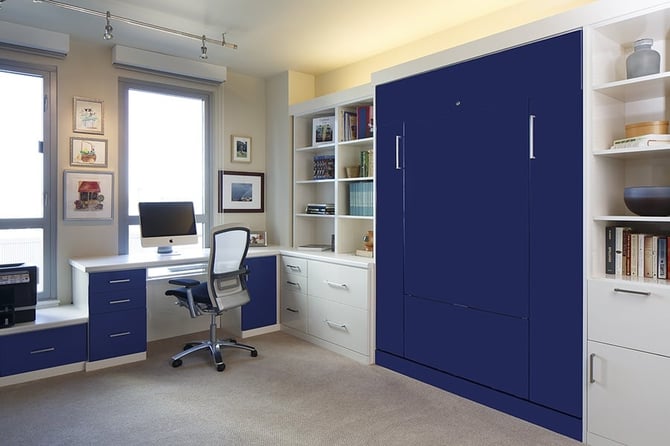 A spacious office by day. . .
Image source: Valet Custom Cabinets & Closets.
Not to mention a nap break is one sure-fitting key to balancing out a long work day! Rest assured that the wall bed tucks away smoothly without distracting you from your workflow or compromising your effective space.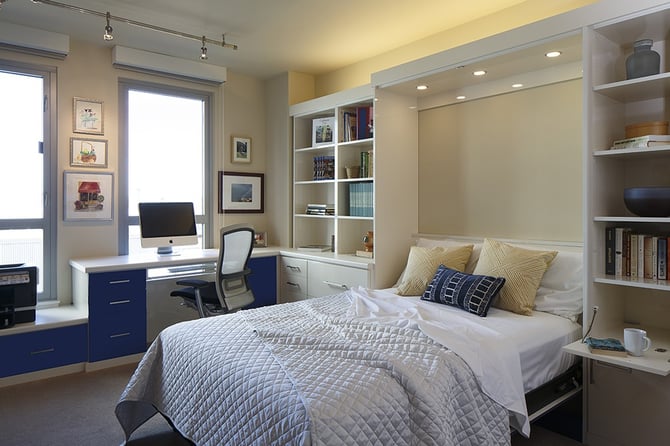 . . . a comfortable guestroom by night.
Image source: Valet Custom Cabinets & Closets.
Besides, the price of office space in Silicon Valley is more than twice the national average cost per square foot, so it pays to make the most of the space you already have.
Seamless Look and Integration
For the balance to be as real as possible, your office will not stand out as a constant reminder of that which would pull your attention away from home life. We can help to customize the look of your space to not only make it more welcoming, but also make it blend in with your home's warmth and character. We offer a wide range of finishes to match your home's look and to optimize the lighting of the room.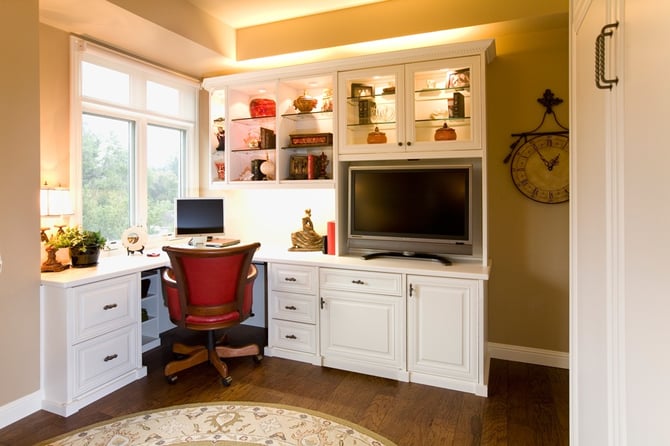 If your home isn't hollow and generic, why should your office be?
Image source: Valet Custom Cabinets & Closets.
Dedicated shelf space—open or closed—can serve the purpose of showcasing artwork or collectibles just like like in your living room or other shared area. We can also help you to select decorative embellishments to give your office personal character. Custom design is exactly the way to achieve both practical and aesthetic integration.
Balance Out Work and Life Priorities
The South Bay's thriving virtual culture should not overshadow its living, breathing communities. Underneath the silicon is the Valley of the Heart's Delight. You don't want to miss out on time for yourself, with your family, or spent among the Bay's rich indoor and outdoor adventures. (Prove wrong your visitor's assumption that the HP Garage is the most down-to-earth point of interest the Valley has to offer.) In the right context, you can be fully present for your work and be fully present for your life and all of its opportunities. Let us help you create that context, starting with an individualized consultation.
---
Valet Custom Cabinets & Closets designs, manufactures and installs custom organizational solutions that enhance the functionality of your living space while complementing the décor of your home.
Our talented design team creates unique solutions tailored to your specific needs, style, and budget. We are independently owned and a direct manufacturer.
Our areas of specialty include Home Offices, Wall Beds, Media Centers, Closets, Pantries, Garage Cabinetry, and much more.
Exceptionally Designed & Styled * Expertly Crafted with 5-Star Execution
---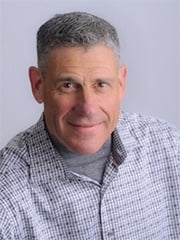 About Larry Fox, President
Larry is a graduate of the University of Southern California School Of Business. After receiving his degree he returned to the Bay Area and spent 18 years working in his family's 100+ year old metals recycling business. Upon the sale of that business in 2000, Larry and his wife Audrey purchased Valet. Larry has become a leader in the industry and is a past president of the National Closet Group. Larry loves turning people's dreams into reality, and remains as enthusiastic about the business today as he was when he first acquired it. View Larry's Houzz Page.