We've been waiting for it for months: the newest Bay Area Rapid Transit station at Warm Springs/South Fremont is in the final stages of testing and should be running passengers this month! No official opening date has been announced yet, but I know they're getting agonizingly close. That means commuters can finally start looking into real estate in the South Fremont area, where new condos abound.
Being close to a BART station has the potential to significantly improve your life. You remove commuting hassle, get to work in a better state of mind, and reap the environmental benefits of using mass transit. What more could you want? There's only one downside: if you're eyeing one of those new condos, you might have to sacrifice living space.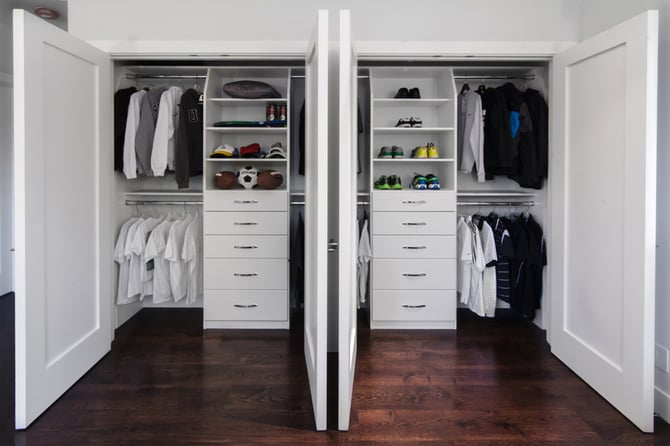 With the right storage solutions, reach-in closets can save your condo valuable square footage.
Image source: Valet Custom Cabinets and Closets
Downsizing isn't always ideal, but with the right adjustments to your storage areas, you can still have plenty of room to settle in. Custom closet fixtures are a particularly great way to maximize small reach-in closets, giving you more liveable space in your new home.
Maximize Clothing Storage and Free Up Your Bedroom Floor
If you decide to opt for a condo, you might not have the room for oversized dressers, chests of drawers, vanities, or other single-function pieces in your bedroom. Many of my clients find that they need to consolidate their clothing into one storage area. Fortunately, there's a lot you can do to upgrade your condo's preexisting reach-in.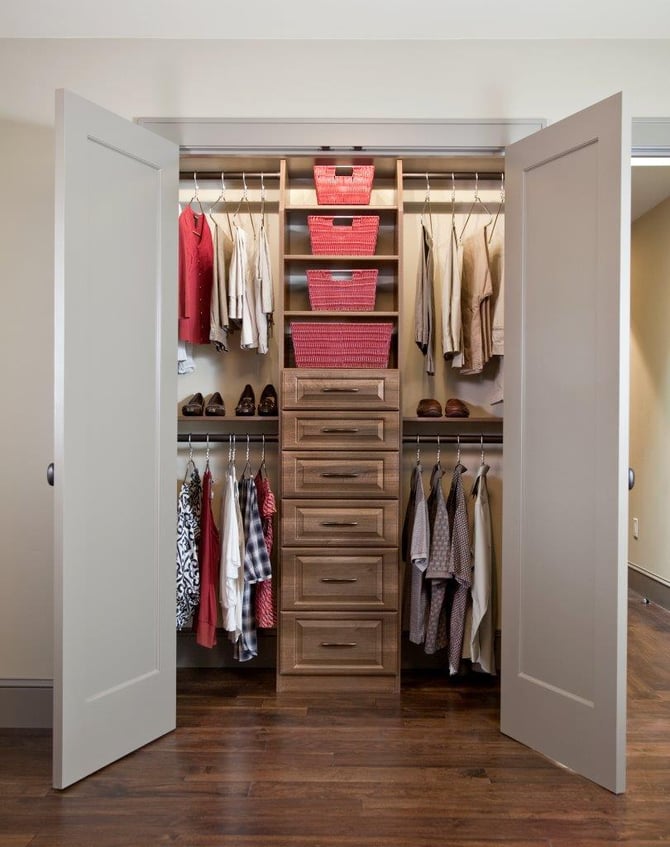 Your reach-in closet can also serve as your dresser—and save valuable floor space.
Image source: Valet Custom Cabinets and Closets
Adding drawers to a reach-in, for instance, lets it function as a dresser too, and is the perfect option for storing casual T-shirts and heavy knits like sweaters. In fact, you can follow the same layout that many people use for standalone dressers: underthings in shallow top drawers, with shirts in deeper drawers below. Figuring out exactly what you want to store also helps ensure that your drawers are sized appropriately. A custom design means that you won't be stuck with drawer boxes that are too wide or narrow for your needs—and this tends to save a lot of space.
For your hanging wardrobe, consider installing multiple hanging rods. A multi-tier arrangement helps you break up your wardrobe by category and is a far more efficient use of wall space than a single rod. If you have drawers in your closet, you can even try a four-rod configuration: two rods on either side of the drawers, with hanging space divided between tops and bottoms.
Make Your Accessory Storage System Work For You
Speaking of drawers, you'll probably need an appropriate space to store small accessories now that your top-of-the-dresser real estate has vanished. But this can actually be a blessing: dressers and other flat surfaces seem to invite clutter—it's just so easy to throw things down and forget about them. Most of my clients find that their jewelry collections remain much more organized when housed in compartmentalized drawers.
Store your accessories efficiently—and beautifully—in custom double drawers.
Image source: Valet Custom Cabinets and Closets
When every accessory has a designated place, necklace tangles and misplaced cufflinks can easily be avoided. And you don't have to settle for ordinary drawers—we can install a double-tiered, velvet-lined option that more than doubles the holding capacity of a single standard drawer.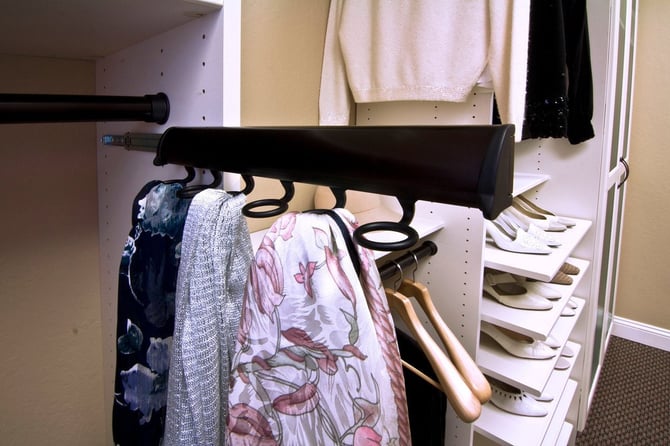 Sliding scarf racks save valuable closet space beside hanging clothes.
Images by Valet Custom Cabinets and Closets
Another space saving tip: utilize sliding racks to keep accessories like belts and scarves tightly tucked away until you need them. These items seem small, but they'll take up an inordinate amount of space if you let them. Belts, for instance, are nearly impossible to fold or stack, and take up a lot of space on your hanging rod if you keep them on a hanger. If stored haphazardly, they can also add to the visual clutter of the room. By comparison, a sliding rack takes up less than three inches of hanging space. You might not even notice it once it's installed—which, after all, is half the point.
Try Out Different Ideas for Storing Your Shoes
Shoes can be one of the most difficult items to store efficiently They tend to pile up on the floor or in a corner—which you definitely can't afford when you're trying to maximize the reduced square footage of a Fremont condo.
All of my favorite storage solutions involve a little creativity: Enclosed shoe drawers, for instance, keep your collection off the floor and completely out of sight, good if you don't want to spend a lot of time rearranging your shoe shelves to keep them looking tidy.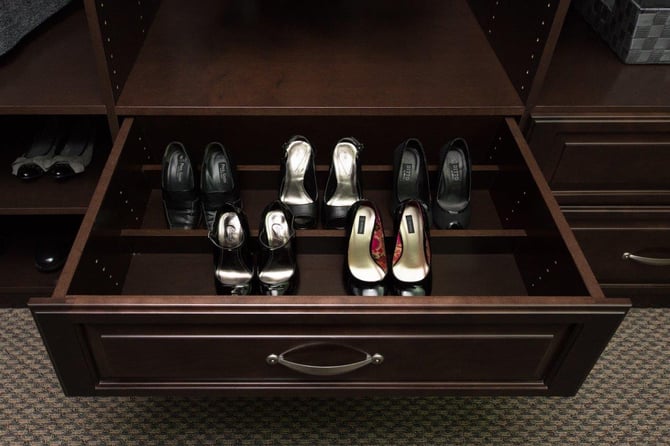 Slanted shoe shelves save space while letting you view your entire collection on display.
Image source: Valet Custom Cabinets and Closets
If, on the other hand, you've got a large shoe collection and want to show it off a little, consider reserving part of your closet for slide-out shoe shelves. This lets you organize your shoes by shape—heels, flats, boots, and so on—so that each shelf provides precisely enough clearance without wasting any of your vertical wall space.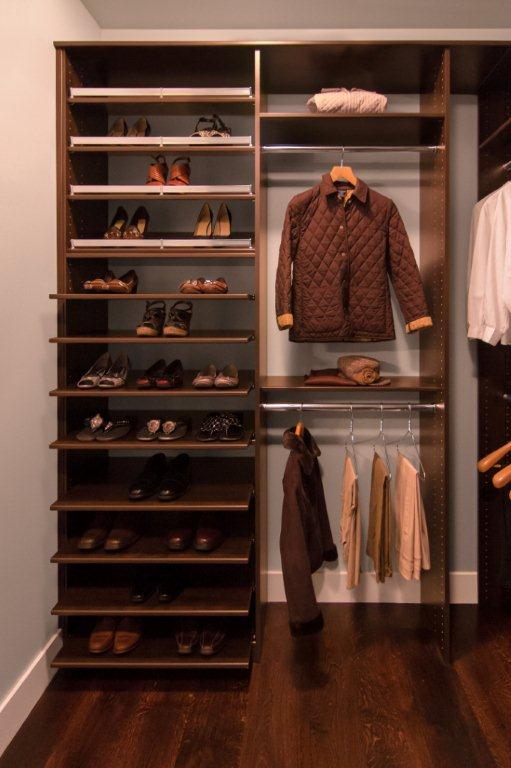 Slide-out shelves keep a large shoe collection tamed and beautifully displayed.
Image source: Valet Custom Cabinets and Closets
With a few innovative storage solutions, you can transform your new Fremont condo into a relaxing, uncluttered space—and you might just decide that, when it comes to square footage, less can indeed be more. To learn more about how custom solutions can maximize your reach-in closet, reach out to us today.
---
Valet Custom Cabinets & Closets designs, manufactures and installs custom organizational solutions that enhance the functionality of your living space while complementing the décor of your home.
Our talented design team creates unique solutions tailored to your specific needs, style, and budget. We are independently owned and a direct manufacturer.
Our areas of specialty include Home Offices, Wall Beds, Media Centers, Closets, Pantries, Garage Cabinetry, and much more.
Exceptionally Designed & Styled * Expertly Crafted with 5-Star Execution
---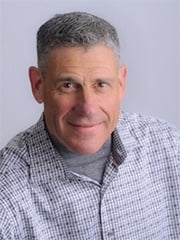 About Larry Fox, President
Larry is a graduate of the University of Southern California School Of Business. After receiving his degree he returned to the Bay Area and spent 18 years working in his family's 100+ year old metals recycling business. Upon the sale of that business in 2000, Larry and his wife Audrey purchased Valet. Larry has become a leader in the industry and is a past president of the National Closet Group. Larry loves turning people's dreams into reality, and remains as enthusiastic about the business today as he was when he first acquired it. View Larry's Houzz Page.