Super Bowl season is coming up fast. The final ten teams have emerged, and although the Raiders aren't going to feature in the playoffs (too soon?), there are still a lot of fantastic games in store for football fans. If you're of a mind to entertain at home, a custom-designed man cave complete with entertainment center, built-in bar, and all the bells and whistles will be just the place to watch the games unfold.
Many of our clients have designed a sports mecca in their homes—and why not? It's more than likely you've got kids that play for a local team, or even just with their friends. With all of the neighbors and their football-crazed kids, you've got one heck of a Super Bowl party on your hands. The right custom setup can help you bring your new sports entertainment room to life.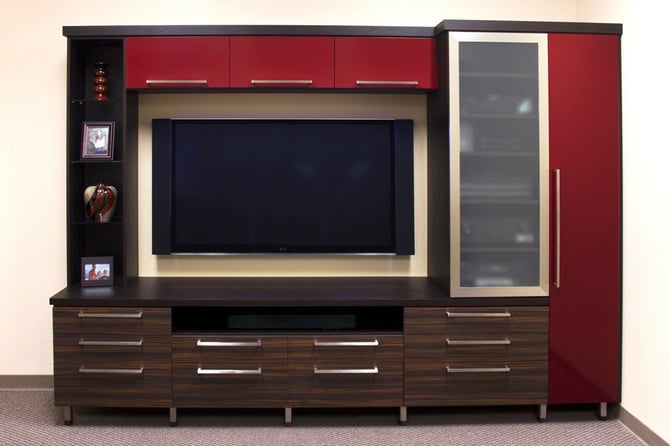 A custom entertainment center sets the stage for the big game.
Image source: Valet Custom Cabinets and Closets
Start the Play With Custom Cabinetry
The awesome thing about creating a custom entertainment room from scratch is that you get to design your space however you want. Care to have accents of your team colors in the cabinetry? No problem (and no judgment if they're not black and silver). Want mixed materials and the most current finishes? The flexibility of custom cabinetry makes for a space that's completely customized to your personality.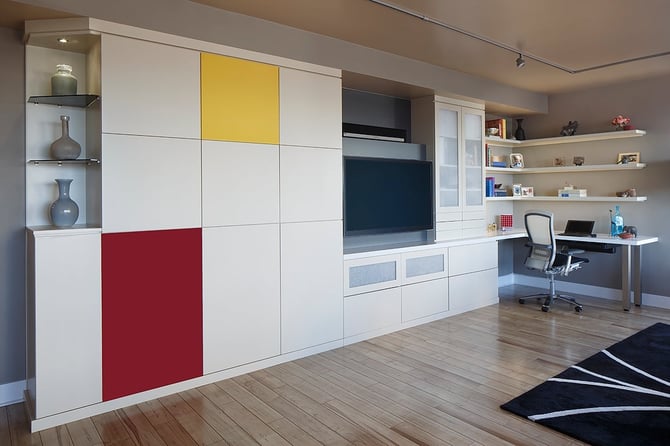 Use color accents to represent the team you most love watching.
Image source: Valet Custom Cabinets and Closets
If your home is short on sleeping space for visiting guests (especially if you've got multiple kids), you might find it difficult to devote an entire spare room to watching sports. However, custom cabinetry can help add multifunctionality. Include a wall bed in your design that will remain hidden behind aesthetically pleasing cabinetry when not in use. You still get your man cave without sacrificing floor space for bedroom furniture, but your family gets an extra sleeping area.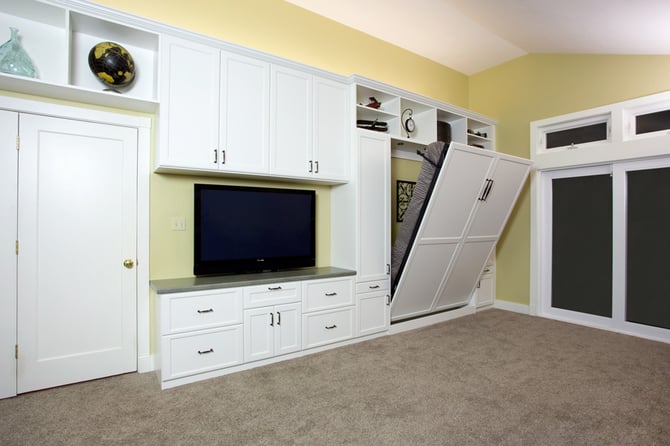 A hidden wall bed doubles the functionality of your sports entertainment room.
Image source: Valet Custom Cabinets and Closets
As it's unlikely that your sports room will require an immense amount of storage (how many copies of FIFA can one person possibly own?), you can also bank on having a lot of cabinet space for seasonal use, or storing items that your family infrequently needs. Bulky ski gear can find a home during the summer when the hiking boots and soccer cleats are in full use. The entire room can be customized to your tastes with custom hardware, so you won't have to sacrifice style to add more storage to your home.
Create a Custom Bar in Your Man Cave's Endzone
This is where we get really creative with your sports entertainment room. With your chosen aesthetic in mind, we can piece together shelving for displaying your prized collection, racks for wine and refrigerator space for beer, and everything else you could possibly need in an at-home bar. Your friends will be ditching downtown and coming by your place in no time for custom cocktails and the biggest moments in sports history.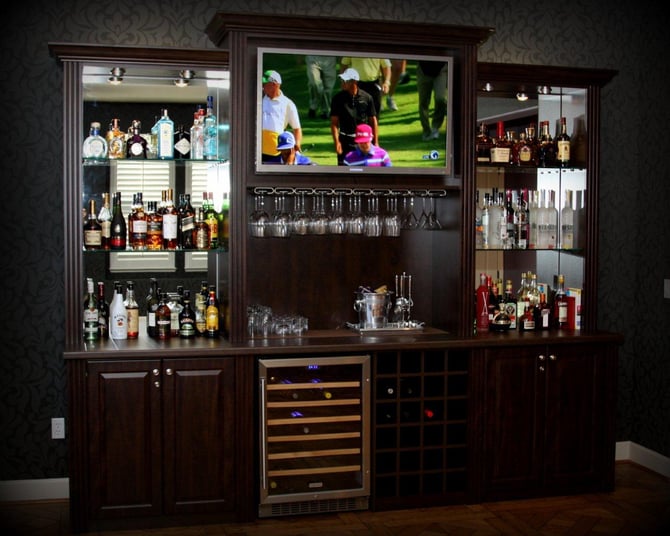 A built-in bar brings life to your sports watching haven.
Image source: Valet Custom Cabinets and Closets
While you're designing your dream room, you might as well include some luxe extras. Many of our clients ask for a second (or third) TV space built into the bar area to create a sports-bar feel in their homes. We can configure your wall space endlessly to fit your needs, whether you want space for just one screen, or ten.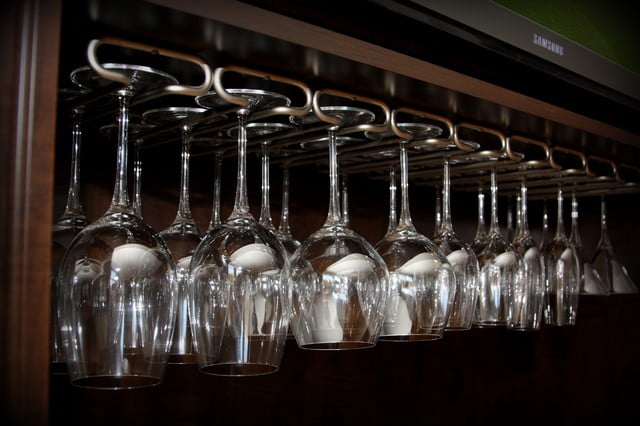 Add wine storage racks to your custom built-in bar.
Image source: Valet Custom Cabinets and Closets
Our built-in bars also include custom hanging racks for the myriad glasses you'll need, as well as plenty of surface for mixing. Include a beer fridge to keep everything chilled, and you might even include space for an ice drawer. Each of our cabinets comes equipped with a lock system to keep prying fingers away from the goods.
If your sports-loving family is begging for a better viewing space, we hope these ideas have given you some solid inspiration. Your custom entertainment center is just waiting to be built. Remember: even if it's not ready in time for the big day on February 5th, there's always March Madness to look forward to. Schedule your free design consultation today to get started on creating your new sports entertainment room.
---
Valet Custom Cabinets & Closets designs, manufactures and installs custom organizational solutions that enhance the functionality of your living space while complementing the décor of your home.
Our talented design team creates unique solutions tailored to your specific needs, style, and budget. We are independently owned and a direct manufacturer.
Our areas of specialty include Home Offices, Wall Beds, Media Centers, Closets, Pantries, Garage Cabinetry, and much more.
Exceptionally Designed & Styled * Expertly Crafted with 5-Star Execution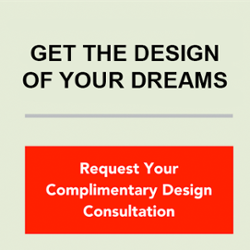 ---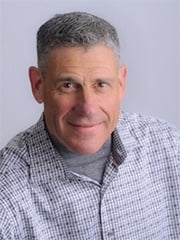 About Larry Fox, President
Larry is a graduate of the University of Southern California School Of Business. After receiving his degree he returned to the Bay Area and spent 18 years working in his family's 100+ year old metals recycling business. Upon the sale of that business in 2000, Larry and his wife Audrey purchased Valet. Larry has become a leader in the industry and is a past president of the National Closet Group. Larry loves turning people's dreams into reality, and remains as enthusiastic about the business today as he was when he first acquired it. View Larry's Houzz Page.