The Bay Area is a great place to retire. People who've made the jump tell us of the great times they have hiking, visiting wine country, and getting out of the city to enjoy the natural beauty of the region. It's no less an exciting life, but it is a simpler one. Part of that simplicity may come from getting rid of unnecessary clutter and moving to a smaller house, apartment, or condo.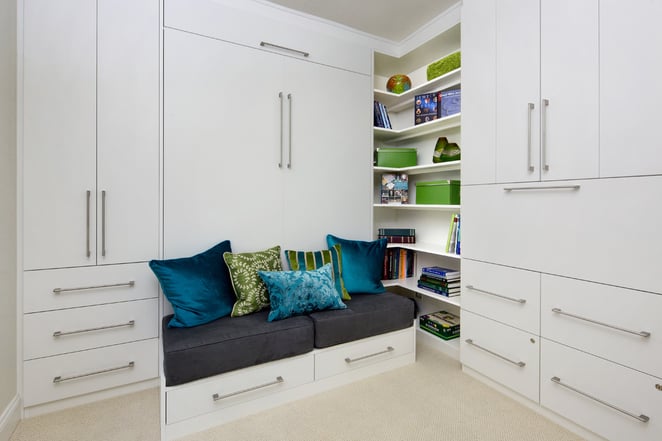 Smart storage, like this Bianco-textured, thermally fused laminate cabinetry, makes even the smallest space feel airy and open.
Image from Valet Custom Cabinets & Closets.
A lot of our retired friends in places like Palo Alto have empty nests and are looking to downsize. There are plenty of amazing opportunities in the area for people who are selling their big homes and looking for a more convenient lifestyle, including great communities like Vi Living or the Channing House, with their breathtaking apartments and great views. The challenge is that these apartments don't have quite as much space as full-sized houses. Fortunately, there are custom-designed luxury storage solutions that can make a smaller, more intimate home seem just as spacious.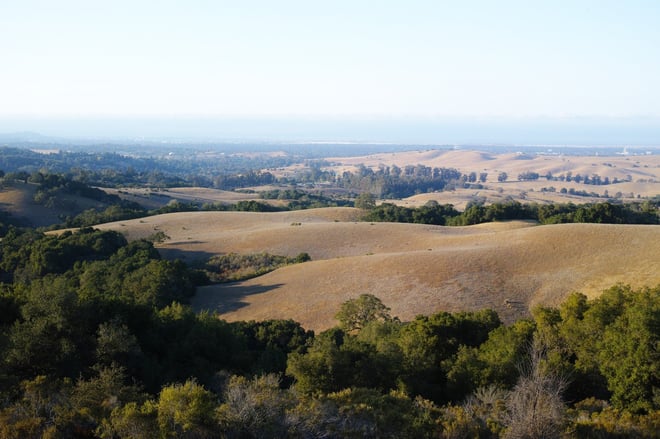 Coupling a great Palo Alto view with proper space management makes downsizing truly enjoyable.
Image from Flickr CC User Jun Seita
Building New Functionality Into Your Luxury Palo Alto Apartment
Compared to the typical Palo Alto house of 1800 to 2500 square feet, or the even larger houses in surrounding communities, an apartment or condo isn't as roomy. But this isn't always a disadvantage. Many people dream of going small, and a more modest space can be easier to maintain and navigate.
The key to creating functionality in your home is to approach your new space as a single "living unit" that combines architecture, furniture, and storage. For example, your walls should also function as shelving, ideally offering wall-to-wall storage that also contains your furniture—including your bed and table.
Non-Traditional Storage for Non-Traditional Housing
When you're working with limited square footage, shelving needs to be shallow—the key is to design shallow shelving with the space of deep shelving. Sound impossible? Try integrating pull-out features that offer dual functionality. For example, a pull-out feature like this drawer, below, takes up minimal space and serves double-duty as a nightstand when you need it. You could even add a fold-out hamper below it to make the most of the unit. Another idea? Use the space in your headboard as pillow storage. Pillows are bulky and normally take up a disproportionate amount of storage, but compressing them into this clever linen cabinet saves a lot of space and allows you to store them without the hassle of hard-to-reach closet shelves.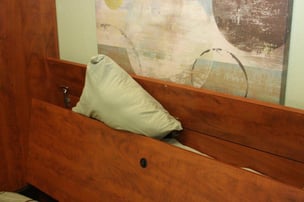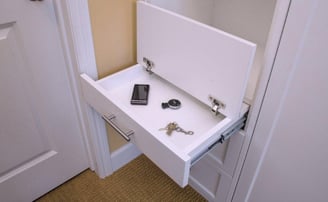 Integrating storage into the space around your murphy bed adds dual functionality where you'd least expect it.
Image from Valet Custom Cabinets & Closets.
Build Storage into Your Bed
If you've downsized to a smaller living area, you may be sleeping on a murphy bed or considering one for your guests. That's a great start to saving space, but try building even more functionality into your sleeping area. For example, this upholstered blue wall bed, shown below, works as a bed, a bench, and a bureau, all in one easily-accessible location. Also, note how the bed storage connects with the integrated wall cabinetry. This piece is the perfect example of approaching a tiny house as a "living unit" instead of a standard house with furniture.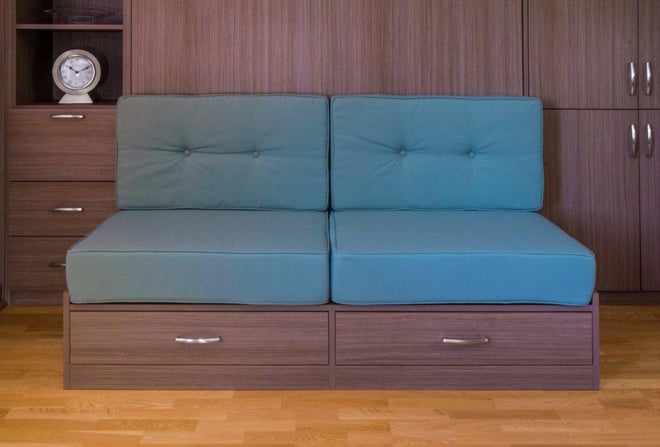 This couch and cabinetry, which uses Tenino walnut thermally fused laminate, is the perfect example of approaching the tiny house as a "living unit."
Image from Valet Custom Cabinets & Closets.
Clever Clothing and Laundry Storage
Clothing is one of those things you can't really go without. Pull-out clothes rods and collapsible drying racks make it possible to dry your clothes before putting them away, or store them wrinkle-free in easy-to-access locations. For hamper space, try a pull-out hamper-drawer; these can be integrated into your wall bed or even into wall cabinetry for added convenience.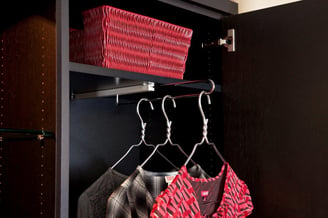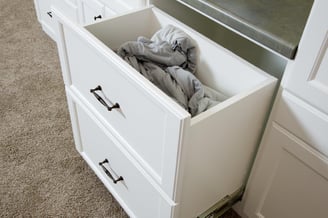 A pull-out hamper & clothing rods expand the clothing storage possibilities in a tiny house.
Image from Valet Custom Cabinets & Closets.
Living Large by Living Small
Downsizing from the house in which you raised your family doesn't mean you have to be cramped. If you're planning for a smaller living space, custom storage and furniture solutions can put everything you need within reach—without causing clutter. The best way to downsize with ease is to work with a designer who can help you choose the materials and layout of your storage spaces, wall beds, and other space-saving solutions.
An expert can work with you to find out what you really need for your Palo Alto apartment and come up with just the right way to make that happen. At Valet Custom Cabinets & Closets, we are professionals at "making it happen." Contact us to learn more about custom furniture solutions for luxury downsizing, or drop by our showroom for ideas!
---
Valet Custom Cabinets & Closets designs, manufactures and installs custom organizational solutions that enhance the functionality of your living space while complementing the décor of your home.
Our talented design team creates unique solutions tailored to your specific needs, style, and budget. We are independently owned and a direct manufacturer.
Our areas of specialty include Home Offices, Wall Beds, Media Centers, Closets, Pantries, Garage Cabinetry, and much more.
Your Space - Exceptionally Designed - Uniquely Styled - Expertly Crafted
---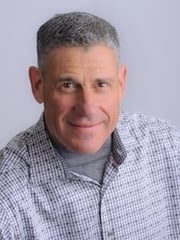 About Larry Fox, President
Larry is a graduate of the University of Southern California School Of Business. After receiving his degree he returned to the Bay Area and spent 18 years working in his family's 100+ year old metals recycling business. Upon the sale of that business in 2000, Larry and his wife Audrey purchased Valet. Larry has become a leader in the industry and is a past president of the National Closet Group. Larry loves turning people's dreams into reality, and remains as enthusiastic about the business today as he was when he first acquired it. View Larry's Houzz Page.