It was an exciting year for the Golden State Warriors (and the Sharks), even if we did come up short at the end. And it's still a great time to be a Bay Area sports fan. We can keep rooting for the San Francisco Giants, and we've been lucky enough to have great teams across the board (Okay, football hasn't been a strength lately, but the Raiders and 49ers are young teams with lots of potential).
One of the best things about a good match is how it brings people together. Watching a game alone is never as fun – the excitement and energy are best shared. But if you want your house to be that house, the one everyone visits when it's game time, you'll need to do a little advance planning to ensure you've got a great media center setup that can accommodate a crowd. It takes some thought, but then, so do all the best game day parties.
Building a Game Day Media Center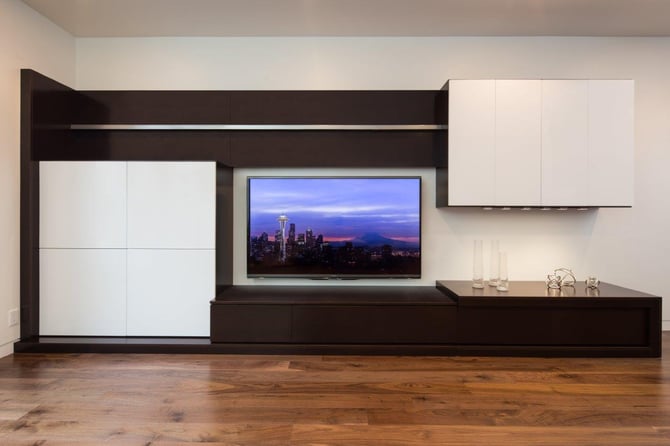 Get ready for the big game with a custom-designed media center.
Image from Valet Custom Cabinets & Closets.
For lots of folks, the media center is only set up with immediate family in mind. Once you get more than a half-dozen people in the room, it's likely at least one of them will be perched on an armrest or unable to actually see the TV (despite polite protestations to the contrary).
If you want to open up more seating options, we can design you a custom media cabinet with a swivel TV mount so that everyone can get a good angle on the action. This lets you group extra chairs to one side of your couch and turn the TV so it's still perfectly angled for everyone—or adjust it to face the buffet table when everyone is chowing down. (And even when the game isn't on, a swivel mount can give your family added flexibility on movie nights.)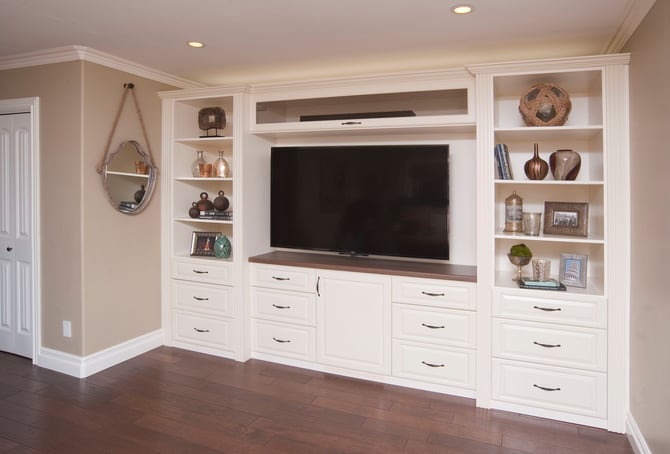 A full motion TV mount will save you from having to sit directly in front of the TV.
Image from Valet Custom Cabinets & Closets.
As long as you're going custom, I suggest adding roomy cabinets at the bottom of your media center to store cushions for extra seating. This is a great way to accommodate, say, the unexpected arrival of your cousin and his girlfriend while maintaining a casual, welcoming vibe. Cushions also tend to be popular with kids, who can use them to sit close to the TV without blocking anyone's view.
Don't forget about your sound system, either. I often suggest building custom speaker cabinets right into your media center. You can add fold-down doors or lattice fronts to keep your speakers hidden and out of harm's way but still close enough to hear the details of every play-by-play.
Feeding Your Guests (Without Distracting Them)
Game day wouldn't be complete without snacks. A good spread can be almost as memorable as a good game. The challenge is where to put it all. You don't want guests to miss an epic play because they've left the room for more chips. And if you set serving dishes on the coffee table, people on the couch suffer through a blocked view every time someone needs a refill.
One workaround is to install a custom buffet cabinet along the wall adjacent to your media center. This provides a large countertop surface where you can set out all your food. Since it's close to the TV, people can get what they need without missing the action. It's also a more elegant solution than breaking out a card table, and we take measurements to ensure it fits into the space you've got available.
A buffet cabinet is also useful because it lets you keep all your sports paraphernalia and serving dishes in one spot. You won't be using that helmet-shaped bowl all the time, but you'll appreciate not having to rummage through the kitchen cabinets to find it.
Plan Ahead to Host Great Sports Parties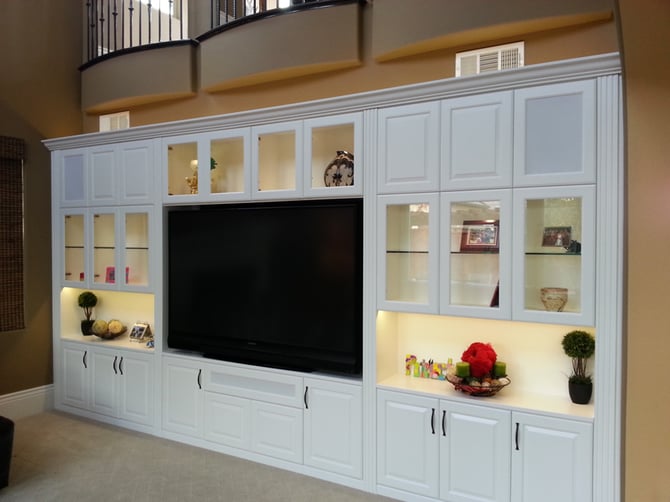 The right atmosphere can make the difference between just watching the game and having an epic game day party.
Image from Valet Custom Cabinets & Closets.
With the talent of our Bay Area teams, there will be plenty of opportunities for epic sports action in the near future. If your house is going to be the place that people want to go, it needs to be set up for everyone to enjoy. A custom media center, flexible seating options, and a dedicated buffet area will help your party stand out, and when the sports hype dies down (which might be football season until the Raiders or 49ers develop their talent a little more) your family will appreciate the added functionality of your media room.
Get in touch with us, and we can help you get started on the perfect media room design. We'll provide a free design consultation, discuss the options that work best for your family, and get to work on your remodeling job so that it's done in time for playoff baseball.
---
Valet Custom Cabinets & Closets designs, manufactures and installs custom organizational solutions that enhance the functionality of your living space while complementing the décor of your home.
Our talented design team creates unique solutions tailored to your specific needs, style, and budget. We are independently owned and a direct manufacturer.
Our areas of specialty include Home Offices, Wall Beds, Media Centers, Closets, Pantries, Garage Cabinetry, and much more.
Exceptionally Designed & Styled * Expertly Crafted with 5-Star Execution
---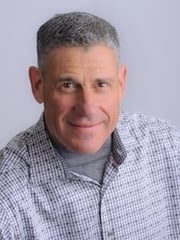 About Larry Fox, President
Larry is a graduate of the University of Southern California School Of Business. After receiving his degree he returned to the Bay Area and spent 18 years working in his family's 100+ year old metals recycling business. Upon the sale of that business in 2000, Larry and his wife Audrey purchased Valet. Larry has become a leader in the industry and is a past president of the National Closet Group. Larry loves turning people's dreams into reality, and remains as enthusiastic about the business today as he was when he first acquired it. View Larry's Houzz Page.