I'm sure I don't have to tell you, but home prices in the Bay Area are among the highest in the country. What's interesting to me about this is that the high home prices seem to be driving people to remodel, rather than move.
I recently worked with a couple who were planning a remodel of their small kitchen, which had a breakfast nook and an adjacent dining room. Their kids' rooms were too small for desks, so the family used the dining room for homework and projects. When they wanted to have people over for dinner, they had to spend hours cleaning up all the school papers, textbooks, and clutter.
With square footage at a premium, smart Bay Area homeowners want to make sure that they are maximizing the usable space within every nook and cranny. A little creativity can help you tap into underutilized areas that could be doing more work for you and your family. In this case, my clients realized that the breakfast nook in their kitchen was superfluous—they already had a dining room, after all. By transforming the nook into a custom homework station, the kids could work and socialize as they had always done, while keeping the dining room free to serve its original purpose at the drop of a hat, no cleanup crew required.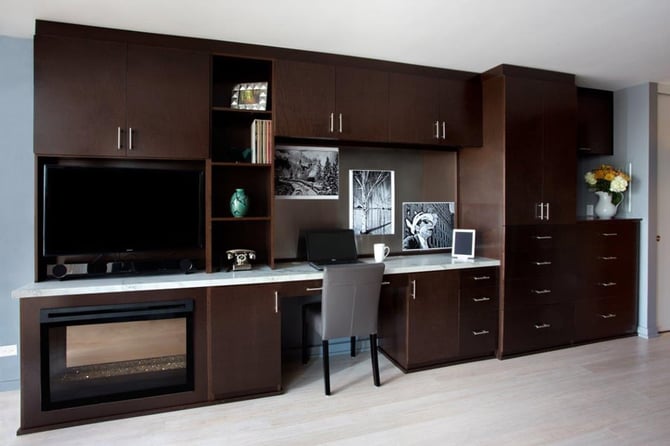 Combining the functions of a room saves space.
Image Source: Valet Custom Cabinets and Closets.
Creative Spaces
Unlike their off-the-shelf counterparts, custom desks allow you to create a workspace that fits in with your room and needs. A desktop can easily be added to a custom kitchen or entertainment unit to create a small office or area for the kids to get their homework done. When it's time to entertain or cook, everything can be neatly stored away, leaving extra room and counter space for everything from pouring drinks to roasting a Thanksgiving turkey.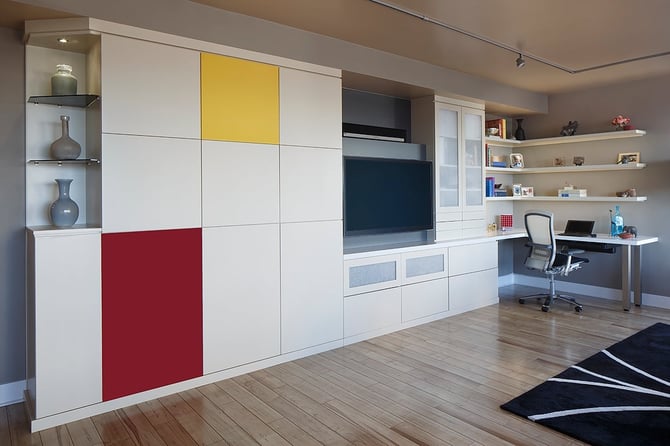 Even the smallest corner of a room can be transformed into the perfect workspace.
Image Source: Valet Custom Cabinets & Closets.
Glide-out shelves and desktops are a great way to create more space when you need it, and can be hidden away when you don't. They are great for big projects that require more surface space, or just for keeping your desktop clear of your keyboard and mouse. Pull-out desks can quickly double your workspace for group projects and study.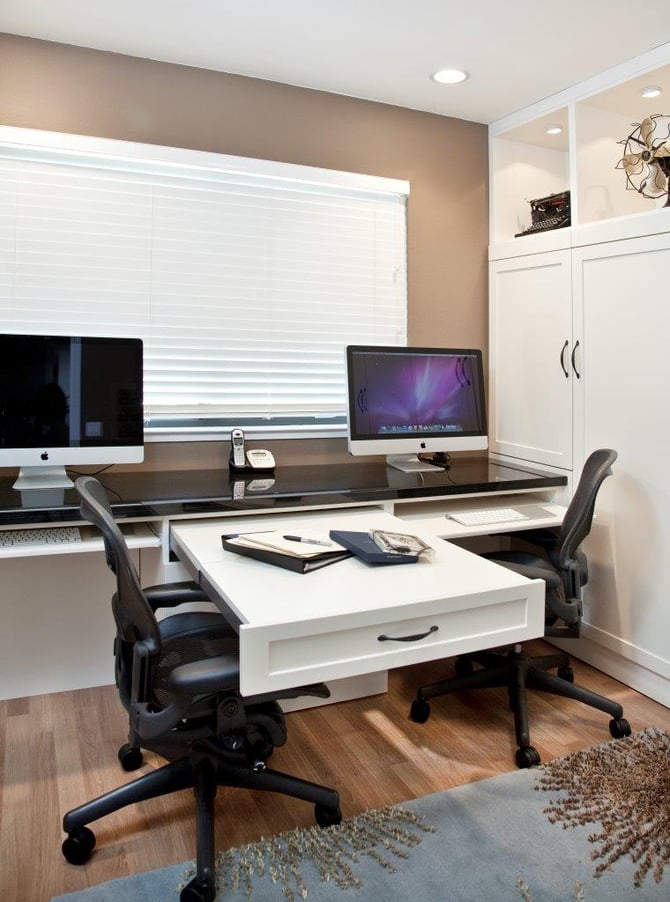 Pull-out desks easily double workspace, sliding away when you don't need them.
Image Source: Valet Custom Cabinets & Closets.
Stow Away
Cabinets can hide papers, reports, and school supplies when it's time to straighten the kitchen for company. Drawers are also a great way to corral supplies and keep the desktop clear and clutter-free. Open shelves can be a great way to display kid's artwork, awards, and family photos.
Pull-down desktops are great for kitchens and living rooms where you need to store your work clutter quickly. By simply closing the pull-down desktop, your computer and projects are hidden away until you are ready to start working again.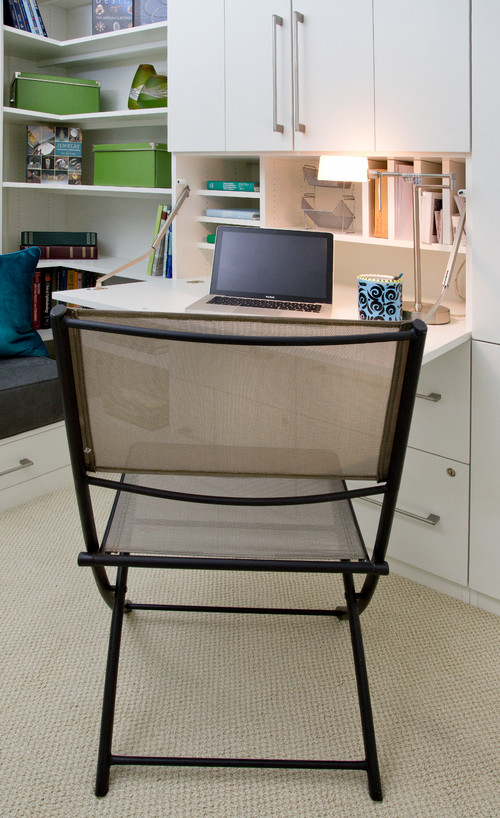 Pull down desktops making storing clutter quickly a breeze.
Image Source: Valet Custom Cabinets & Closets.
Lower cabinets and cubbies are a great way to store backpacks and other items—like science projects or show-and-tell—that need to make it to school. Having everything in one place makes it more likely that your kids won't be late for the bus in the morning because they're trying to find a misplaced book report or backpack.
Organization Station
A great way to store multiple gadgets in a small amount of space is a lower cabinet with glide-out shelves. It keeps everyone organized and the desktop clear. Glide-out shelves aren't just for gadgets either, they're great for paper cutters, printers, paper, and any other cumbersome item that doesn't need to be taking up desktop space.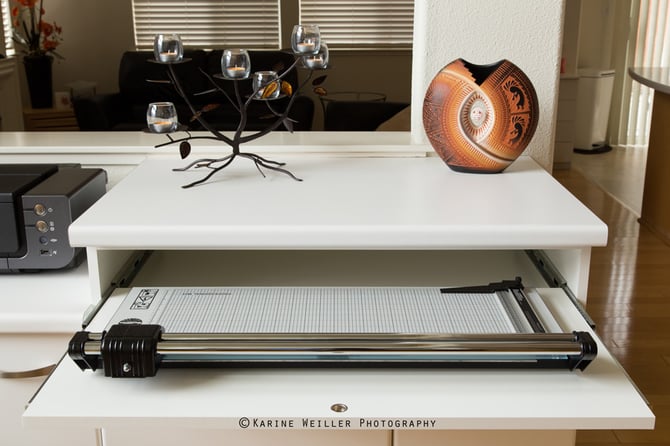 Glide-out Shelves are a great way to store and organize larger office necessities.
Image Source: Valet Custom Cabinets & Closets.
With all of those laptops and gadgets, cords can get out of control quickly. Drop front shelves are a great way to hide the unsightly mess of cords but still have easy access to them.
Paperwork is another desktop item that can quickly get out of hand, especially with all the fliers, forms, tests, and artwork that comes home from school every day. A file cabinet is a great way to store all the paperwork that could be needed soon or needs to be filed for later. Single and double file drawers are great options depending on how much paperwork you need to store.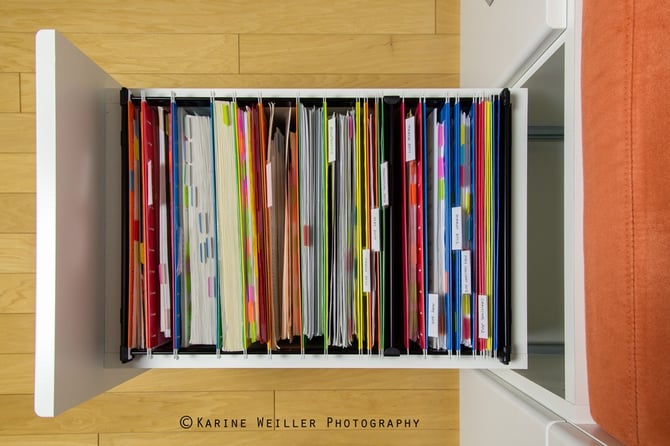 File drawers organize all that pesky paperwork and keep the desktop clear.
Image Source: Valet Custom Cabinets & Closets.
Bay Area homes are often devoid of a home office or just adequate homework space for kids. When you're tired of the kitchen or dining room table being overtaken with homework and work clutter, it may be time for a custom desk solution in your kitchen or living room. Contact us today to start designing the perfect working space for your home.
---
Valet Custom Cabinets & Closets designs, manufactures and installs custom organizational solutions that enhance the functionality of your living space while complementing the décor of your home.
Our talented design team creates unique solutions tailored to your specific needs, style, and budget. We are independently owned and a direct manufacturer.
Our areas of specialty include Home Offices, Wall Beds, Media Centers, Closets, Pantries, Garage Cabinetry, and much more.
Exceptionally Designed & Styled * Expertly Crafted with 5-Star Execution
---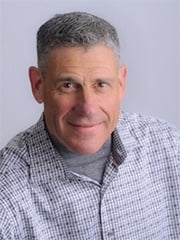 About Larry Fox, President
Larry is a graduate of the University of Southern California School Of Business. After receiving his degree he returned to the Bay Area and spent 18 years working in his family's 100+ year old metals recycling business. Upon the sale of that business in 2000, Larry and his wife Audrey purchased Valet. Larry has become a leader in the industry and is a past president of the National Closet Group. Larry loves turning people's dreams into reality, and remains as enthusiastic about the business today as he was when he first acquired it. View Larry's Houzz Page.