Walnut Creek is one of my favorite towns in the whole Bay Area. It's a cool little arts hub, with a history of being quirky and dancing to its own beat. People there love their art, and they also love their wine. I love the galleries and restaurants that populate the downtown scene. You can go there and feel for a little bit like nothing has changed around the area.
Yet, despite that feeling, that's not actually the case. As the economy in the region has skyrocketed, every city has felt its effects, some more than others. Walnut Creek is becoming a huge beneficiary of the rippling effects of the tech industry, which is now moving into Oakland. Walnut Creek is an easy BART ride away and an ideal place to live if you want to commute into Oakland (or then into SF and parts beyond). It's no wonder that there are luxury condos going up all over the place, including in the Centre Place South, right in "the heart of downtown."
If you've bought one of these condos, and are wondering how to maximize your space (after all, these aren't going to be huge), you should start with your closet. Many of the luxury condos will have walk-in closets, which are great, but it is also crucial that you have these designed right. A custom-designed luxury walk-in closet can match your style, add elegance to your new digs, and add to the space in your condo. It's a great way to make your Walnut Creek condo really yours.
Your Closet, Your Look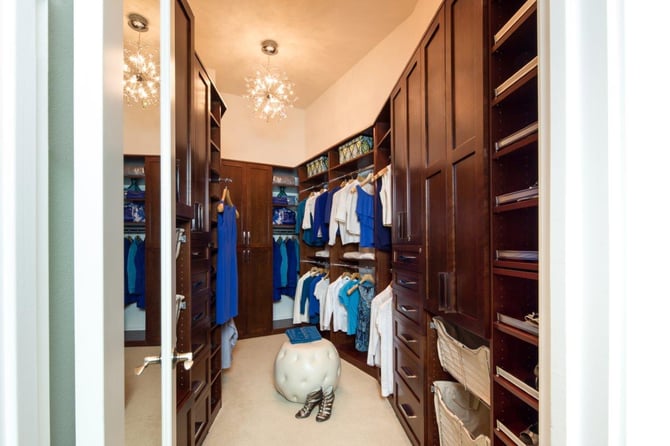 Shaker fronts add some classic elegance to a walk-in closet.
Image source: Valet Custom Cabinets & Closets
One thing I've found when talking to people who have bought a luxury condo is that they really want to make sure any alterations or renovations they make complete or complement the look they desire. Not every condo you buy is immediately going to fit your aesthetic, so it is important to find a look that really works for you. One easy way to start that is with your walk-in closet.
We're proud that we can offer custom-designed walk-ins that not just match, but help to create a unique look. If you find your modern condo to be a bit too modern and want more of a mid-century Eichler sort of feel, we can work with that. If you want more modern and airy, we can do that as well.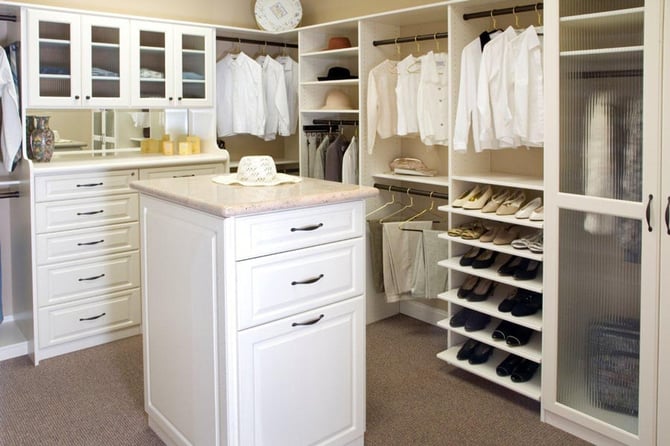 An island offers more storage and a way to break up the closet.
Image source: Valet Custom Cabinets & Closets
Our extensive line of hardware and finish options lets you create a look for you. We have many environmentally-sound and beautiful options that help give your walk-in closet the look you want, including:
Solid Color Thermally-Fused Laminates

(which come in White, Antique White, and Silver Frost)

Super Matte Thermally-Fused Laminates

(including Ashen, Fossil, Umbra, Sienna, Wood Grain)

Thermally-Fused Laminates

(like Vermont Maple, Rustic Cherry, Italian Walnut, Summer Flame)

Synchronized Thermally-Fused Laminates

(such as Elm Onyx, Hickory Oregon, and Ash Tabac)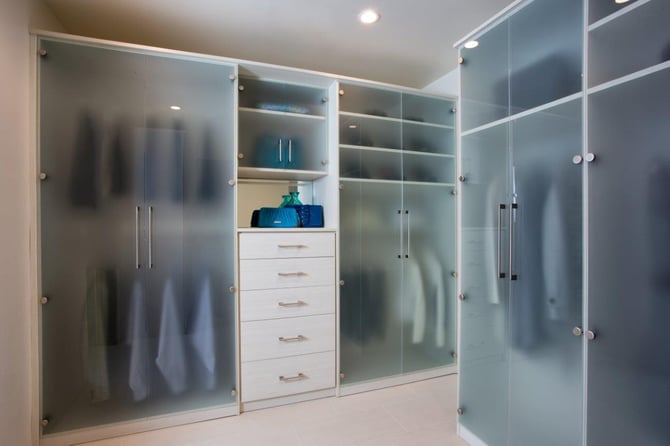 A frosted-glass finish creates tranquility and elegance.
Image from Valet Custom Cabinets & Closets.
Hidden Benefits
Of course, we know you don't just want your closet to look nice—you need it to be functional and easy to navigate, too. In other words, it needs to fulfill its basic purpose of storing all your stuff in a way that's neat and organized. That's why our custom-designed closets come with so many "hidden" features—that is, features that can hide your clothes.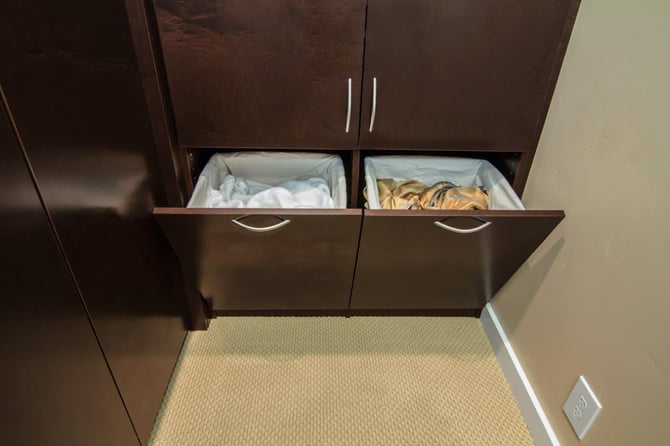 A flip-down hamper keeps the floor clean.
Image source: Valet Custom Cabinets & Closets.
Open hampers or laundry baskets can be distracting or even unsightly. Store dirty clothes or linens in flip-down hampers instead, where they'll be easy to find but completely out of sight, camouflaged in a cabinet that is just as elegant as the rest of your furniture. Our hampers and baskets come with lots of options, including customizable dimensions and a choice of chrome, satin nickel, or oil rubbed bronze framing.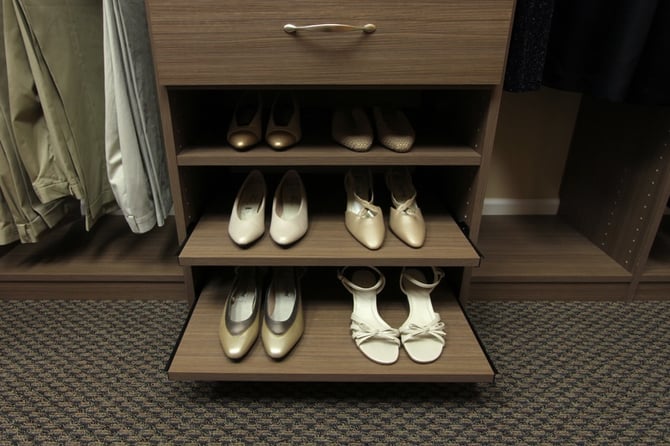 Roll-out shoe shelves keep things neat and in order.
Image source: Valet Custom Cabinets & Closets.
Wondering where to put all your shoes? We can install shoe closets and shelves that fit up to three or four dozen pairs, while roll-out shelves offer you the ability to fit a good number of shoes in a way where they aren't underfoot (so to speak). They incorporate adjustable shelving as well, so if you want boots and sneakers in the same space, you don't need to cram in the former or waste space with the latter.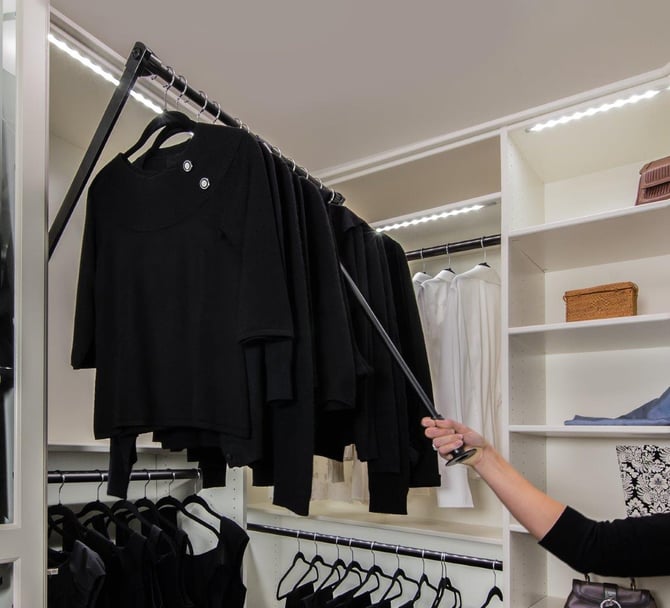 The pull-down hang rod takes advantage of verticality.
Image source: Valet Custom Cabinets & Closets.
Or, there's always the pull-down hang rod. This is a particularly handy amenity because it is so simple to use. It's an easy and elegant way to double the space of any section of your closet. It takes advantage of higher ceilings and lets you hang a lot of clothes without having to smush them together. The pull rod lets you take clothes down and put them up with ease. Similarly, sliding tie racks or scarf racks help keep smaller accessories sorted and wrinkle-free, and, as the names suggest, slide in and out of sight with ease.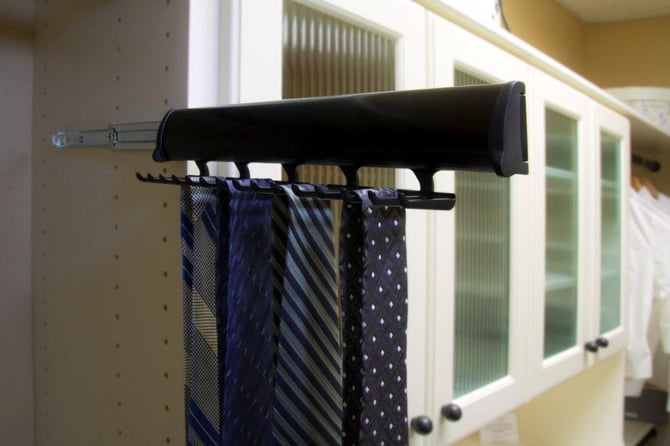 A sliding tie rack gets you ready for those meetings.
Image source: Valet Custom Cabinets & Closets.
I've enjoyed watching Walnut Creek grow over the last couple of decades, especially because it has kept its core of being an outsider, progressive, alternative art community. The spreading success of the tech industry has changed some of the buildings, and maybe made the restaurants fancier, but at its heart, it is still good old Walnut Creek.
Similarly, regardless of whatever changes you make to your condo, you still want it to be yours. You want it to have your look and match your style. You want it to be an extension of yourself, and that starts with the walk-in closet. A luxury redesign can make your new Walnut Creek condo more expressive, more original, more organized, and more yours. Connect with us today to learn more!
---
Valet Custom Cabinets & Closets designs, manufactures and installs custom organizational solutions that enhance the functionality of your living space while complementing the décor of your home.
Our talented design team creates unique solutions tailored to your specific needs, style, and budget. We are independently owned and a direct manufacturer.
Our areas of specialty include Home Offices, Wall Beds, Media Centers, Closets, Pantries, Garage Cabinetry, and much more.
Exceptionally Designed & Styled * Expertly Crafted with 5-Star Execution
---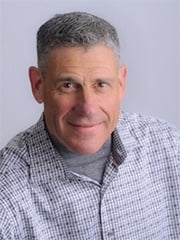 About Larry Fox, President
Larry is a graduate of the University of Southern California School Of Business. After receiving his degree he returned to the Bay Area and spent 18 years working in his family's 100+ year old metals recycling business. Upon the sale of that business in 2000, Larry and his wife Audrey purchased Valet. Larry has become a leader in the industry and is a past president of the National Closet Group. Larry loves turning people's dreams into reality, and remains as enthusiastic about the business today as he was when he first acquired it. View Larry's Houzz Page.