Cupertino is one of my favorite Bay Area cities—probably because I'm partial to Eichler homes. There are 223 Eichlers in the area, and the city has strict guidelines for remodeling these houses to preserve what makes them so unique. While I love that these architectural gems will continue to be lived in for generations, I also know that closet space in the 60s doesn't quite correspond with what today's average family needs.
I worked with a couple from Cupertino recently who wanted an Eichler but weren't interested in jumping through the strict remodeling hoops. They instead decided to have a mid-century, modern home built from the ground up. While they enjoyed spacious living areas, adequate storage, and a large master closet, it soon became clear to that all the closet space in the world doesn't do you any good if it isn't properly organized. They decided to get help from the experts and came to us for a custom closet consultation.
Dividing Spaces
Sharing a closet space can be difficult because everyone has slightly different ways of organizing their clothing. The first step to sharing is to have a clear division of space. Maybe that means dividing evenly down the room, or dividing top and bottom for a short/tall couple. Having your own space allows each partner to follow their own organizational priorities.
Divide and conquer to make the most of your closet space.
Image source: Valet Custom Cabinets & Closets
Some people like to hang as many of their clothes as possible, others prefer to fold and place in drawers or on shelves. There is no wrong answer—it just depends on what works best for you.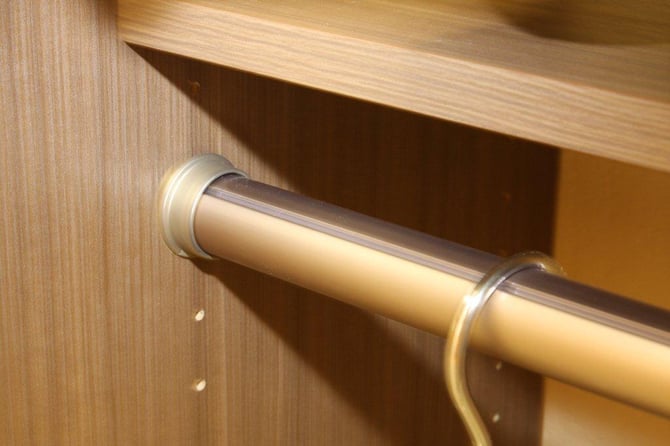 Hang 'em high—on beautiful hanging rods built to last.
Image source: Valet Custom Cabinets & Closets.
If you do decide you want hanging space, I'd suggest dividing this area of your closet into categories. Smaller sections make getting ready fast and easy—dress shirts all together in one spot, sport coats in another, blouses in yet another, and so on. Of course, what you hang your clothes on can be just as important as what's being hung. Our aluminum hanging rods are scratch-resistant and can support everything from summer dresses and muscle shirts to the heaviest winter coats—and, if you want to add a little pizazz, opt for sleek polished chrome and our new contemporary hourglass-shaped hanging rods.
Doors, Drawers, and More
When you've spent time and good money on your clothes, treat them well and they will return the favor. Closed cabinets are the perfect way to keep your less-used clothing, like sweaters and fancy shoes, dust free. Glass doors allow these items to still be displayed so that you can see your entire collection while getting dressed
Glass doors keep items visible and dust free.
Image source: Valet Custom Cabinets & Closets.
There are probably a lot of items you already put in drawers, like intimates, socks, and gym clothes, making this storage option another good choice. Drawers are also preferable to shelves for folded items because they keep you from stacking things too high and making it difficult to retrieve the sweater or shirt that you want.
I'd also recommend installing jewelry drawers. This addition keeps accessorizing simple and your collection organized—and a velvet lining prevents jewelry from sliding around. For additional protection, you can even add locks to your drawers.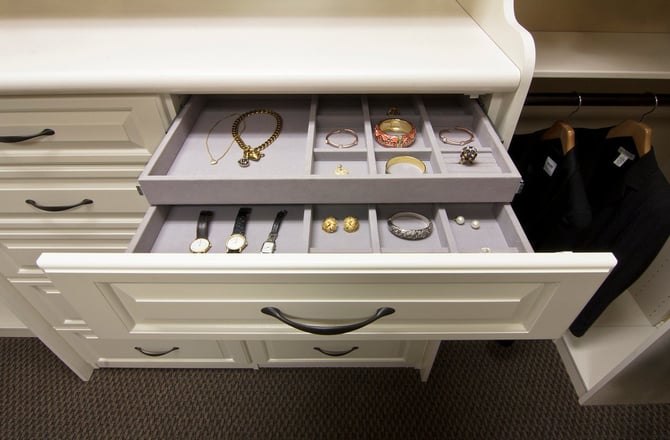 Double jewelry drawers keep your jewelry collection organized, clean, and safe.
Image Source: Valet Custom Cabinets & Closets
Sliding tie and belt racks are another nice luxury, helping to organize your tie, scarf, or belt collection while keeping everything in easy reach (and near your dress shirts, slacks, or blouses). Another option for a belt or scarf collection is a group of stationary hooks, which allows everything to be visible all the time. And if you prefer not to hang, you can also organize and store you ties in a slide-out tie cubby.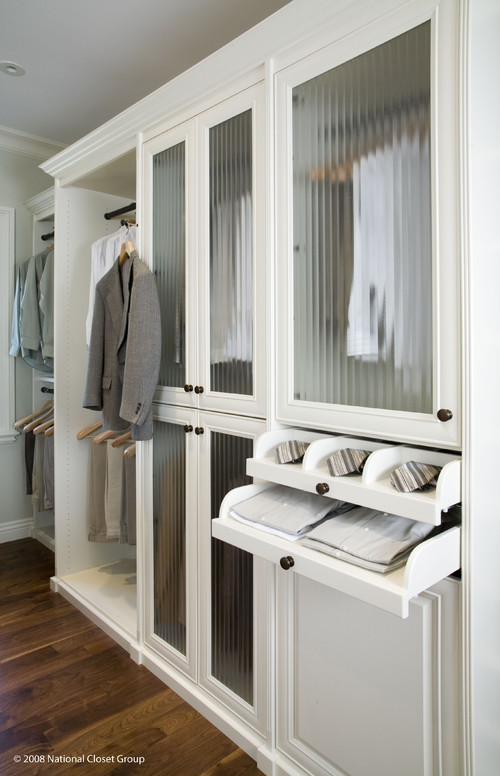 Slide-out tie cubbies are a great way to organize ties without hanging them.
Image Source: Valet Custom Cabinets & Closets
Shining Shoes
There are so many different ways to store your shoes in your closet, and none of them involve leaving them on the floor by your front entrance.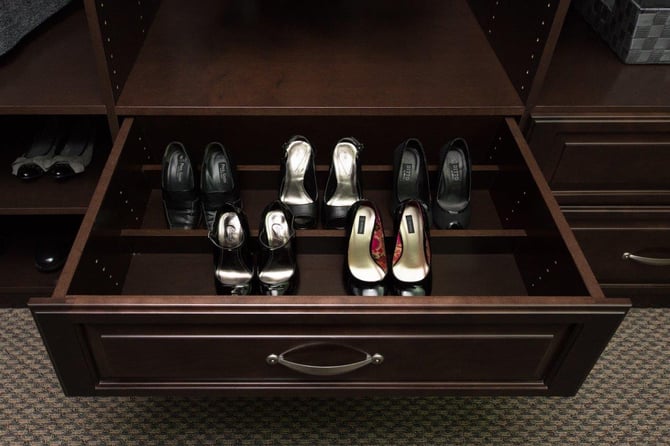 Slide-out shoe drawers keep your shoes dust-free.
Image Source: Valet Custom Cabinets & Closets
Slide-out shoe shelves and drawers are a wonderful way to keep a larger collection organized and dust free. They also make it easy to store your shoes along the bottom of the closet underneath the outfits they would most likely be paired with—for instance, a fancier dress with heels or a business casual outfit with dress shoes.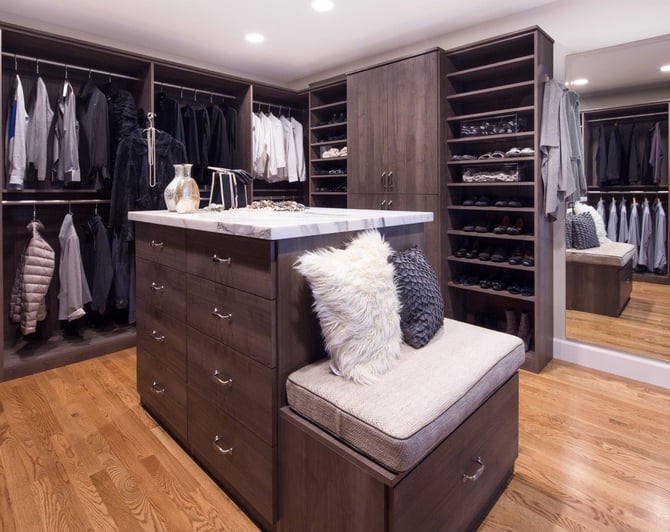 Shoe shelves display your shoe collection in one place.
Image Source: Valet Custom Cabinets & Closets
Stationary shoe shelves are another option for displaying your collection, either along the bottom of your closet or in one bank of shelves all together. Under-shelf lighting can make finding the pair you want a snap.
Having a large closet is a luxury not always available in Bay Area homes. Even when you have a lot of space, it doesn't necessarily mean that the space will work effectively for you and your spouse. If you're ready to have your closet work for you, get in touch with us. We can make sure your walk-in matches the rest of your life.
---
Valet Custom Cabinets & Closets designs, manufactures and installs custom organizational solutions that enhance the functionality of your living space while complementing the décor of your home.
Our talented design team creates unique solutions tailored to your specific needs, style, and budget. We are independently owned and a direct manufacturer.
Our areas of specialty include Home Offices, Wall Beds, Media Centers, Closets, Pantries, Garage Cabinetry, and much more.
Exceptionally Designed & Styled * Expertly Crafted with 5-Star Execution
---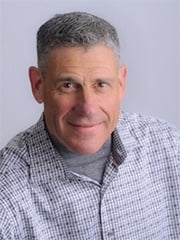 About Larry Fox, President
Larry is a graduate of the University of Southern California School Of Business. After receiving his degree he returned to the Bay Area and spent 18 years working in his family's 100+ year old metals recycling business. Upon the sale of that business in 2000, Larry and his wife Audrey purchased Valet. Larry has become a leader in the industry and is a past president of the National Closet Group. Larry loves turning people's dreams into reality, and remains as enthusiastic about the business today as he was when he first acquired it. View Larry's Houzz Page.