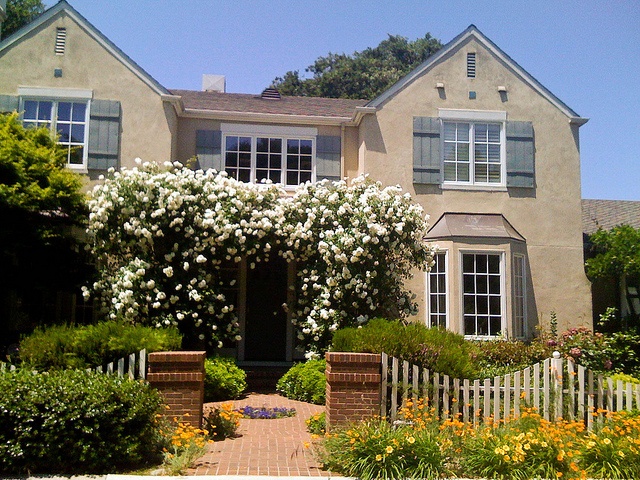 Whether remodeling your classic Menlo Park house or rebuilding on the lot, using custom designed space-saving techniques helps you maximize the room in your house without filling your entire lot.
Image: Flickr CC user
Dawn Endico
Today Menlo Park is at the heart of a new California migration, both from inside the state and from outside. It attracts new people to the area all the time--people in tech, in equity, in finance, and in capital.
The problem that some of these transplants have is the housing market. With home prices so much higher than in other areas of the country, new residents often end up settling smaller lots with older homes and less square footage than their previous home. Then they have a choice: do a teardown and rebuild, or do a redesign. Many of these houses are smaller, and can't fit modern needs. So in order to get the space modern buyers require, they are choosing either to build a new house or plan a significant remodel for what they have. With the average price for a home sale in Menlo Park at around 2.1 million dollars, the key is getting the most out of your land.
A big issue is that Menlo Park lot sizes only average around 10,000 square feet. Many people moving into the area are used to 5000+ sq ft on their houses. So while some people are able tear down a house on a large lot and put up a 14,000 sq ft giant, that's not in the cards for most people. If you want to maintain some open space on your lot, a rebuild or a substantial redesign will likely only get you about 3500 square feet of house. So the trick is to maximize what you have.
Whether rebuilding or doing a substantial remodel, maximizing the space you have means, for many families, forgoing an extra bedroom and turning that room into a bedroom and an office, thanks to a custom-designed elegant wall bed system. Integrating a wall bed into your beautiful home office creates the space you need in the home you want, and we can even design a desk that folds out from the wall bed system.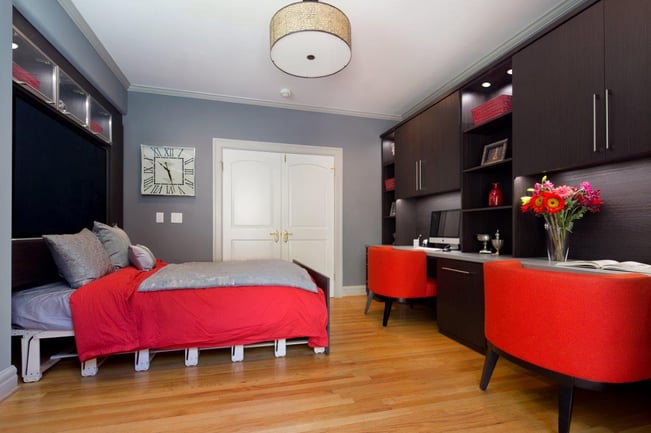 This cabinetry seamlessly integrates multiple workspaces, and also includes a murphy bed for guests when you need it.
Image Source: Valet Custom Cabinets & Closets
Demolition Booming in Menlo Park
Hal Nelson of O. Nelson & Son demolition company reported to the San Jose Mercury News that teardowns are a huge business. He reported having 20 tear-downs scheduled at presstime, spread across Los Altos, Palo Alto, Menlo Park, and Atherton, and said business was "up 20 percent last year" from the year before. So many homes being completely rebuilt means making a lot of decisions about the design of your new space.
By having custom furniture that expands the living space of a new or rebuilt home without having to maximize the physical space, Menlo Park families can minimize the footprint of their home on the lot, saving yard space for entertaining, gardening, and relaxation. And they can do this without sacrificing an upgrade in quality of life. When you work with a local company like Valet Custom Cabinets & Closets and invest in a quality furniture solution that lasts for years and streamlines your life, you're making a smart decision for your home and your space.
Planning Your Redesign or Rebuild
The key to making the most of the space you have is to rethink your furniture. In our culture, we think of furniture as something permanent; once you buy it, it's a perpetual fixture of the room that almost never gets moved—almost like a wall or built-in countertop. Instead, it is worth considering how stow-away furniture like an office desk or wall bed can free up the space you need to make your house comfortable. Allowing the room to pull double-duty as an office and a bedroom means getting the best of both worlds. Additional custom furniture solutions like a desk that folds out from the wall bed and additional closet space in the surrounding cabinetry means that a room that previously served a single purpose now has significantly more potential.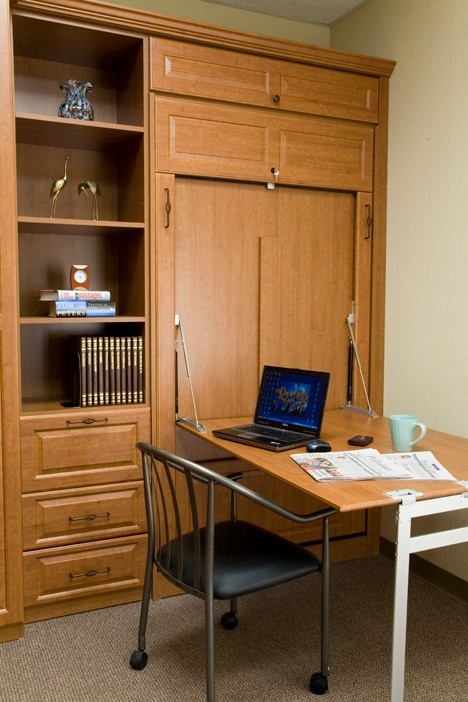 Believe it or not, this cabinetry actually contains a bed and an office desk all in one.
Image Source: Valet Custom Cabinets & Closets
Finding Space to Live in Your Office Bedroom
When you have a room that serves multiple purposes, you're likely going to need twice as much storage—especially for clothing when you're using the space as a bedroom. Incorporate a corner closet into your bookshelves like the one pictured below, for ample storage that stays out of sight. Some of Valet's custom closet options for a cabinet closet include pull-out clothes rods, hooks on the interior of your cabinets, and custom shoe shelving. We can even include pull-out hampers in your drawer space, so you can keep your laundry elegantly stowed away. During the day, options like the pull-out desk let the space shape-shift back into your workplace.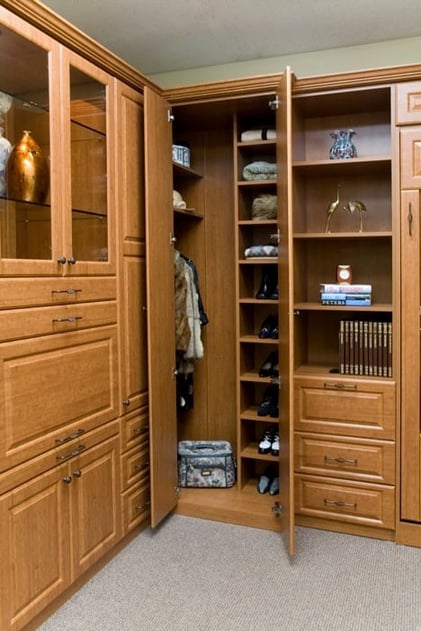 This corner cabinet integrates seamlessly with your office furniture.
Image Source: Valet Custom Cabinets & Closets
Additionally, instead of a floor lamp, why not try incorporating gentle lighting into the space around the bed? It can function as a reading light when you're in bed, without occupying the space of a traditional floor lamp. Energy-efficient LED lighting can be integrated into the cabinetry instead of the traditional fluorescents and halogens, so you can enjoy your reading nook with a free mind and clear conscience.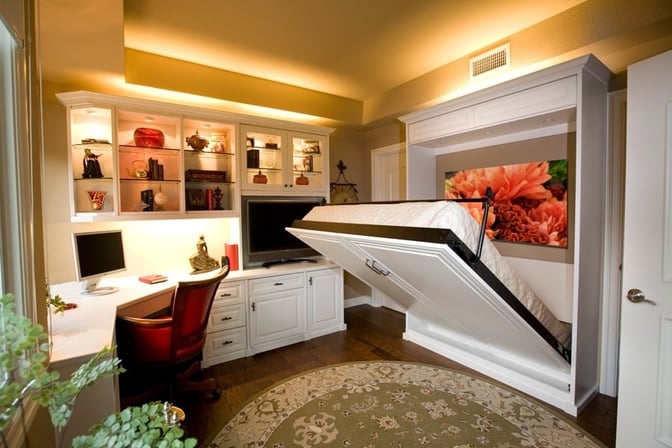 This wall bed lets the home office function as a guest room.
Image Source: Valet Custom Cabinets & Closets
Valet Custom Helps You Make Room in the Rooms You Have
Home renovation or rebuilds don't have to be massive and sprawling to give you the space your family needs. You don't have to sacrifice a yard for an office and enough beds. A smart design for your remodel or rebuild with custom-designed closet, cabinet, and bed solutions can be a convenient and space-efficient alternative. When you're looking to expand, a clever furniture solution can allow a room like your home office to offer more space than you ever knew you had.
If you're ready to design a custom cabinetry solution for your Menlo Park home rebuild or renovation, please stop by our showroom to check out our ingenious space-saving designs. Our designers would be happy to talk to you about developing a plan for your space, or you can request a consultation today.
---
Valet Custom Cabinets & Closets designs, manufactures and installs custom organizational solutions that enhance the functionality of your living space while complementing the décor of your home.
Our talented design team creates unique solutions tailored to your specific needs, style, and budget. We are independently owned and a direct manufacturer.
Our areas of specialty include Home Offices, Wall Beds, Media Centers, Closets, Pantries, Garage Cabinetry, and much more.
Your Space - Exceptionally Designed - Uniquely Styled - Expertly Crafted
---

About Larry Fox, President

Larry is a graduate of the University of Southern California School Of Business. After receiving his degree he returned to the Bay Area and spent 18 years working in his family's 100+ year old metals recycling business. Upon the sale of that business in 2000, Larry and his wife Audrey purchased Valet. Larry has become a leader in the industry and is a past president of the National Closet Group. Larry loves turning people's dreams into reality, and remains as enthusiastic about the business today as he was when he first acquired it. View Larry's Houzz Page.