I often hear it repeated by parents that children produce a huge amount of laundry. It feels like you're never finished – as soon as you've washed everything, another pile of dirty t-shirts mysteriously appears.
Kids can create quite a mess any time of year, but many parents in Lafayette find that the summer months are the worst. All the sports league and summer camp options mean kids spend a lot more time playing outside, with plenty of opportunities for stained clothing.
But most parents don't have the luxury of a summer off themselves and may struggle to get a handle on all that added laundry. What's needed is a more efficient laundry room system. A custom makeover can help you redesign your room's layout to fit your needs, allowing you to get a grip on the summer surge of laundry – and make the rest of your year easier as well.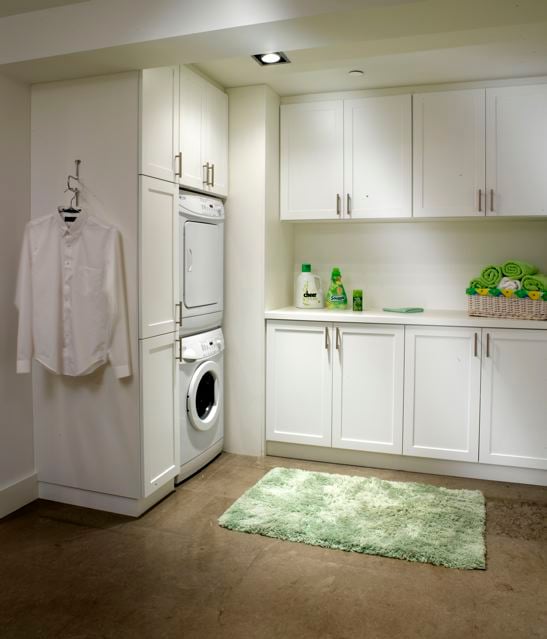 We should all have laundry rooms that work for us.
Image from Valet Custom Cabinets & Closets.
Kid-Friendly Laundry Room Systems
One of the best things you can do to simplify your laundry process is involve your kids. This means having them to do more than just create the dirty clothes in the first place.
One useful solution I recommend is turning part of your laundry room into a kids' changing area. We can add pull-out hampers to give kids an obvious spot to leave dirty clothes, helping you contain the mess right by the washing machine. We can also install hooks, shelves, hanging rods, and cubbyholes at their height, so you can have a place to set out clean gear. A designated changing area makes it easier for everyone to get in and out the door for practice and games.
Streamline Your Laundry Process
When you're managing laundry for the entire family, your counter layout is essential. We can design countertops around your laundry room's space limitations, including narrow counters for smaller rooms or a work surface that fits over the top of front-loading washers and dryers. Many of our clients have also created designated areas for sorting, folding, and pickup. This makes it easy for everyone to know what's clean and allows family members to take charge of putting their own laundry away. (If you're doing multiple loads a day, you may also want to consider installing a tankless water heater.)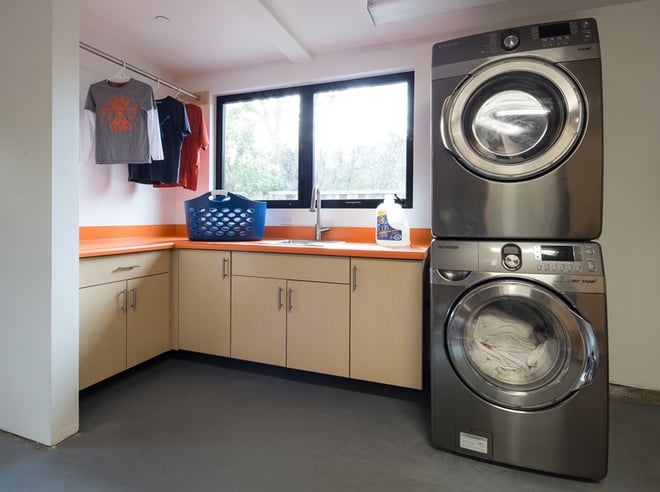 The ability to hang clothes frees up counter space.
Image from Valet Custom Cabinets & Closets.
To keep countertops free for clothing, you can use custom cabinetry beneath to stow your detergents, softeners, and stain fighters. If your laundry area is especially cramped, you might also consider a vertical pull-out shelving unit. These can be custom-designed so that they're narrow enough to fit into otherwise unusable wall space but still offer plenty of storage. Another popular option (especially for clients with young families) is installing extra cabinetry above the washer and dryer – this is a great way to keep cleaners and chemicals close at hand but out of reach of toddlers and pets.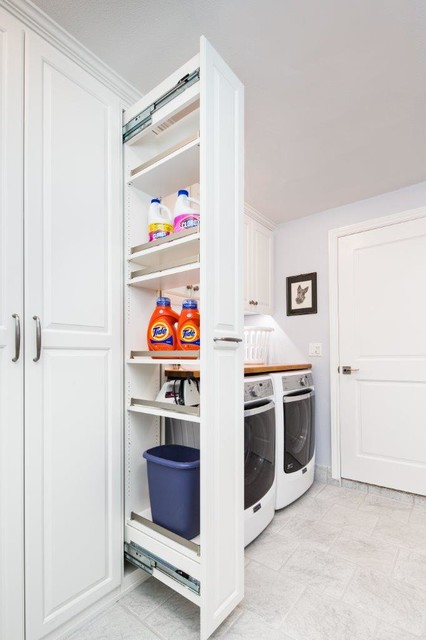 Vertical pull-out shelving units are a great space-saving solution.
Image from Valet Custom Cabinets & Closets.
A common challenge is finding room to hang clothes that need to be air dried. Storebought drying racks tend to take up a lot of floor space and are easy to trip over, but with a custom design, it's quite easy to incorporate hanging rods or hooks between your cabinets.
The story is much the same for ironing boards. Most people find that they have little room left in their laundry room once the ironing board is set up, which poses a problem if multiple people are coming in and out of the room. A built-in, fold-away ironing board gives you ironing space when you need it but completely disappears when not in use.

Custom cabinetry and a fold-out ironing board make this an efficient laundry room.
Image from Valet Custom Cabinets & Closets.
A Laundry Room for the Whole Family Means Less Work for Mom and Dad
A well-functioning laundry room is essential for any family, but especially for those with children who are involved in sports and other outdoor activities. Even so, laundry rooms are frequently neglected. Creating a custom space where you can implement a family-oriented laundry system will do wonders for simplifying this process and will help ease the burden of tired parents.
Each family is a little different, but a simple survey of your usable space plus a little background on your family's habits is all we need to start crafting a laundry solution for you. So get in touch with us before that summer sports gear starts to pile up.
---
Valet Custom Cabinets & Closets designs, manufactures and installs custom organizational solutions that enhance the functionality of your living space while complementing the décor of your home.
Our talented design team creates unique solutions tailored to your specific needs, style, and budget. We are independently owned and a direct manufacturer.
Our areas of specialty include Home Offices, Wall Beds, Media Centers, Closets, Pantries, Garage Cabinetry, and much more.
Exceptionally Designed & Styled * Expertly Crafted with 5-Star Execution
---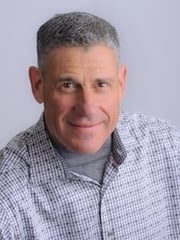 About Larry Fox, President
Larry is a graduate of the University of Southern California School Of Business. After receiving his degree he returned to the Bay Area and spent 18 years working in his family's 100+ year old metals recycling business. Upon the sale of that business in 2000, Larry and his wife Audrey purchased Valet. Larry has become a leader in the industry and is a past president of the National Closet Group. Larry loves turning people's dreams into reality, and remains as enthusiastic about the business today as he was when he first acquired it. View Larry's Houzz Page.