Apart from its historic downtown, excellent wineries, and booming economy, one of the best parts of living in Los Gatos (or the Bay Area in general) is how close you are to the great outdoors. Hiking and camping beckon, with Sanborn County Park 20 minutes away and Big Basin only a half-hour's drive. If you're a "weekend warrior" who enjoys leaving town to spend time with Mother Nature for a couple of days, it's a great spot.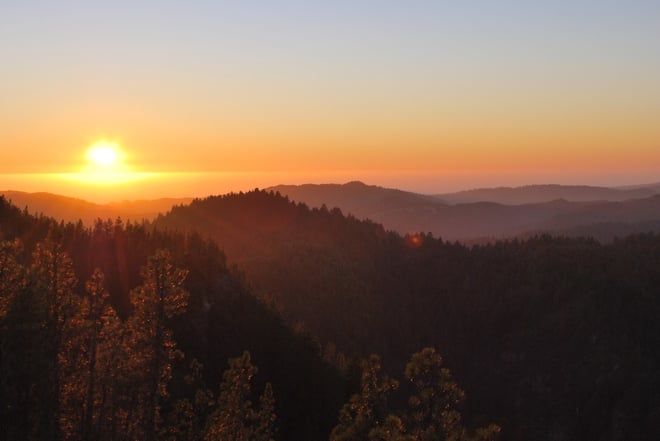 Sunset at Big Basin.
Image courtesy of
Conrad Shultz
(CC BY-SA 3.0)
With this type of "work hard play hard" mentality, recreation pros need to be able to get the most out of their weekends. Often this means being able to prepare for trips as quickly as possible, and unpack just as quickly, maximizing the amount of time you spend having fun – and a custom garage storage system for your camping gear can help you do just that.
A Place for Everything and Everything in Its Place

A custom camping gear storage system lets you make the most of weekends.
Image from Valet Custom Cabinets & Closets.
Managing your outdoor gear can be a pain. It's often expensive and needs to be stored so that it stays in good working order – but it has a tendency to come in odd shapes and sizes. A garage storage area custom-designed for your equipment can be a lifesaver.

An example of an adjustable hanging system.
Image from Valet Custom Cabinets & Closets.
Consider backpacks. Bags take up a lot of space when left sitting out, but they generally need to be aired and freshened after a long trip – storing them immediately in a dark place runs the risk of mildew. A custom slatwall with hooks lets you hang them instead, keeping them out of the way, easy to grab, and in good shape. (With wall storage, you'll also no longer have to fight errant straps dangling out of the closet.)
If you've got lots of equipment that tends to get propped up in corners, an Omni Track wall storage system can help. We recommend them to many of our clients, and they include a variety of heavy-duty utility and activity hooks that can handle everything from bags and walking sticks to skis and bicycles, providing an easily visible spot for gear you use frequently.
Sturdy cabinetry is a great place for heavier items like camp stoves, fuel canisters, tarps and tents. Our custom garage systems come with adjustable shelving that can accommodate bulky items, and thick edge banding and 1" thick shelves allow the cabinets to withstand heavy use. We can also install several sizes of drawers and roll-out trays to organize small but hard-to-keep-track-of items like matches, flashlights, toiletries, and bug spray.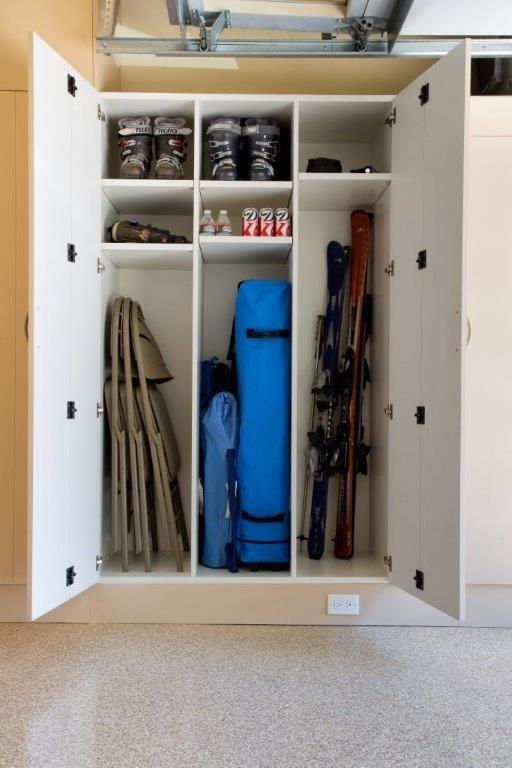 Easily adjustable shelves let you store your specific collection of gear.
Image from Valet Custom Cabinets & Closets.
A Staging and Unloading Zone
To make the most of a weekend camping expedition, many people like to leave Los Gatos on Friday right after work. That lets you set up camp the same evening and have all day Saturday at your leisure – but pulling this off takes advance planning. One key to getting out of town quickly is to pack smart by laying everything out in a staging area.
Installing wide counters along the wall of your garage gives you a great spot for this. You can make create a checklist and set everything out as it's crossed off. Having a designated space saves time and cuts down on the odds that you'll arrive to set up camp only to realize you forgot the lighter fluid.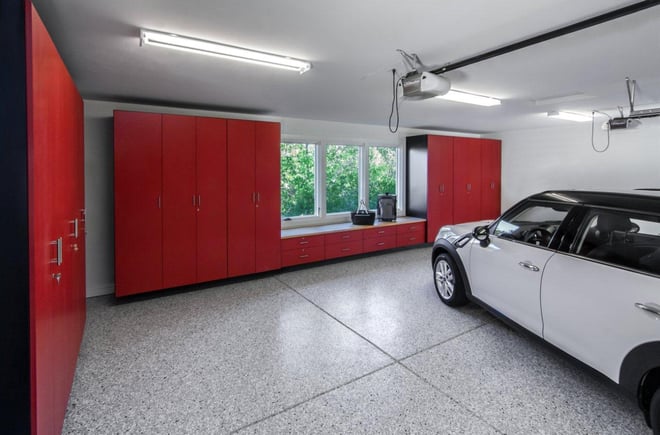 Lots of space for a staging area, and epoxy flooring for easy cleanup.
Image from Valet Custom Cabinets & Closets.
Putting things away when you return is another major issue. It's sometimes the worst part of the trip – you're tired after an active weekend, your gear is covered in dirt, and Monday looms. A custom garage storage system lets you unload the car and get each item back into storage quickly while minimizing the mess.
Dirty shoes or boots can go onto a custom shoe rack that's integrated into your open shelving, letting them air out along with your backpacks. All your gear can be put away in designated spots, and all the dirt can stay out of your living room. A garage is generally easier to tidy up than the rest of your home, especially if you have epoxy flooring, which is low maintenance and easy to clean.
Make the Most Out of Your Weekend
If the great weather has you itching to get out of Los Gatos and into nature during your time off, consider whether you have the essential ingredients to ease the transition between work and play – a proper system for storing your gear, getting packed up, and putting things away. Don't let the process eat up more of your weekend than necessary. Get in touch, and we can design a personalized system to help you take care of the gear that lets you unwind after your workweek.
---
Valet Custom Cabinets & Closets designs, manufactures and installs custom organizational solutions that enhance the functionality of your living space while complementing the décor of your home.
Our talented design team creates unique solutions tailored to your specific needs, style, and budget. We are independently owned and a direct manufacturer.
Our areas of specialty include Home Offices, Wall Beds, Media Centers, Closets, Pantries, Garage Cabinetry, and much more.
Exceptionally Designed & Styled * Expertly Crafted with 5-Star Execution
---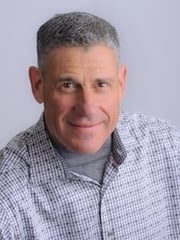 About Larry Fox, President
Larry is a graduate of the University of Southern California School Of Business. After receiving his degree he returned to the Bay Area and spent 18 years working in his family's 100+ year old metals recycling business. Upon the sale of that business in 2000, Larry and his wife Audrey purchased Valet. Larry has become a leader in the industry and is a past president of the National Closet Group. Larry loves turning people's dreams into reality, and remains as enthusiastic about the business today as he was when he first acquired it. View Larry's Houzz Page.