If I were to move anywhere else in the Bay Area, I might just head for Silver Creek Valley in San Jose. The beautiful homes, safe environment, golf course, and country club bring comfort and luxury to the only gated community in Silicon Valley. This is a neighborhood where your children can visit a friend's home by themselves, walk to school, and enjoy fantastic extracurricular activities. You've got everything your family needs within one major zipcode.
If you're in need of some serious organization overhaul in your home after the holidays, you may want to consider revamping your master closet. We always enjoy creating deluxe custom closets for our Silver Creek clients, because they tend to want a beautiful and luxurious aesthetic to match their functional design. These homes are usually blessed with extensive closet space or additional spare bedrooms, so you've got a lot of potential to work with.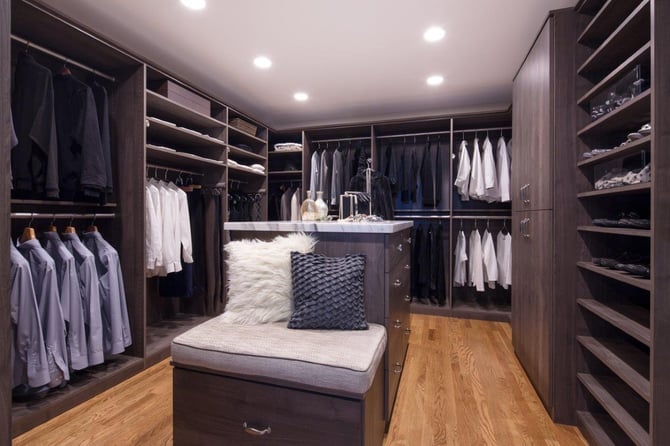 Your master closet can become a sanctuary with careful planning and beautiful finishes.
Image Source: Valet Custom Cabinets & Closets
Luxury Meets Function
A lot goes into the design of a deluxe walk-in closet. We brainstorm what flow you'd prefer, based on which items you use most frequently and need easy access to. You'll want to consider which items you want closest to the entrance, which items you'd like to see when you first walk in the space, and which items you'd rather hide away. This is also the time to think about your closet organization strategy, and what process will be easiest for you to maintain in the long run.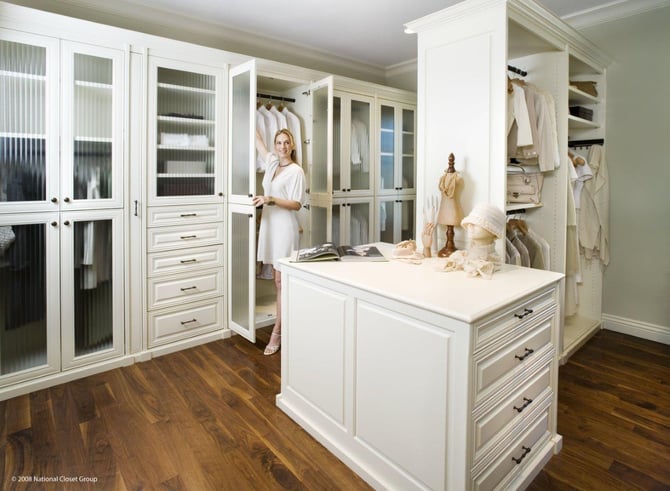 Use an aesthetically-pleasing mix of solid doors, drawers, and glass panels to add visual interest.
Image Source: Valet Custom Cabinets & Closets
You may want to consider including various finishes in your new closet design. You might also be interested in adding visual interest with frosted glass or plexiglass cabinet doors. Valet's closet system is the only product on the market that doesn't utilize exposed fasteners for cabinetry—so the elegant hardware you choose will be the only hardware you see. These touches add a sense of luxury to the space that matches the Silver Creek Country Club aesthetic.
Creative Shoe Storage Options
Living in a gated community sometimes means becoming very familiar with seeing the same people day in and day out. You meet your neighbors at the country club, at the neighborhood pool, and at the local New Seasons. Your wardrobe includes shoes for all occasions, from mountain boots and pool shoes to fancier night-out pairs and everything in between. Mixing up your wardrobe can be the most important way for you to keep things fresh on the day-to-day. Style starts with the shoes, as they say, and so our Silver Creek clients usually end up needing a significant amount of space to store their shoe collections.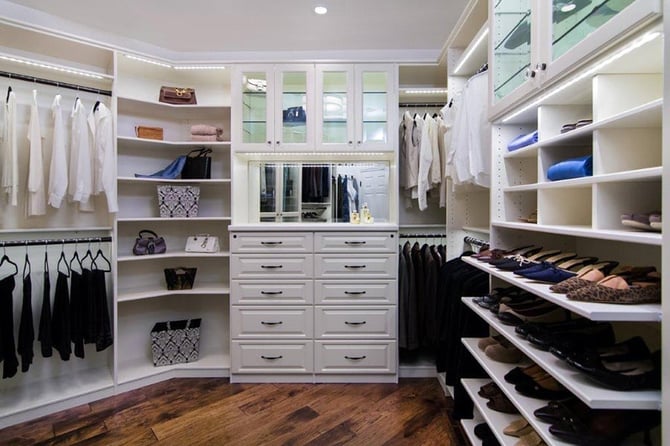 Slide-out shoe shelves help display your collection within easy reach.
Image Source: Valet Custom Cabinets & Closets
Being creative with shoe storage means taking advantage of space where you can get it. Our slide-out shoe shelves are great for large collections because they can be custom-spaced to accommodate more shoes in the same vertical storage area.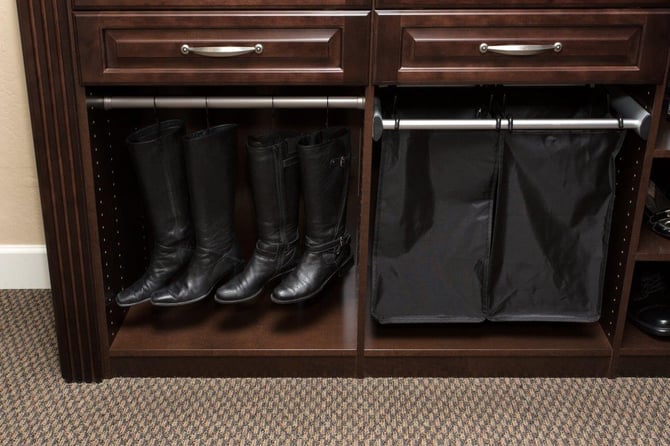 Hanging boot storage keeps your fall and winter friends from getting scuffed.
Image Source: Valet Custom Cabinets & Closets
Be sure your closet design incorporates space for your specialty footwear. You may want to consider using hanging boot storage if your collection involves a lot of tall boots. This method saves space and avoids the scuffing that tends to occur when leaning boots against each other on the floor. If your golf shoes live in your master closet (like mine do), you can rest assured that our finishes will stand up to rough wear from cleats and leftover dirt. You could hide away your golf shoes in slide-out shoe drawers as well, to get them further out of sight.
Extra Touches Add Function and Fancy
Because this is your dream closet, you can take advantage of all the little bells and whistles that make up a true luxury feel. LED lighting inset into each segment of the closet can really add shine to your everyday dressing experience. Have seasonal clothing that you only wear every now and then, or nicer pieces that only get worn to the fanciest country club events? You may want to consider using a pull-down hanging rod system to keep these items beautifully displayed but out of the way.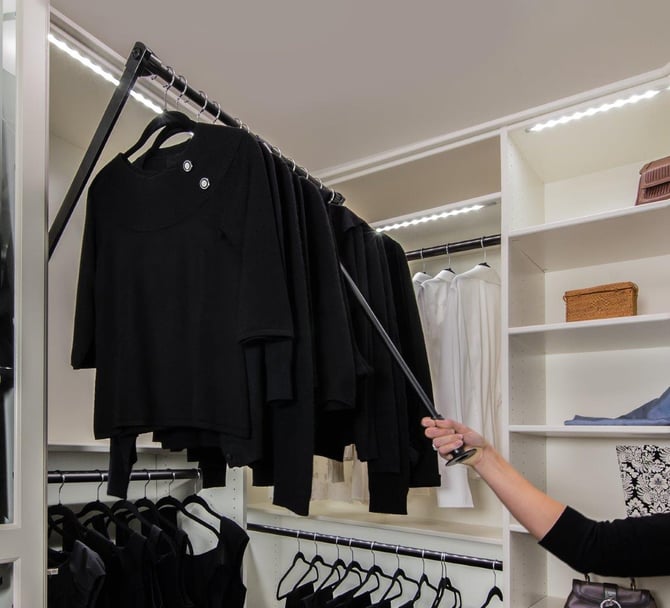 Pull-down hanging rods allow you to hang infrequently-used items out of your daily space.
Image Source: Valet Custom Cabinets & Closets
Another touch that makes a deluxe master closet much more functional is a valet rod. These little helpers hold clothes that are waiting to be worn front-and-center, and make planning your outfit pieces much easier.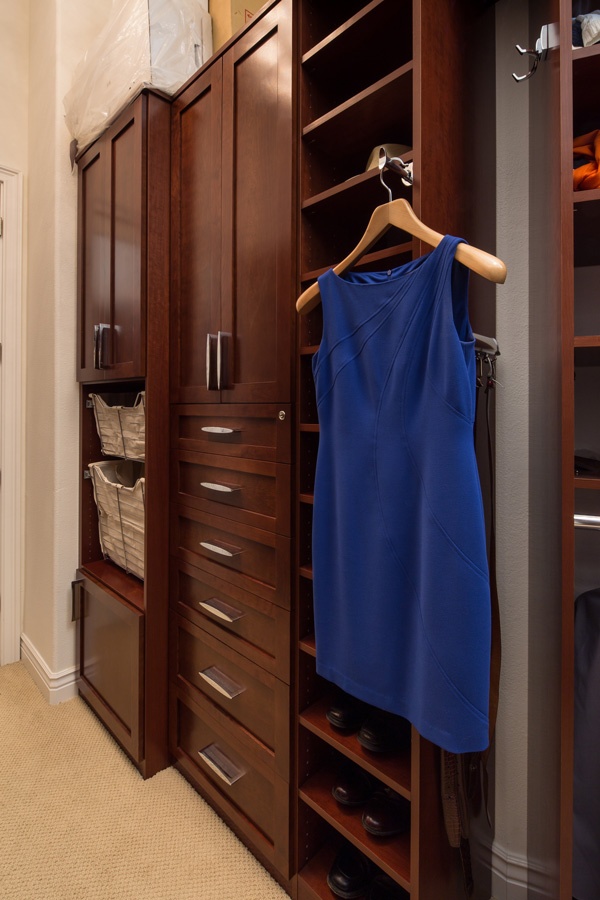 Valet rods provide a touch of elegance and aid in outfit planning.
Image Source: Valet Custom Cabinets & Closets
If, like many of our clients, you have a sizeable jewelry collection (this is Silver Creek, after all), you'll definitely want to consider deluxe jewelry storage options. Our most popular solution involves double pull-out jewelry drawers that display and protect your collection beautifully.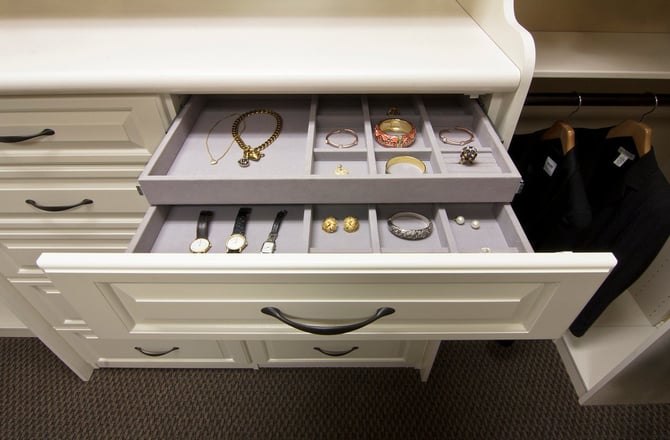 Store your prized silver (and gold) in deluxe pull-out jewelry drawers built into your custom closet.
Image Source: Valet Custom Cabinets & Closets
I know that if I were to ever relocate to Silver Creek, I'd want to take advantage of a custom closet solution to better manage those big open spaces that the newer homes incorporate. A master closet can be daunting to organize, but with help from custom shelving and cabinetry, you'll have your wardrobe easily accessible and beautifully displayed in no time at all. Reach out to us today to schedule your free, no-pressure consultation so that we can get started on dreaming up the perfect closet design for your home.
---
Valet Custom Cabinets & Closets designs, manufactures and installs custom organizational solutions that enhance the functionality of your living space while complementing the décor of your home.
Our talented design team creates unique solutions tailored to your specific needs, style, and budget. We are independently owned and a direct manufacturer.
Our areas of specialty include Home Offices, Wall Beds, Media Centers, Closets, Pantries, Garage Cabinetry, and much more.
Exceptionally Designed & Styled * Expertly Crafted with 5-Star Execution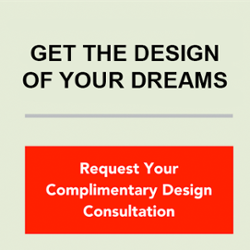 ---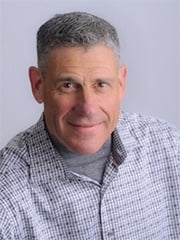 About Larry Fox, President
Larry is a graduate of the University of Southern California School Of Business. After receiving his degree he returned to the Bay Area and spent 18 years working in his family's 100+ year old metals recycling business. Upon the sale of that business in 2000, Larry and his wife Audrey purchased Valet. Larry has become a leader in the industry and is a past president of the National Closet Group. Larry loves turning people's dreams into reality, and remains as enthusiastic about the business today as he was when he first acquired it. View Larry's Houzz Page.