I'm just going to come right out and say it: I love Oakland. Whenever I visit SF's unique (and somewhat cooler) older brother, it inspires me to use more color in my everyday life. To be more loud with what I'm passionate about. And, above all else, to make a statement where a statement is necessary (because around Oakland, it's always necessary). Living in the suburbs, it can be really tough to give up the culture and vibrancy of the bigger city when you go back home—but there are still things you can do in your own place to make Lafayette feel a little less like a suburb.
If you're looking for a statement of your own to make, consider giving your Lafayette garage a remodel worthy of the artsy capital of the East Bay. Statement colors, sleek design, and cool features help turn this often-overlooked room of the house into a grand expression of your Oakland side, even if you're living in the capital of Suburbia, CA.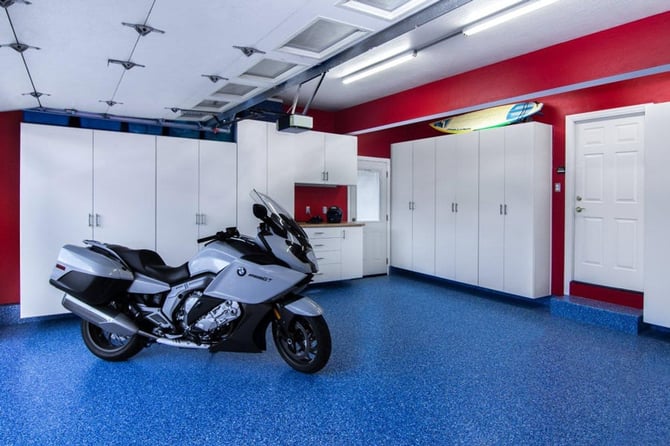 Use statement colors in your garage for maximum "wow" factor.
Image source: Valet Custom Cabinets and Closets
Make a Bold Statement Using Unique Colors
When you think of garage flooring, you'll usually picture gray concrete with maybe the decorative addition of a couple of charcoal-colored oil stains here and there. Why not make a statement instead with a bold "Dubs" royal blue? This epoxy flooring comes in a wide variety of colors and is incredibly durable against wear and stains. It's slip and UV resistant, easy to clean, and will easily stand up to the endless pounding of dirty sneakers as you haul your kids to LMYA activities.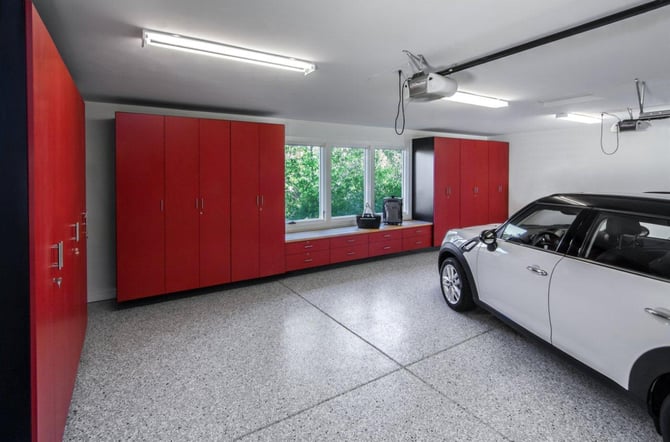 Custom cabinets in a bright shade of red really pop in this garage design.
Image source: Valet Custom Cabinets and Closets
Nothing screams "statement" like a bright red, and quiet Lafayette might need a little more of this color to give more of an artistic vibe to the neighborhood. Just remember to get all appropriate permits from the City of Lafayette before planning anything huge. Using red in your garage will help energize the beginning of your daily commute to San Francisco and will make this room a place you'll enjoy spending time in.
Bring Your Garage Up To Speed With Sleek Design
If picketing down International Boulevard is taking a statement a little too far for you, you might enjoy making a quieter statement with the design elements in your garage remodel. Depending on what you choose, your new garage can feel sophisticated, exciting, and professional, just like the Memorial Center on Diablo.
One way to get a headstart on a sleek design is to use thermally fused laminate cabinetry. This material is incredibly durable and scratch resistant, which is perfect for a garage where tools may fall, 2x4s may rest, and sawdust may fly. Go for durability.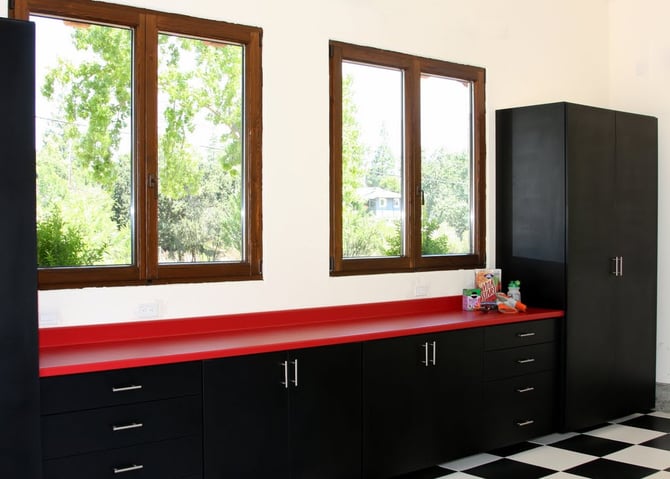 Details like design symmetry make for a garage aesthetic that's anything but standard.
Image source: Valet Custom Cabinets and Closets
The secret to a great garage design is in the details. Framing a window space with symmetrical cabinets makes great use of your walls while being pleasing to the eye. Minimalistic hardware in a modern brushed-metal finish adds the new-age feel of a brand new BART station to your cabinetry. In short, these things make your garage look well-thought-out and put-together.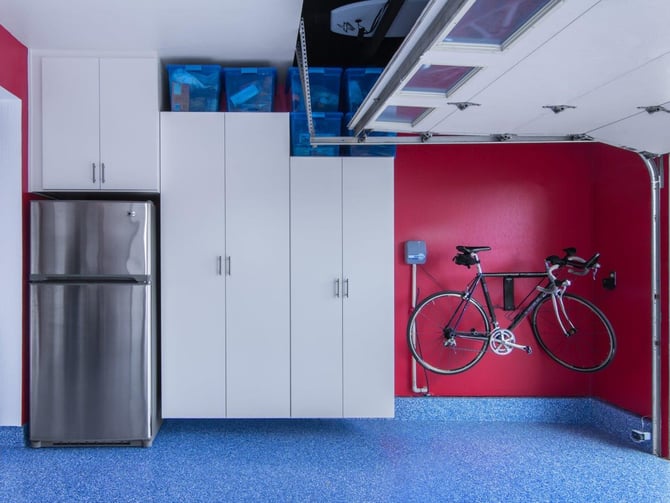 White thermally fused laminates won't stain or scratch.
Image source: Valet Custom Cabinets and Closets
Extra Features Bring Individuality To Your Custom Design
If you just moved to Lafayette for the first time, you're probably not expecting all the fantastic extras that you're getting with your zip code. The pastoral rolling hills and the easy access to Highway 24 may have brought your family here, but fantastic school system, friendly locals, and proximity to the bigger cities will likely be enough to make you want to stay. Give your new garage the benefit of extra features that really make the space functional and fun.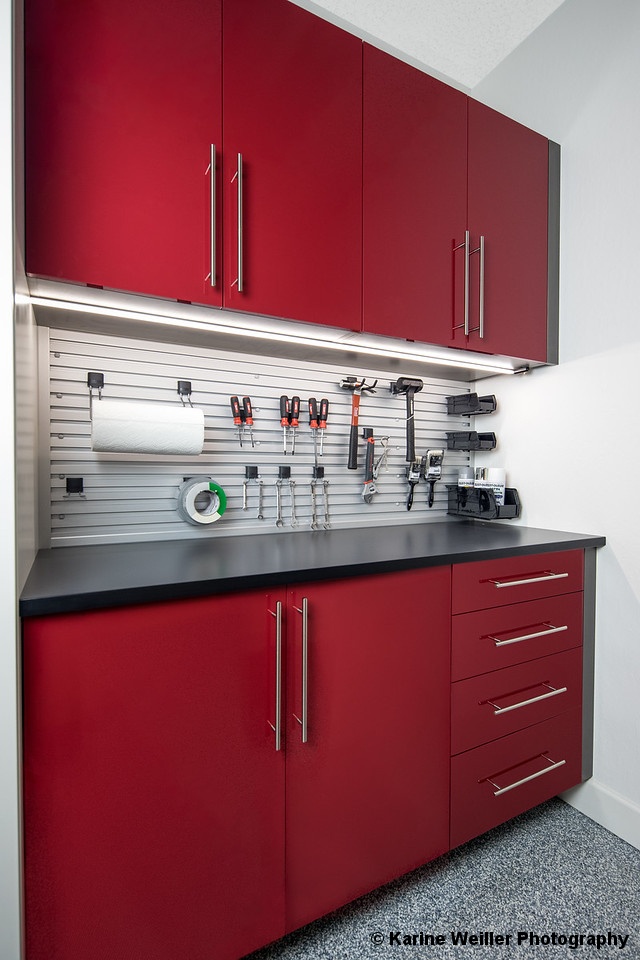 Upgrade your storage tenfold with the Omni Track customizable wall system.
Image source: Valet Custom Cabinets and Closets
The Omni Track wall system is a customizable feature you can add to any garage design that totally maximizes your wall space. Durable wall-mounted tracks with industrial-strength hardware can hold all of your necessary odds and ends in the garage, from a set of metric wrenches to a full bicycle. (Personally, I'll never go back to using pegboard again!)
You may also want to include features to assist you with whatever you'll be working on in the garage. Need a moveable workbench? We can put that custom cabinetry on casters for you. Butcher's block countertops, stair-stepped cabinets, and slide-out tool storage options abound when you're able to customize your garage design. These ideas make your space function efficiently—meaning you'll probably want to spend more time working here!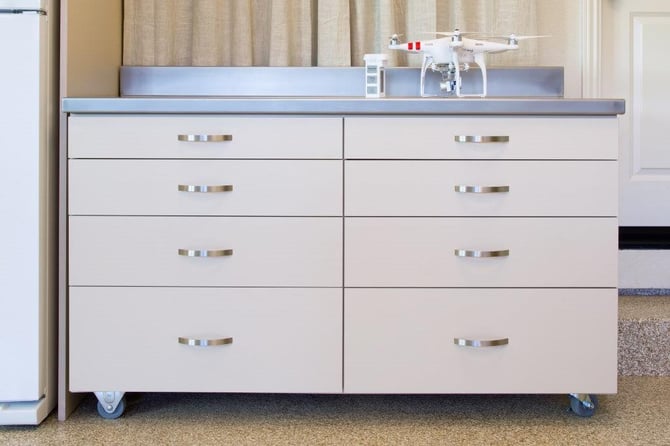 Make your custom garage features work for you. If you need mobility, add wheels!
Image source: Valet Custom Cabinets and Closets
Whether you're remodeling your home or going for some food on Restaurant Row, Lafayette is a relatively safe space for you to express yourself and make whatever kind of statement you like (without going all in like those Oaklanders have a tendency to do). I always enjoy the chance to work more daring and unique inspiration into my custom garage designs, especially when clients want a room to stand out all on its own. If you want your garage to match your loud and proud style, schedule your free design consultation today. The Valet team is eager to make a statement with you.
---
Valet Custom Cabinets & Closets designs, manufactures and installs custom organizational solutions that enhance the functionality of your living space while complementing the décor of your home.
Our talented design team creates unique solutions tailored to your specific needs, style, and budget. We are independently owned and a direct manufacturer.
Our areas of specialty include Home Offices, Wall Beds, Media Centers, Closets, Pantries, Garage Cabinetry, and much more.
Exceptionally Designed & Styled * Expertly Crafted with 5-Star Execution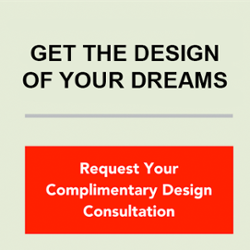 ---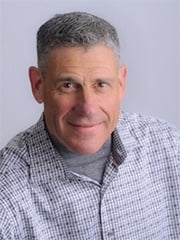 About Larry Fox, President
Larry is a graduate of the University of Southern California School Of Business. After receiving his degree he returned to the Bay Area and spent 18 years working in his family's 100+ year old metals recycling business. Upon the sale of that business in 2000, Larry and his wife Audrey purchased Valet. Larry has become a leader in the industry and is a past president of the National Closet Group. Larry loves turning people's dreams into reality, and remains as enthusiastic about the business today as he was when he first acquired it. View Larry's Houzz Page.