The KonMari method of organization has become wildly popular around the nation this year—especially in San Francisco, where Marie Kondo gave live seminars and trained her first consulting employees. Even Ellen featured this tiny organizing powerhouse on her show to experience the Japanese art of decluttering in person. From folding to hanging and everything in between, the KonMari method helps each of us treat our belongings with more care.
There's no better place to explore this method of organizing than the master closet. Custom closets are already designed with your wardrobe in mind, and come with compartmentalized spaces for each item you need to store. Essentially, you're already equipped with the built-in version of the KonMari shoebox system. Using this method in your custom closet will help your wardrobe space feel even more chic and organized.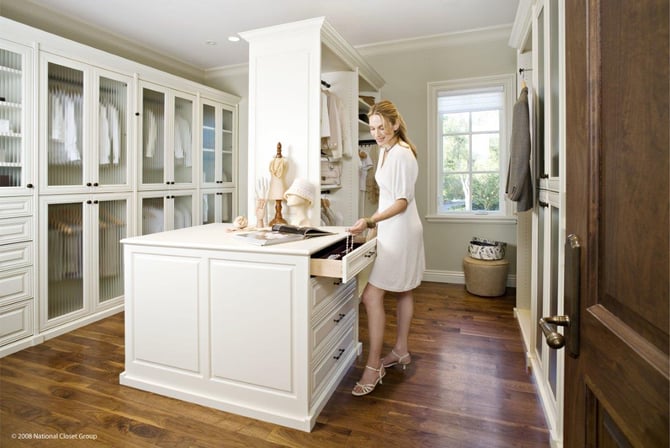 Entering a well-organized custom closet should feel joyful—or, at the very least, calming.
Image source: Valet Custom Cabinets and Closets
Does Your Closet Spark Joy?
The very first step in the KonMari method involves taking everything out of your closet and culling your collection—which can, arguably, be pretty difficult.
If your closet is overflowing with items and you have a hard time remembering which are dirty, which still have the tags on them, and which you never wear, this is a step that you definitely need to take seriously. With a handle on your wardrobe, you can better appreciate everything in it. You can give your clothes the care and attention they need to maintain their high quality for as long as possible.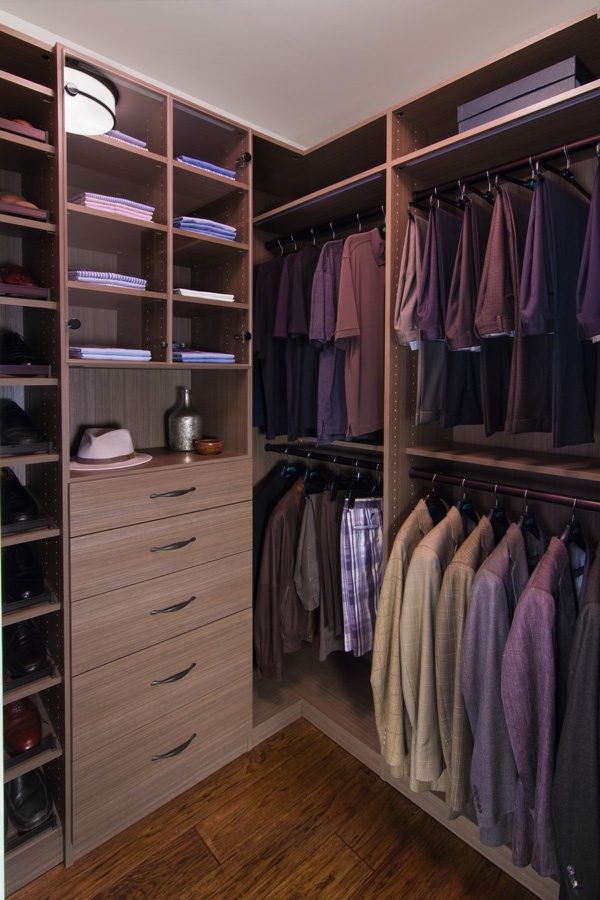 Your closet should not be over-full; your items need space to hang in peace.
Image source: Valet Custom Cabinets and Closets
A Place for Everything
Once you've discovered which items no longer fit your style, you can focus on putting everything else back into your custom closet. I recommend giving your space a quick dusting with a microfiber cloth before replacing all of your items. Why not start with a clean slate?
If your custom closet is broken into easily-defined compartmentalized sections, you can dedicate one to each fabric type. Consider using a pull-down hanging rod to hang heavier out-of-season items (like winter wool) together. Work pants work best in a low-hanging rod all by themselves (perhaps on a pull-out slack rack), and items that currently fit the season today can be placed close to the entrance to your closet for easy access. If you're storing knitwear that works well when folded, try using adjustable shelving throughout the closet to store these items.
Within each section, the KonMari method recommends hanging your clothes so that the longest items are on the left side of each rod and the shortest items are on the right side. This "rising to the right" scenario tends to usurp my personal style of hanging items by color family, but whichever strategy you choose will do fine. The point here is to place each item intentionally into its rightful place in your closet.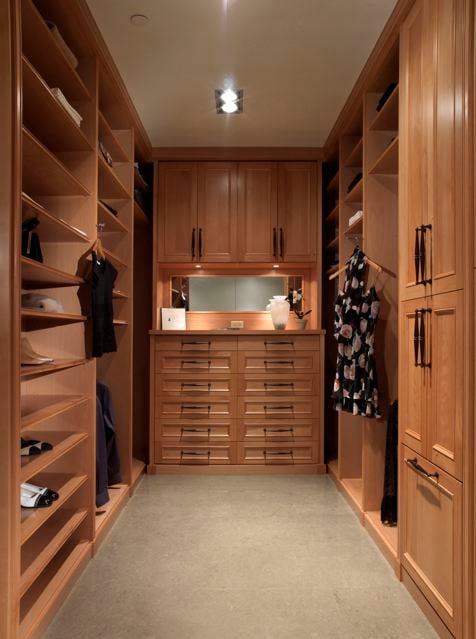 Most custom closets incorporate drawers in some fashion—make them work for you.
Image source: Valet Custom Cabinets and Closets
Making Good Use Of Your Drawers
Perhaps the most iconic part of Kondo's organization method lies in her folding strategy. She makes the point that storing items vertically (instead of piling them on top of one another) is better for your items and better for aesthetics. When you open a drawer, you should be able to see at one glance the entirety of items that lie inside—simply because they are folded vertically, file-folder style, and are all on display equally.
No stuffing, balling, or rolling goes on in a KonMari drawer. The only time-consuming part is the initial organizing process—after that, folding each item this way doesn't take any more time during your laundry routine than your old method (if you had one to begin with).
You can also use drawers to beautifully store and display accessories. Velvet-lined double jewelry drawers can work wonders for a large collection, and keep everything nice and untangled. (Kondo doesn't specifically detail how to deal with jewelry, but I'm sure she wouldn't approve of stuffing everything in a trinket box on your vanity!)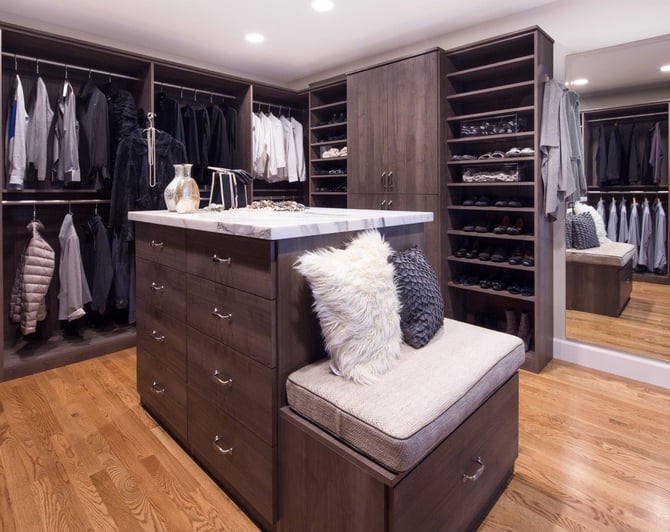 A custom closet combined with the KonMari method is a masterpiece of organization.
Image source: Valet Custom Cabinets and Closets
When combining the KonMari method with a beautifully-designed custom closet system, you're bound to have a whole new perspective on the clothing items that you own, as well as the care that you take when storing them. If you haven't yet made a custom closet investment, the KonMari method will of course still be meaningful for you—but I've found that a well-designed closet expedites the process considerably. If you're interested in getting started, schedule your free design consultation to begin realizing the custom closet of your dreams.
---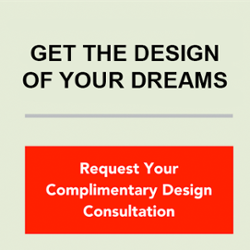 Valet Custom Cabinets & Closets designs, manufactures and installs custom organizational solutions that enhance the functionality of your living space while complementing the décor of your home.
Our talented design team creates unique solutions tailored to your specific needs, style, and budget. We are independently owned and a direct manufacturer.
Our areas of specialty include Home Offices, Wall Beds, Media Centers, Closets, Pantries, Garage Cabinetry, and much more.
Exceptionally Designed & Styled * Expertly Crafted with 5-Star Execution
---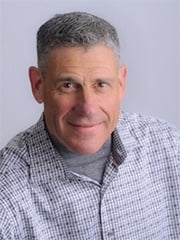 About Larry Fox, President
Larry is a graduate of the University of Southern California School Of Business. After receiving his degree he returned to the Bay Area and spent 18 years working in his family's 100+ year old metals recycling business. Upon the sale of that business in 2000, Larry and his wife Audrey purchased Valet. Larry has become a leader in the industry and is a past president of the National Closet Group. Larry loves turning people's dreams into reality, and remains as enthusiastic about the business today as he was when he first acquired it. View Larry's Houzz Page.