Ah, to be young and live in Mountain View. Or to be in the prime of your career and live there—or to be retired there. Whatever your age, this Bay Area jewel is attracting lots of newcomers. It's been fun to see the downtown area bloom over the last decade, and while there are plenty of great houses, I've found that the condo market is probably the hottest: condos sell within 15 days—and at 107% of list price. Those are unheard of numbers, and they're driven by two groups: tech employees from Silicon Valley and retirees.
For the younger generation, Mountain View condos are an easy way to get to work while enjoying a rollicking nightlife. And retirees want to downsize and simplify while still having access to great amenities. But both groups need space, and sometimes condos don't provide enough, especially if you have dreams of a home office. Whether you're a tech wizard looking to telecommute or a retired maven seeking to write your memoirs, you want to be able to work without feeling cramped. A custom-designed home office helps maximizes your square footage while still being beautiful, and we can make it as unobtrusive—or as much of a focal point—as you wish.
What a Custom Home Office Can Do for You
Depending on your needs, you might be looking for a small desk set that can go against one wall in the bedroom, spare room, or even main room. These units are compact, but that doesn't mean a loss of functionality: they provide plenty of space for you computer, printer, books, and documents. And to ensure a neat and efficient layout, we'll custom-design everything down to where the holes for your cables should go.
Of course, different people have different needs. Some like to look out the window when they work—especially if there's a mountain view—and others prefer to shut away distractions. The nice thing about a custom desk set is that we can fit it almost anywhere, either close to a window or with your back turned from the light. Some folks even opt to combine a desk area with a wall bed. This is a particularly elegant solution if you don't want to give up your guest room—or if you prefer to work in your own bedroom but find that your bed takes up an awful lot of space.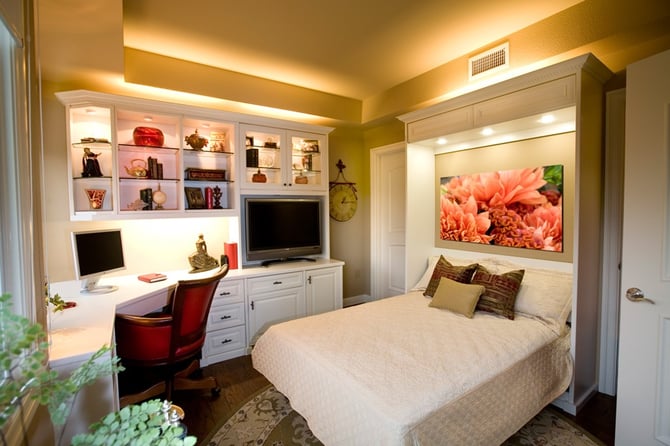 An office unit with a wall bed allows you to work from home while still hosting guests.
Image from Valet Custom Cabinets & Closets
.
Roll-Outs Save Space
If you're a tech employee, you've likely got a lot of equipment, which may seem like a complicating factor. A client I worked with a few months back had to regularly switch between several laptops, tablets, and PCs depending on her current project. She was at her wits' end about how to house everything.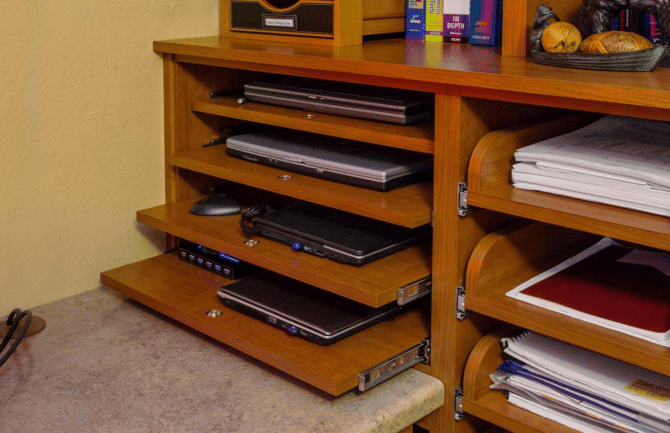 Now you see it, now you don't.
Image from Valet Custom Cabinets & Closets
.
We suggested roll-out shelving. It's a key element of any space-saving home office and allows equipment to be neatly tucked away while still providing easy access. And it's great for more than just laptops. We can design roll-out drawer systems for papers, books, scanners and printers, you name it. It's the principle of the skyscraper: why go out when you can go up?
The client I mentioned above also faced an additional challenge: since she sometimes needed multiple monitors, her desk became cluttered very quickly. We added an additional roll-out desk to her unit, allowing her to easily swivel between workstations. She had extra space when she needed it—and when she didn't, she could slide the desk out of sight to open up the room a bit more.
Having the Gang Over
Of course, despite the benefits of working remotely, many people still invite friends or coworkers over for in-person collaboration. If you find yourself in this boat, I'd suggest a home office design that incorporates additional pull-out desks, extra counter space, or peninsula workstations. These features let you have the space to play host without taking up too much additional room or sacrificing your own needs.
It's an exciting time to live in Mountain View, no matter who you are, and I love helping people get the most out of their condos. Folks are legitimately excited to be here, and they should be. This is a place where people can pursue their passions and grow. But feeling cramped in your condo is no good, and neither is feeling like you can't get any work done because a home office would cramp your lifestyle. With custom-designed home office solutions, your Mountain View condo can become a productive oasis. Connect with us today to learn more.
---
Valet Custom Cabinets & Closets designs, manufactures and installs custom organizational solutions that enhance the functionality of your living space while complementing the décor of your home.
Our talented design team creates unique solutions tailored to your specific needs, style, and budget. We are independently owned and a direct manufacturer.
Our areas of specialty include Home Offices, Wall Beds, Media Centers, Closets, Pantries, Garage Cabinetry, and much more.
Exceptionally Designed & Styled * Expertly Crafted with 5-Star Execution
---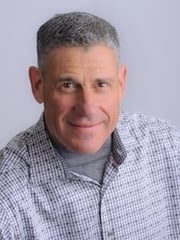 About Larry Fox, President
Larry is a graduate of the University of Southern California School Of Business. After receiving his degree he returned to the Bay Area and spent 18 years working in his family's 100+ year old metals recycling business. Upon the sale of that business in 2000, Larry and his wife Audrey purchased Valet. Larry has become a leader in the industry and is a past president of the National Closet Group. Larry loves turning people's dreams into reality, and remains as enthusiastic about the business today as he was when he first acquired it. View Larry's Houzz Page.