When I met Donna, she was ready to get started building her dream closet. She had come into the Campbell showroom of Valet Custom Cabinets & Closets after looking at reviews on Yelp with a longing to organize her belongings into a fun and unconventional space, and an admonition from her husband: "Build the closet of your dreams."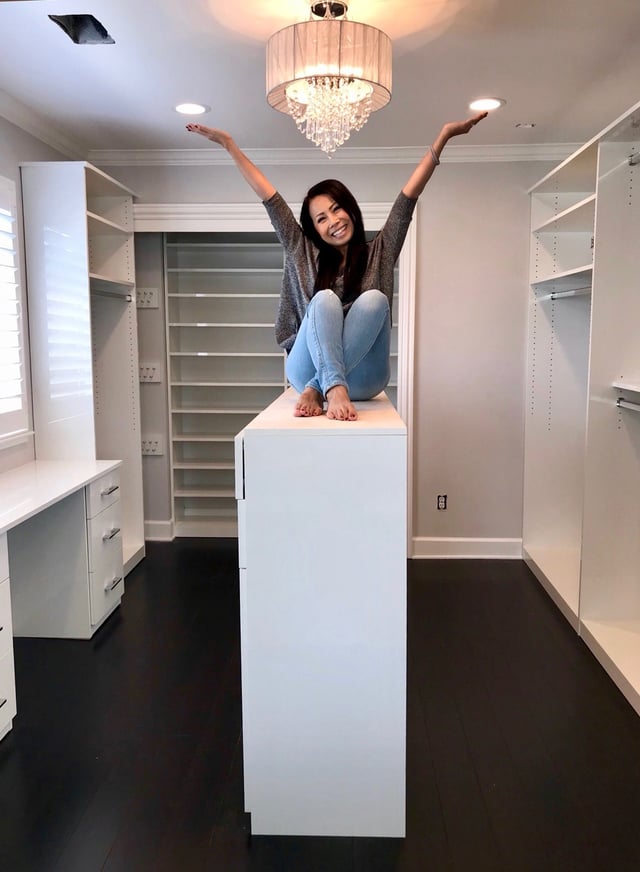 But this was more than a simple closet remodel. Donna has been checking things off of her bucket list for the last several years, after being diagnosed with stage 4 lung cancer. As a never-smoker, it was a shocking and frightening diagnosis, but it has led, as she has undergone treatment and entered remission, to never take anything for granted. A dream closet was one of a number of exciting life events that Donna has embraced, and I was honored to be part of her adventure. Her sign that she is embracing life and not taking anything for granted is raising her arms in the air in victory, which friends have taken to emulating in support and agreement.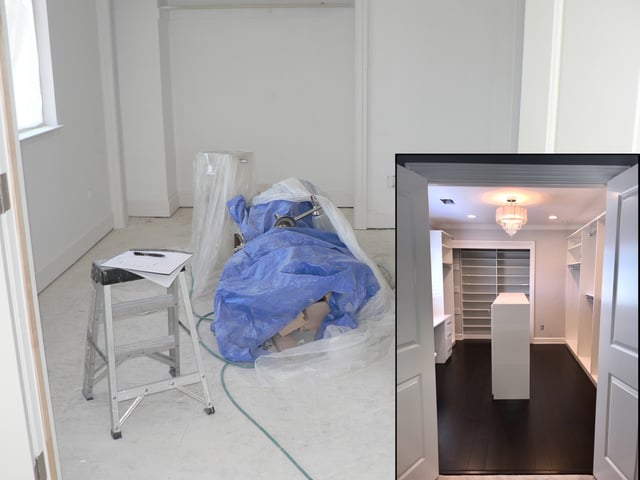 Donna and I had our first consultation in her home. She had identified a bedroom that we would adapt for her custom closet, and together we evaluated the pros and cons of the space. It was unconventional, since there were some features you don't usually find in a closet. For one, it had a window, which would mean losing wall space while gaining light and also brought up privacy concerns that we addressed with adjustable blinds. We would also have to integrate the existing bedroom closet so that became part of the overall new room instead of being a separate space. This meant a small wall with ductwork behind it, which could not be removed, would need to become an integral part of the design. I looked on that as an exciting challenge.
In addition, there were the things Donna wanted in her space that needed to be implemented in the design. She wanted the usual closet-like things, such as places for shoes, handbags, accessories, and folded and hanging clothes. But she also wanted a vanity along with a desk to accommodate her computer and printer as a retreat when she needed a few minutes to herself: a "woman cave" if you will to retreat from the demands of small children and real life. And then there was the island. She really wanted an island in the middle of her closet even though it would be tricky to fit it into the space given the dimensions of the room and the other requirements. I definitely had my work cut out for me!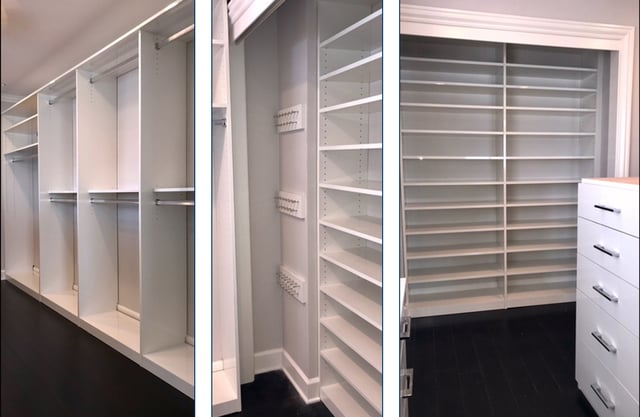 Once we had talked about her hopes for the space and I had taken measurements, it was off to the design table for me. Over the next few weeks, I laid out and tweaked the design to accommodate each of Donna's desires. The project was delightfully challenging, giving me a chance to add features for a creative use of the space so that Donna could get everything she wanted. When the 3D CAD design was ready, Donna came into the showroom again so we could finalize the design and look at all the options for hardware and finishes. One thing I told Donna: "Make sure you put a fabulous light fixture over the island." As you can see, she did just that!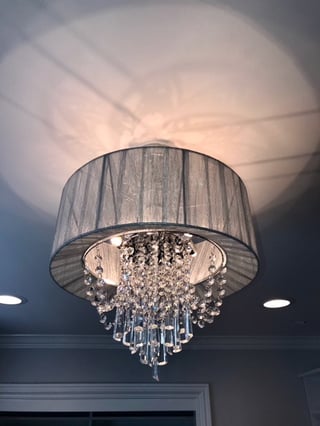 Donna was super excited each step of the way. Her enthusiasm was contagious and I found myself sharing it as we picked out the materials for her closet. Her choice of glossy white thermally fused laminate and polished chrome were feminine, sparkly and fun – a lot like Donna herself. And I was able to get in every feature Donna dreamed of.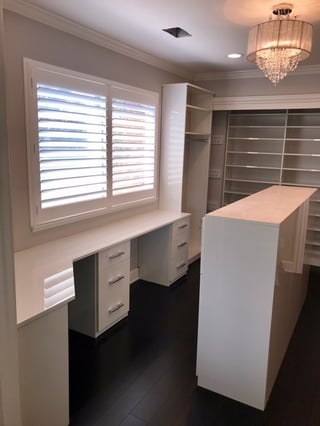 I placed the vanity under the window where she would have natural light with additional lighting installed for her to do her make up. The vanity was a space eater, but very important to Donna. The weird wall became a place to hang jewelry and scarves which used that odd alcove to its best advantage. I love the mushroom pins we used! The desk I tucked at an angle into the corner with a printer on a cart underneath. With plenty of space for shoes and hanging clothes of varying lengths, and plenty of shelves and drawers, it was a great closet accommodating each and every one of Donna's wishes.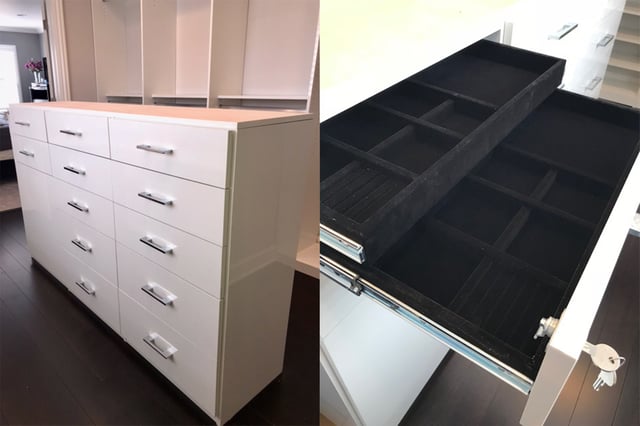 And then there's the island. As the centerpiece of the space, the island was everything Donna hoped for. I had to create a slightly narrowed silhouette due to the confines of the room, but in every other aspect, it was perfect. It holds tilt-out laundry bins, velvet-lined jewelry drawer with lock, and lots of drawers of assorted sizes. Donna plans to add a stone top as the finishing touch.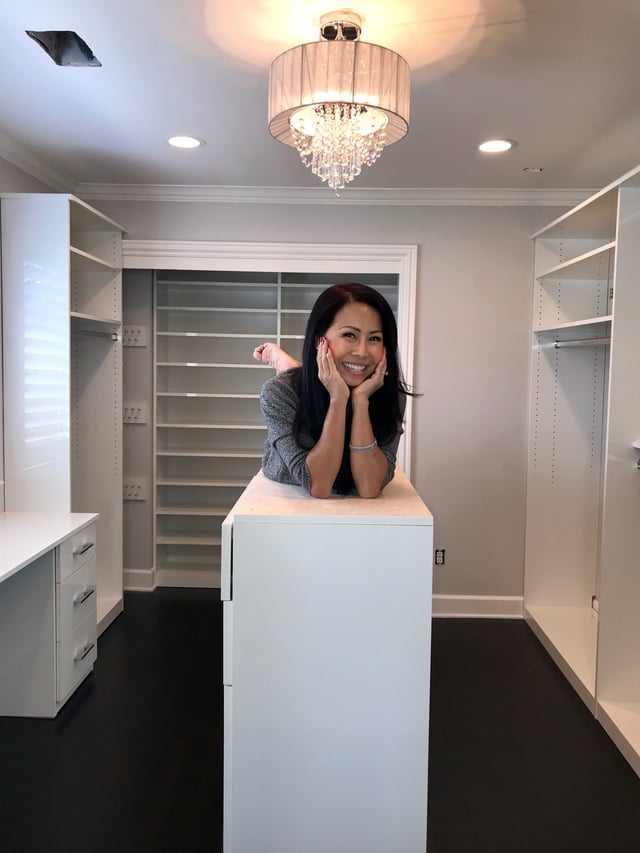 When we started out on this dream closet adventure, Donna and I knew we were going to create something extraordinary. Sure enough, Donna's vision melded with a custom design and the highest quality cabinet and closet materials to give her the closet of her dreams, and me the design opportunity of a lifetime. Helping Donna check this off her bucket list reminded me of why I do what I do. When I asked about sharing her dream closet journey with our Valet Custom readers, she was enthusiastic - like she is with most things. Donna writes, "Please share my story. If it helps even one person to be reminded of the fragility of life and maybe even tell a loved one how much they're loved, or do something special for themselves they wouldn't normally do, this will help me find purpose in why this is happening to me and my family." We thank you, Donna, for the chance to spread your enthusiasm for life.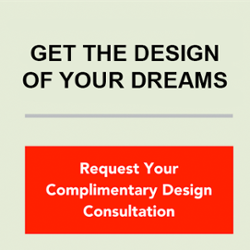 ---
Valet Custom Cabinets & Closets designs, manufactures and installs custom organizational solutions that enhance the functionality of your living space while complementing the décor of your home.
Our talented design team creates unique solutions tailored to your specific needs, style, and budget. We are independently owned and a direct manufacturer.
Our areas of specialty include Home Offices, Wall Beds, Media Centers, Closets, Pantries, Garage Cabinetry, and much more.
Exceptionally Designed & Styled * Expertly Crafted with 5-Star Execution
---
Shari Krandel
Shari has 18 years experience in the fields of Interior Design, Space Planning and Architecture. She holds a Bachelor's degree in Architecture from UC Berkeley and joined our Valet team in 2010. Shari enjoys hiking, skiing, and spending time with her family. Her customers love her enthusiasm and personal approach as she translates their needs into a beautiful and functional design.