We've done projects all around Pleasanton, and it really is one of my favorite areas in the East Bay, combining the charm of a small town with the upscale nightlife of the city. The downside, of course, is the terrible commute. It's bad enough driving to San Jose or Oakland, but if you work further west in the Valley, you're in for a rough time.
To minimize the effect of the commute, some folks opt for lifestyle changes that will help them earn back free time. Some of my Pleasanton clients work from home, which helps, and if your commute is unavoidable, you can at least try to make the drive more productive (audio books, anyone?), or minimize extra trips once you're back at the house.
Perhaps that's why I've recently been doing a lot of work on home gyms around Pleasanton. It makes sense. Why climb back in the car if you can complete your exercise routine in your spare room? The catch, however, is that these home exercise rooms often end up unused or else turn into the de facto dumping ground for household odds and ends. To really work, these rooms must be inviting—spots where you actually want to spend time. If you're thinking about adding a gym to your home, or you already have one but find yourself avoiding it, custom cabinetry is a great way to spruce up the space.
#1 A Custom Media Cabinet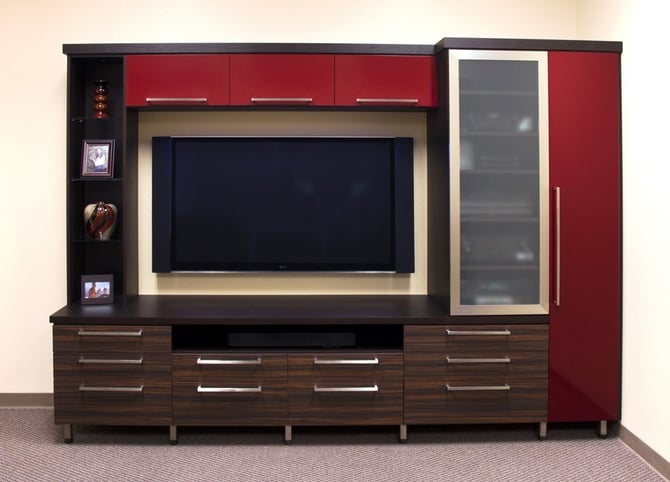 Add a wall mount for easy TV viewing, or a full motion mount if you want even more options for your room.
Image from Valet Custom Cabinets & Closets.
I'm no personal trainer, so I can't tell you what machines or weights to buy. But I do know room design, and I've exercised enough to know that the experience is more enjoyable when accompanied by guidance, distraction, or motivation. That is, something to watch or listen to.
That's why I'd suggest a custom media cabinet for your exercise room. Watching a movie is a great way to pass the time while you're on the treadmill, and we can add a full motion TV mount to your media center so that your TV will always be visible as you rotate between exercises. If you're using your living room as a home gym and want to create a more multimedia workout (whether that means Wii Fit, on-demand workouts or Zumba), we'll also add custom console storage.
If you'd prefer to rock out while you work out, we can design your media cabinet to perfectly house your stereo and speakers. Some folks opt for open shelving, or, if you want extra protection for your equipment, we can add latticed cabinet doors that will let sound (and heat) escape without a problem. I'd also suggest including designated drawers or shelving if you have a large collection of CDs and DVDs (looking at you, people in your 40s and 50s).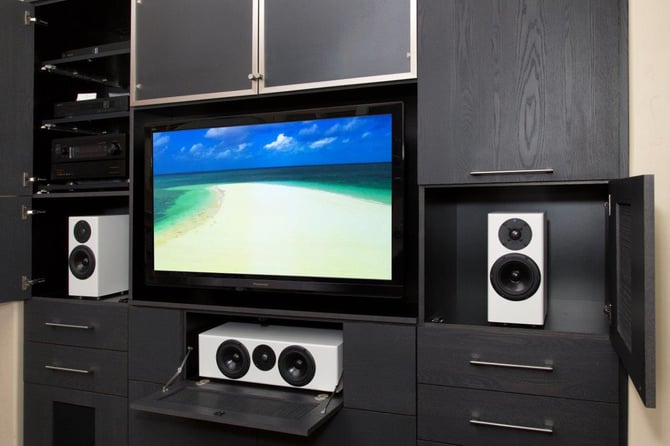 TV, stereo, and more in one space-saving unit.
Image from Valet Custom Cabinets & Closets.
#2 Storage for New or Extra Gear
Proper equipment storage helps keep your workout room organized—and all the extra space opened up might even encourage you to invest in new equipment to liven up your session.
We can install custom cabinets alongside your media center to store everything from yoga mats and hard foam rollers to hand weights. I'd suggest adding drawers along the bottom for towels, clean t-shirts, and smaller items like gloves and headbands. We can even install hooks if you need to store detachable grips for your weight machine or want to hang your towel while you work out. Our cabinets' durable laminate construction will hold up well to heavy wear (and heavy equipment).
#3 Enticing Details
Even people who thrive on exercise can use a push now and then to make sure they keep up with it, and I've found that the little details sometimes hold the power to make you love spending time in any given room.
One such detail is a slide-out laundry hamper, which we can add to your custom cabinetry. Having a spot to put workout clothes and towels makes exercising feel like less of a hassle and is a good way to keep sweat-soaked clothing separate from the rest of the household laundry. And with our hampers' removable linings, gathering everything up for a trip to the washing machine is pretty painless.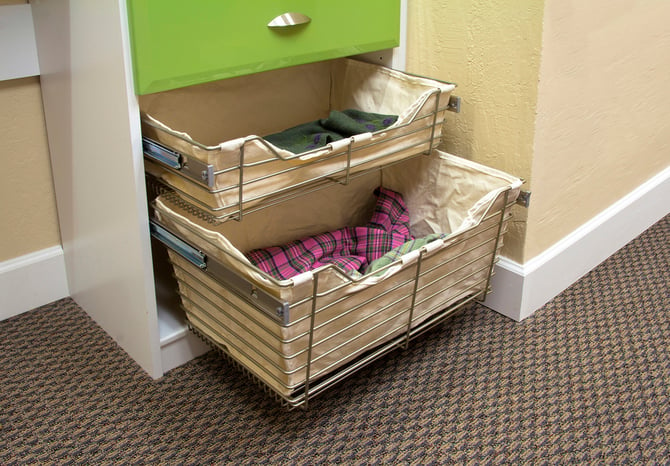 A slide-out hamper makes life a little easier.
Image from Valet Custom Cabinets & Closets.
If you're serious about tracking fitness goals and like to use an app on your phone or tablet to mark your progress, we can also install a roll-out charging station in your media center so that you can keep an eye on your gadgets without having to worry about a drained battery.
If you've turned your garage into your workout space, an epoxy floor is another popular finishing touch. It's durable, moisture resistant, anti-slip, and easy to clean. It's a great option for a low-maintenance exercise room floor that will look great for years to come.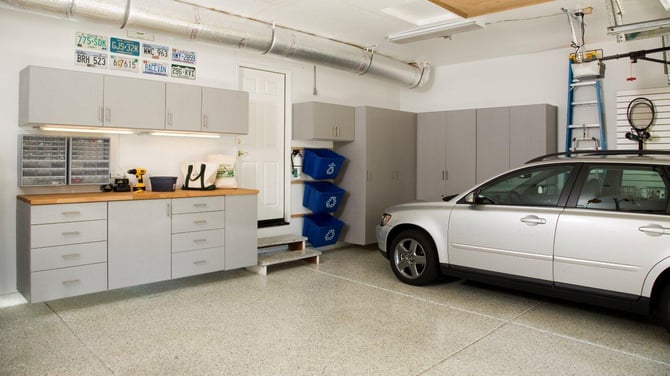 An epoxy floor is an attractive, durable option for garage exercise rooms.
Image from Valet Custom Cabinets & Closets.
Spend Less Time in the Car With a Home Gym
If you already feel like you spend half your life sitting on the 680, there's no need to increase your drive by working out away from home. Build yourself a welcoming home gym that will get you exercising more efficiently and save time for other priorities in your life.
Not sure where to begin? Everyone has unique needs, so the best way to design an inviting and motivating exercise space is to consult with a design expert. Get in touch with us to arrange a free consultation and we'll get you on track to create an exercise room that works for your workout.
---
Valet Custom Cabinets & Closets designs, manufactures and installs custom organizational solutions that enhance the functionality of your living space while complementing the décor of your home.
Our talented design team creates unique solutions tailored to your specific needs, style, and budget. We are independently owned and a direct manufacturer.
Our areas of specialty include Home Offices, Wall Beds, Media Centers, Closets, Pantries, Garage Cabinetry, and much more.
Exceptionally Designed & Styled * Expertly Crafted with 5-Star Execution
---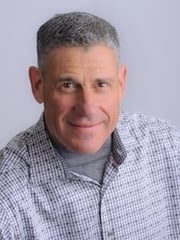 About Larry Fox, President
Larry is a graduate of the University of Southern California School Of Business. After receiving his degree he returned to the Bay Area and spent 18 years working in his family's 100+ year old metals recycling business. Upon the sale of that business in 2000, Larry and his wife Audrey purchased Valet. Larry has become a leader in the industry and is a past president of the National Closet Group. Larry loves turning people's dreams into reality, and remains as enthusiastic about the business today as he was when he first acquired it. View Larry's Houzz Page.