New clients sometimes come to me frazzled and exhausted, their eyes glazed. They've been researching custom cabinetry, and they're facing information overload. In addition to deciding on a design that works for them, they're overwhelmed by technical questions: Why is laminate such a popular cabinetry material? Why are there so many different types of laminate? How do you know you're getting the best type for your home?
If you don't know the difference between a laminate and a malamute, here's the run-down:
What Exactly Is Laminate?
A laminate is a thin sheet of material that feels a bit like plastic but is actually made by combining heavy paper, called "decor paper," with resin. Resin is a syrupy liquid that comes from trees and turns rock hard when it dries.
These thin sheets create a durable, decorative surface that we fuse with a variety of backing materials (more on that in a minute). Laminate might sound fragile, but it's sturdy enough to be used for things like countertops, flooring, and – of course – cabinetry.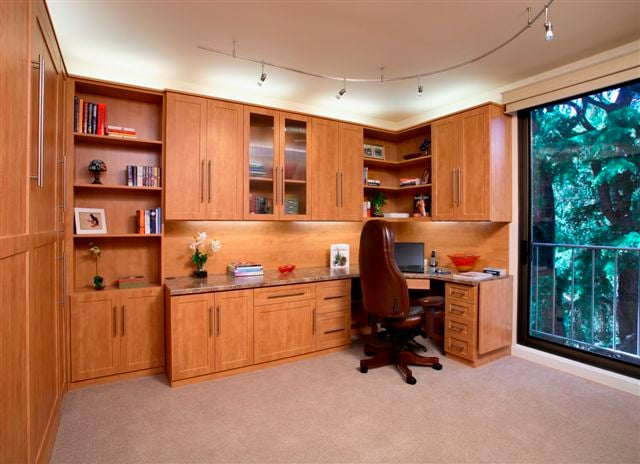 A home office and wall bed crafted in Honey Apple TFL with HPL counters.
Image from Valet Custom Cabinets & Closets.
What's the Difference Between Thermally Fused and High-Pressure Laminate?
There are two types of laminate that we use pretty often for furniture: thermally fused laminate (TFL) and high-pressure laminate (HPL). Each is produced differently.
Thermally fused laminate (TFL) is created by soaking decor paper with resin and allowing it to partially dry. The partially cured sheet is then stuck to a rigid backing material. The backing is usually made from particle board or medium density fiberboard (and it's sometimes referred to as the "substrate"). Heat and pressure are used to fuse the laminate and the substrate together, and the resulting laminated boards are ready to be sized and cut for your custom cabinetry or Murphy bed.
High-pressure laminate (HPL) follows a similar process, but before being attached to its backing, the decor paper is stacked on top of an additional sheet of kraft paper. Kraft paper is an extremely heavy-duty paper that gives added toughness to the finished laminate once everything is fused together.
High-pressure laminate is more durable than thermally fused laminate, but it's also more expensive due to the added complexity of its manufacturing process.
Is TFL or HPL the Better Choice for My Custom Cabinets?
At Valet Custom, we use thermally fused laminate to make shelving and cabinetry for the majority of our projects. Think of it as a great everyday material that suits most of your needs. It's very durable and offers heat, moisture, stain, and wear resistance.
Due to its greater thickness and multi-layer construction, we use high-pressure laminate for furniture with a greater chance of wear and tear. HPL is often the best choice for countertops and desktops so that letting your drink sweat on a hot day or having an accident with the scissors doesn't ruin your finish. It's great for surfaces that get a lot of impact, but using it for all your furniture would be overkill—sort of like shielding yourself from mosquitos with a suit of armor.
What Kind of Customization Options Are Possible with Laminates?
Both HPL and TFL offer plenty of customization options. The decor paper can be printed to match the pattern you want and can even be embossed with steel press plates for a textured finish.
At Valet Custom, we have laminates that mimic several varieties of wood, plus an assortment of stain options. This gives you the warmth and natural appeal of a wood surface while offering durability and moisture resistance at a lower price point (and with less environmental impact). Whether you want a lighter look like Vermont Maple or Honey Apple, or something darker like Summer Flame or Italian Walnut, our laminates give you an abundance of options.
Visit Our Showroom to See Your Laminate Options in Person
Thermally fused and high-pressure laminates can both be used to create long-lasting and attractive furniture with a range of patterns and finishes at a reasonable price. Still, don't take our word for it.
If you want to see what our range of laminates looks like in person, stop by one of our showrooms in Danville or Campbell, or set up a consultation with one of our designers, so you can check out all the options for yourself.
---
Valet Custom Cabinets & Closets designs, manufactures and installs custom organizational solutions that enhance the functionality of your living space while complementing the décor of your home.
Our talented design team creates unique solutions tailored to your specific needs, style, and budget. We are independently owned and a direct manufacturer.
Our areas of specialty include Home Offices, Wall Beds, Media Centers, Closets, Pantries, Garage Cabinetry, and much more.
Exceptionally Designed & Styled * Expertly Crafted with 5-Star Execution
---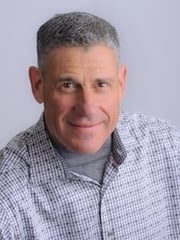 About Larry Fox, President
Larry is a graduate of the University of Southern California School Of Business. After receiving his degree he returned to the Bay Area and spent 18 years working in his family's 100+ year old metals recycling business. Upon the sale of that business in 2000, Larry and his wife Audrey purchased Valet. Larry has become a leader in the industry and is a past president of the National Closet Group. Larry loves turning people's dreams into reality, and remains as enthusiastic about the business today as he was when he first acquired it. View Larry's Houzz Page.