A lovely couple from Monte Sereno recently reached out to us for a walk-in closet upgrade. The project stuck with me, probably because their dilemma reminded me of the year my wife and I moved into our first home and had to navigate one of the biggest challenges of married life: sharing a closet.
It's a surprisingly common issue: research suggests almost 50% of couples argue over clutter, mostly stemming from overflowing closets. The clients in question used to have separate apartments when they lived in San Francisco, so it was only when they decided to buy a home and settle back in Monte Sereno that they found themselves arguing over the division of space. The house itself was gorgeous, as Monte Sereno homes tend to be—a blend of modern and Mission-style architecture, with a spacious lawn overlooking the rolling Santa Cruz foothills—but their walk-in closet had become the proverbial fly in the ointment. To reduce the tension, we worked with them to design a custom his and hers closet.
An Equally Divided Layout
We started by creating a layout that was completely symmetrical, giving both of them distinct (but equal) space. The first challenge was coming up a style and finish they both liked, since that was the one aspect of the design that couldn't easily be split in two. He didn't want anything too light, but she was afraid a dark finish would be overpowering. They settled on Belgian Chocolate, with olive gloss for drawers and cabinets—plus frosted glass doors—to brighten the space.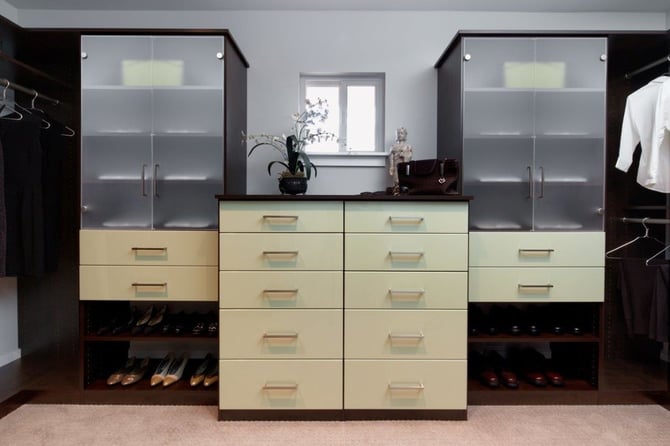 No need to argue about whose side is whose.
Image from Valet Custom Cabinets & Closets.
We then added two rows of dresser drawers, with separate shelving and slide-out shoe racks on each side. Since there was some debate over who was messier, the frosted glass our clients chose earlier served a double duty: it allowed any messes to stay concealed behind the privacy of the doors, cutting down on frustration for both of them.
Clearly Defined Hanging Areas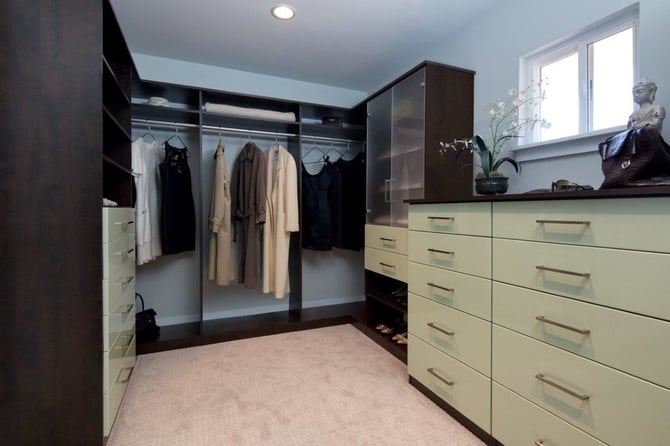 Plenty of room for full-length dresses and long coats.
Image from Valet Custom Cabinets & Closets.
To truly divide the space, we added separate panels on opposite ends of the room for them to hang clothes. And here's where they started to get really excited about their new setup. Her wardrobe consisted almost entirely of dresses, so our design for her incorporated a single hanging rail. The rail was set high enough that she could avoid having her hems drag on the floor, but not so high that she'd have trouble reaching what she needed. His wardrobe contained a mix of button down shirts, pants, and blazers, so we set his hanging area up little differently, with double rails to maximize space.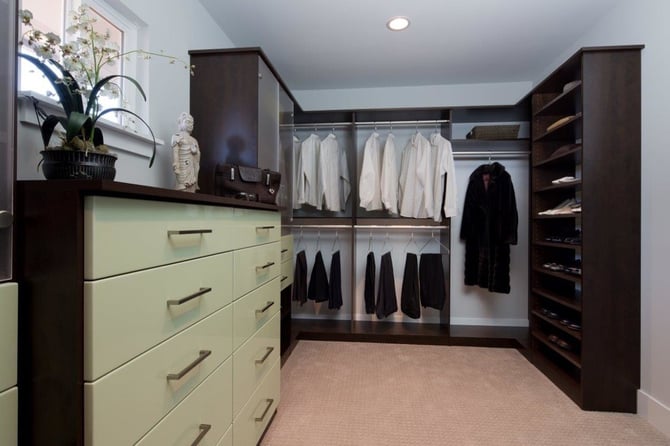 A double set of hanging bars is a good way to save room.
Image from Valet Custom Cabinets & Closets.
Of course, not everything was completely identical. He needed space for belts and ties, so we installed slide-out racks for these items on his side of the closet. She had a lot of jewelry, and while we added velvet lined jewelry trays to her top drawers to store earrings and rings, she really wanted to display her necklaces and bracelets. We installed a system of hooks along one wall to give her the space to do so.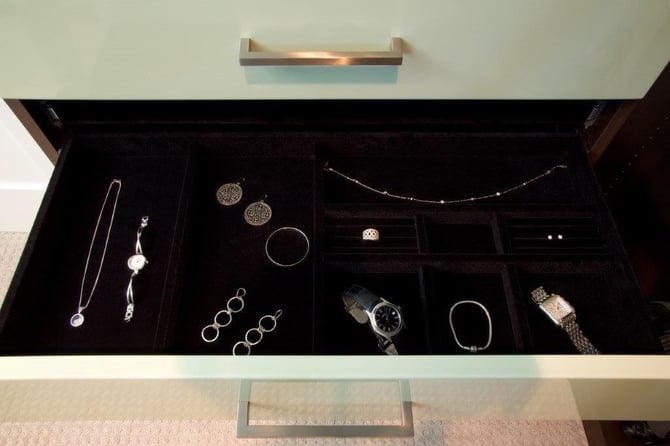 Black velvet provides an eye-catching backdrop for fine jewelry.
Image from Valet Custom Cabinets & Closets.
Other Space-Saving Features
The interior of the couple's Monte Sereno home included tall, vaulted ceilings, and they wanted to take advantage of that height, so we decided to build the closet space up a little higher than normal. For him, with his 6'4" height, this was no issue. She, however, wasn't as tall, so we installed a couple of pull-down hanging rods, letting her easily reach upper-level storage. These types of personalized finishing touches can really pull a closet together—and we can recommend all sorts of options based on previous projects we've done.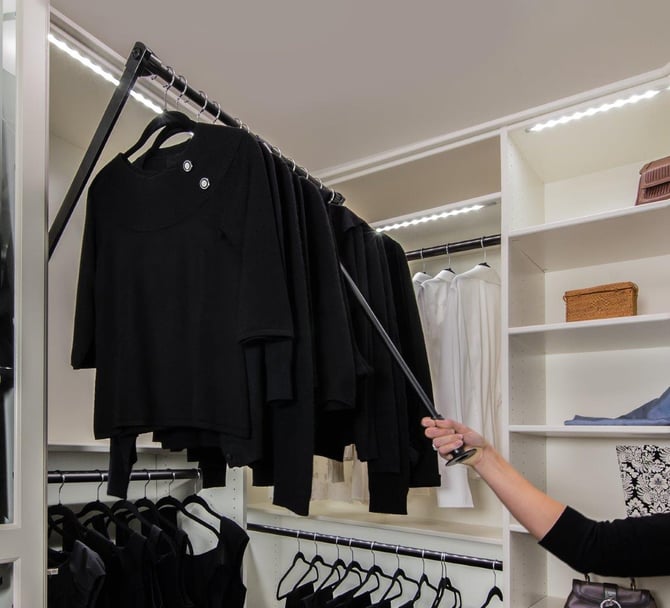 We've installed a lot of pull-down hanging rods over the years.
Image from Valet Custom Cabinets & Closets.
For this particular couple, we also added a neutral zone—a column of cabinets near the doorway that contained items they both used, like a tilt-out laundry hamper, a built-in ironing board, and shelf space for the iron. Our clients specifically requested this addition because they felt it encouraged a more equitable division of household chores—neither one of them would feel stuck doing all of the laundry.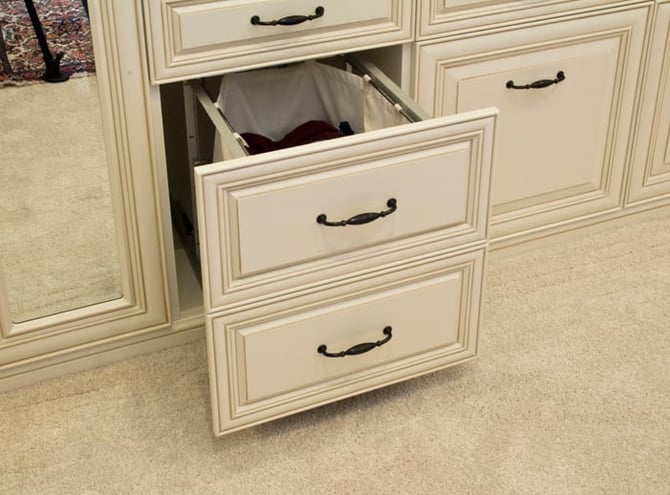 Custom design lets your laundry hamper match any style of cabinet.
Image from Valet Custom Cabinets & Closets.
A His and Hers Design for Your Own Walk-in
We completed the couple's custom closet system about three months ago, and when we checked in to see how they were doing, they reported that the separate spaces had vastly improved their storage system (and their married life). They no longer had to stress about each others' messes and could enjoy the tranquility of their new life in Monte Sereno.
If you're facing a similar dilemma, get in touch, and we'll come up with a custom solution that helps you keep order in your closet (and equilibrium in your marriage).
---
Valet Custom Cabinets & Closets designs, manufactures and installs custom organizational solutions that enhance the functionality of your living space while complementing the décor of your home.
Our talented design team creates unique solutions tailored to your specific needs, style, and budget. We are independently owned and a direct manufacturer.
Our areas of specialty include Home Offices, Wall Beds, Media Centers, Closets, Pantries, Garage Cabinetry, and much more.
Exceptionally Designed & Styled * Expertly Crafted with 5-Star Execution
---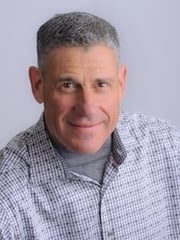 About Larry Fox, President
Larry is a graduate of the University of Southern California School Of Business. After receiving his degree he returned to the Bay Area and spent 18 years working in his family's 100+ year old metals recycling business. Upon the sale of that business in 2000, Larry and his wife Audrey purchased Valet. Larry has become a leader in the industry and is a past president of the National Closet Group. Larry loves turning people's dreams into reality, and remains as enthusiastic about the business today as he was when he first acquired it. View Larry's Houzz Page.