If you've lived in the Bay Area as long as I have, you'll notice certain patterns. Areas get tech-heavy, and then they get crowded. Talented workers start to move to other less expensive cities, and then commute to San Francisco and Silicon Valley.
But as more and more talented people move to these "auxiliary" cities, they grow to love them. They plant roots. Companies move to be near these workers, draw in more workers, and the city booms. That's what is happening with Livermore right now, which has become a hotspot thanks to developments like the Livermore National Laboratory and the planned massive research/transit area.
The thing is, the more talent there is, the more people there are who start thinking of striking out on their own and starting new enterprises. As Livermore continues to expand, however, finding space for a company is going to get extremely expensive.
That's where having a home office comes in handy. I don't mean a place to plunk down your laptop when you don't feel like driving, either—I mean a full office that can start, and grow, a business. A custom-designed home office can provide the perfect, private place for bright ideas to flourish and become breathtaking realities.
A Home Office Gives You Space to Create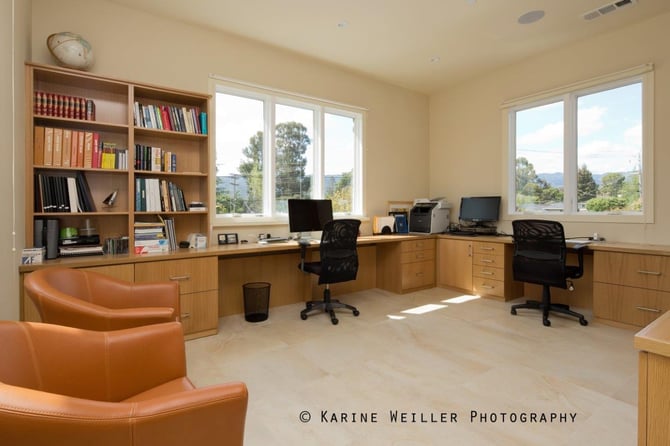 You might need space for the whole team.
Image from Valet Custom Cabinets & Closets.
From talking to a lot of startup people, and from owning my own business, I know that the first thing you need—after a great idea, of course—is room. You need room for everyone to work together without getting in each other's way. You need room to pace, and room to argue, and room to toss a ball methodically against a wall when you're supposed to be coming up with a new idea.
Our custom-designed home offices give you the room to do all of those things. We use CAD to optimize whatever space is available, and we specialize in fitting multiple desks into any given area, with enough room in between for everyone to work comfortably and efficiently.
Separate desks and detached tables are one great way to do this. By spacing out work areas and letting people sit with their backs to one another, you don't feel cramped or like someone is constantly looking over your shoulder. We've found that in smaller spaces, having an L-shaped desk with multiple computer stations is another good bet since it allows people to still feel like they have privacy.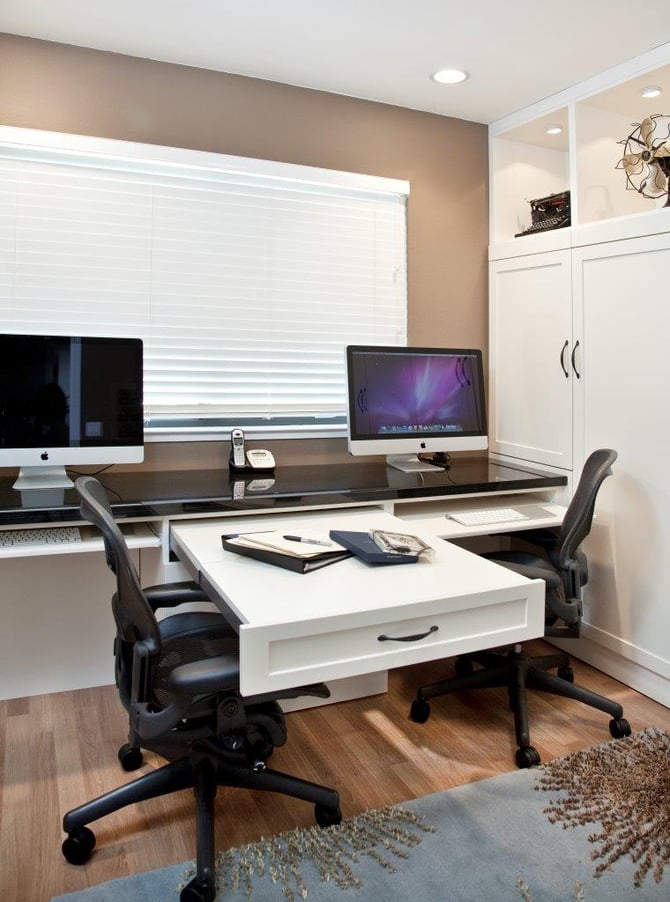 Pull-out desks can be helpful during business growth.
Image from Valet Custom Cabinets & Closets.
One feature that startups tend to be particularly fond of is the pull-out desk. You might not need it right away—but you might be hiring soon. When it isn't needed, it remains out of sight, but when you're ready for it, it's sturdy, comfortable, and easy to access. These also come in handy when you just need room for another screen or want a place where everyone can gather for video meetings with, say, an investor.
If you do have investors in mind, I'd also suggest choosing a style and finish for your furniture that matches your business ethos, whether you want to give off a modern vibe or a spirit of rugged entrepreneurship. A polished backdrop helps you and your team make good impressions and prove you are, after all, professionals.
Ample Storage for Everything You Need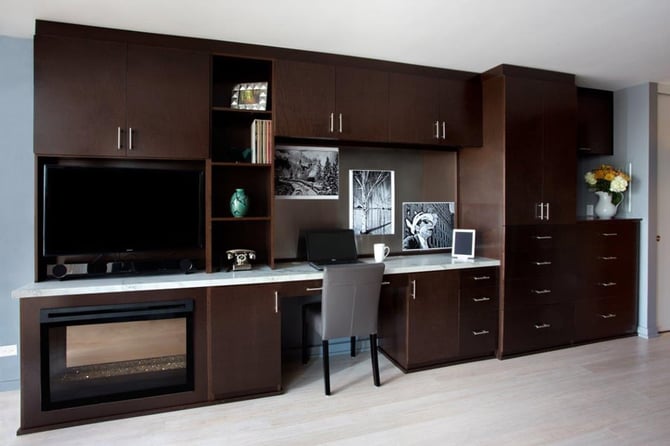 A large office also gives you the space for paperwork.
Image for Valet Custom Cabinets & Closets.
We've talked about the space you need for people, but what about the mountains of paperwork that come with starting a new business? While California is working to streamline things, there is still a ton of legal and regulatory paperwork that you'll need to fill out to register your business and hire employees. In the age of WiFi, it's easy to underestimate just how many papers you'll still have lying around, but trust me, it's a lot.
To get the ball rolling (and keep it rolling smoothly), you'll need a filing system that can handle hard copies of things like payroll, health insurance, interview notes, and registration papers, keeping everything neatly organized.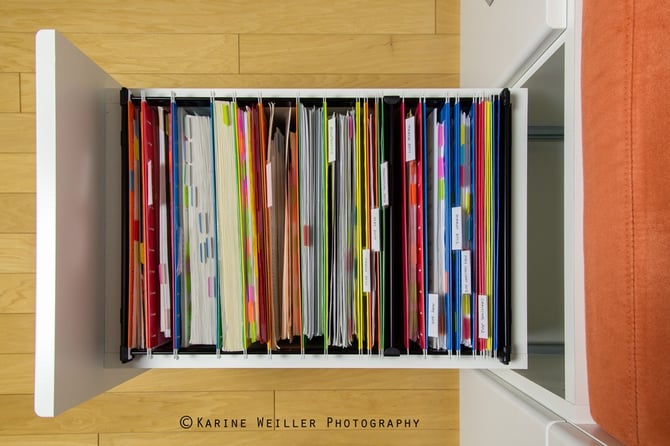 A single file drawer can keep the dead-tree work in order.
Image from Valet Custom Cabinets & Closets.
There are also a lot of seemingly small features that end up making a big difference, such as:
Adjustable shelving units.

Your needs can vary enormously, especially if your startup has a physical component and you need to store equipment. Having shelves that you can adjust depending on the requirements of any given day helps you avoid cluttering up areas that are meant for work.

Roll-out trays for equipment.

You're probably going to have more actual equipment than you expect. Our roll-out trays are designed to hold items like shredders, scanners, and printers. They are rolled back in when not in use so that they don't take up any extra floor space.

Wire storage.

Chances are, you're going to have to deal with a lot of wires. Our open-back cabinets, wire chaseways, and ability to design around your preferred aesthetic means you can avoid both the hassle and the eyesore of tangled cables.

Enclosure for safes

. You have proprietary information. A storage area for safes can keep all of that paperwork, well, safe.

Garage storage.

Looking to

use your garage as a workspace

? Our custom-designed garage cabinets give you the room to keep things organized while providing a polished, professional look.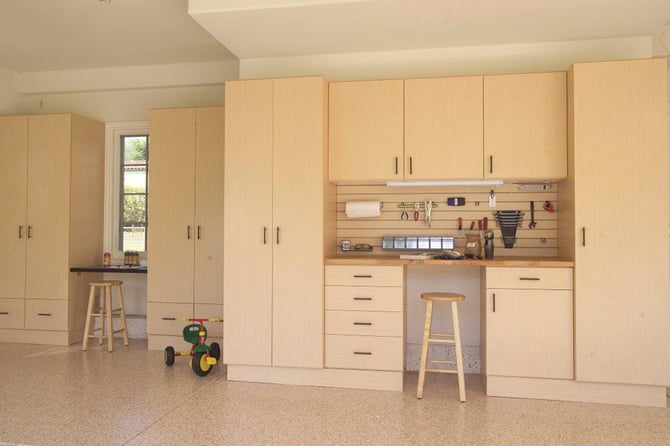 Looking to use your garage for office storage? We can help make it look professional.
Image from Valet Custom Cabinets & Closets.
Your Home, Your Office
The most important thing is that you feel comfortable with where you're starting your business. You don't want to begin every day frustrated that your office is cramped or too busy. You'll begin to resent it—and so will your employees. We want you to be happy, and we want you to have a place you can be proud of.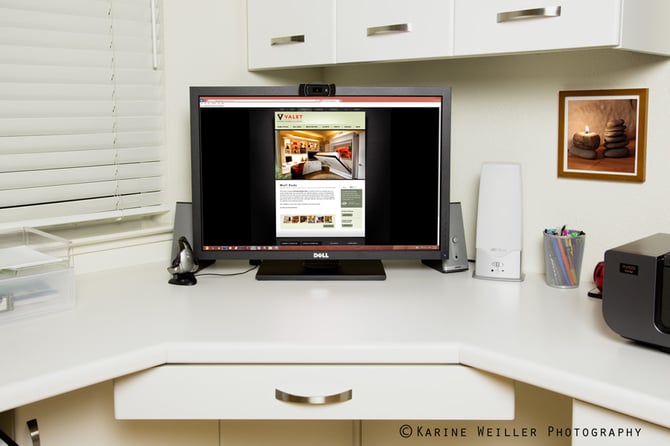 A cool, crisp, professional office keeps everything in its right place.
Image from Valet Custom Cabinets & Closets.
Let us help you design an office that fits into your dreams. Whether you want a traditional feel, a modern open plan, or just something that matches the ideas you have percolating in your head, a custom design can make it happen. Connect with us today to learn more about how our unique, customer-focused and technology-aided system can make that vision come to life. Our end goal is to get you started up.
---
Valet Custom Cabinets & Closets designs, manufactures and installs custom organizational solutions that enhance the functionality of your living space while complementing the décor of your home.
Our talented design team creates unique solutions tailored to your specific needs, style, and budget. We are independently owned and a direct manufacturer.
Our areas of specialty include Home Offices, Wall Beds, Media Centers, Closets, Pantries, Garage Cabinetry, and much more.
Exceptionally Designed & Styled * Expertly Crafted with 5-Star Execution
---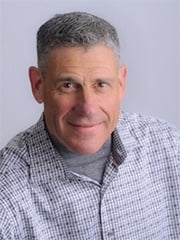 About Larry Fox, President
Larry is a graduate of the University of Southern California School Of Business. After receiving his degree he returned to the Bay Area and spent 18 years working in his family's 100+ year old metals recycling business. Upon the sale of that business in 2000, Larry and his wife Audrey purchased Valet. Larry has become a leader in the industry and is a past president of the National Closet Group. Larry loves turning people's dreams into reality, and remains as enthusiastic about the business today as he was when he first acquired it. View Larry's Houzz Page.