Pleasanton is a young town brimming with freshly started families. Over a quarter of the population is under 18. What's more, a lot of the kids in the neighborhood are just now entering the serious homework phase of school—and that means needing a workspace of their own.
A lot of parents tell me they didn't realize just how important a workspace was until their kid started doing homework. In first grade, they do about 20 minutes a night, and it can take up to an hour a night by 3rd grade. It's also a longer year. Pleasanton schools started in mid-August, and classes run all the way to June. That's a lot of homework time! Throw in the computers and tablets they use, and it becomes rather obvious how important it is for these kids to have a safe space away from distraction to get down to work.
That's exactly what a custom-designed kid's workspace can be: a place to shut out everything else and double down on homework now, so they can play (and you can relax) later.
A Space of Their Own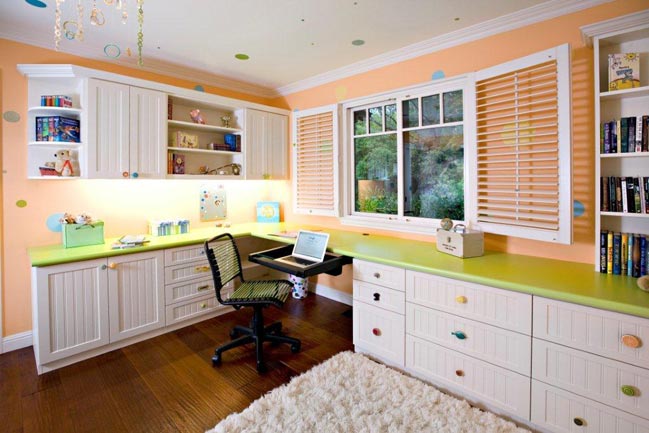 Having enough room to work is vital for today's student.
Image from Valet Custom Cabinets & Closets.
Maybe you know this from your own work, but it's pretty difficult to concentrate when you are surrounded by clutter. As an adult, you have (in theory) honed your concentration skills to the point where this won't matter much. Kids, however, are more easily distracted. They don't need the added burden of being overcrowded. A custom workstation maximizes the space in their room (or whatever area is designated for homework), giving them the ability to spread out and really focus.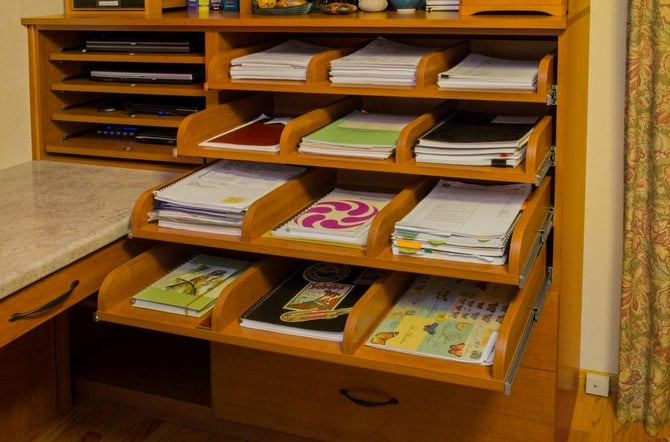 Homework will never get lost again—even if your child wishes it would.
Image from Valet Custom Cabinets & Closets.
Storage is as important as space, though. Students need places to put everything from computer towers to all those twenty-pound textbooks. And the thing is, their needs change all the time. One year, they might bring home a clunky DSLR camera; the next, they'll need to make room for a science fair project about robots (eschewing, thankfully, the traditional volcano). You never know what might come next—which is why modifiable shelving that can be easily adjusted is ideal for kids, especially when they've been assigned a lot of homework projects at once.
We also have both open and closed shelving options. If your child has a lot of books, for example, you'll need more shelves for easy accessibility. Computer equipment might require more cabinets, to avoid dust and exposure. That's why a custom workspace tends to be more kid-friendly than a store-bought option: we can take into account your child's individual needs.
All our desks come with wiring options as well. We know there's a lot to plug in, and no kid can survive long without a fully-charged phone. There are texts to be sent and Pokemon to find. We can design desk openings around your outlets and add wire chaseways to keep charging cables out of the way.
Room for All Their Needs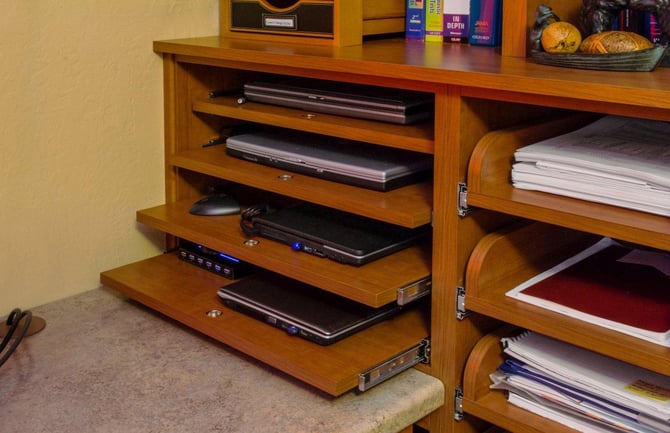 With all the different game systems and computers kids need, roll out shelves can be key.
Image from Valet Custom Cabinets & Closets.
Supply needs are also different than when I was in school. A typical student today might use two or three computers plus a tablet. Let's be honest—it can get a bit overwhelming. That's why roll-out shelves are so useful. They maximize space and accessibility by making sure that everything can be stacked vertically. What isn't being used is out of sight but can be rolled out very easily. These shelves can be used for anything, including papers, textbooks, and three-ring binders (are those even still a thing?).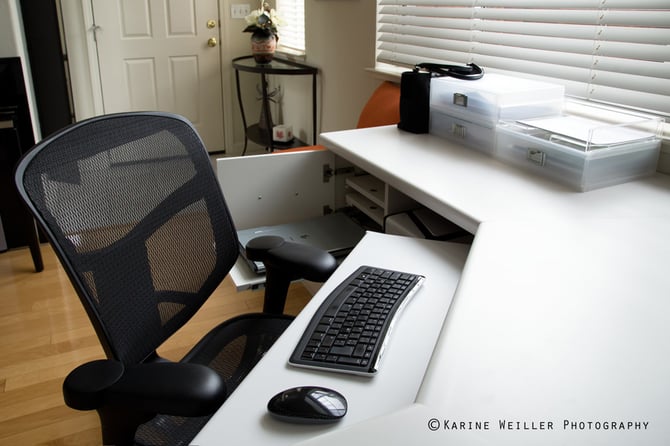 Make sure all keyboard trays are comfortable enough to prevent carpal tunnel.
Image from Valet Custom Cabinets & Closets.
There are also little things that make a big difference, such as keyboard tray design. Kids grow up fast, and a keyboard that was once too high soon requires a lot of hunching over. To help avoid stressful typing positions, we offer split-height keyboard trays that can be raised or lowered. Custom design means that you can choose what works best, whether roll-out or fold-out. And, when those growth spurts finally hit, our open-knee counters provide plenty of space to accommodate rapidly growing legs.
Making a Room Complete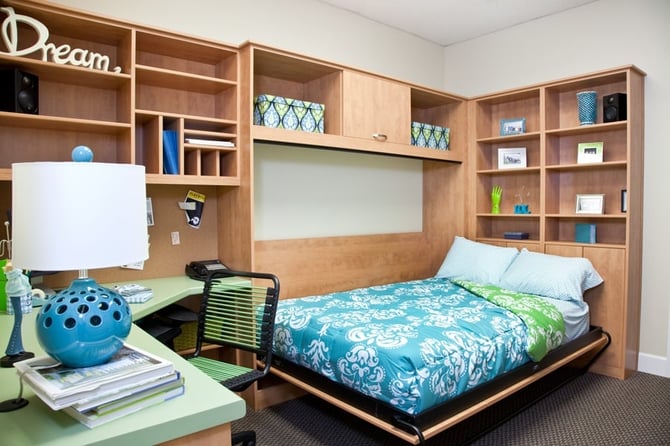 A wall bed in an office makes a room doubly fun for kids.
Image from Valet Custom Cabinets & Closets.
Of course, depending on your space, you might not have a designated room for an office. Or, perhaps you simply want to maximize the room you have. I know one parent who needed his kid to be able to sleep, work, and practice their fencing (no kidding). The solution we came up with was a wall bed/office combination, designed so that they worked together as a single unit. The bed could be stored away when it was practice or homework time and then pulled out again at bedtime.
Besides, kids love wall beds. They add a sense of mystery and wonder. And that's sort of what it's all about. You want to give them space and room to do their homework, but also let them do what kids do best—have fun. Our custom-designed kid's workspace solutions allow for the best of both worlds.
We know that parents in Pleasanton want to do their best for their children so that this next generation can play a full part in a vibrant, growing, community. But don't panic over the responsibility. Instead, give them the space they need to do their best, and then relax: the homework will get done. Connect with us today to find out more about how we can help you—and your child—create a kid's workspace that really works.
---
Valet Custom Cabinets & Closets designs, manufactures and installs custom organizational solutions that enhance the functionality of your living space while complementing the décor of your home.
Our talented design team creates unique solutions tailored to your specific needs, style, and budget. We are independently owned and a direct manufacturer.
Our areas of specialty include Home Offices, Wall Beds, Media Centers, Closets, Pantries, Garage Cabinetry, and much more.
Exceptionally Designed & Styled * Expertly Crafted with 5-Star Execution
---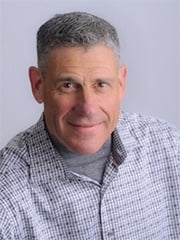 About Larry Fox, President
Larry is a graduate of the University of Southern California School Of Business. After receiving his degree he returned to the Bay Area and spent 18 years working in his family's 100+ year old metals recycling business. Upon the sale of that business in 2000, Larry and his wife Audrey purchased Valet. Larry has become a leader in the industry and is a past president of the National Closet Group. Larry loves turning people's dreams into reality, and remains as enthusiastic about the business today as he was when he first acquired it. View Larry's Houzz Page.