I've found that Campbell is a town that takes its own time. So far, it's avoided the explosive growth (and the explosive prices) faced by much of the Bay Area, although that's not to say it isn't growing: Older homes from the 50s and 60s are increasingly mixed with new construction, as residents settle in and commute to Los Gatos, Palo Alto, or another tech hub.
The commute itself is tolerable, but at end of that commute lies the question of dinner. Cooking after a long day at work and a rush-hour drive isn't fun. A custom-designed pantry can help, however. While it's not quite as easy as take-out, a storage solution that works with your existing space and your existing needs can make cooking and shopping (and even cleaning) a little bit easier. It won't cut down on your commute, but it can help make your arrival home more enjoyable.
The Benefits of a Custom Pantry
A well-organized pantry helps you avoid the hunt for missing ingredients halfway through cooking.
Image courtesy of
transFORM
.
There are a few things that the clients I've worked with on these projects tend to get particularly excited about. A custom pantry opens up the ability to:
Arrange items in a streamlined way.

You get to pick where the cereal should go for easy access, and where to put, say, the baking ingredients that are only for special occasions. If you're trying to arrange everything in an existing pantry, you don't have that luxury: Things have to go where they fit rather than where you actually want them.
Stock up on bulk purchases.

You can add space specifically for the items you'd like to stock up on, whether cans of soup or bulk bags of flour and rice. This means you aren't always running out to the store for basics.
Cook more easily.

My wife and I hate not knowing where things are and having to frantically search for sea salt or oregano when something's already simmering on the stove. Having a place for everything means an easier workflow, less inconvenience, and less chance that you'll give in to the temptation of pizza delivery.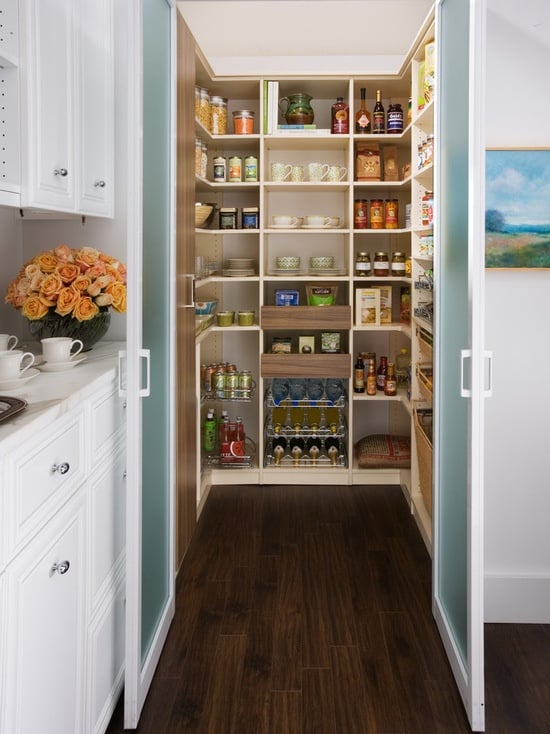 Knowing where everything is means that meal prep can be finished faster.
Image courtesy of
transFORM.
Important Features for a Custom-Designed Pantry
It's one thing to have a big pantry. But what makes it really work? It's the features, which need to be able to handle items of every conceivable shape and size, whether you're cooking for two or having the whole crew over for a fancy dinner.
Pull-out Racks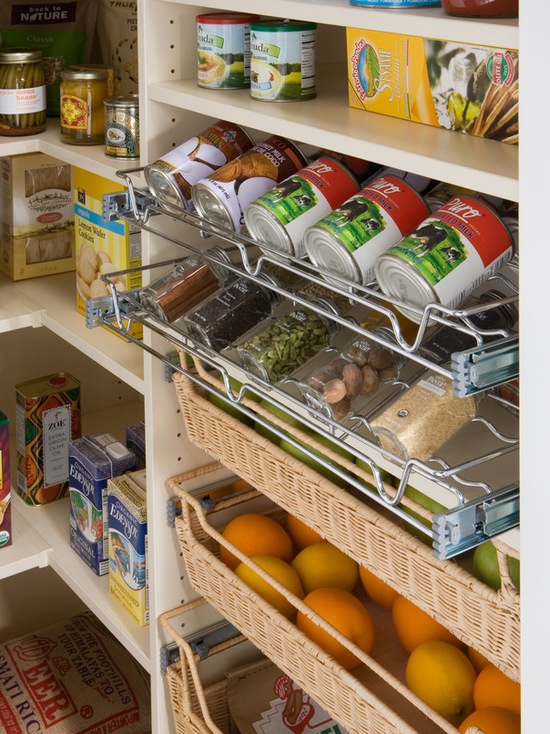 Pull-out racks are a great way to get easy access to large or heavy items.
Image courtesy of
transFORM
.
One of the frustrating things about many pantries is that in order to fit a lot of stuff into them, you have to make bitter compromises about access. Large or heavy items, like cases of soda, tend to block smaller things, making it hard to keep track of what you've purchased—or else you wind up putting heavy items on high shelves, where they become difficult to reach.
Pull-out racks of different sizes and depths can help prevent this. You can store nearly everything, from spice bottles to beverages, while keeping all items organized by category. The end result is a much tidier pantry.
Slide-out Shelves
A slide-out shelf is perfect for all sorts of appliances.
Image courtesy of
transFORM
.
Appliances are another frequent trouble spot for my clients, whether mixers or blenders—or just large pots and mixing bowls that have nowhere to go. They take up counter space and can be a hassle to dig out from the back of a cabinet. I've known a few people who put unused appliances on top of their kitchen cabinets, but getting a heavy food processor up and down can be challenging (and occasionally dangerous). I've found that a much more efficient solution is adding slide-out shelving to your pantry. Shelves can be custom-sized for your particular collection of appliances, and some folks have even added counter space to their pantries if they want to do recipe prep right there.
Storage Options for Cleaning Supplies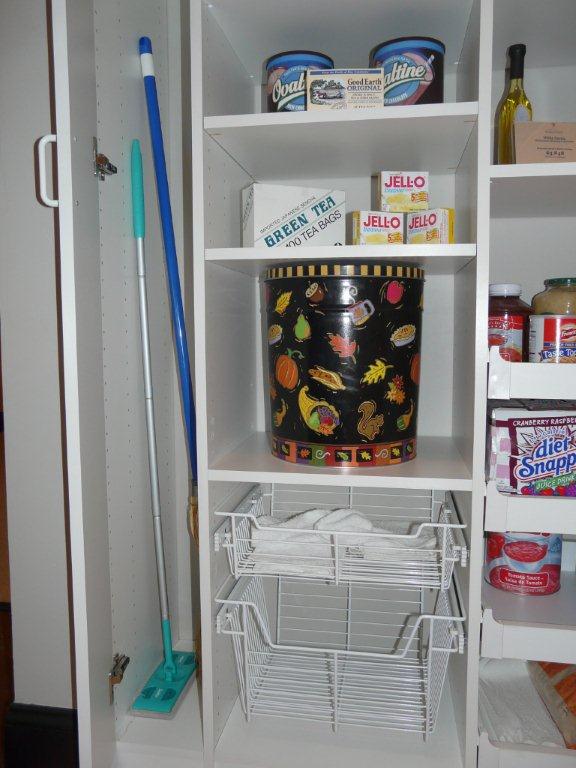 A broom closet and utility shelves keep your kitchen tidy.
Image from Valet Custom Cabinets & Closets
.
Another popular option for a custom pantry system is a place for brooms and mops. We can add a spot for them to your shelving unit, and even add clamps and hooks for them. Some people also like to add additional shelf space for cleaning sprays and trash bags. By having these items grouped together and near what's generally the messiest area of the house, you'll be equipped for quick clean-up.
Wine Storage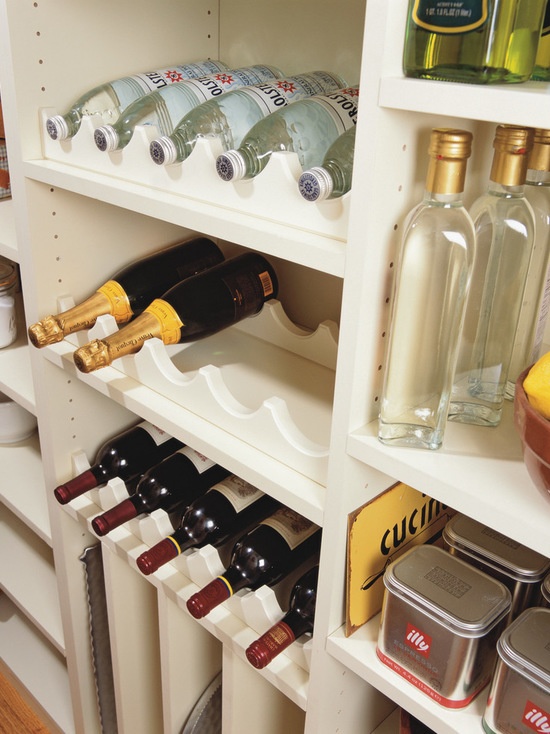 Relax after a long day.
Image courtesy of
transFORM
.
We also offer wine storage that can hold anywhere from 10 to 100 bottles. After a long day of work, plus cooking and cleaning, I don't think there's much more to say about the benefits of this particular feature.
There are plenty of other options for a custom-designed pantry, of course. You can add slide-out baskets for produce, placemat storage, vertical tray dividers for your baking sheets and cutting boards—basically, whatever you need to make your pantry work for you. I know Campbell homeowners don't always have a lot of time, but what they can have is a neat and well-organized pantry that gives a little of that time back. Connect with us today to learn how we can give you the custom pantry you've been waiting for, or stop by our Campbell showroom on your way back from work.
---
Valet Custom Cabinets & Closets designs, manufactures and installs custom organizational solutions that enhance the functionality of your living space while complementing the décor of your home.
Our talented design team creates unique solutions tailored to your specific needs, style, and budget. We are independently owned and a direct manufacturer.
Our areas of specialty include Home Offices, Wall Beds, Media Centers, Closets, Pantries, Garage Cabinetry, and much more.
Exceptionally Designed & Styled * Expertly Crafted with 5-Star Execution
---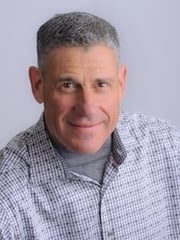 About Larry Fox, President
Larry is a graduate of the University of Southern California School Of Business. After receiving his degree he returned to the Bay Area and spent 18 years working in his family's 100+ year old metals recycling business. Upon the sale of that business in 2000, Larry and his wife Audrey purchased Valet. Larry has become a leader in the industry and is a past president of the National Closet Group. Larry loves turning people's dreams into reality, and remains as enthusiastic about the business today as he was when he first acquired it. View Larry's Houzz Page.