The families I know who move to Dublin choose the city because of its great neighborhoods and luxurious new homes. But with an average house price of $800,000 (which is a cool half-million over the national average), people who buy here typically want to make sure that any home improvement projects provide two things: beauty and return on investment.
And as I like to point out to my clients, a custom walk-in closet is widely considered one of the most valuable renovations in terms of ROI, costing relatively little but adding a lot of value. It's easy to see why. You can transform a utilitarian storage area into a breath-taking space that is practically the centerpiece of your home. It's a great selling point if it ever comes time to put your house on the market.
Of course, not every resident is concerned about ROI. Some folks just want to be organized in style, and a luxury redesign can make it easier to keep track of your wardrobe while matching your home's aesthetic, whether old-school elegance or modern breeziness. That's already a great return.
A Walk-In Closet That Benefits Your Home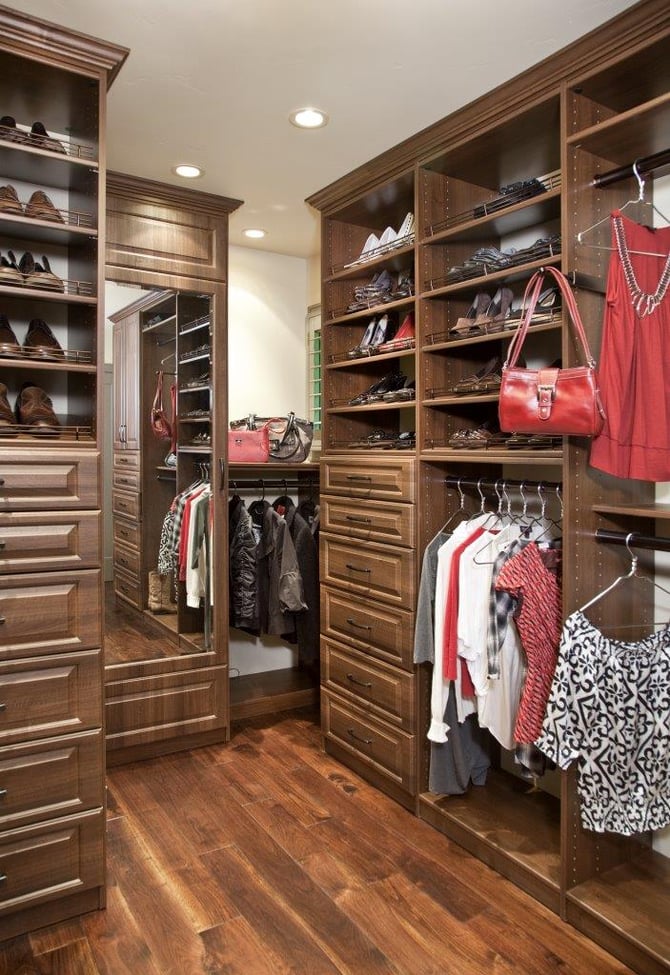 A deluxe walk-in has room for everything.
Image from Valet Custom Cabinets & Closets.
It's not just the look, of course. A well-designed walk-in maximizes your storage space, and custom design lets you choose options that suit your particular wardrobe. This might include:
Floor-to-ceiling units with multiple hanging rods for easily wrinkled clothes.

Adjustable shelving to accommodate accessories like hats and jewelry boxes.

Drawers of varying sizes for organizing shirts, pants, sweaters, and anything else that doesn't need to be hung.

Makeup and dressing stations with mirrors and elegant lighting for a comfortable space to get ready.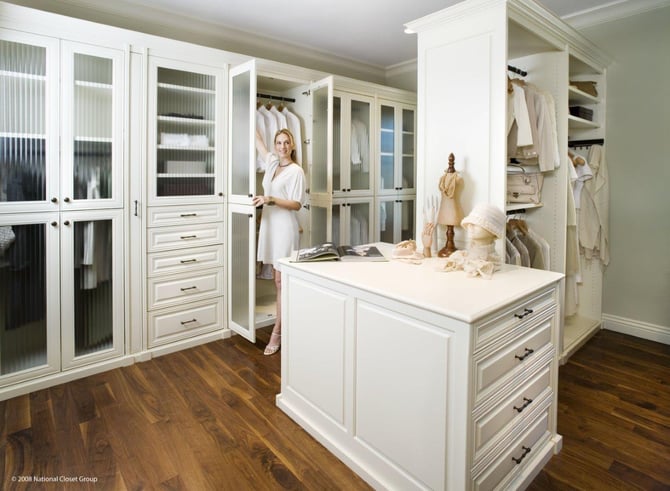 Glass doors and a vanity island can make a closet the airiest room in the house.
Image from Valet Custom Cabinets & Closets.
Since a closet is a private space that won't jar with the sensibilities of anything else in your house, you can also imprint it with precisely the style you want. If you dream of a sophisticated, old-world look, you can opt for a dark finish and raised panel fronts. On the opposite end of the spectrum, many of my clients love pairing a white finish with glass-fronted cabinets, a combination that can turn just about any room into something as light and airy as an Eichler.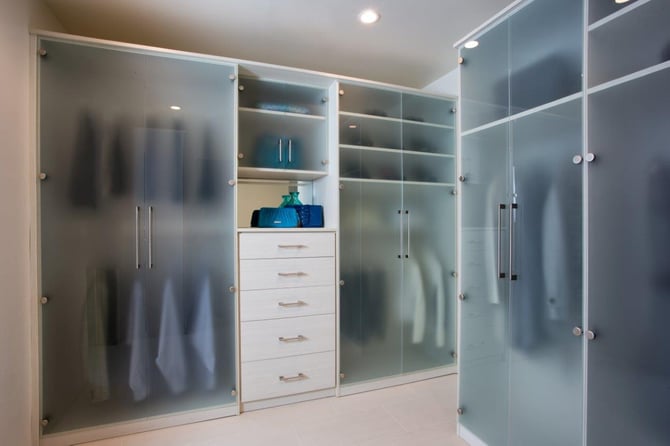 Custom design means your walk-in can complement your home's aesthetic.
Image from Valet Custom Cabinets & Closets.
Popular Closet Accessories
If you've got your eye on ROI as well as your own comfort, you'll also want to choose closet accessories that are widely appealing. One addition I frequently recommend is an island. It's a versatile feature that can hold jewelry and other finishing touches while you get ready, on top of offering additional storage. It also breaks up the layout of your closet, giving the appearance of multiple areas. It's little psychological advantages like this that make an already gorgeous house even more attractive.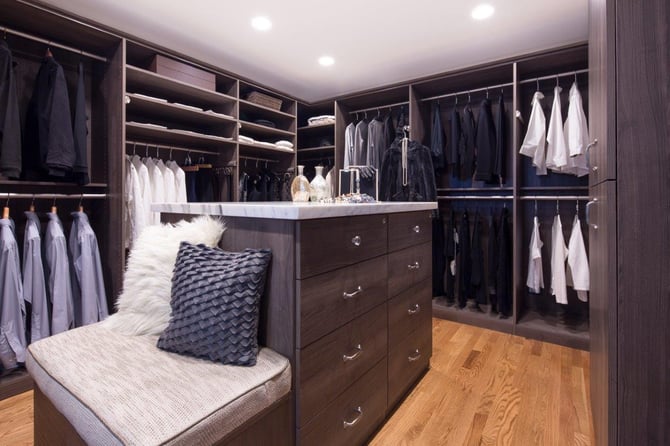 A walk-in isn't just a place to store clothes. It's a place to get ready.
Image from Valet Custom Cabinets & Closets.
People also tend to love having a comfortable place to dress, which is why I frequently suggest bench seating. This lets you sit to button shirts, put on shoes, insert cufflinks, or just ponder what you're going to wear that night, and it saves space in the bedroom so that two people aren't lunging over each other while getting ready.
Creative Storage Options to Maximize Space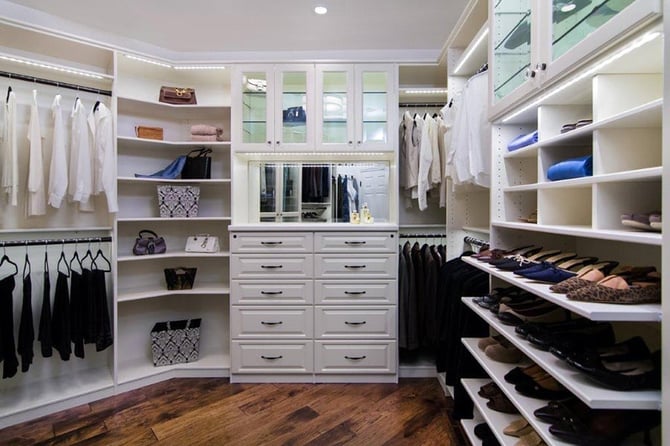 Shoe shelves give you the room and organization you need.
Image from Valet Custom Cabinets & Closets.
To catch the eye of potential buyers, it's also a good idea to add features that address common storage challenges. Take shoe storage. This tends to trip a lot of people up. Give shoes too much space, and they'll take over the entire closet. Give them too little, and they become bunched together and hard to access. Roll-out shoe shelving solves this problem. You can see your entire collection at once and just pull out the shelf you need. This type of shelving doesn't require much room, either, especially if you take advantage of vertical wall space.
Verticality is actually an underrated aspect of walk-ins. Adding a double row of hanging rods is another great way to take advantage of wall space, and this design option lets you fit a lot of clothes into a narrow closet without wrinkling them, something that can be especially appealing for couples sharing closet space. To add even more storage, consider installing pull-down hanging rods, which let you take advantage of particularly hard-to-reach corners.
Your Dublin walk-in can help you if you decide to sell, but a custom closet is also a renovation that, unlike a new roof, you can enjoy every single day. It doesn't just have to be about ROI. It can be about your own happiness, too, and I'd love to show you what we can bring to your closet. Connect with us today to learn more.
---
Valet Custom Cabinets & Closets designs, manufactures and installs custom organizational solutions that enhance the functionality of your living space while complementing the décor of your home.
Our talented design team creates unique solutions tailored to your specific needs, style, and budget. We are independently owned and a direct manufacturer.
Our areas of specialty include Home Offices, Wall Beds, Media Centers, Closets, Pantries, Garage Cabinetry, and much more.
Exceptionally Designed & Styled * Expertly Crafted with 5-Star Execution
---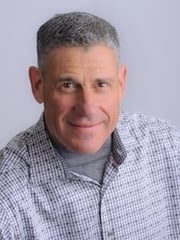 About Larry Fox, President
Larry is a graduate of the University of Southern California School Of Business. After receiving his degree he returned to the Bay Area and spent 18 years working in his family's 100+ year old metals recycling business. Upon the sale of that business in 2000, Larry and his wife Audrey purchased Valet. Larry has become a leader in the industry and is a past president of the National Closet Group. Larry loves turning people's dreams into reality, and remains as enthusiastic about the business today as he was when he first acquired it. View Larry's Houzz Page.