After years of working in Northern California, I know what kinds of homes to expect in different areas. In Sunnyvale, you'll see Eichlers. In San Francisco, condos and beautiful "painted ladies". But in Willow Glen, one of my favorite little areas of San Jose, I've learned to expect the unexpected. Many blocks are a melange of housing styles, from Victorian to Colonial, or Prairie to Spanish Eclectic, built with only the dreams and wishes of the original owner in mind.
And while these homes are exciting and one-of-a-kind, decorating them can be a real challenge. Every house has its own architectural quirks, and it's often difficult to find off-the-shelf options that fit. That's why I feel that custom-designed homes truly benefit from custom-designed storage solutions. You're no longer limited by the dimensions of your space and can finally have an aesthetically cohesive and well-laid-out interior that's as unique as your home's exterior.
Alcove Media Center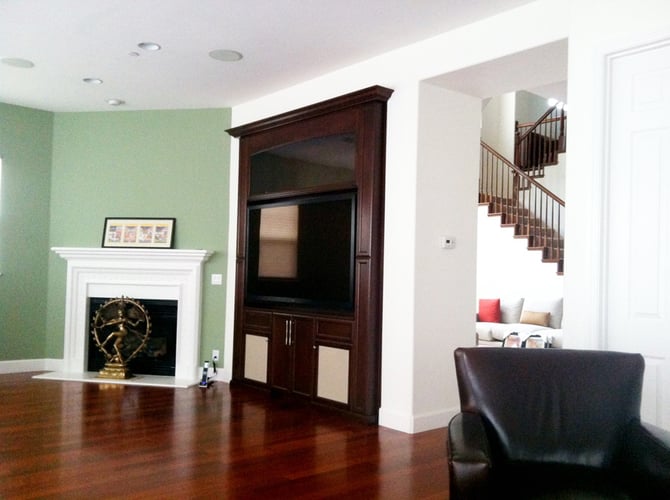 A media center that can fit anywhere.
Image from Valet Custom Cabinets & Closets
.
Let's start with the eternal question: where to put the TV? Modern media centers are often enormous statement pieces that can be quite beautiful. But if your main room features alcoves or odd corners, you might be hard-pressed to find an option that works. Even if you hit upon the size right, most manufacturers don't have a lot of quality options for such a (literally) niche market.
But a custom media center can be designed to fit perfectly, with just the right amount of space on either side and a finish that complements your room. A custom design also lets you add wire openings with your room's outlets in mind so that you don't have to move everything around and stretch cables across the floor if you decide to plug in the DVD player.
Corner Media Center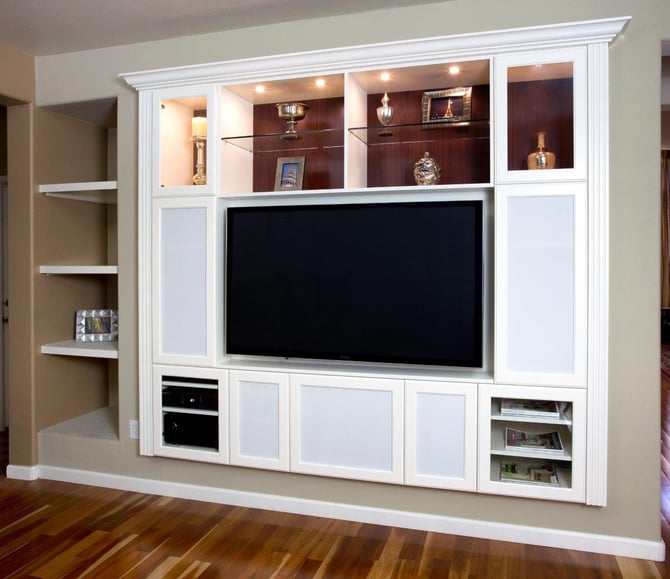 Tucked away, but not out of sight.
Image from Valet Custom Cabinets & Closets
.
A lot of our clients also opt for a media center in the corner of the room. This is especially true in spaces that are meant for gatherings, perhaps an area of your house that also has a bar or a buffet. The TV can be on, showing the game, without being the focal point of the room.
The corner media center is also a great option for music buffs, whether you've got a computer, radio, or turntable. Your speakers can be discreetly tucked away in vented cabinets but still play the tunes that bring a party to life or that provide a relaxing backdrop to your evening.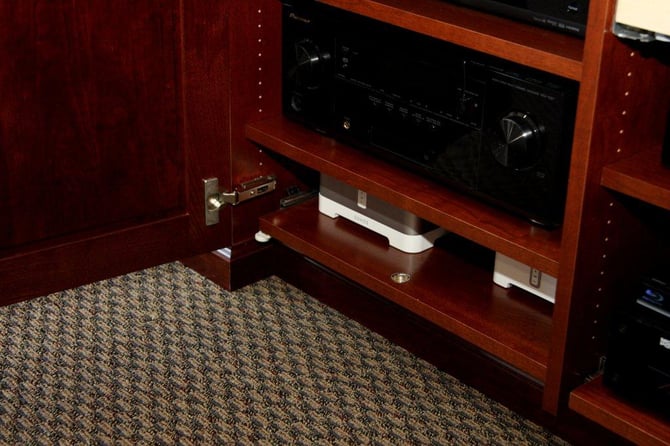 Tight spaces are no problem with a vented component cabinet.
Image from Valet Custom Cabinets & Closets
.
Extra Bedroom Storage
For some Willow Glen homes, the problem is more one of closet space. Mass-designed houses are usually built to meet generic family needs, but this may not be the case for a custom-built home. There are plenty of ways to maximize storage space in a small closet, of course, but some folks just do not have the closet space they need, no matter how organized they are.
If that's the case, I usually recommend an external wardrobe. Much bigger and most useful than a dresser, a freestanding wardrobe allows you to fit clothes, shoes, hats, jewelry, and everything else you need into one unit. This is another area where a custom design really helps: Going with an off-the-shelf option usually means making a choice between getting a wardrobe that fits your room but might not be big enough and one that fits everything but overpowers the room. It's a lot easier to strike the right balance when every aspect of your wardrobe is crafted to meet your exact needs.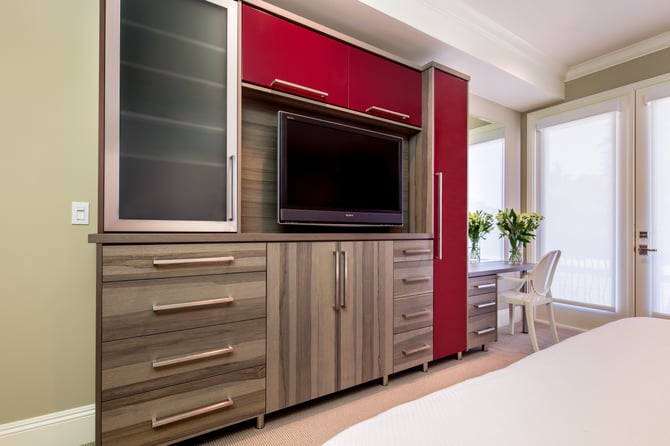 We'll build for your room.
Image from Valet Custom Cabinets & Closets
.
Niche Office
I remember talking to a client who was thrilled with her house in Willow Glen. The kids all had their own rooms, and there was a nice master bedroom and a great family room. The problem was the office. Her company let her work from home, but she didn't really have room to take advantage of this because she was in a Tudor-style house without a work area. Instead, there were a lot of small hallways and oddly shaped rooms. She loved it, but it wasn't conducive to work.
A niche office can fit most anywhere.
Image from Valet Custom Cabinets & Closets
.
That's where a niche office came in. We designed one that could tuck into a corner and run along her available wall space. It had drawers and file cabinets for storage and enough desk space to work comfortably and keep her feeling productive.
She was happy with the office because it made her Willow Glen home feel complete. It used the space she had in a natural way, without requiring her to fit a square piece of furniture in an obtuse corner. That's what we can do for you, too. We can custom-design the right furniture for the quirks of your own home. If things just don't fit and your house feels unfinished, connect with us today to finish turning it into a home.
---
Valet Custom Cabinets & Closets designs, manufactures and installs custom organizational solutions that enhance the functionality of your living space while complementing the décor of your home.
Our talented design team creates unique solutions tailored to your specific needs, style, and budget. We are independently owned and a direct manufacturer.
Our areas of specialty include Home Offices, Wall Beds, Media Centers, Closets, Pantries, Garage Cabinetry, and much more.
Exceptionally Designed & Styled * Expertly Crafted with 5-Star Execution
---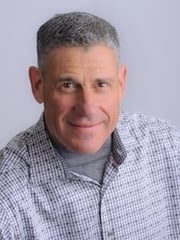 About Larry Fox, President
Larry is a graduate of the University of Southern California School Of Business. After receiving his degree he returned to the Bay Area and spent 18 years working in his family's 100+ year old metals recycling business. Upon the sale of that business in 2000, Larry and his wife Audrey purchased Valet. Larry has become a leader in the industry and is a past president of the National Closet Group. Larry loves turning people's dreams into reality, and remains as enthusiastic about the business today as he was when he first acquired it. View Larry's Houzz Page.