There's a cliche about being at the end of the line, but when it comes to the BART station in Fremont, that's literally true. It's where the lines that can bring you down from Richmond or across the Bay come to an end. Of course, this means it's also a beginning, and new beginnings are all over the Fremont BART station. The new Warm Spring/South Fremont station is set to open in the fall of this year, and as someone who visits the area lot, I can tell you, it's pretty beautiful. It might just revamp public transportation around here.
The station is huge, convenient, and even bike-friendly. Fremont is already a big biking town, and it is poised to get bigger when people can bike to the train station. Bikes might even overtake cars as the preferred method of transportation here, which raises a question. If you rarely use your garage, what should you do with all that space?
There are typically two options: Make it a living area, or turn it into an all-purpose storage spot. In Fremont, however, there's not really a choice. Between very strict zoning laws about converting garages into living spaces and the difficulty of getting a permit to do so, it's clear that storage is the better option. Garages are generally grim and utilitarian—but you can transform yours into a beautiful, stylish area that can hold just about anything.
Cleaner Space, Better Work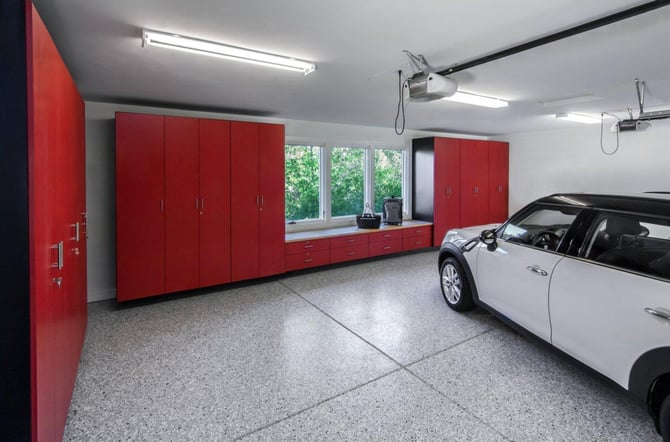 Having space for all your tools and all your outdoor gear makes for a clean garage.
Image from Valet Custom Cabinets & Closets.
A lot of people see an empty garage and think, "workspace." But their next thought is typically, "how?" It's all too common to pile spare boxes into your garage without a second thought, only to later discover that you can't find anything and have no room to work.
A redesign will help get your storage space organized, and we'll work with you to figure out exactly what you need. Customizable cabinets allow you to fit, say, a circular saw on one shelf and your collection of nails and screws on another without wasting space. You get to decide how high and wide your shelves need to be.
You can also forgo the shelves entirely. I've had clients who really just want a place to store things like shop-vacs and bulky lawn-clippings bags, in which case a sturdy storage unit with bi-fold doors might be your best option.
A workbench allows for tool fixing, crafts, and hobbies.
Image from Valet Custom Cabinets & Closets.
Work is also easier when you have a workbench and drawers. The countertop above could be used for everything from laying out your gardening supplies to home maintenance projects. This setup is also a great option if you have kids: Art supplies, work gloves, and anything else can be stored right where you need them, meaning less mess and less time spent hunting for misplaced items.
Your workbench can be customized to fit your style and your needs. You might opt for the butcher-block counter above or for a sturdy laminate option depending on the kind of work you will be doing. You can even go for a folding workbench that allows you to work when you need to and hide the bench away when you don't.
Of course, a common problem with trying to do work in your garage is that there usually aren't enough outlets. Older garages are especially bad about this, but even in newer ones, the outlets that you do have aren't always in convenient places. That's where a built-in power strip comes in handy. We can add these to your cabinets or workbenches so that you can run all the tools you need without worrying about stringing extension cords helter-skelter.
The Ultimate Closet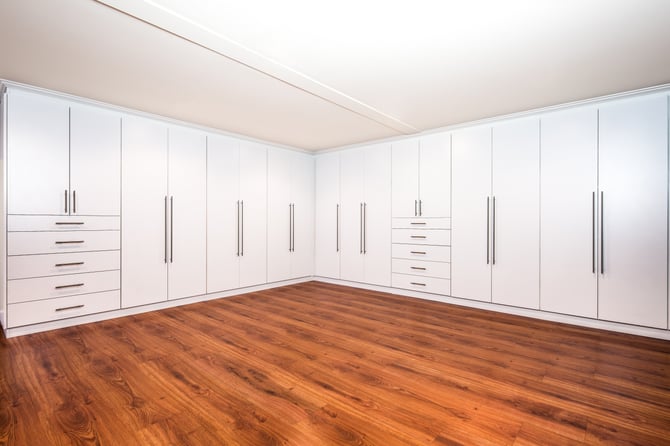 The clean lines of this basement cabinetry can be just as easily applied to a garage.
Image from Valet Custom Cabinets & Closets.
Not everyone wants a workspace. Some people want more room to store their clothes, and if that's the case, you might consider wraparound cabinets that offer out-of-the-way storage in every shape and size. From tall cabinets for hanging out-of-season clothes to drawers and cabinets for sports gear, a garage storage system can keep the rest of your home clean and clutter-free. If you have the room, you might also consider a custom external wardrobe. Most people have these in the homes, but a refurbished garage can be a great place for them.
A Soft Water Cabinet Brings Comfort and Value to Your House
Fremont is also an area that has a bit of a hard water problem. A lot of residents want soft water treaters to save wear and tear, but a very similar number don't like the thought of adding such industrial-looking machines to their homes.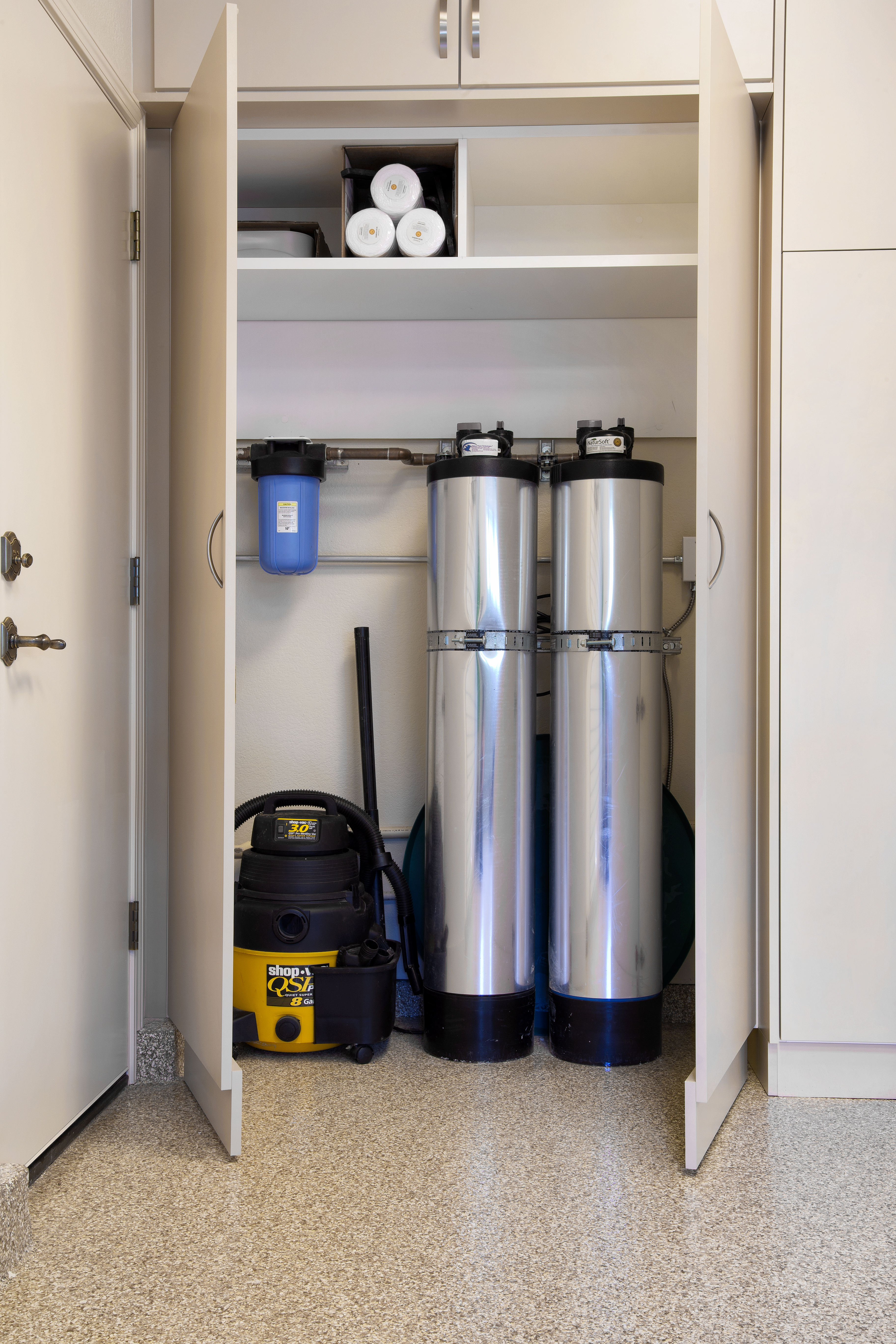 A soft water cabinet cuts down on Fremont's hard water.
Image from Valet Custom Cabinets & Closets.
That's where a soft water cabinet comes in. We can design cabinetry that houses your equipment in a nice, out-of-the-way spot. From the outside, it looks like a normal cabinet, blending in seamlessly with the rest of your decor. It keeps your garage as clutter-free as possible, and it's also a great place to store vacuums and other large cleaning supplies.
You might not go 100% car-less, of course. But with the new Fremont BART stop, and an increased emphasis on biking, you may cut down to one. Or you may just have more garage space than you know what to do with. Either way, put that space to good use. Connect with us today to learn more about how we can turn your garage into a haven of order.
---
Valet Custom Cabinets & Closets designs, manufactures and installs custom organizational solutions that enhance the functionality of your living space while complementing the décor of your home.
Our talented design team creates unique solutions tailored to your specific needs, style, and budget. We are independently owned and a direct manufacturer.
Our areas of specialty include Home Offices, Wall Beds, Media Centers, Closets, Pantries, Garage Cabinetry, and much more.
Exceptionally Designed & Styled * Expertly Crafted with 5-Star Execution
---

About Larry Fox, President
Larry is a graduate of the University of Southern California School Of Business. After receiving his degree he returned to the Bay Area and spent 18 years working in his family's 100+ year old metals recycling business. Upon the sale of that business in 2000, Larry and his wife Audrey purchased Valet. Larry has become a leader in the industry and is a past president of the National Closet Group. Larry loves turning people's dreams into reality, and remains as enthusiastic about the business today as he was when he first acquired it. View Larry's Houzz Page.