San Ramon is a very tech-friendly sort of town. I tend to notice giants like GE when I drive through, but there are also a lot of startups. This means many of my San Ramon clients are accustomed to modern work environments and "open office" floorplans: no cubicles, and everyone sits together. Some people love this layout, some don't, but nearly universally, no one thinks to bring it back home. When it comes to home offices, some of the most innovative people in tech still buy into the "closed door" theory.
But I think home office space can be different. Especially in a family-friendly town like San Ramon, you're not always going to have an entire spare room available for a workspace. That's why I've encouraged several clients recently to incorporate an "open office" into their homes by adding custom-designed furniture to a living room or family room. This can be a small desk set or even a fold-out workspace that's totally hidden when not in use. Whether you're angling for a promotion or writing the next great American novel after the kids go to bed, a custom office in your San Ramon living room just might be the solution.
Adding to Your Media Cabinetry: The Hidden Office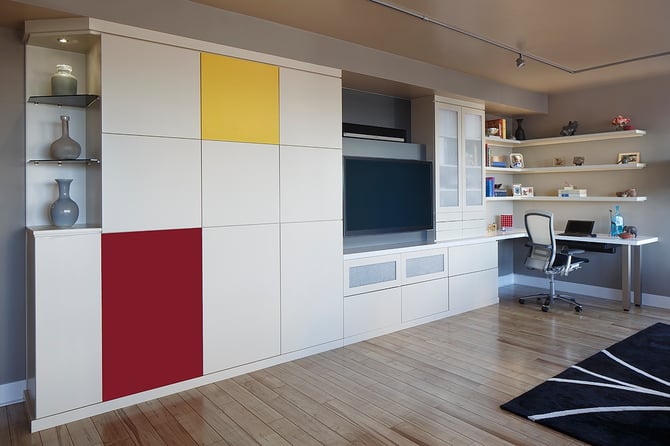 Enclosed storage and a built-in workstation save space in the living room.
Image from Valet Custom Cabinets & Closets
.
Most people have some type of media cabinetry in their living room, but a custom-made media center has additional potential. With ample storage and lots of drawers and shelves, these are often the perfect spot for a "hidden office." This option tends to be especially appealing for clients whose living rooms might be filled with rambunctious children (or perhaps rambunctious sports fans) since a regular office unit can take up quite a bit of space, leave equipment vulnerable to getting bumped or damaged, and doesn't always mesh well with the relaxed vibe you might expect from a family room.
But a hidden desk can blend seamlessly into your media cabinetry. You'll still have plenty of room for a computer and keyboard, bookshelves, storage for extra equipment like printers or scanners, and even space for decorative knickknacks—but when you close your cabinet doors, it's all invisible.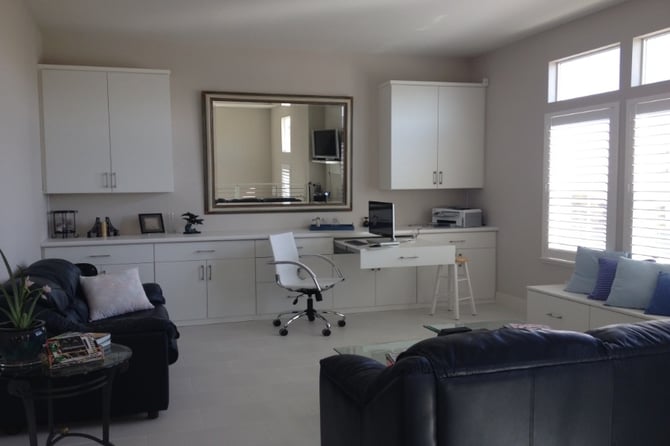 This desk slides easily away when you're done with work.
Image from Valet Custom Cabinets & Closets
.
Don't think that a hidden workspace has to limit you to a small work area, either. One of the beauties of custom-designed furniture is that we can craft it based on your needs. If you want plenty of elbow room so that you can spread out with your laptop, your coffee, and the notes for the novel you're writing, we can do that. A good custom design will match your work style.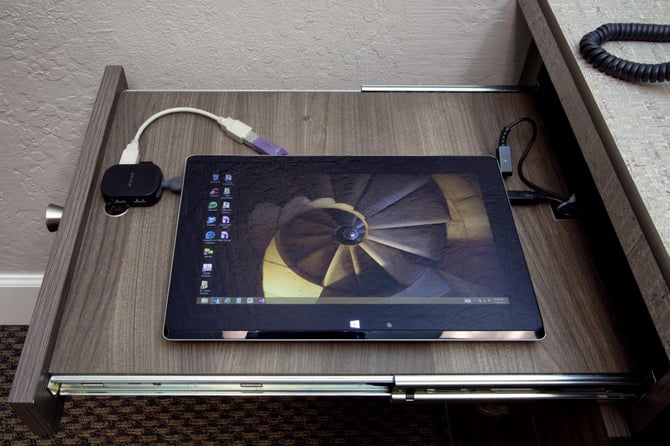 Hiding your work – or play – has never been easier.
Image from Valet Custom Cabinets & Closets.
Of course, not everyone uses a computer, or even a laptop, anymore. We can also add features like roll-out trays for tablet storage—complete with hidden wire chaseways—so that you can unobtrusively recharge your iPad or Kindle. This is a nice option for storing electronic gadgets out of the way but still within easy reach.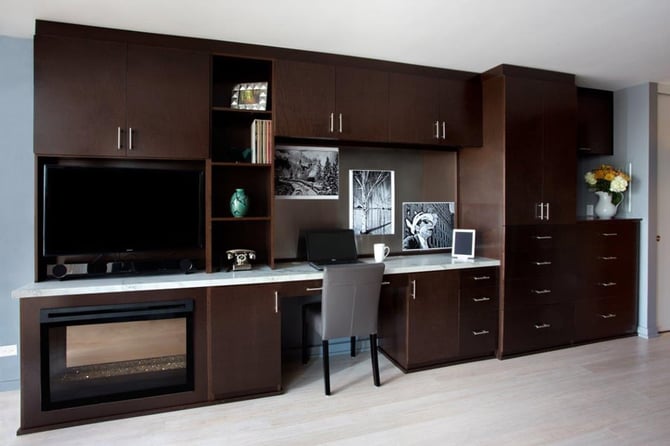 Ample cabinet space makes storing paperwork a breeze.
Image from Valet Custom Cabinets & Closets
.
One thing to keep in mind about a home office is that it is, in fact, for the home. You might use it to pay bills, track doctor's appointments, or plan vacations, so you'll probably want to keep all the accompanying documents close at hand. But that doesn't require turning your living room into a file clerk's office. We can add roll-out shelves to your work area so that you can store everything—and keep it all organized—without taking up too much room.
The Full Office, Only Smaller
A nice corner desk is fully functional and keeps the rest of the room free.
Image from Valet Custom Cabinets & Closets
.
Of course, you shouldn't feel like you need to hide your office away. For clients who work from home frequently and love having a multi-use room that contains multitudes, I often suggest a small office unit that can be tucked into a corner or along one wall of your living area.
A range of finish options means you can choose a look that complements your space, and in the design above, we even added extra bench seating to one side of our client's workspace to more fully integrate it with the rest of the room. Our designers have experience with a wide range of floor plans and can work with you to figure out the best layout.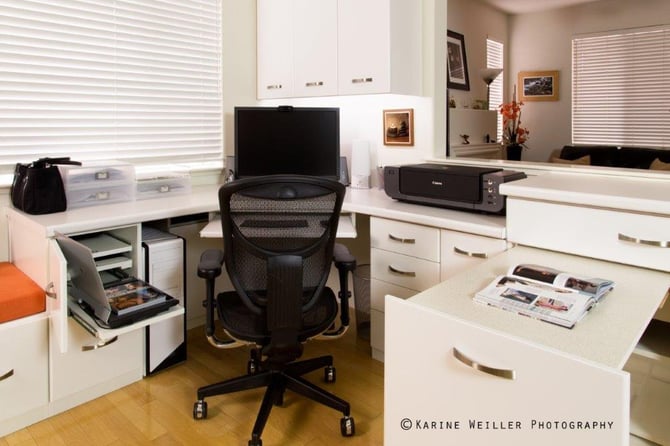 A small office set can accommodate all kinds of projects.
Image from Valet Custom Cabinets & Closets
.
As I tell my San Ramon clients, don't assume you need a spare room to have a comfortable, functional office. If you work from home, or just need space for some extra projects, we can design a solution that works for you and for your space. Connect with us today to get started.
---
Valet Custom Cabinets & Closets designs, manufactures and installs custom organizational solutions that enhance the functionality of your living space while complementing the décor of your home.
Our talented design team creates unique solutions tailored to your specific needs, style, and budget. We are independently owned and a direct manufacturer.
Our areas of specialty include Home Offices, Wall Beds, Media Centers, Closets, Pantries, Garage Cabinetry, and much more.
Exceptionally Designed & Styled * Expertly Crafted with 5-Star Execution
---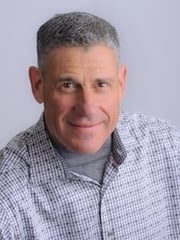 About Larry Fox, President
Larry is a graduate of the University of Southern California School Of Business. After receiving his degree he returned to the Bay Area and spent 18 years working in his family's 100+ year old metals recycling business. Upon the sale of that business in 2000, Larry and his wife Audrey purchased Valet. Larry has become a leader in the industry and is a past president of the National Closet Group. Larry loves turning people's dreams into reality, and remains as enthusiastic about the business today as he was when he first acquired it. View Larry's Houzz Page.