A lot of tech cities have somewhat transient populations, as people roll from one city to the next. But the Los Altos population has increasingly skewed toward those in their late 20s to early 40s, as folks settle down to raise young families here.
Of course, this means having room for a family. And one of the appealing things about Los Altos is that many newer houses have finished basements, something that used to be rare in the Bay Area. Engineers have figured out how to make basements seismically safe, and since the demand for space is going up in a crowded market, this addition is increasingly common. Thanks to advances in vapor barrier technology, they're also no longer a haven for mold, even in damp climates. So what do you do with this space?
Many people in Los Altos convert it into a second family area, but I've also worked with several clients who have opted for a basement hideaway, with a bed and other amenities for guests. It's an area that feels like a private space within the house, and custom-designed wall beds can make it comfortable for kids and grown-ups alike.
A Sleepover Zone for Kids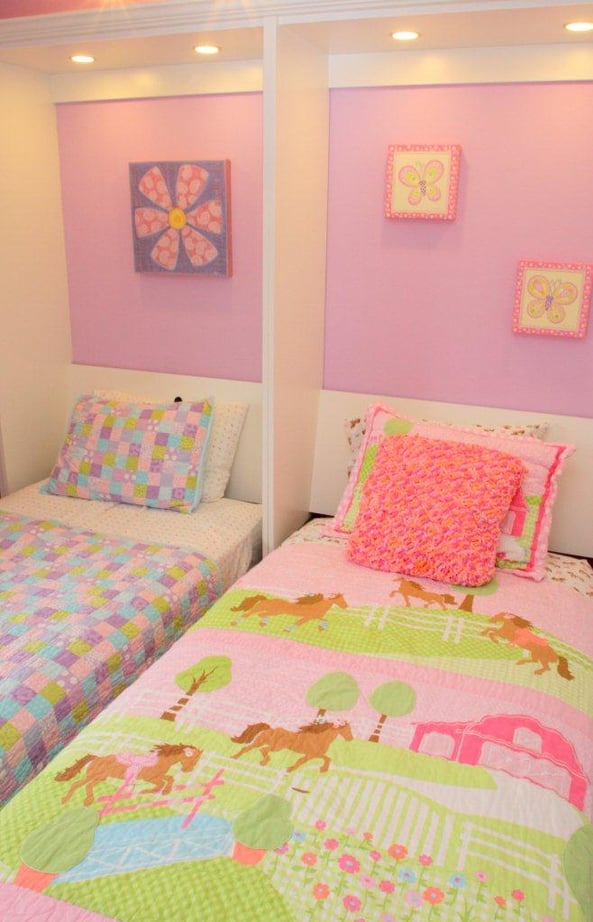 Wall beds are perfect for sleepover night.
Image from Valet Custom Cabinets & Closets
.
There are a few things kids get wildly excited about. Sleepovers are one. And why not? Who doesn't have fond memories of staying up late, eating candy, talking about crushes, and watching scary movies? Another thing kids love is mystery. I have yet to meet a child who doesn't get excited about a wall bed: they look like nothing more than a well-crafted cabinet but suddenly transform into a full-sized sleeping area.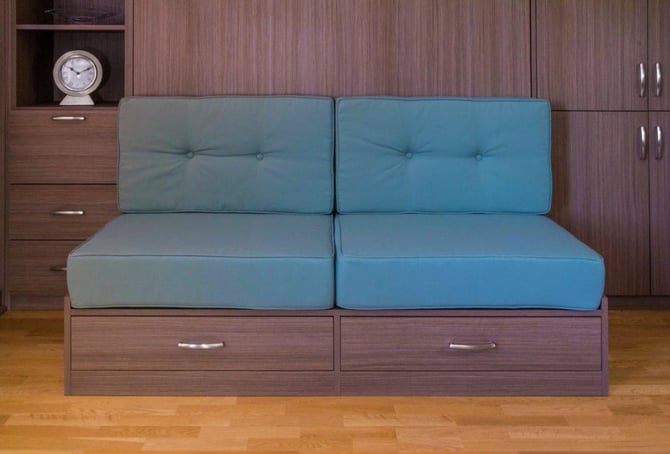 A bench seat with drawer boxes is fun for everyone.
Image from Valet Custom Cabinets & Closets
.
A custom wall bed can also be more than just a bed. Some folks opt to add a bench seat, with comfortable cushions that can be stashed in a drawer when not in use. It's another kid-friendly option—a secret chair that vanishes when it's time to go to sleep.
Beds for Kids and Adults
Now, you might not redo your basement just to get a little peace and quiet during your kid's sleepovers. You might have adults who stay occasionally, or you might eventually want to convert the space into a bedroom for an older child.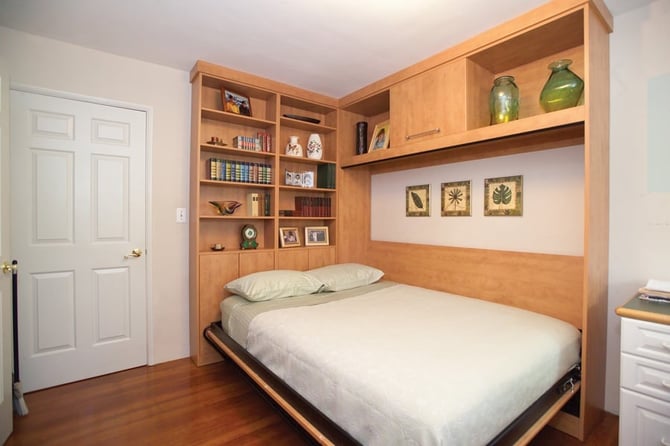 Fun for the kids, comfortable for the adults.
Image from Valet Custom Cabinets & Closets
.
This might mean choosing a wall bed with a larger mattress size: full or queen, or even king if you opt for a vertical tilt wall bed. This ensures that no one who stays over will feel cramped. And despite their size, these beds are well-designed enough that they can be pulled down with pressure from one finger and folded back up just as easily, looking like nothing more than a beautiful cabinet during the day.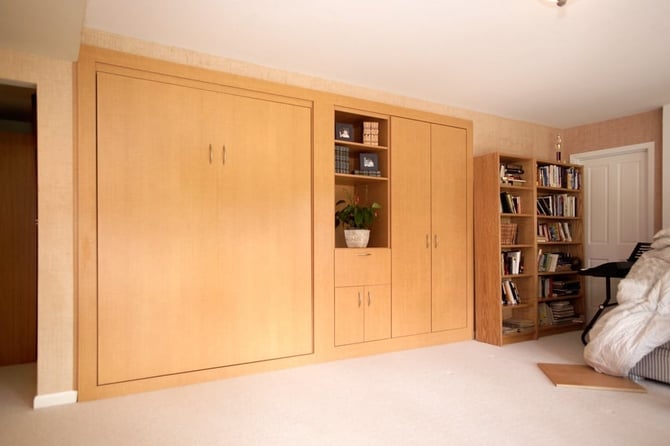 When folded up, your wall bed looks like nothing more than a storage cabinet (which it also is).
Image from Valet Custom Cabinets & Closets
.
A wall bed can also help solve storage issues. Basements, after all, are frequently a catch-all spot for extra stuff, and you might be hesitant to install a wall bed if it means the loss of this space. But all sorts of additional features mean that your wall bed can serve double-duty as a fully functioning bureau, with enough drawer, cabinet, and shelf space to hold an entire wardrobe. They also can be designed with bookshelves or fold-down tables.
If you're turning your basement into a "real" room, you probably also don't want the aesthetic mish-mash of furniture found in many unplanned basements. A wide array of finishes is helpful for tailoring your wall bed to your desired look.
A Full Room for Long-Term Guests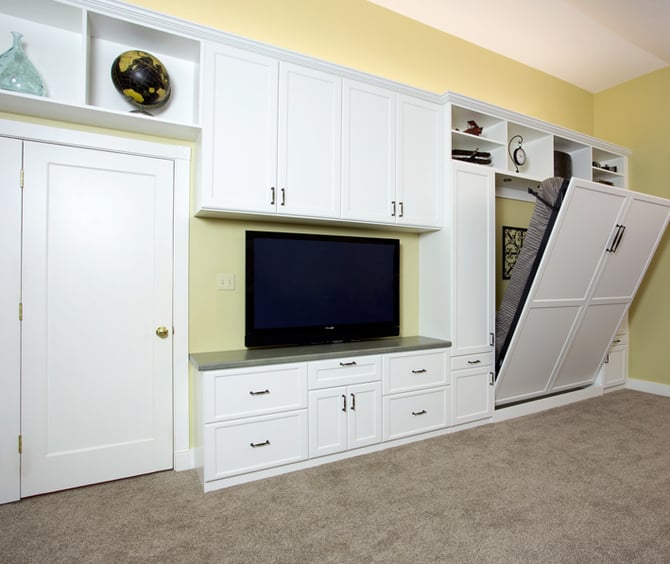 Long-term guests can have a whole room for themselves.
Image from Valet Custom Cabinets & Closets
.
The Los Altos demographic includes a lot of people whose parents are at an age where they're able to come to visit from out of town and stay for a while. And since the area attracts talent from all over the world, family members who come to visit usually aren't just popping by for tea. You may find that your basement hideout needs to function as a full extra bedroom, albeit one that's not in use for 10 months of the year.
In this case, you'll want the area to be comfortable and spacious, with the sort of furniture that makes guests feel at home. But it's also nice to be able to tuck everything away when not in use. An expansive wall bed set offers that sort of flexibility. We can include dressers, cabinets, and even space for a flat screen TV, so that long-term visitors have an area of their own (and you do too). You may not have the space for a full-time, dedicated in-law suite, but you can have an instant, pop-up (or pull-out) set of furnishings when needed.
Custom Design Means Room for an Office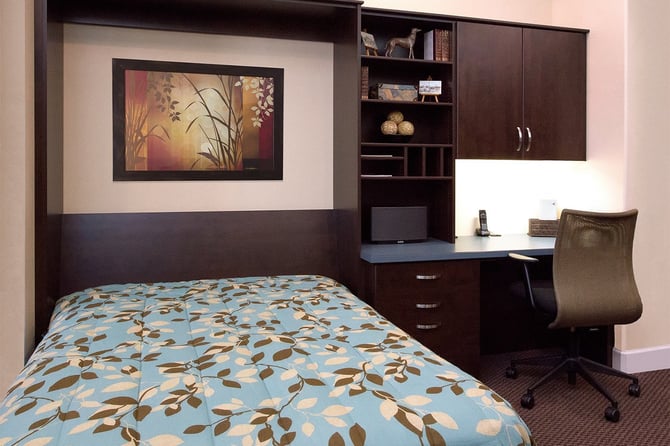 Get work done and then catch a nap.
Image from Valet Custom Cabinets & Closets
.
Now, when guests are gone, this doesn't mean you have to abandon your basement. We've designed many wall beds with attached workstations for a home office, an especially attractive option for your basement since it's frequently the coolest and quietest area of the house. You can make this space into a true multi-use room with the right design.
Los Altos is a great town, and the kids growing up here will have plenty of opportunities in life. But while they're still kids, they'll play and make new friends and enjoy novelty of sleepovers on a wall bed. And grownups can enjoy the same thing: a custom designed Murphy bed is a comfortable way to make the most of your Los Altos basement. Connect with us today, or stop by one of our showrooms in Danville or Campbell to see for yourself.
---
Valet Custom Cabinets & Closets designs, manufactures and installs custom organizational solutions that enhance the functionality of your living space while complementing the décor of your home.
Our talented design team creates unique solutions tailored to your specific needs, style, and budget. We are independently owned and a direct manufacturer.
Our areas of specialty include Home Offices, Wall Beds, Media Centers, Closets, Pantries, Garage Cabinetry, and much more.
Exceptionally Designed & Styled * Expertly Crafted with 5-Star Execution
---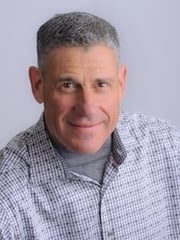 About Larry Fox, President
Larry is a graduate of the University of Southern California School Of Business. After receiving his degree he returned to the Bay Area and spent 18 years working in his family's 100+ year old metals recycling business. Upon the sale of that business in 2000, Larry and his wife Audrey purchased Valet. Larry has become a leader in the industry and is a past president of the National Closet Group. Larry loves turning people's dreams into reality, and remains as enthusiastic about the business today as he was when he first acquired it. View Larry's Houzz Page.