A couple of weeks ago, I was having dinner with some friends when the topic of Eichler homes came up. These are beautiful houses, with a Frank Lloyd Wright-influenced High Modern feel, but they're still very livable and quintessentially Californian. Sunnyvale alone has several neighborhoods made up of almost nothing but Eichlers—one of the largest concentrations in both California and the country. And people love them. There are sites dedicated to finding Eichlers for sale or to showing off pictures of their unique and beautiful look.
There's a weird duality to this love, though. Owners want them to be low-slung, one-story beauties since this is what makes them so distinctive. Several neighborhoods in Sunnyvale are actually fighting zoning battles in order to stay one-story. But these restrictions can make the houses themselves feel crowded. There never seems to be enough room for everyone's stuff.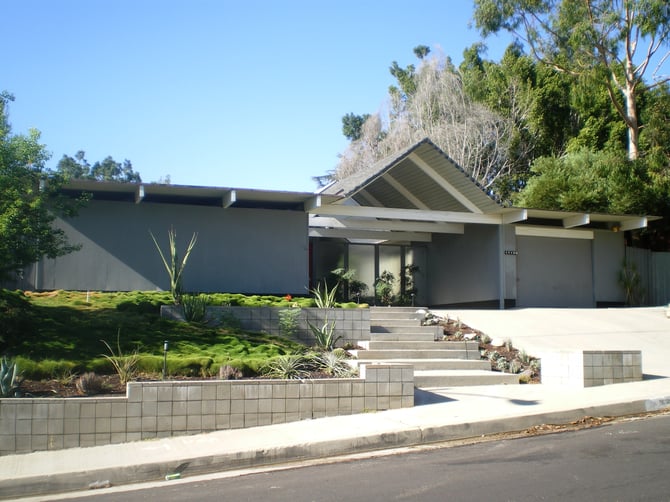 An icon of California architecture.
Image credit: Wikimedia Commons user Los Angeles
It's possible to maintain the architectural integrity of your home while still having space to store your belongings, however, as long as you put some careful thought into your closet design.
Making the Most of any Closet Space
The biggest complaint people have of their Eichlers' reach-in (or occasionally walk-in) closets is that there simply isn't enough room. But it's remarkable how much space can be created just by planning a more efficient layout.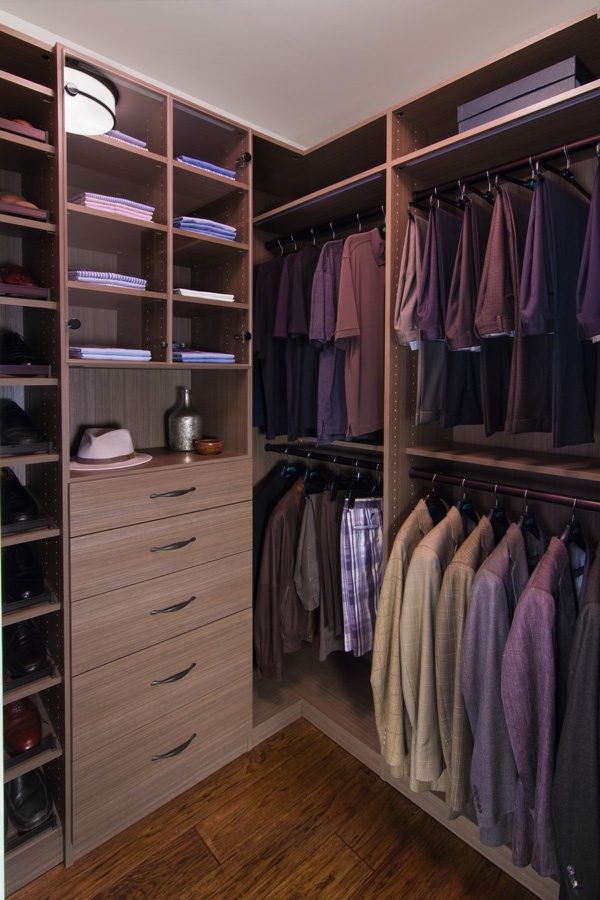 Your closet can be the most organized room in your home.
Image from Valet Custom Cabinets & Closets
.
Take the closet above. If it was equipped with nothing but a single hanging rod, and perhaps space for shoes beneath, you might justifiably feel you didn't have a lot of room. But a custom layout opens the possibility of row after row of hangers, as well drawers, shoe shelves, and extra storage up top.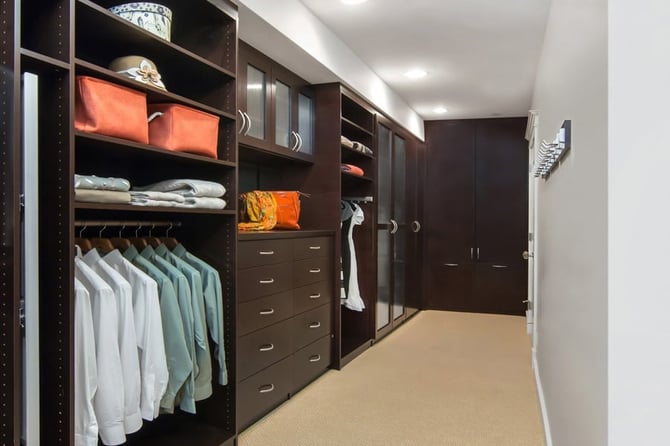 A closet of any size can be modified for maximum storage.
Image from Valet Custom Cabinets & Closets
.
Eichlers tend not to have walk-ins, though they aren't unheard of. But when they are there, the same benefits hold true: a good design can prevent the creep of clothes and shoes throughout the rest of the house. One of the great things about Eichlers is that they are so open and airy, with that outdoor feel even inside. Your closet should help maintain this atmosphere.
The Hidden Features of a Custom-Designed Closet
With such limited square footage, there shouldn't be any unused dead space in your closet. But—perhaps equally important—you'll want to make sure that all the features of your closet are beautifully rendered and able to be hidden away. This actually leaves you with quite a few options.
Slide-out Shoe Storage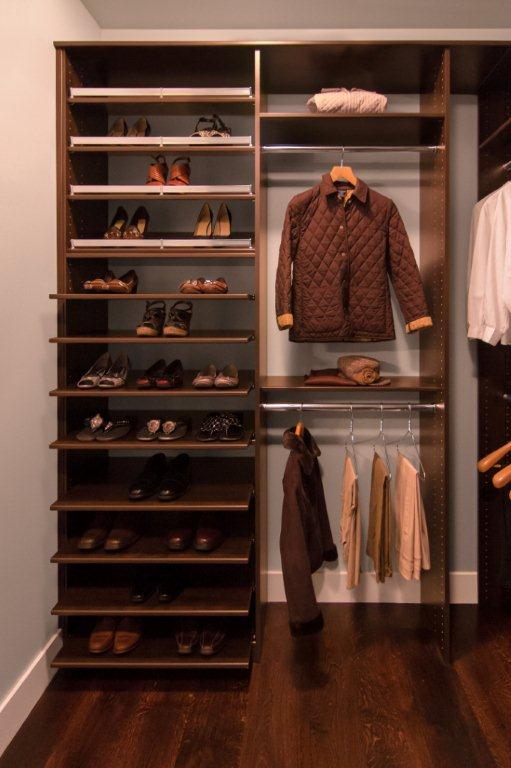 A good place to store your shoes opens up all kind of room.
Image from Valet Custom Cabinets & Closets
.
Between work boots, sneakers, dress shoes and everyday shoes, footwear tends to spread across the whole house. And throwing everything in the closet tends to just make the closet more difficult to get into. But a roll-out shoe storage system lets you keep your shoes out of sight but still within easy reach. It can also be designed with a variety of colors and finishes.
Pull-down Hanging Rods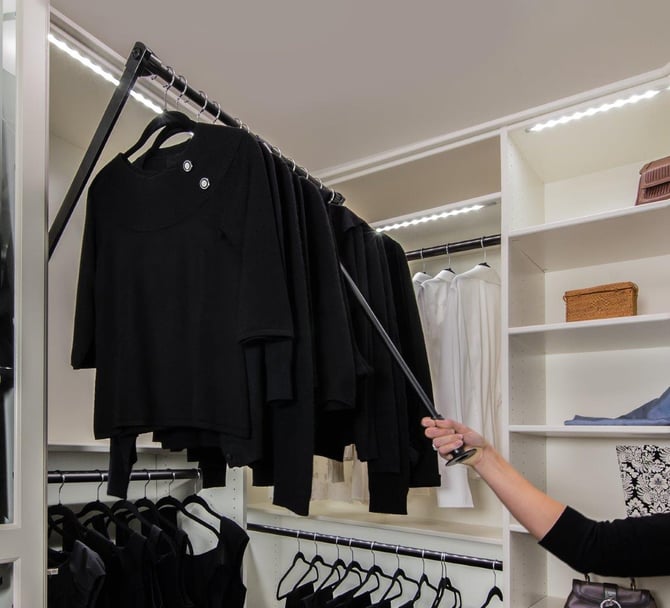 Pull-down hanging rods maximize space by creating multiple levels.
Image from Valet Custom Cabinets & Closets
.
Sunnyvale neighborhoods might not want two-story houses in their Eichler communities, but these restrictions luckily don't apply to closets. Pull-down hanging rods give you a neat and organized way to create multiple levels while still being able to access everything. This not only gives you more room, it means you don't have to shove clothing together as tightly as possible just to fit in a few more hangers, reducing the number of wrinkles you'll have to contend with.
Sliding Glass Doors
A set of sliding glass doors matches the style of your house.
Image courtesy
Mayor of Hardware
Of course, getting everything to fit is only half the battle. You also want to make sure your belongings aren't clashing with the look of your Eichler; otherwise, what's the point? That's why so many of our clients who live in these homes opt for sliding, floor-to-ceiling glass doors. This is a personal, modernized touch that matches the aesthetic dreamed up by Eichler in the booming post-war years. It helps your closet seem like part of a seamless whole.
An External Wardrobe Changes the House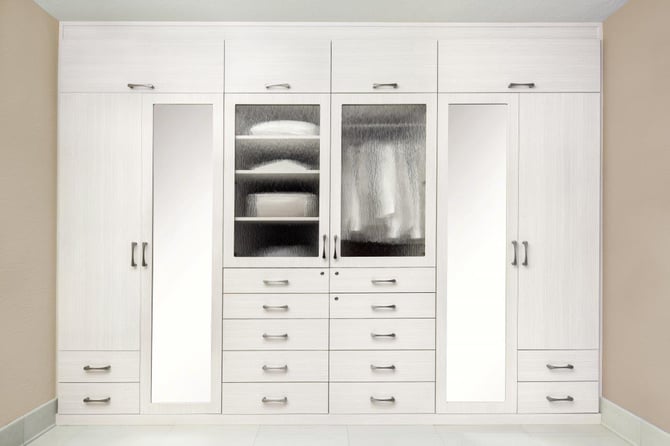 This might be the closest you can come to a remodel in an Eichler.
Image from Valet Custom Cabinets & Closets
.
But what if you simply don't have enough closet space, even with a custom design? You've maximized your reach-in, but there just wasn't enough room to begin with? It happens sometimes, especially if you've got a large clothing collection, or if you've got children. In this situation, some of my clients have opted for an external wardrobe. These can be as big or as small as you want and can be fitted into a bedroom, basement, or even garage. And, like a custom closet, they're designed to fit the look of your house. You may not be able to add to the exterior of your home, but you can add to its interior with a well-designed wardrobe.
No one wants to tear down an Eichler or make dramatic changes to it, especially in Sunnyvale. The architecture is just too distinctive. But there's no need to trade the thrill of living in one of the most noteworthy styles of the 20th century for the relief of finally having enough storage space. You can have both. Connect with us today to talk to one of our designers.
---
Valet Custom Cabinets & Closets designs, manufactures and installs custom organizational solutions that enhance the functionality of your living space while complementing the décor of your home.
Our talented design team creates unique solutions tailored to your specific needs, style, and budget. We are independently owned and a direct manufacturer.
Our areas of specialty include Home Offices, Wall Beds, Media Centers, Closets, Pantries, Garage Cabinetry, and much more.
Exceptionally Designed & Styled * Expertly Crafted with 5-Star Execution
---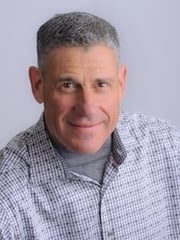 About Larry Fox, President
Larry is a graduate of the University of Southern California School Of Business. After receiving his degree he returned to the Bay Area and spent 18 years working in his family's 100+ year old metals recycling business. Upon the sale of that business in 2000, Larry and his wife Audrey purchased Valet. Larry has become a leader in the industry and is a past president of the National Closet Group. Larry loves turning people's dreams into reality, and remains as enthusiastic about the business today as he was when he first acquired it. View Larry's Houzz Page.